A Baking-Lover's Holiday Gift Guide!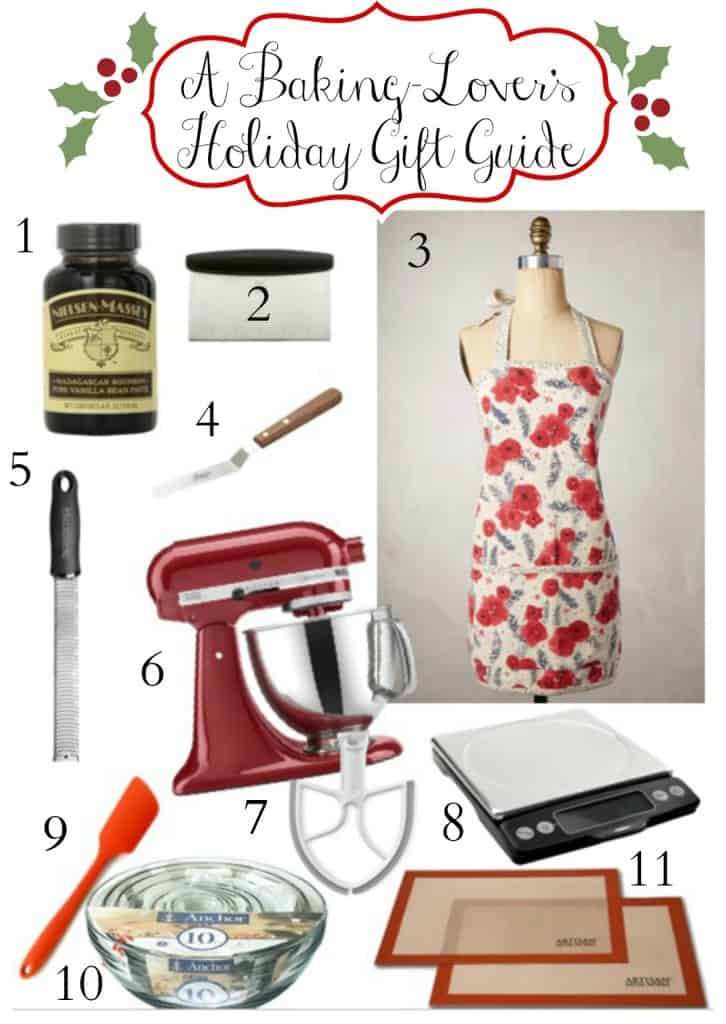 After several years of being asked for gift-giving tips for those who love baking as much as I do, I finally created the ultimate guide. Well I've included my 11 must-haves- so I'm not sure if I have the rights to call it ultimate, but its full of items that I use all the time and really consider vital for any home baker.
So here it is:
1- Nielsen Massey Madagascar Bourbon Vanilla Paste
. This stuff is amazing. It's truly the easiest way to get that speckled, vanilla bean effect without having to deal with scraping out the beans. I love using it in a wide variety of recipes and you probably have seen me mention it before- I just love it.
2- OXO Good Grips Multi-purpose stainless steel scraper – It wasn't until I got really into baking yeast doughs that I understood the importance of a bench scraper. It actually is useful in so many bread & pastry recipes. Not only is it great for cleaning your work surface, but I use it to cut dough and shape things like pie crust.
3- Anthropologie Apron– I have way too many of these. I love how it feels to be in my kitchen with a cute apron and the ones from Anthro are simply the best.
4- Wilton Off-set Spatula
– I love this spatula for so many things- spreading things like frosting, whipped cream & ganache as well as evening out batter in a cake pan. The "off-set-ness" of it makes it possible to create a really pretty swirly effect from using. Mine gets use almost daily.
5- Microplane Zester/Grater
– This gadget it a MUST have. Nothing works so well for grating citrus zest, hard cheeses, or spices like nutmeg. It's just so smooth and works incredibly well. I've had mine for 6 years and it still works perfectly.
6- KitchenAid Stand Mixer
– No explanation needed here right? Of course everyone who is serious about baking either has or dreams of having one of these and there's no wonder why- it is my kitchen work horse- the easiest way to knead dough, whip cream, and make frosting that needs to beat for long periods of time. If I had to pick one item in my kitchen I simply couldn't manage without- this is the one!
7- Beater Blade
– Hand in hand with the stand mixer is this awesome gadget makes using it a piece of cake. It's a step up from the paddle attachment, and it's actually a paddle with a built it spatula around the edge that scrapes the bowl for you as it mixes. No more stopping mid-recipe to scrape the bowl- seriously- this thing is amazing. (Note that there are different sizes for different mixers- make sure to get the right one for what you have!
8- OXO Good Grips Stainless Steel Food Scale
– This tool is absolutely essential for things delicate recipes like macarons, but now I use it for measuring flour for most of my recipes. It really takes the guesswork out and really helps ensure accuracy in your recipes. I've found that my baking has changed so much for the better since I started using one! I like this one in particular because you can pull out the front part, making it easy to see the numbers even with a big bowl.
9- GIR Ultimate Spatula
– Oh man do I love this spatula. Now first I have to note that I have a TON of them in my kitchen, but the GIR ones are the ones I love the most. I can't quite explain why but it just works so well. They come in a full array of rainbow colors so I think this would be a fun addition to a colorful kitchen-inspired gift.
10- Glass Bowl Set – 10 pcs
– I use these all the time and they are great for so many things. Specifically- I love them to prep all my ingredients before starting a baking/cooking project. I love that I can see everything- something about it feels so clean you know? Plus the nesting factor makes them a breeze to store!
11-Non-Stick Silicone Baking Mat
– These are an absolute baking must have. I have about 4 of these and need that many for how often they get used. They are essentially the perfect non-stick liner for cookie sheets which make baking cookies a breeze. Parchment works of course, but I find these to be the key to cookies that always come right of the cookie sheet. You can throw them right into the dishwasher which helps a tons as well.
PS- This post contains affiliate links, but it's not sponsored. I bought, own and love all of these items and use them all the time!