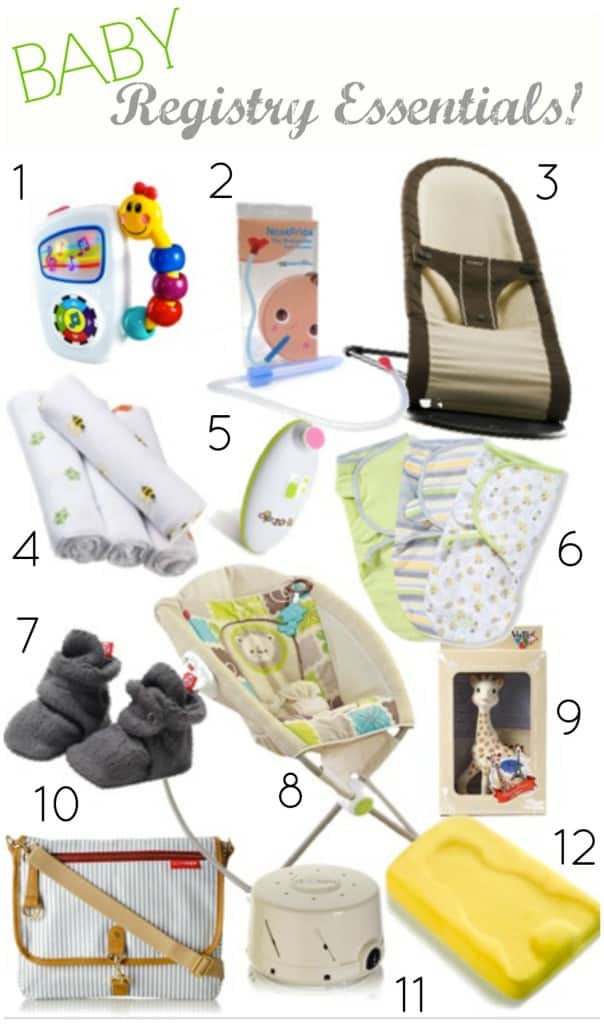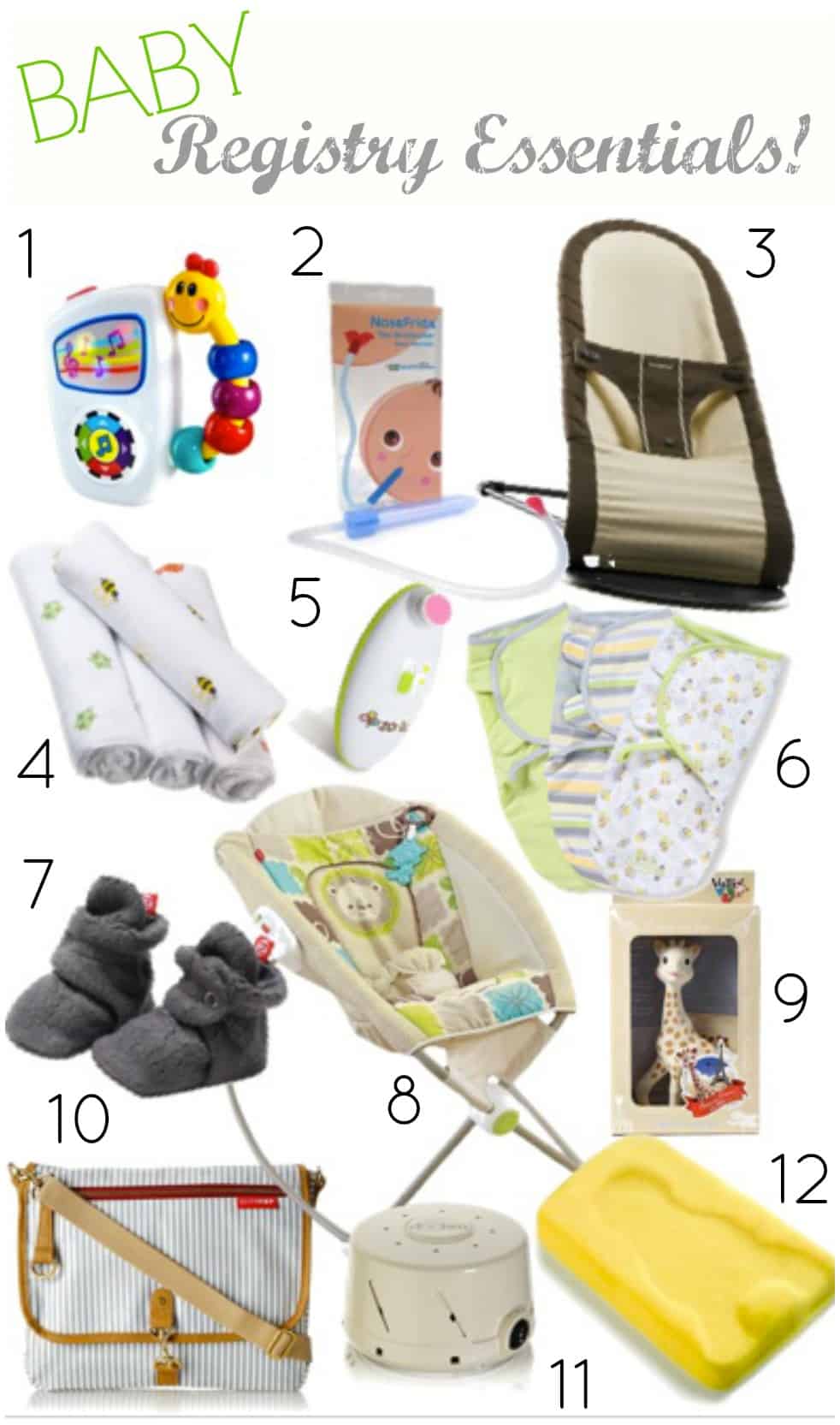 Oh baby registries- full of items that we think we need for our baby, most of which end up not being used and given away to the next person we know who is having a baby. Given that I live in an NYC apartment with one 1 closet, I really tried to keep the baby stuff down to a minimum. I also really wanted my space to still feel like an adult apartment vs. a Babies R'Us store. So- I kept things bare-bones, but even then, some items have gotten way more use than others. Here are (for me,) the 12 most valuable items from my registry!
1) Baby Einstein Take Along Tunes
– I really didn't want to like this toy. It makes noises and flashes lights and in my pre-baby mind, those were all things I wanted to avoid in general. In fact, I packed this away until Hugo was about 2 months old and we saw the magic it worked on a friend's baby who had it as well. We then called this the "Magic Toy" and it really held up it's name. It has worked wonders for melt-downs of all kinds. Hugo would stop crying almost instantly once I started the music and it's all Classical Tunes so it didn't bother me that much after all.
2) Nosefrida
– We call this contraption the "Snot Sucker" because that's really what it is. Instead of using that blue ball syringe, you put one end of the tube in your mouth and other in their nose and help clear out all the yuckies. (Don't worry- there is a filter so you could never actually get it in your mouth.) We used this thing a ton the first few weeks when Hugo was very stuffy.
3) BabyBjorn Babysitter Balance
– Although this item is a bit pricier than some others, we absolutely swear by it. First of all- I loved it because it doesn't look like a "baby thing" and blended seamlessly into our apartment decor. It is super compact, folding up super slim and can be stuck in a closet or under the couch when you're not using. (Which for us is never- we use it every day!) Hugo loves to sit in that thing and use his own momentum to bounce himself around. I bring it with me into the bathroom when I need to shower, (while playing a desperate game of "Where's Mommy?") and into the bedroom for putting laundry away. This is an item that will last for ages too. I plan to use it for all our kids and then pass it on to a friend or sister- It's built to last!
4) Aden + Anais Muslin Swaddle Blankets
– These super thin and breathable cotton swaddles are still some of our favorite items. We burritoed Hugo in them in the early days, use them to drape over the stroller or car seat when the sun in streaming in his face, and I always keep one handy (in my large diaper bag,) for any time you need something extra cozy or a place for floor playing. They fold up super small and last multiple washings!
5) Zo-li Buzz B. Baby Nail Trimmer
– Hugo's nails always grew super fast, and it was never easy to figure out a good method for keeping them short so he didn't claw at his face. (I never liked covering his hands with the little mits because him sucking on a fist was my best signal he needed to eat!) This contraption is great. It has different files for different ages (as the nails grow thicker,) and the baby doesn't even have to sit still to use it!
6) Summer Infant SwaddleMe Adjustable Wraps
– A nice tight un-escapable swaddle is such a great soothing tool for babies. For the first few months (until just recently actually,) wrapping Hugo like I tight burrito was one of the only ways to get him to sleep. These are the easiest wraps to use. (So easy that even Andy could figure it out!) We used them every night and even upgraded to the larger size which was also super useful.
7) Zutano Booties
– Forget baby socks- these booties are the BEST. They don't fall off which is the #1 draw, but also- they come up nice and high so I could tuck his pants in and avoid any exposed skin. He was born in the winter so obviously needed to be extra toasty, but the brand makes thinner cotton ones as well. We ended up with 4 pairs of these and I used them every single day!
8) Rock 'n Play Sleeper
– This thing is the bomb. It's basically a great little chair/cradle type thing that allows the baby to sit/sleep at a 45 degree angle. This is so great for new babies who are used to being curled up, or babes with any tummy/reflux issues who don't like to sleep on their back. We had this thing all around the apartment and it was where he slept for all naps during the day. (I know lots of people whose babies slept in this at night for awhile too.) We tried both vibrating and non-vibrating versions and I think I prefer the vibrating option. It really kept him sleeping much longer!
9) Sophie the Giraffe
– I wasn't sure what the fuss was about this toy, but sure enough it's one of Hugo's favorites. It's known to appeal to lots of different senses, seeing- (babies like the high contrast spots,) chewing- (this thing is always in his mouth!) and hearing (the smiles every time I squeak that thing!) I'm so glad we got this one.
10) Skip Hop Soho Cross-Body Diaper Clutch
So- this item wasn't on my registry but I actually bought it myself about a month ago and now I use it daily. In the beginning, I packed my large diaper bag and took it everywhere, soon realizing I didn't really need every item for quick errands in my neighborhood. I also got really into babywearing (separate post on that soon,) and I didn't always want my huge heavy bag on my shoulder when we were just going on a walk to get a coffee or something. This bag fits 2-3 diapers, a wipe case (which comes with, as well as a changing pad,) my wallet, phone, and keys. I can sling it diagonally over my shoulder when I have Hugo in a sling and it really makes my life easier. Plus it's super cute!
11) Dohm Sound Conditioner
– Sound is another top "soothing solution" for babies and we found white noise to be essential to help try to block some outside noise. Living in an apartment, there's really only so much you can do, but this machine generates nice seamless white noise that he seems to love.
12) Summer Infant Comfy Bath Sponge
– This item goes in the category of "Things to help with no space in a small apartment." I really don't have room for any kind of baby tub without storing it in the tub all the time which seemed like a huge pain for our showers. This super cheap sponge is easily folded up and hung on a towel rack and works so well! We just filled the tub with a few inches of water and set Hugo right on the sponge which made it cushy and comfy for him. His whole body only about half fits on now, but it's still a nice padding that we plan to use until he can sit up!
So there you have it. What was essential for you? Posts on Breastfeeding essentials and my favorite Baby Carriers coming soon!
Note: This post contains affiliate links- which basically means if you happen to purchase any of these items through these links- I may earn enough for a cup of coffee. Every item on this list I own and have purchased myself or been given as a gift!