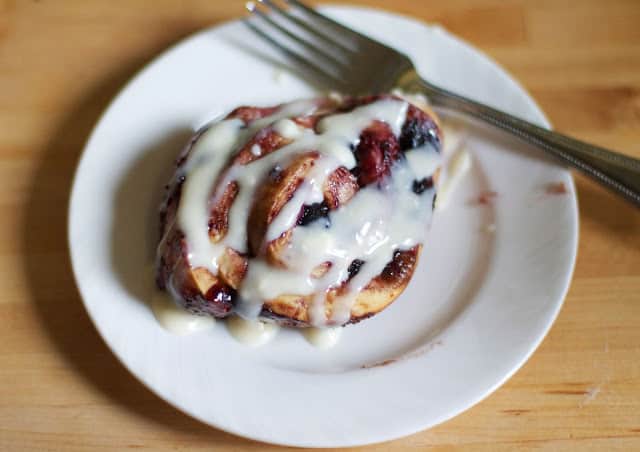 Happy New Year!!! Have you all read this article? It's a tongue in cheek list of food blogging trends that "need to go" in 2013 and it's really funny. I'm guilty of a few of those for sure, but reading them let me off the hook for one of my least favorite things about the food blogging world: pressure to blog seasonally. Now don't get me wrong- I really love using produce when it's in season and as soon as I can get my hands on greenmarket strawberries and rhubarb I'll about it, but I'm more talking about things like: no pumpkin until October, just Holiday recipes in December and healthy recipes only after New Years. I don't really know how to do much with healthy dessert recipes. I love sorbets and smoothies and eating well, but since I'm primarily a dessert blog, that's what I like to post. So here I am with my first post of the New Year with a really sinful but delicious treat. Sorry!!!! ;)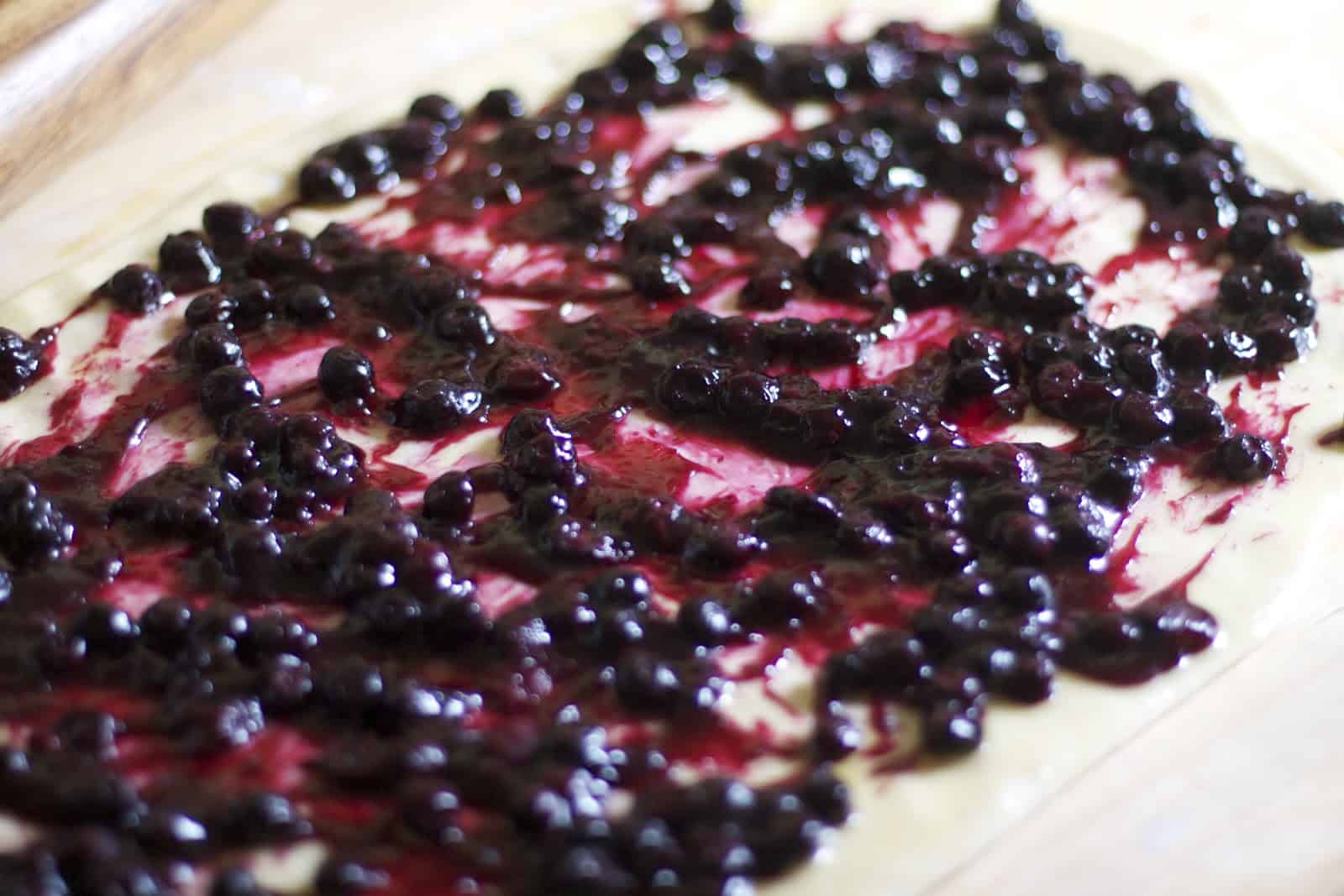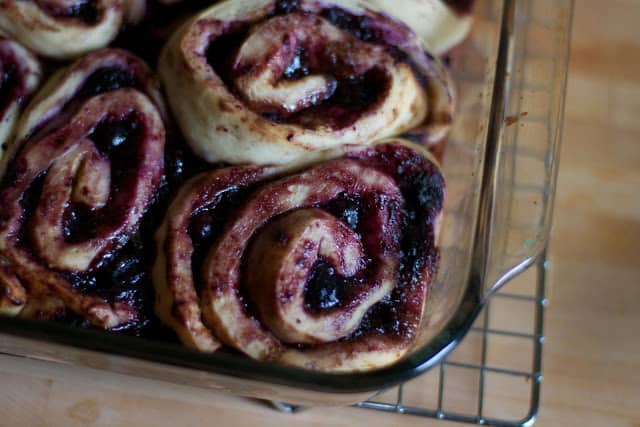 My go-to cinnamon roll recipe has gotten a bit juiced up with these beauties and I really love this new version. Using (frozen) blueberries a thick sauce is made which is then spread onto the dough underneath the cinnamon sugar mixture. The berries get pump and juicy when baked and really create a blueberry pie-like consistency which is to die for. A cream cheese glaze is drizzled on top which of course adds that perfect sweet finish.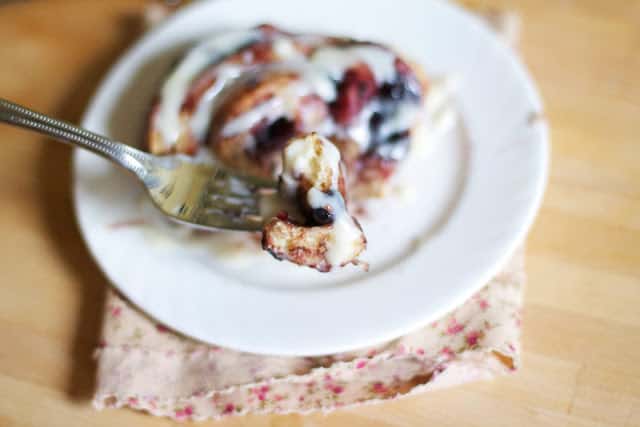 These would be wonderful with fresh berries in the summer, but since they're off-season I bought frozen. (See I'm good at that sometimes!) I actually liked how the frozen berries got so juicy in the sauce and I love the freedom of making them all- year round. Maybe next time I'll try pairing them with a lemon glaze?



Blueberry Cinnamon Rolls

Ingredients

for the blueberry sauce:
1 pint or 1 8oz. bag of frozen blueberries
juice of 1 lemon
3 tablespoons sugar
2 teaspoons corn starch
¼-3/4 cup water (if using frozen berries, you will need less water)
for the dough:
¾ cup milk
¼ cup butter
3¼ cups all-purpose flour
1 (.25 ounce) package instant yeast
¼ cup white sugar
½ teaspoon salt
¼ cup water
1 egg
for the filling:
1 cup brown sugar, packed
1 tablespoon ground cinnamon
2 tablespoons melted butter
Glaze:
4 oz softened cream cheese
¼ cup softened butter
1-4 cup of milk
1 cup powdered sugar
½ tsp vanilla extract
Instructions

For the sauce:
In a small saucepan over medium heat, combine the blueberries, sugar, cornstarch, lemon juice and water. Cook, stirring frequently, until mixture begins to thicken and the blueberries break down a bit. Remove from heat.
For the dough:
Heat the milk in a small saucepan until it bubbles, then remove from heat. Mix in butter; stir until melted. Let cool until lukewarm.
In a large mixing bowl, combine 2¼ cup flour, yeast, sugar and salt; whisk together. Add water, egg and the milk mixture; beat well with an electric mixer.
Add the remaining flour, ½ cup at a time, using a wooden spoon to stir well after each addition. (dough will be too thick and sticky to use the mixers at this point.) When the dough has just pulled together, turn it out onto a lightly floured surface and knead until smooth, about 5 minutes. (dough will spring back when lightly pressed.)
Cover the dough with a damp cloth and let rest for 10 minutes. Meanwhile melt your butter and mix the brown sugar and cinnamon together for the filling.
On a lightly floured surface, roll out dough into a 12x9 inch rectangle. (use your 9x13 baking dish as a guide.) Using a pastry brush- slather the dough with the butter.
Spread the blueberry sauce over the dough and then sprinkle dough with cinnamon sugar mixture and press in lightly so it doesn't fall out when you roll it. Carefully roll up dough and pinch seam to seal. (Roll it as tight as you can so the filling doesn't ooze out.)
Cut into 12 equal size rolls and gently place in a 9x13 baking dish. Cover and let the rolls rise in a warm place until doubled, about 30-45 minutes. Preheat oven to 375 degrees F (190 degrees C).
Bake in the preheated oven for 20 minutes, or until browned. Let cool for about 10 minutes and then drizzle them with glaze. (directions below) Serve warm.
For the glaze:
Whip together the softened butter and cream cheese with an electric mixer until smooth and creamy. Add the milk and then the vanilla and the powdered sugar, ½ cup at a time. Beat until creamy and smooth.