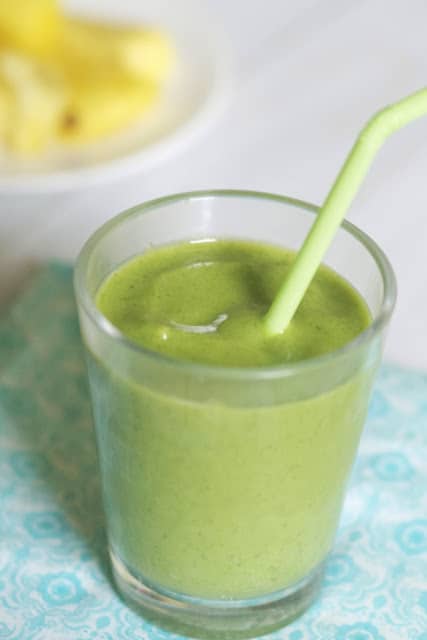 Okay okay….. pick up your jaws from the floor. Yes- I'm posting something that is not only healthy, but it actually has a vegetable in it. (I may be having a major identity crisis.) At least it's sweet- so that still counts. I mean it actually tastes SO sweet and delicious that you honestly won't know the vegetables are in there. (I promise.)
One of my New Years goals is to eat breakfast more regularly, but I really never feel like eating in the mornings. To solve this, I bought a ton of frozen fruit and have been experimenting with different smoothie recipes. It's amazing how much fruit you can cram into one glass of smoothie! This way, I win in both ways right? And smoothies are just so good. They make feel like I'm having a milk shake.
In terms of the "why doesn't it taste like spinach" issue- I really believe the use of pineapple makes a huge difference. It is so sweet and acidic that it really becomes the star. Adding banana also gives it that creamy texture and more sweetness. You can obviously experiment with a whole slew of fruits, but this is my favorite combo….and it's my favorite color. :)
Clean Green Smoothie
Ingredients
1 frozen banana (if using a fresh banana just add a little ice)
1 cup fresh pineapple
½ cup frozen peaches (or mango would work)
1 cup fresh spinach, rinsed and dried.
¼-1/2 cup almond milk (or regular, soy etc.)
Instructions
Combine all ingredients in a blender/food processor and puree until smooth. If mixture is too thick add more almond milk.