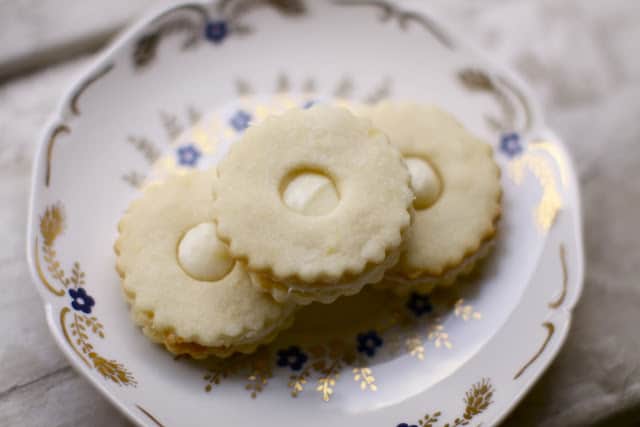 If I had a kitchen table or even any table that could be properly eaten on, I would love to host afternoon tea. Just as I type the words my mind is starting to wander to all of the cute finger sandwiches, scones and bite size treats that I could make. In my tea-dream, all my girl friends would arrive wearing party dresses and as we sipped and snacked we'd chat about life and laugh hysterically.
This recipe would fit right into that vision. The cookies themselves are a lemony, buttery shortbread that almost melts in your mouth. Sandwiched between them is a tangy cream-cheese filling. Though I'd love them in a garden with a cup of English Breakfast, I just had one for actual breakfast and they are still incredible!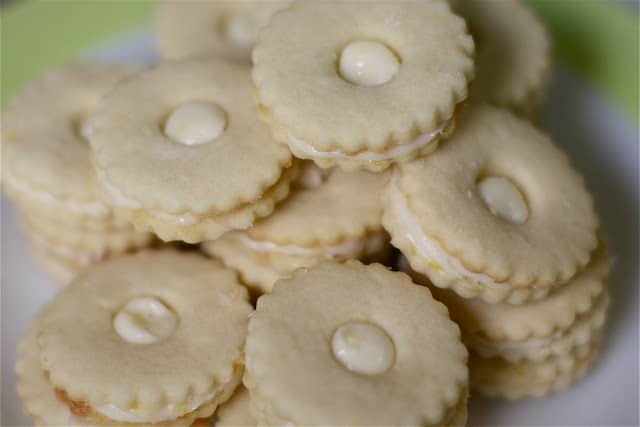 Note: After reading some reviews of Martha's recipe, I added a small amount of buttermilk and lemon juice to make the cookies less dry. I thought the finished product was perfect, but if you don't have buttermilk on hand, it can omitted. :)
Creamy Lemon Sandwich Cookies
Ingredients
16 tablespoons (2 sticks) unsalted butter, room temperature
1 cup confectioners' sugar
1 tablespoon finely grated lemon zest (from 1 lemon)
1 teaspoon lemon juice
2 teaspoons buttermilk (optional)
½ teaspoon salt
2 cups all-purpose flour (spooned and leveled), plus more for rolling
2 tablespoons granulated sugar, for sprinkling
Filling:
1 package (4 ounces) cream cheese, room temperature
1 tablespoon finely grated lemon zest (from 1 lemon)
1 teaspoon lemon juice or extract
1 to 1½ cups confectioners' sugar
Instructions
Preheat oven to 350 degrees. In a large bowl using an electric mixer on high speed, beat butter, confectioners' sugar, lemon zest, and salt until combined. Add buttermilk and lemon juice. With mixer on low, add flour (dough will still be stiff); finish mixing with a wooden spoon. (Don't over-mix!)
Turn dough out onto a piece of plastic wrap, pat into a disk about ½ inch thick. Wrap, and chill until firm, about 1 hour (and up to 3 days).
Unwrap dough; place on a lightly floured piece of parchment or waxed paper. With a lightly floured rolling pin, roll dough about ⅛ inch thick (if dough cracks, let it warm up slightly).
Cut out cookies with a 1½-inch round or scalloped cutter (reroll scraps once, chilling of too soft). Place 1 inch apart on two baking sheets; sprinkle with granulated sugar. (If you want the circle cut-outs like I have, use a large round pastry tip to cut holes in half of the cookies before baking.)
Bake until barely beginning to brown 9-10 minutes; transfer to wire racks to cool completely.
Note: Original recipe called for baking 15-20 minutes, I found mine to all be done in 9 minutes max. If yours need more though, every oven is different! Also- the batches that have the cut-outs will generally need slightly less time.
For Filling:
In a small bowl, mix cream cheese and zest until smooth. Gradually add 1 cup confectioners' sugar, mixing until smooth. Mix in remaining sugar as necessary to create a firm but spreadable filling.
Form sandwiches: Place about 1 teaspoon of filling between two cookies, sugared sides facing out; squeeze gently.