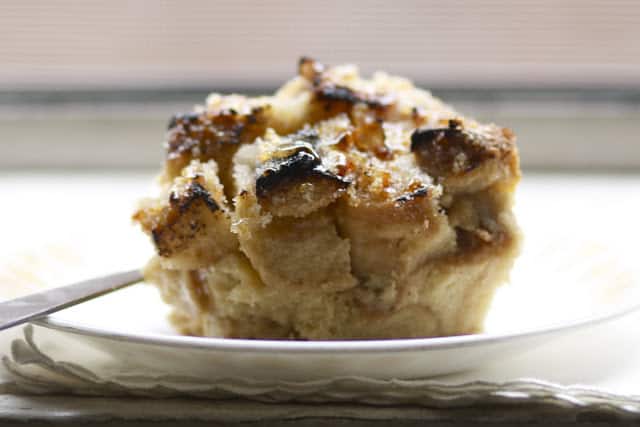 Are you drooling already? I was the moment I read about this recipe in Rebecca Rather's "The Pastry Queen." (I told you I'd be baking from it a lot!) I had been debating about what to make for an Easter get- together at my Sister's. I was trying to make time in my weekend for Cinnamon Rolls or another complicated yeast-needing dessert, but in the end I knew I needed something fast and easy.
Ideally, I wanted to make something I could completely prep on Saturday and then bake on Sunday morning without any hassle. This recipe was perfect! I highly recommend letting it sit overnight as it really lets the bread soak in all the liquid which means amazing bread-pudding-like results. In fact, I would actually call this "Creme Brulee French Toast Bread Pudding," (but that just sounds too long.) The only change I made to the recipe was to add some cinnamon, because it just doesn't seem like French Toast without it! This is perfect for a brunch, luncheon or even just dessert! (It is that rich and delicious.)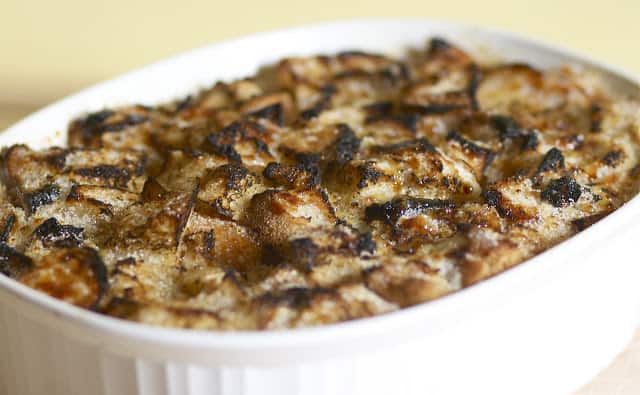 Creme Brulee French Toast
Ingredients
1 lg. loaf of challah bread (or french bread works too.)
8 egg yolks
4 cups heavy whipping cream or half-and-half
¾ cup plus 3 to 4 tablespoons sugar
¼ teaspoon salt
¼ cup vanilla extract
¼ tsp. ground cinnamon
2 tablespoons unsalted butter, melted
Instructions
Grease a 2½-quart oven-safe casserole dish. Slice the challah into ½ inch slices, then into cubes.
In a large bowl, whisk together the egg yolks, cream, ¾ cup sugar, salt, vanilla, cinnamon and butter. Put a quarter of the bread cubes in the casserole dish. Pour in enough of the cream mixture to cover the bread.
Using a spoon, press the cream mixture into the bread so that it is thoroughly soaked. Continue layering in the same way until all the bread is soaked with the cream mixture. Cover the casserole tightly with aluminum foil and refrigerate at least 1 hour, (or overnight.)
Preheat the oven to 325F. Put the casserole in a larger baking pan and set it in the oven. Pour enough boiling water into the larger pan to reach halfway up the sides of the casserole Bake for 1½ hours, until the top is light brown and set.
Remove the casserole from the oven and sprinkle 3 to 4 tablespoons sugar over the top in an even layer. Use a broiler set on high (set the casserole just a few inches from the heat source) or a kitchen torch to cook the topping until the sugar becomes brown and liquefies. (It will harden as it cools.) Serve warm or at room temperature.
Notes
Notes about this Recipe: I have a small kitchen torch that I used when making this. I highly recommend that vs. a broiler, but even with that, I think it is inevitibale that some edges of the bread are going to slightly burn. Trust me when I say that the burnt sugar taste is still amazing and that it doesn't taste "charred" at all. I had a hard time getting every granule of sugar to melt, and I think this would be even harder with a broiler. But- if that is what you do- watch it very carefully, it can burn quickly!