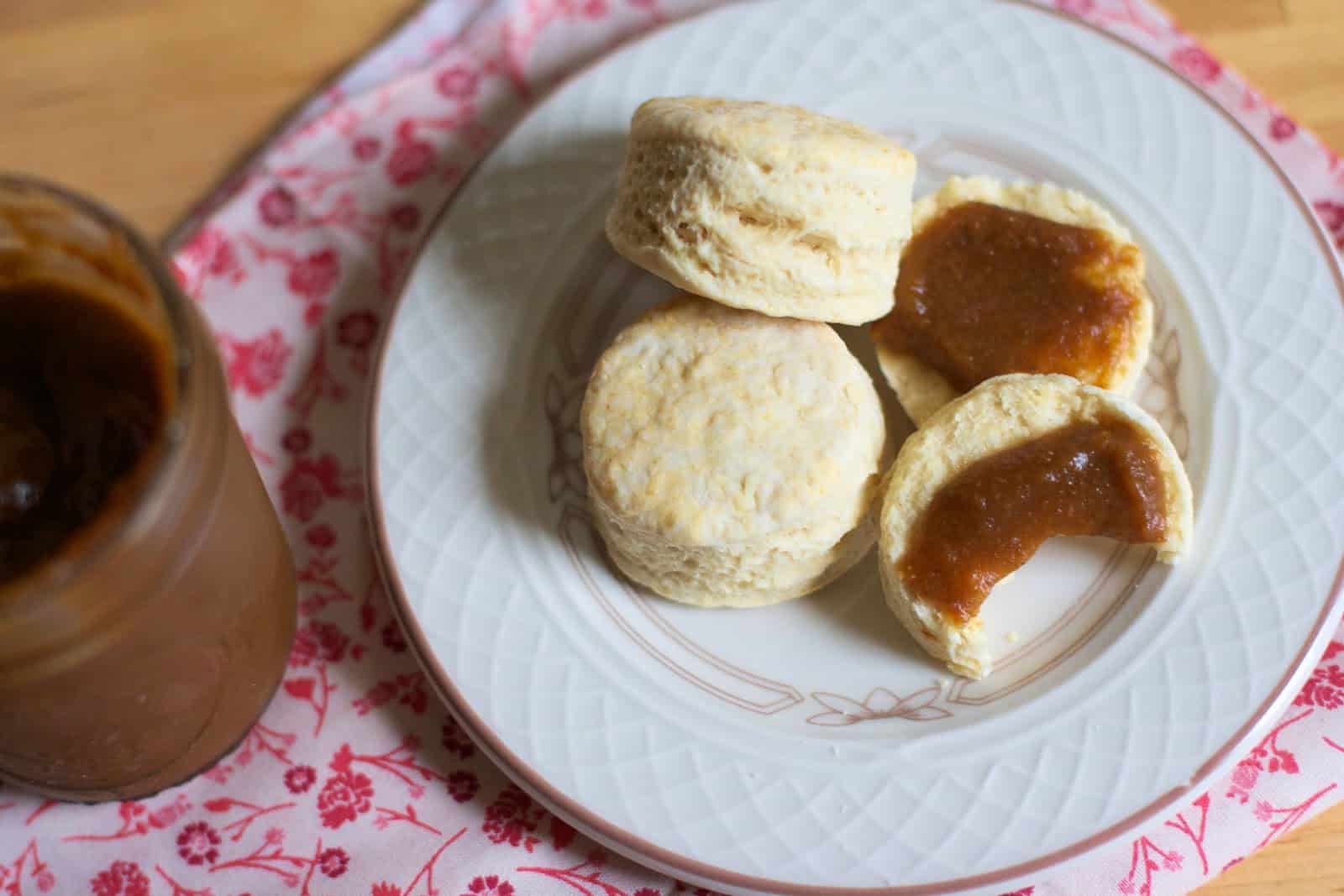 Just because I don't really like eating breakfast doesn't mean that Andy shares my feelings on the subject. He's an avid breakfast eater who always eats while asking me, "what are you going to have??" (as I sip my coffee and avoid the question.) So the other day during this lovely marital routine, I thought I'd show him up and whip up something so little that I could manage to nibble on it in the mornings.
I figured that cute little buttermilk biscuits with a smear of spiced pumpkin butter would be the perfect little morning bite, and boy was I right. The only problem was that I couldn't stop at one, finding that 3 was the perfect amount. (the picture may not be good reference, but they were about silver dollar sized.)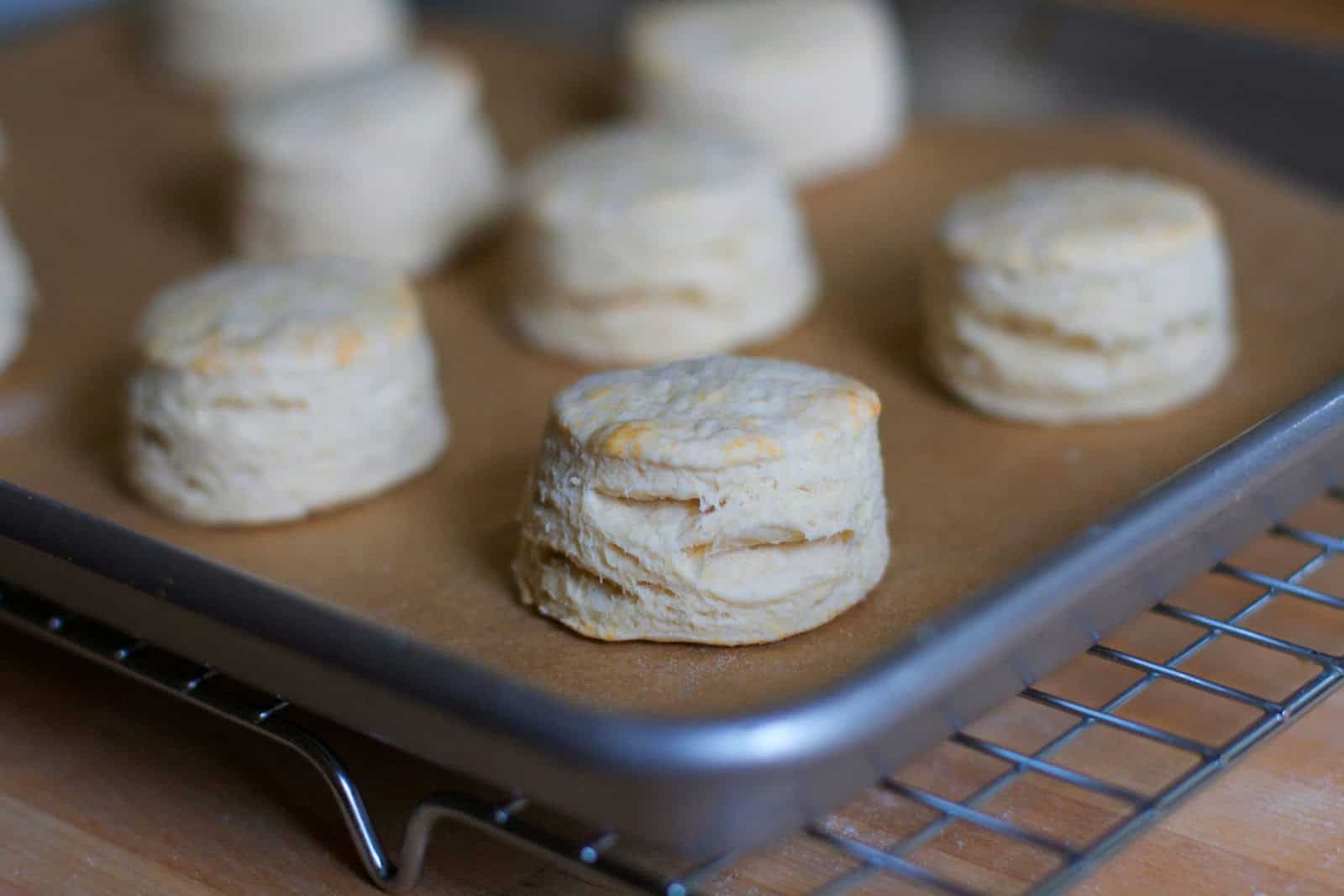 This was my first time making biscuits, but I found the process very simple, and similar to scones. The dough for these little babies comes together in no time, and since they bake in just 5 or so minutes, you can be eating these before you even have time to decide if its a good idea. I used a mini biscuit cutter that was about 1 1/2 inches wide, but you could of course make full sized biscuits too!
The pumpkin butter is also easy to throw together and if you're into canning, it would be a wonderful thing to make in bulk and share for holiday gifts and such. It is full of warm spices and would be wonderful on these biscuits, toast or even swirled into yogurt.
flaky mini-biscuits

Yield: 12-14 mini biscuits

Ingredients
1 cup all-purpose flour
1 tsp. granulated sugar
1¼ tsp. baking powder
¼ tsp. baking soda
¼ tsp. salt
2 Tbsp. cold butter, grated*
½ cup buttermilk
Instructions
Preheat oven to 425 degrees F. Line a baking pan with parchment paper or a silpat.
Mixing by hand: In a large bowl, whisk together dry ingredients. Add the grated butter and use a your fingers to work the butter into the dry mixture and form fine crumbs. Stir in buttermilk with a wooden spoon until the dough is mixed together and a little sticky.
Turn dough out onto a floured surface; knead lightly and form into a small round. Roll dough into a rectangle (1/2 inch thick); dust the top of the dough lightly with flour. Fold dough into thirds (as if you're folding a piece of paper to slide into an envelope). Re-roll dough into another rectangle (1/2 inch thick). Fold into thirds again; roll into another rectangle. Cut dough with a mini biscuit cutter to form dough rounds. Gather scraps and gently pat the dough together again to cut more biscuits. (don't cut the scraps more than once.)
Place dough rounds, 1 inch apart, on prepared baking sheet. Bake 5-7 minutes, or until biscuits are golden. Remove from pan; cool 2 minutes on wire racks. Serve warm.
Notes

*grating butter is easier than it sounds. At the very end, just use a spatula to scrape any extra off the your grater.
biscuit recipe adapted from: Recipe Girl
spiced pumpkin butter
Ingredients
1 (15 ounce) can pumpkin puree
⅔ cup apple cider
½ teaspoons ground ginger
¼ teaspoon ground cloves
½ cup brown sugar sugar
1 teaspoon ground cinnamon
½ teaspoon ground nutmeg
Instructions
Combine pumpkin, apple juice, spices, and sugar in a large saucepan; stir well.
Bring mixture to a boil. Reduce heat, and simmer for 30 minutes or until thickened. Stir frequently.
Allow to cool and then store in air tight containers and refrigerate.
Recipe adapted from: All Recipes