Holiday Card sneak peek and a Minted giveaway!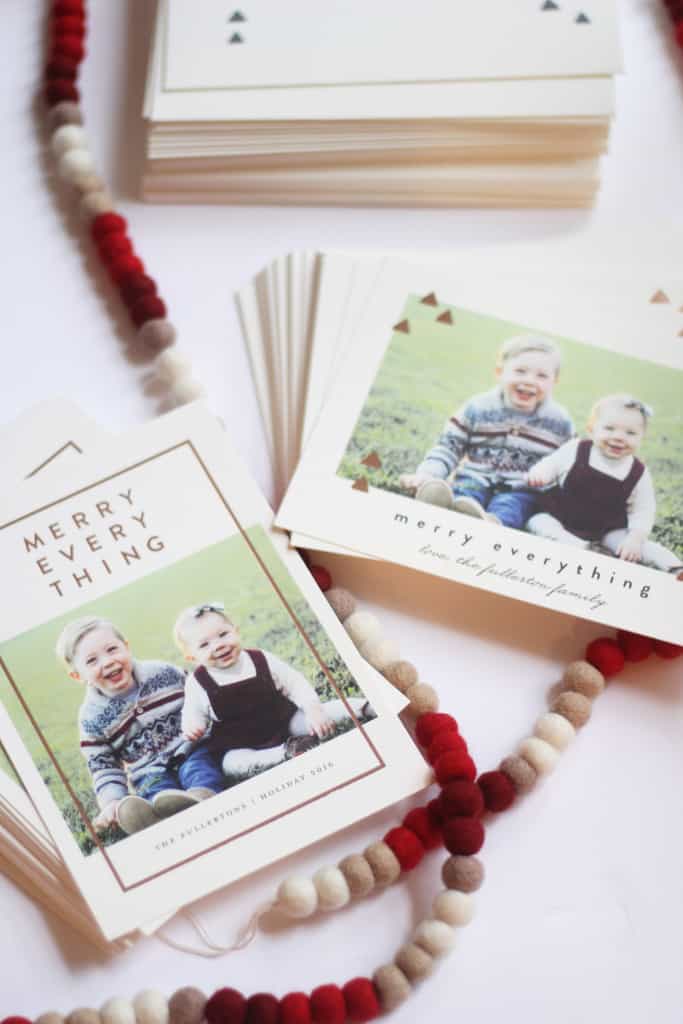 It's post-Thanksgiving so it's officially Ok to be all about all things Christmas and I'm so ready. Our tree is up, the halls are decked, and our holiday cards are stuffed, stamped and ready to go out today. There's something about our first holiday season in our new house that just makes me want to go all out. I tend to go for a more minimalistic style in general, so my decor is pretty simple, but I've had so much fun with Hugo getting everything all festive.
Back to our holiday cards though, I ordered ours from Minted like I did for our last 3 holiday cards as well as the birth announcements for both of the kids. We've paired together for this post, but I've been a loyal customer for years. Their designs so stylish yet simple, and the quality is always gorgeous. My favorite thing though is the envelope addressing. Check it out below- you can get all your envelopes printed with your addresses in matching design for free. I love it. Maybe I'm lazy, but I like to just stuff the cards- use my fancy return address stamper- stick on a stamp and be done. This makes it so so easy.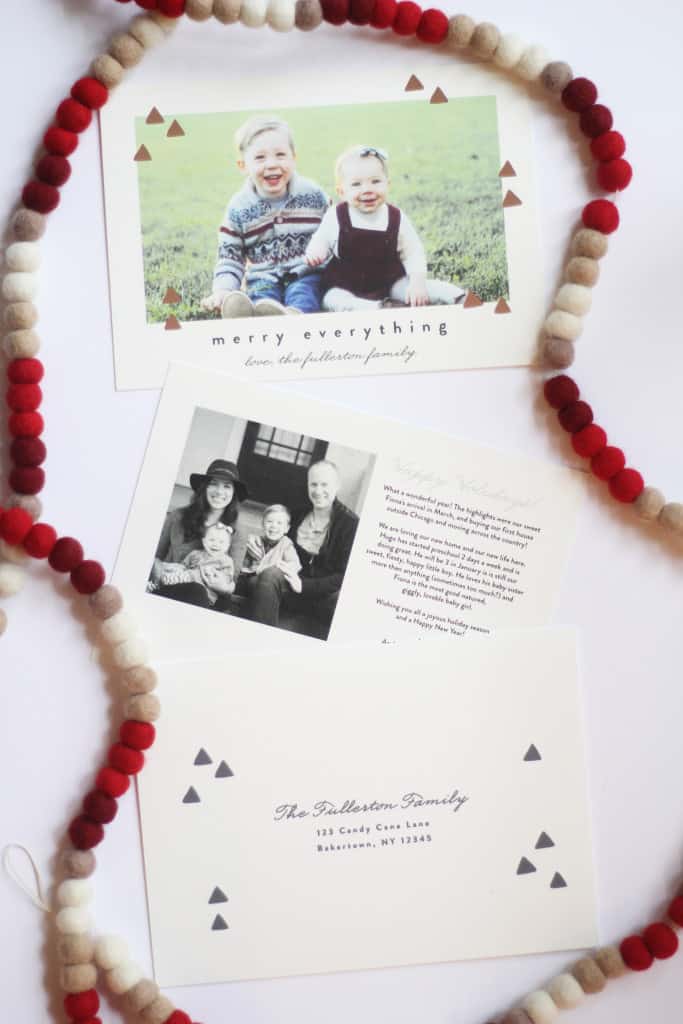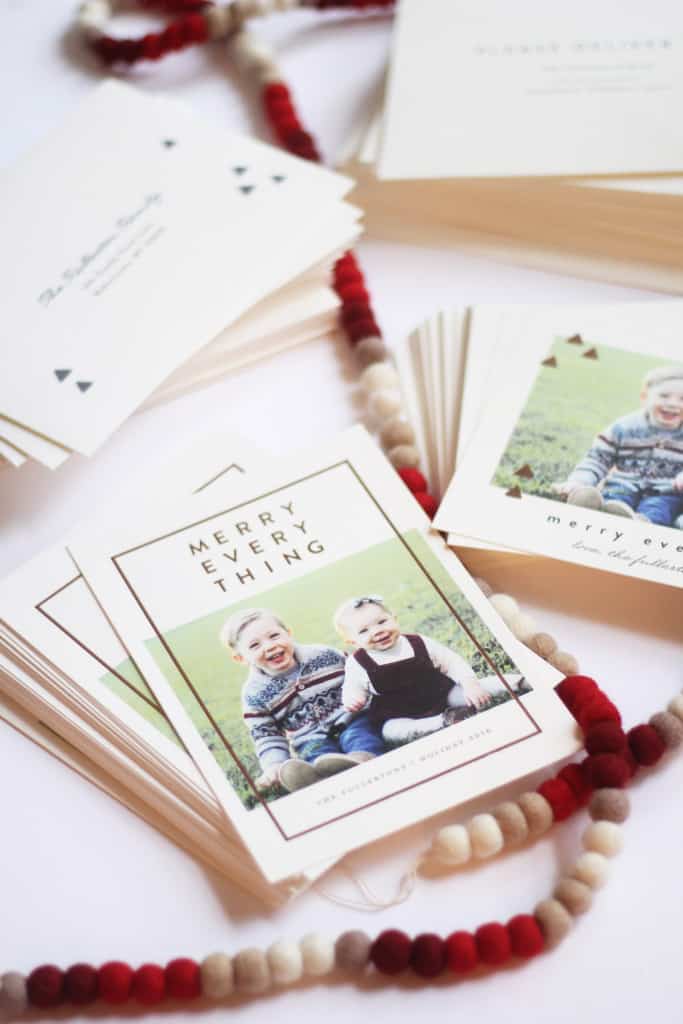 I couldn't decide on just one card design so I got two this year. The first is called "Modern Glow," it's the horizontal card with the rose gold foil and cute triangle design and then "Modern Merry," the vertical one embossed with gold foil that seemed so simple but well-designed. I think I was so happy to have a picture where both kids were smiling that I couldn't settle on just one.
We also got some decor from Minted for our house and tree! Everything was so simple and streamlined like the rest of our house decor I really love the way it looks. These ornaments are so lovely right? I decided to do all neutral/metalic ornaments with pops of red from the garland. It looks so lovely on my tree- the pics don't do it justice. Find the tree decor, both garlands I used as well as the vintage metallic ornaments and gold dipped paper ornaments in the "Holiday Home Decor" section of the Minted website.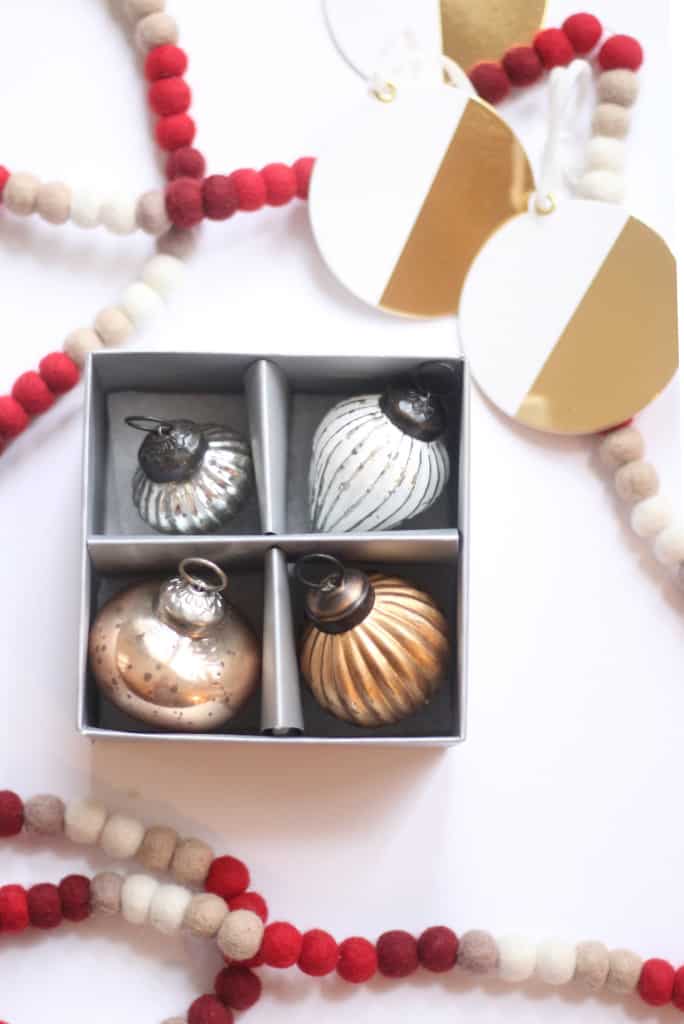 Today happens to be Cyber Monday which in general I'm way more into than Black Friday. I do 99% of all my shopping online, so I look forward to getting some of my shopping done today. Minted has 20% off everything today- so it's the perfect chance to get your holiday cards ordered.
PLUS- Minted is giving away another $100 to one of my lucky readers! Just follow this link to enter, the giveaway goes until 12/5 and the winner will be notified by email!