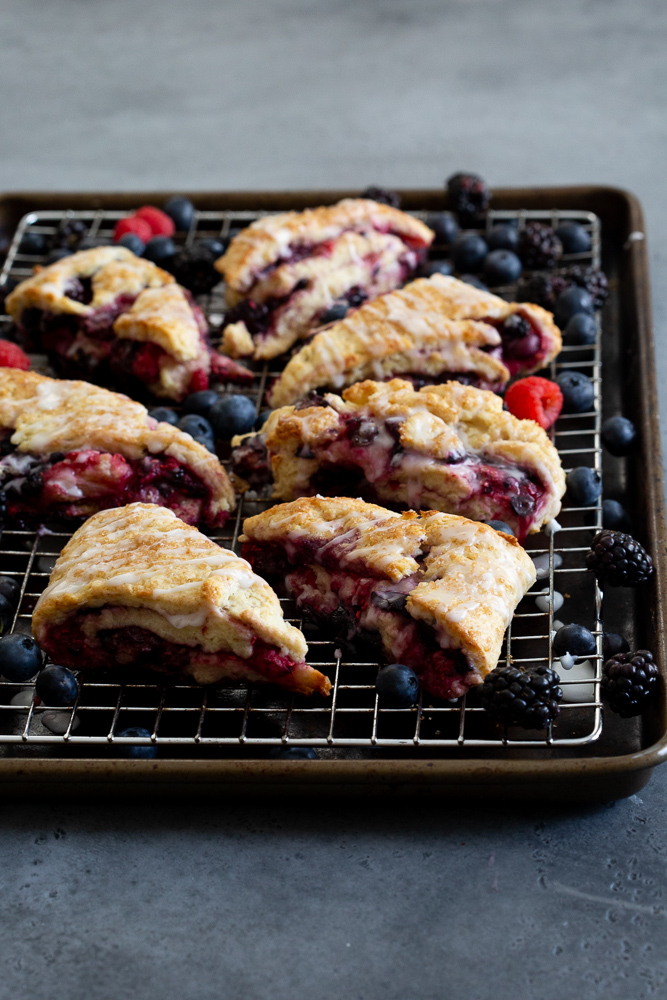 When a local coffee shop recently closed, sending all it's loyal customers into a frenzy about when they'd get a chance to try their famous layered scones again, I had a mission to recreate them.
Having only actually tried one once, I was mostly drawing off of the description others gave me of them: tons of juicy berries, a simple glaze on top, and layers of buttery, tender scone.
I set to work and after a few tries I'm really happy with the result!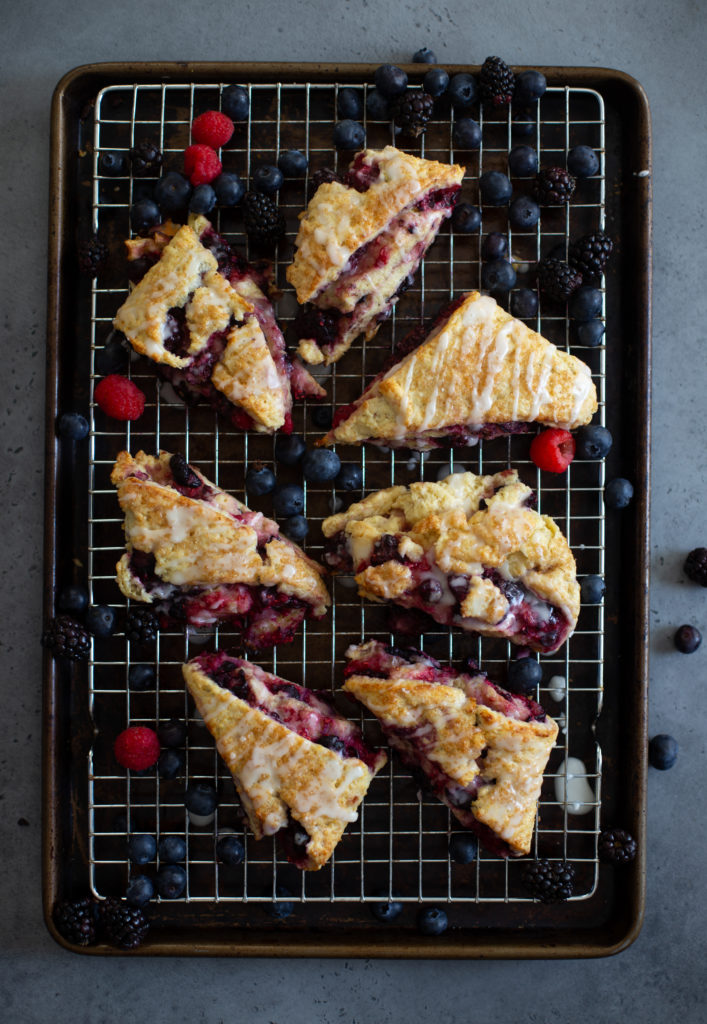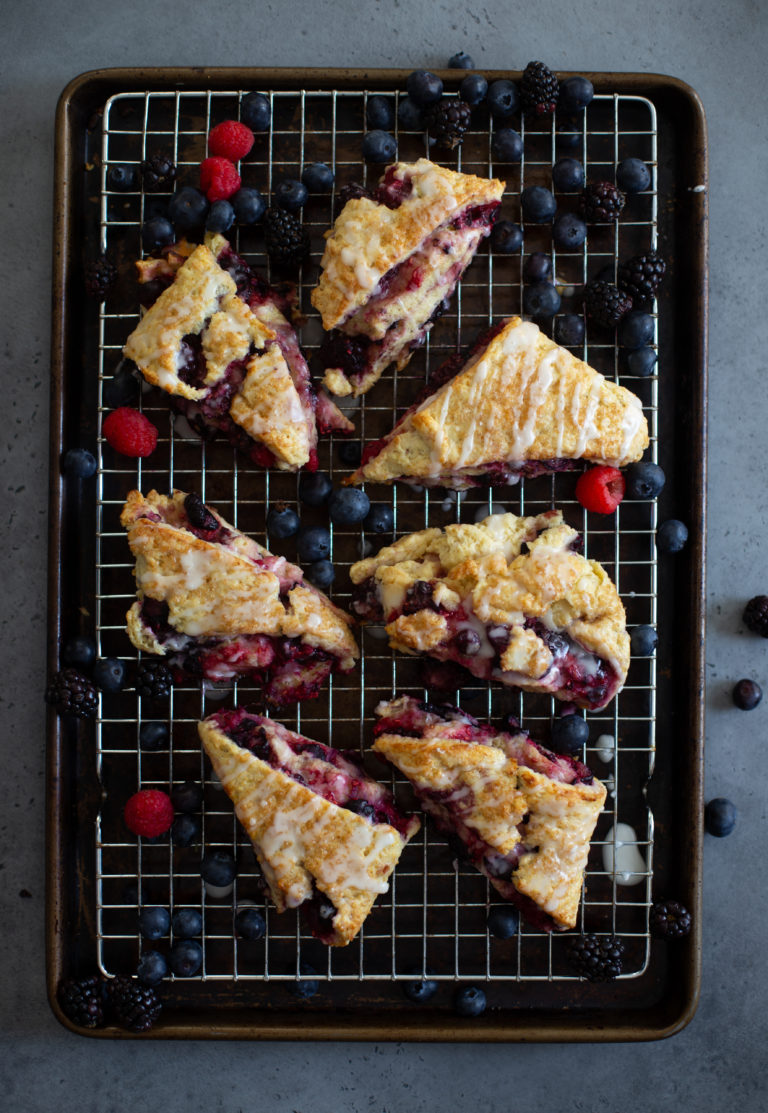 If you like your scones to be more like a slice of pie than scone these Layered Berry Scones are about to be your favorite!
A simple, tender scone dough is layered with juicy berries and then folded up, allowing the berries to really shine. A bit of lemon zest in the dough as well as a lemony glaze on top adds a bit more brightness that is just perfect.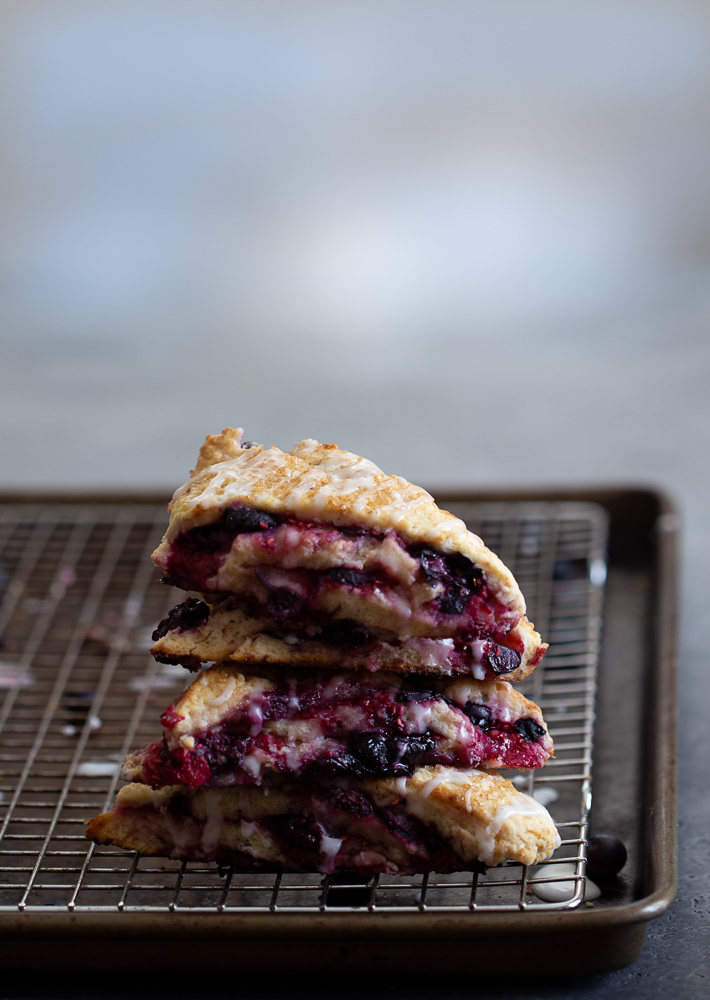 As you make these, you may wonder how it's possible to stuff so many fresh berries into one small scone, but trust me that it works and it's just fabulous.
You also may think that making scones is tricky and too difficult to try, but trust me these are easy as can be. The dough is fully made by hand, I didn't use a food processor or even a pastry blender, just my hands to break down the butter and create a nice and flakey dough.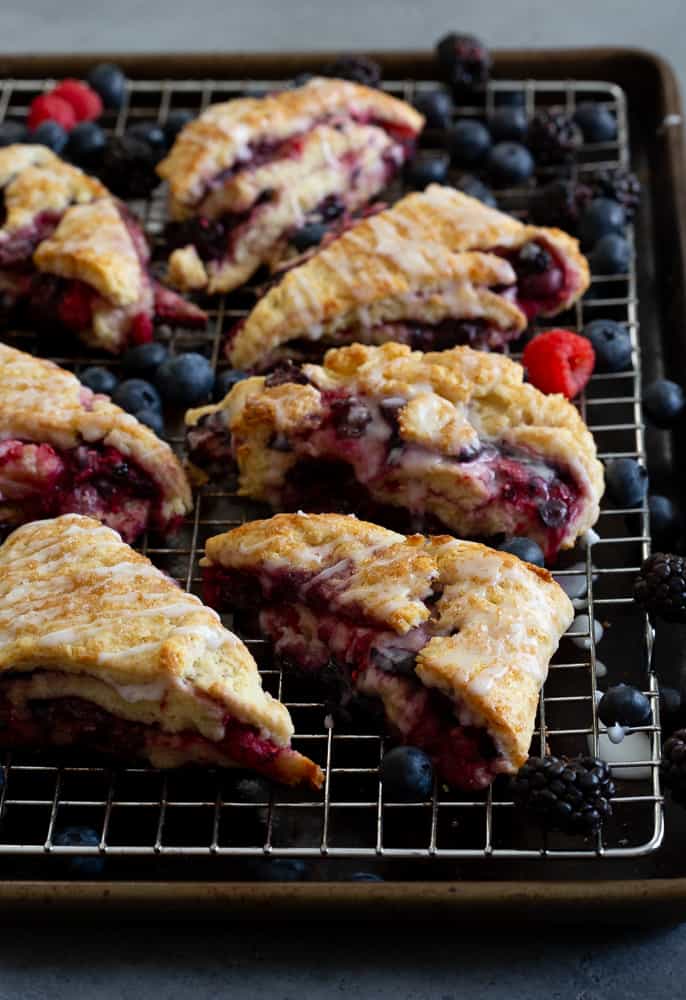 It's berry season, so gather your favorite and try these asap! I promise you'll love them.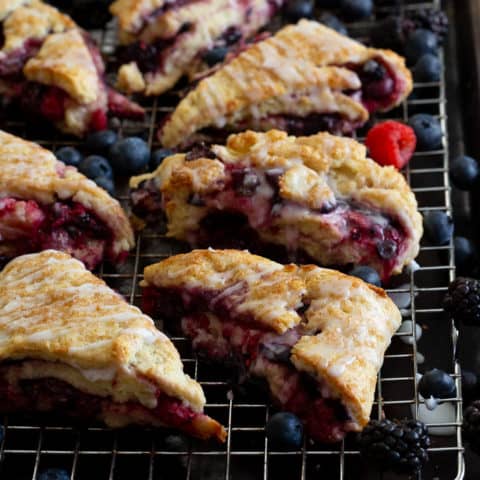 Layered Berry Scones
Ingredients
2 cups flour
2 tablespoons sugar
2 1/2 teaspoons baking powder
1/2 teaspoon salt
zest of 1 lemon
1 stick of unsalted butter (8 oz, 1/2 cup) cut into chunks
3/4 cup heavy cream plus a little for brushing on scones
2 cups of mixed berries (I like a mix of raspberries, blackberries and blueberries)
raw sugar for sprinkling
For the glaze:
1/2 cup powdered sugar
juice of 1 lemon
Instructions
In a medium sized bowl, combine the berries and mash them slightly using a potato masher or a fork. You want to break down the big pieces and get them a bit juicy.
Combine flour, sugar, baking powder, lemon zest and salt in large bowl.
Add the butter chunks and use your hands or a pastry blender to work the pieces into the flour. Keep breaking it down until the butter pieces are the size of peas.
Make a well in the center of the mixture and add most of the heavy cream, use a spatula to turn the dry parts into the wet to create a cohesive dough. Add more cream as needed for the dough to come together, save any extra for brushing onto the scones.
Transfer the dough to a floured surface and knead it slightly until the dough is less scraggly and feels smooth.
Flatten the dough into a rectangle and roll out to about 9x13, trying to keep it as smooth and even as possible. Make sure the surface is floured and your dough isn't sticky.
Visually divide the dough into quarters, and spread the berries evenly over the bottom 3/4 of the dough.
Fold the top 1/4 over the berries, and then fold 2 more times until you have a long and thin rectangle of dough.
Cleanly cut the dough once down the middle, then into quarters, and finally each quarter diagonally to make 8 scones.
Transfer them to a cookie sheet and pop it into the freezer while the oven preheats to 375F. (You can place them on a plate if a cookie sheet won't fit.)
Brush with heavy cream and sprinkle with raw sugar.
Bake for 18-22 minutes or until golden, with the tops feeling firm. Cool on a wire rack.
For the Glaze:
Add the powdered sugar to a small bowl and add the lemon juice a little as a time until your ideal glaze consistency is reached. Drizzle over the scones and enjoy!
Pin Layered Berry Scones for later!