As I slowly but surely am getting into a routine as a new mama, I'm so grateful to a few of my blogging friends who are contributing some guest posts to keeps things rolling around here. Today I welcome my dear Brandy who writes the blog Nutmeg Nanny– please stop by her lovely blog and say Hello!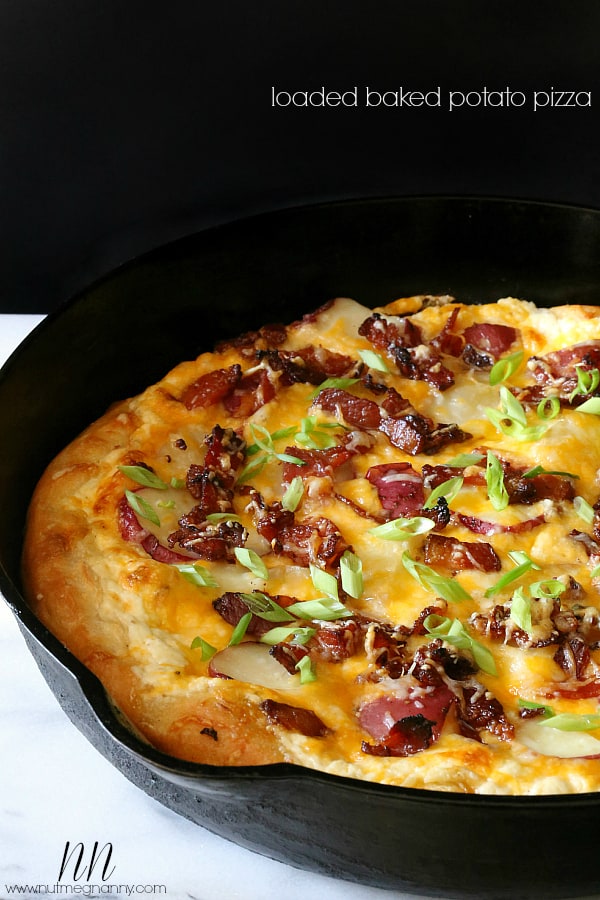 Hello Baker Chick readers! I'm Brandy from Nutmeg Nanny. I have serious love for Audra and her totally adorable little addition. I'm so happy to be here today bringing you a simple recipe that can be made in not time at all.
I first heard about baked potato pizza when my husband (then boyfriend) and I visited one of his favorite pizza joints in Connecticut. When he told me he wanted to order a pizza with potato I was totally thrown off. Who put potatoes on a pizza?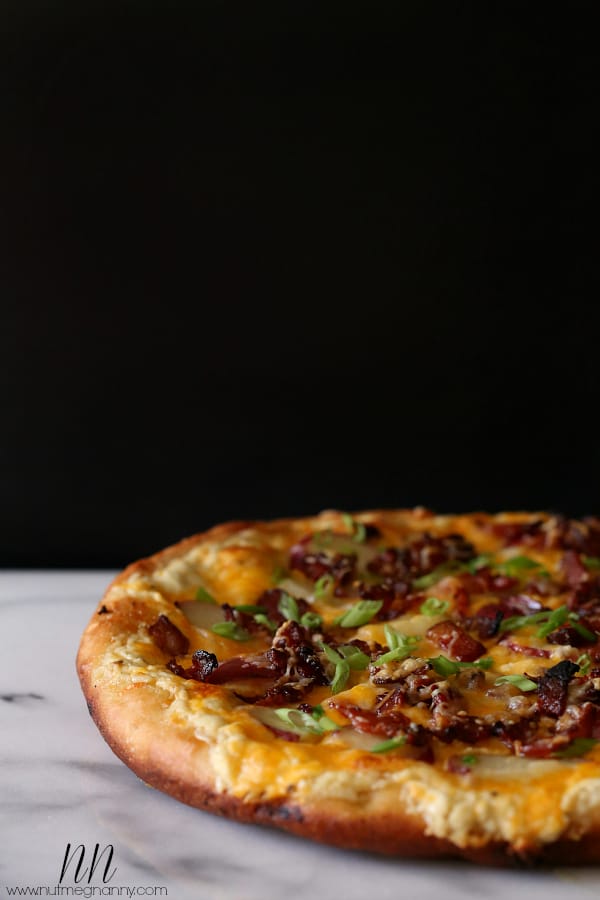 The good news is that I almost devoured that whole pie myself. My oh my! I never knew some something so simple could be so grand. Creamy sour cream mixed with garlic and seasonings, sharp cheddar cheese, soft sliced potatoes and lots of crispy bacon. Sweet baby J I will never stop loving this pizza.
For the crust you can go two ways. Either make your own (super simple) or buy a fresh pound bag from the supermarket (even more simple!) You can also opt to make this pizza thin crust by cooking it on a silpat lined baking sheet. I love the deep dish cast iron but the choice is yours.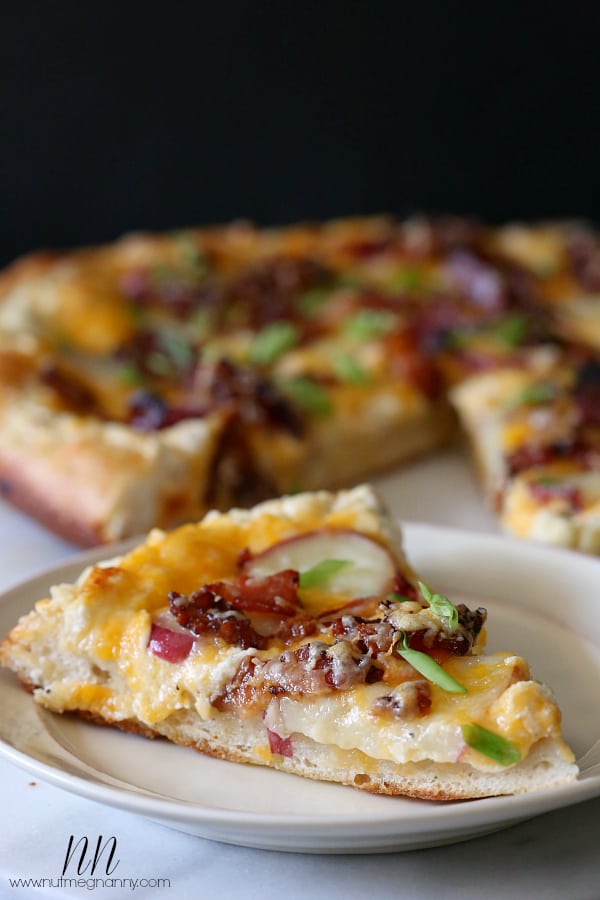 Loaded Baked Potato Pizza
Ingredients
¼ cup olive oil
1 pound pizza dough, room temperature
4 small red potatoes, boiled and sliced
6 ounces sour cream
1 teaspoon garlic powder
½ teaspoon black pepper
½ teaspoon Italian seasoning
6 strips bacon, diced
1-1/2 cup sharp cheddar cheese
¼ cup sliced green onions, green party only
Instructions
Add olive oil to a 10-inch cast iron skillet and place dough into the skillet. Using your fingertips spread the dough as close to the edge as possible. It will shrink slightly back but you should have no more than ½ space between the dough and the pan.
In a small pot add potatoes and cover with cold water. Cook until just fork tender. Drain and let cool. Once cool slice into ¼ inch slices.
Preheat oven to 525 degrees F.
In a small bowl mix together sour cream, garlic powder, black pepper and Italian seasoning, set aside.
In a small skillet add diced bacon and cook until just slightly crisp. Do not fully crisp because it will also cook while in the oven. Drain the bacon on a paper towel.
Spread sour cream mixture over the dough leaving a ½ inch crust.
Top with 1 cup cheese, sliced potatoes and bacon. Top with remaining ½ cup cheese.
Bake for about 15-18 minutes until the dough is fully cooked and the top is melted and browned. You can check the doneness of the dough buy slightly lifting the underside of the pizza out of the pan with a spatula. The underside of the crust will be a deep golden brown.
Once fully cooked remove from the oven, sprinkle with green onions and let sit for 5 minutes before you remove the pizza from the pan.
Notes
If you opted to make this a larger thin crust pizza bump the sour cream up to 8 ounces and do not use the olive oil with the dough.