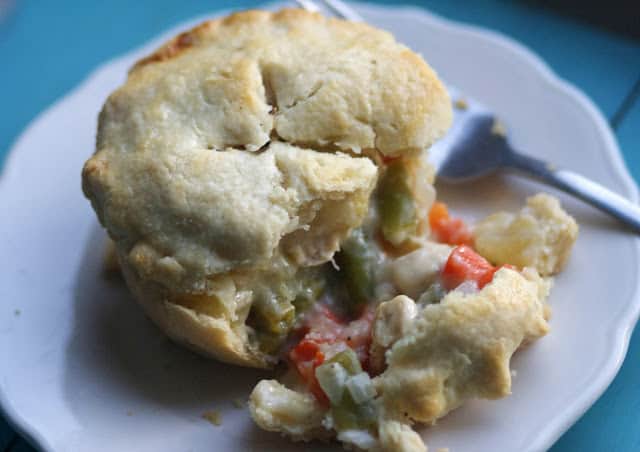 The first version of these mini Chicken Pot Pies made it's appearance on my blog about a year ago when I was still a bit clueless. I hadn't ever made anything like it before, and my kitchen was much less equipped than it is today. All of that being said, they still turned out great, and that post is actually one of the most popular on the blog to date. Why mess with a good thing right? Well, I get weekly emails about freezing, storing, reheating and revamping this recipe, so I thought a fresh new version may be a good thing. (I've learned a bit in a year after all…)
The filling recipe for these is almost exactly the same with just a few minor adjustments. The main difference I made was to the crust. See a year ago, I had little to no experience with pie crust, and I also didn't have a food processor, so I was left with a simple and easy Oil Pastry. It turned out well and still tasted great, but I have grown so attached to Pate Briseé (Butter Pie Crust) over the last year, that I thought it was worth a try. And man oh man are these amazing with that flaky and buttery crust. These just got a million times more delicious let me tell you.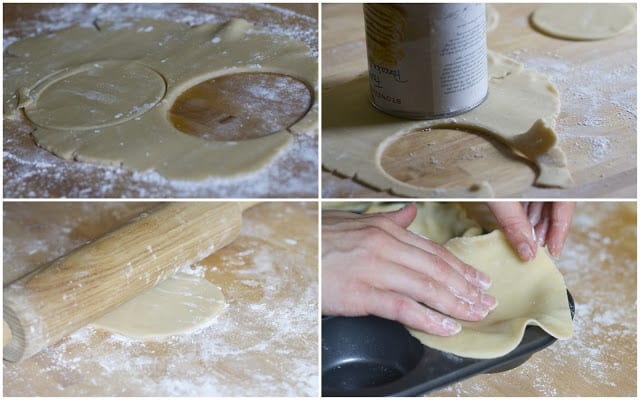 A big difference between the two crusts is that Pate Briseé needs to chill for an hour, so the order of the recipe as changed a bit too. I now recommend making your crust, dividing and wrapping it, and making the filling while it is in the fridge. This makes the whole meal pretty simple and easy to whip up for dinner with not a ton of prep time needed.
I have also gotten some questions about measuring, rolling and assembling the pies. I divided the dough into 3 equal segments which helped make sure that each pie had the same amount of dough. Another important thing is to find a cutter that will fit your mega muffin tins. As you can see in the picture below, I used an old pancake mix tin that may have been a teeny bit too small. To remedy this, cut a thicker piece of dough and gently roll it out so that it will fit the muffin tin with about a half inch overhang around the whole diameter. (I tried to take more process photos but I was losing light and my hands were too buttery to wash them after each step!)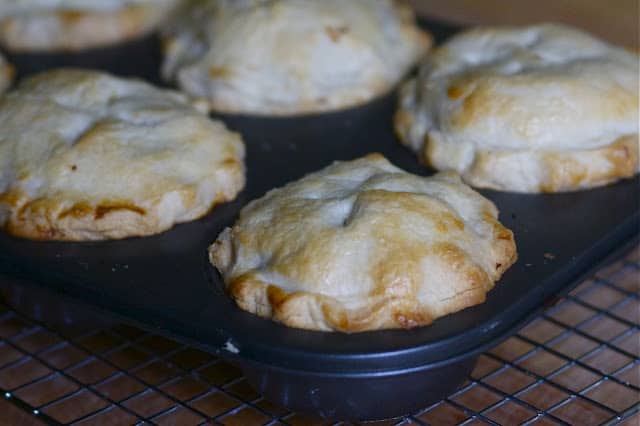 If you are making these to have an easy and well-portioned meal waiting in your freezer (like I did,) here are some simple freezing instructions:
1- I always freeze these fully baked. Once they have cooled, remove them from the tin and wrap tightly with foil and saran wrap. (I use both.)
2- When you are ready to prepare them, thaw overnight in the fridge or on the counter for a few hours until they feel soft.
3-Either- microwave for 60 seconds, and bake at 375 until the tops are crisp (5 mins) OR Bake at 375 for 10-15 minutes until filling is warm and tops are crisp.
I hope this post helps! Happy Monday!
Muffin Tin Chicken Pot Pies Part 2

Ingredients
1 batch of pie crust
1 pound skinless, boneless chicken breast halves - cubed
¾ cup chopped carrots
¾ cup chopped potato
¾ cup fresh green beans cut into 1 or 2 inch pieces.
⅓ cup butter
⅓ cup chopped onion
⅓ cup all-purpose flour
½ teaspoon salt
¼ teaspoon black pepper
Other spices to taste (garlic, celery seed etc.)
2 cups of chicken broth
1 to 1½ cups milk
Instructions
Preheat oven to 425 degrees F (220 degrees C.)
In a saucepan, combine chicken, carrots, potatos, and beans . Add enough chicken broth cover and boil for 15 minutes. Remove from heat, drain (while saving the chicken broth,) and set aside.
In the saucepan over medium heat, cook onions in butter until soft and translucent. Stir in flour, salt, pepper, and spices . Slowly stir in 1¾ cup chicken broth and 1 cup milk. Simmer over medium-low heat until thick. Remove from heat and set aside.
Combine the Chicken mixture and the sauce. If it doesn't seem saucy enough, slowly add broth and milk one tablespoon and a time until mixture has a nice gravy. (Sorry to be vague here but you really just need to eye ball it. Especially if you are decide to add other veggies.)
To Assemble:
Each 3rd of dough will need to yield 4 dough rounds. (If you need to gather the scraps and re-roll a couple times that's fine.)
Roll each dough circle out until it is big enough to be pressed into the muffin tin with a half inch over hang.
After all the dough is in, add the filling into each tin. Be generous with the filling, you want it to dome on the top
Take the remaining 6 dough circles and one by one lay on top of the filling. Press the top and bottom dough layers together and trim excess.
Using the back of a knife or your finger, pinch the edges of each pie to seal.
Brush the top of each pie with an egg wash, milk or cream. (optional)
Cut a few slits into each pie to release steam when baking.
Bake at 425 for 30 minutes, or until pies are crisp on top and golden brown.
Nutrition Information

Serving size: 6 muffin sized pot pies
Crust Recipe from Martha Stewart