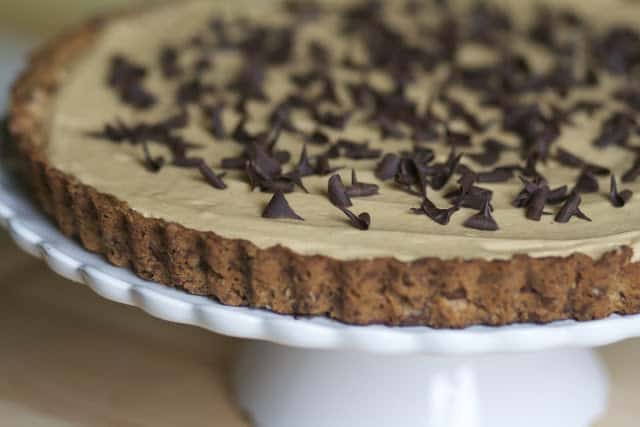 It must be common knowledge by now that I am obsessed with the sweet and salty combo. So, when I saw a recipe in Food & Wine for a pretzel tart crust, I knew I had to make it. The recipe I found though was for a milk chocolate tart – which didn't sound that great to me. I love chocolate, but usually like in it combination with something else (like- peanut butter!)
It took me a few days of scheming to envision this tart. I have always loved peanut butter and pretzels so that seemed like a no-brainer. I ended up going with a thin layer of chocolate ganache topped with peanut butter mousse. Sprinkled with some chocolate curls and a dollop of fresh whipped cream- this is an outstanding dessert. And even though it might seem a bit complex, it is actually pretty easy as the crust is the only thing that actually has to bake. Just allow a couple hours for the whole thing to chill before serving.
I brought this to a dinner party over the weekend and it was a hit! Everyone commented that it wasn't too sweet which I loved as well. Not only was the crust a little salty, but I used mostly dark chocolate instead of milk chocolate. It is rich, creamy and perfectly balanced. I can't wait to think up more uses for a pretzel crust!
Peanut Butter-Chocolate Tart with a Pretzel Crust
Ingredients
Crust:
1 stick unsalted butter, softened
1¼ cups coarsely crushed thin pretzels
¾ cup confectioners sugar
½ cup all purpose flour
1 large egg
2 oz. bittersweet chocolate, melted
Filling:
3 oz. best quality dark or milk chocolate, plus more for curls
1¾ cups heavy cream
¾ cup creamy peanut butter
½ cup cream cheese (4 oz.)
⅓ cup sweetened condensed milk
Instructions
In a large bowl using an electric mixer, beat the butter with ¾ cup of the pretzels and the confectioners' sugar at low speed until creamy. Beat in the flour and egg. Add the remaining ½ cup of pretzels, being sure to leave some pretzel pieces intact. Flatten the dough between 2 sheets of plastic wrap and refrigerate until chilled, at least 30 minutes.
Preheat the oven to 350°. Roll out the dough between the sheets of plastic wrap to a 12-inch round. Peel off the top sheet and invert the dough over a 9 or 10-inch fluted tart pan with a removable bottom. Press the dough into the corners and patch any tears. Trim the overhanging dough and refrigerate the shell for 30 minutes or until firm.
Line the shell with parchment paper and fill with pie weights (or beans.) Bake for about 30 minutes, until nearly set. Remove the parchment and weights and bake for 10 to 15 minutes longer, until the tart shell is firm; cover the edge with foil if it darkens too much. Let the shell cool completely. Brush the melted chocolate over the bottom and up the side and refrigerate for 10 minutes, until set.
*I thought that brushing the melted chocolate on the shell didn't seem necessary so I skipped it. I realized after that it was supposed to make a seal on the crust and without it the chocolate ganache leaked through the bottom. It wasn't a huge deal, but I would go ahead and leave that one in :)
MAKE THE FILLING:
Fill a large bowl with ice and water. Finely chop chocolate, and place in a medium bowl. Place ½ cup cream in a small saucepan over medium heat, and bring to a boil. Pour over chopped chocolate, and set aside for 5 minutes to yield chocolate ganache. Whisk to combine. Set in ice bath until ganache is cool, whisking constantly. Once cool, remove from ice bath, and whisk until ganache is just thick enough to hold its shape; do not overbeat. (Mine was thick and creamy.) Spread in the bottom of the prepared crust, and return to the refrigerator until set.
Combine peanut butter, cream cheese, and sweetened condensed milk in the bowl of a food processor; process until smooth. Transfer to a mixing bowl.
Whip ¾ cup heavy cream to soft peaks. Add whipped cream to peanut butter mixture; whisk to combine.
Spoon mixture into prepared crust; and sprinkle with chocolate shavings. (Use a vegetable peeler or buy shavings from a specialty store.) return to the refrigerator for 2 hours or overnight. Remove tart from refrigerator, and transfer to a serving platter 10 minutes before serving. Whip remaining ½ cup cream. Top tart with dollops of whipped cream.
Sources: