I know that many of you may be done with your cookie baking for the season, but I couldn't resist sharing one more recipe with you. I promise I wouldn't waste your time unless the cookies happened to be really special, and let me tell you these really are.
I seem to have become obviously and predictably obsessed with salted caramel. I also am now in love with stuffing cookies with surprise fillings and caramel is my favorite. In this case, the caramel wasn't too much of a surprise as in most of the cookies a little bit peeked out, but what's wrong with that? A little sneak peak at what's inside, gooey, drippy caramel that kept these beauties chewy for days.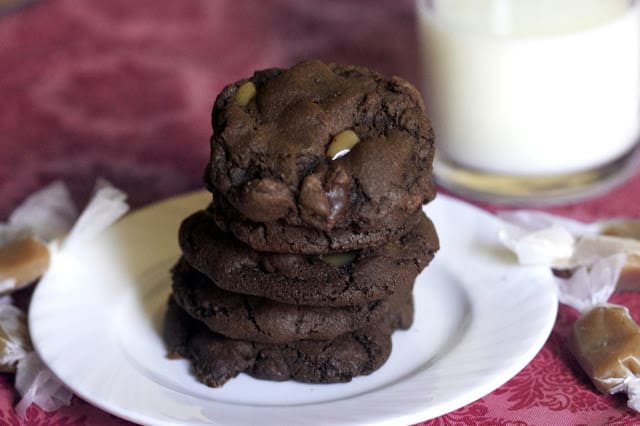 You may think these cookies look too complicated to throw together before the weekend, but I promise they're easier than they look. The cookie dough comes together in minutes, and homemade caramels are just so easy to make! Not in the mood to deal with homemade caramels? No problem, you can totally use store bought ones. I chose to make my own because I wanted a softer texture to them. Also that way I could add lots of sea salt and take them up a notch.
Whether you feel like whipping these up before Christmas, or even just saving them for another time, I hope you do. Because these just may be my best cookie yet! Have a very Merry Christmas and a wonderful weekend! xoxo
Salted Caramel-stuffed Double Chocolate Cookies
Yield:
about 2 dozen cookies
Ingredients
1¼ cups butter, softened
2 cups white sugar
2 eggs
2 teaspoons vanilla extract
2 cups all-purpose flour
¾ cup unsweetened cocoa powder
1 teaspoon baking soda
½ teaspoon salt
2 cups semisweet chocolate chips
24-30 Salted Caramels. (Or store-bought caramels are just fine!)
Instructions
Preheat oven to 350 degrees F (175 degrees C).
In a large bowl, cream together the butter and sugar until light and fluffy. Beat in the eggs one at a time, then stir in the vanilla. Sift together the flour, cocoa, baking soda, and salt; stir into the creamed mixture. Mix in the chocolate chips. If dough seems too gooey to handle, chill for a few minutes until it firms up a bit.
Spoon out two tablespoon sized mounds of dough and flatten each into a disc. Place a caramel in the middle, cover with the second "dough disc" and pinch the edges to seal. Roll into a ball and place on the cookie sheet with a bit of room.
Bake 8 to 9 minutes in the preheated oven. Cookies will be soft. Cool slightly on cookie sheet; remove from sheet onto wire rack to cool completely.
Cookie Recipe adapted from All Recipes