Sweet Potato Mac and Cheese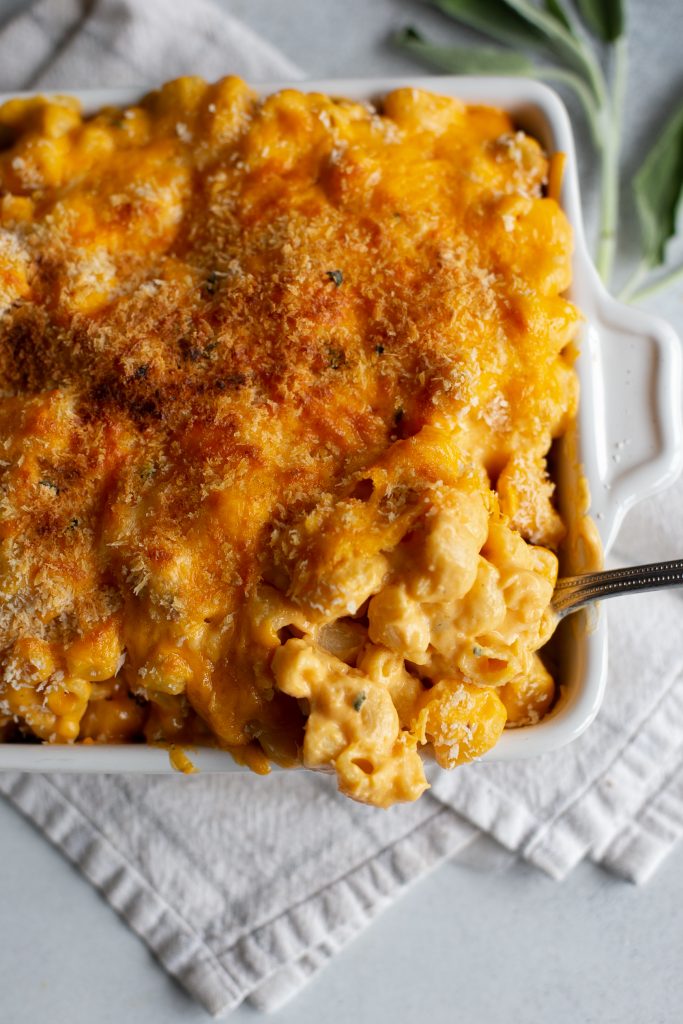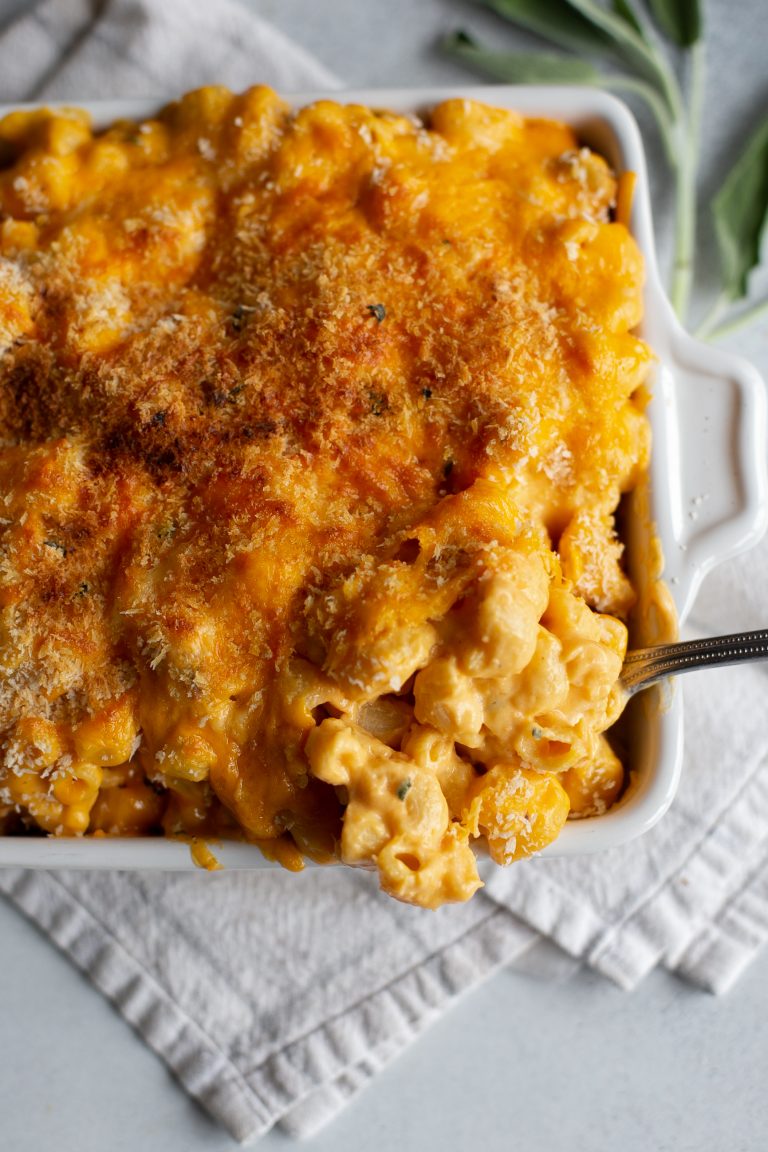 Homemade Mac and Cheese is one of my kids favorite dishes they are always likely to eat. A great way to sneak extra nutrients into a classic dish for picky eaters is to puree a veggie and add it to the cheese sauce. The end result is a delicious, creamy pasta that tastes like classic mac and cheese with a healthier twist.
Ingredients for Sweet Potato Mac and Cheese Recipe:
Butter
Flour
Milk
Grated Cheese
Sweet Potatoes, cooked
Cooked Macaroni
Panko Bread Crumbs
Salt & black pepper
A pinch of cayenne pepper or chili powder if desired
Fresh sage leaves, rosemary, or other herbs of choice

Supplies needed for Sweet Potato Mac n' Cheese
Large Saucepan
Casserole dish for baking or Large rectangular dish
Small Bowl
Immersion Blender
The Process:
Cook the sweet potato however you prefer. I like to drizzle it with olive oil and roast it on a baking tray for about 45 minutes. You can also peel and cube it and cook it in boiling water.
Bring a large-ish pan of water to a boil, and cook pasta until al dente. (It will bake more in the oven so you really don't want to over-bake it!
Scoop the sweet potato out of the skin and cut into cubes.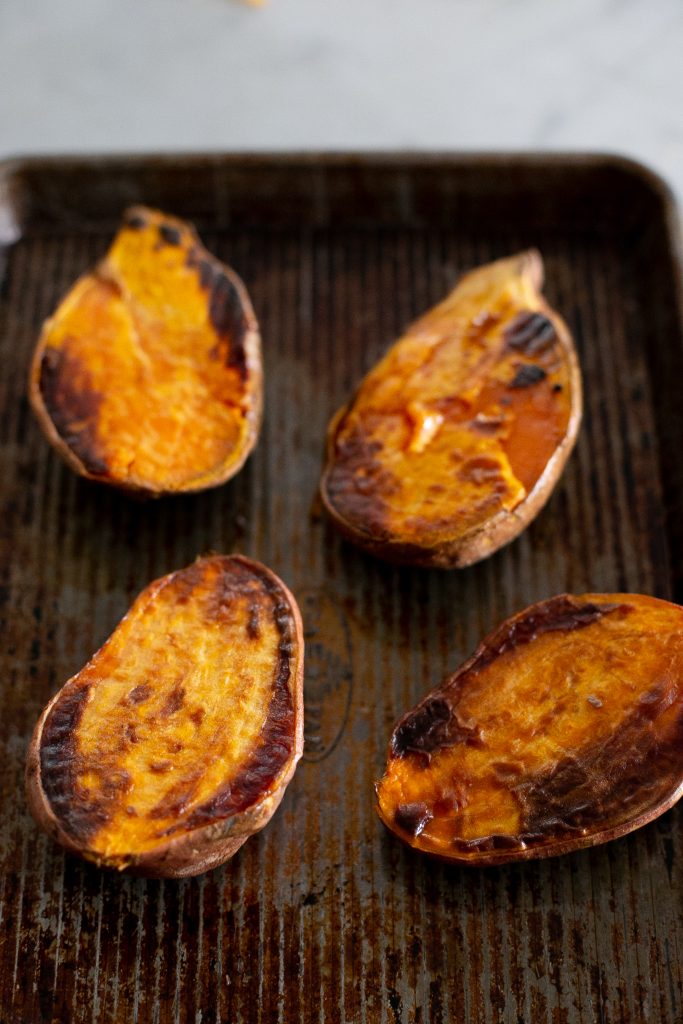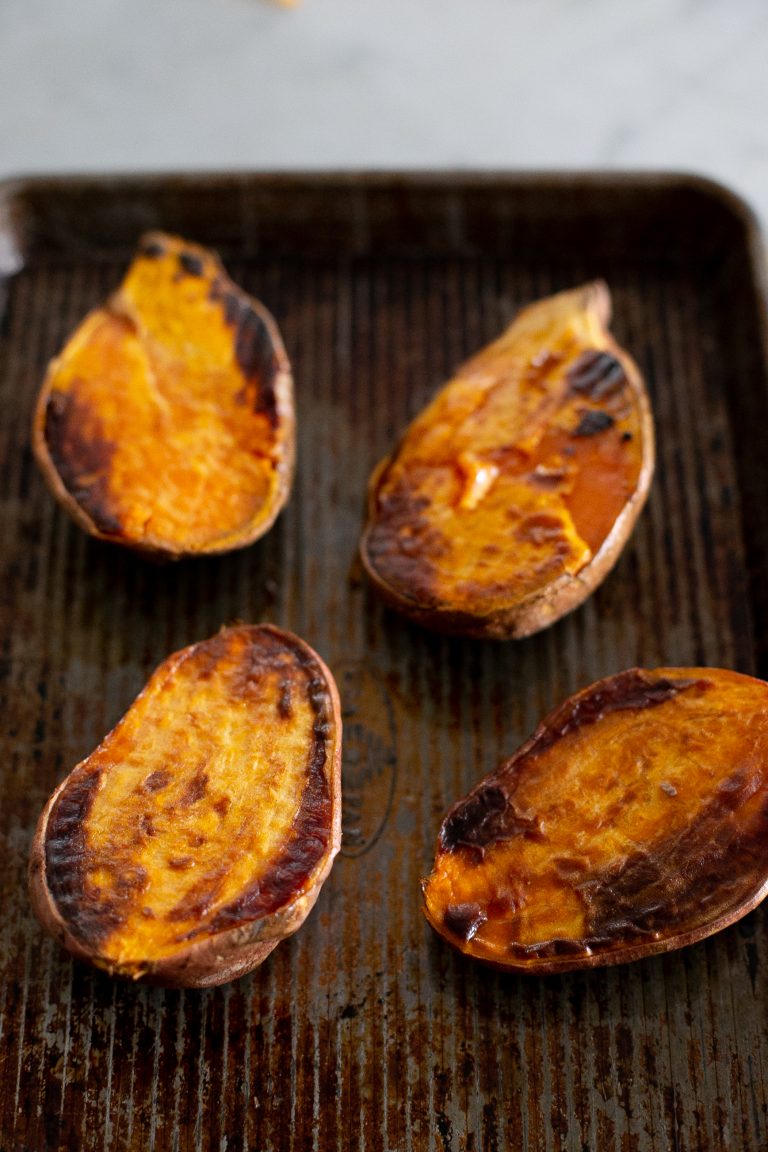 In a large saucepan over medium heat, melt butter and chopped sage or rosemary. Add the flour and stir with a wooden spoon until golden. Add in the milk slowly, making a thick and creamy sauce. Add in the cheese and stir constantly until smooth and melty. Add in the sweet potato pieces to the cheese mixture. Stir the sauce together until smooth and season with salt, pepper, and a little bit of cayenne if using.
Add the cooked pasta to the cheese and sweet potato sauce. Fold together and turn the pasta mixture into a baking dish.
Combine bread crumbs with the remaining cheddar and sprinkle over the pasta. Bake for about 15 minutes or until golden brown.
Best Cheeses to use for this recipe:
I love using a variety of different cheese when making homemade mac & cheese for the best flavor and texture.
My favorites to use are sharp cheddar cheese, gouda, monterrey jack, and sometimes a little American cheese for extra creamy texture. A little parmesan cheese adds a great flavor as well.
What Pasta is best to use for this recipe?
I often use classic elbow macaroni, but I also love larger macaroni, curly pasta, or rigatoni.
Leftovers? Store Sweet Potato Mac and Cheese in an airtight container in the fridge for 3 days. Alternately you can store the entire pan in the fridge or freezer and then bake when you're ready.
Don't have Sweet Potatoes on hand? You can sub it for an equal amount of butternut squash. I also love Pumpkin Mac and Cheese, especially as a side dish on Thanksgiving!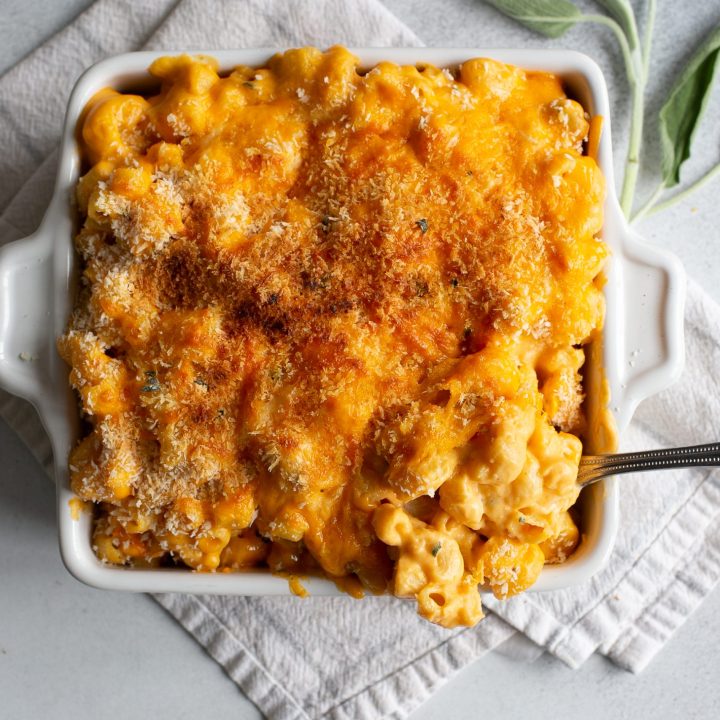 Sweet Potato Mac and Cheese
Ingredients
3 tablespoons of butter
3 tablespoons of flour
2 cups of milk
3 cups of grated cheese*
2 sweet potatoes, cooked**
6 cups of pasta, cooked to al dente
1/2 cup of panko bread crumbs
2 tablespoons chopped fresh sage or rosemary
a pinch of cayenne pepper, chili powder, or red pepper flakes (optional)
Instructions
Preheat oven to 375F.
In a large saucepan or dutch oven, melt the butter. Add in the sage or rosemary. Add the flour and whisk constantly until golden brown. Gradually add the milk and stir until smooth and thickened (about 5 minutes.)
Add all but a small handful of the grated cheese, and then salt & pepper to taste. Stir until smooth and creamy.
Scoop the sweet potato out of the skin, and pureé until smooth. Or, put the sweet potato chunks directly into the cheese sauce and use an immersion blender to pureé the sauce.
Stir in the cooked pasta, tossing until evenly coated.
Turn the sauce/pasta into an 8x8 baking dish and top with panko and remaining grated cheese. Top with a bit more freshly ground pepper if you have, and bake for 10 minutes or until golden and bubbly.
Broil for an addition 5 minutes to really crisp up the top if desired.
Notes
* I mostly used sharp cheddar but I also used a few slices of Organic American Cheese that I had in my fridge- this always gives an amazing texture. ** To easily cook your potatoes, place directly on the oven rack with a sheet underneath for catching drips. Start with a cold oven and preheat to 450F. Cook for 45 minutes or until soft.
Nutrition Information:
Yield:

4
Serving Size:

1 grams
Amount Per Serving:
Unsaturated Fat:

0g