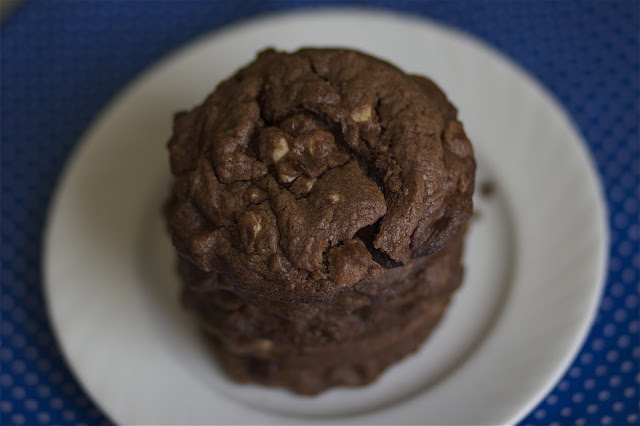 Here's the scenario: you want to bake something delicious. Your pantry is full of miscellaneous ingredients from leftover recipes and you want to try to use them. Maybe also add to the mix that you are cranky and craving something rich and chocolate-y. Enter these cookies. They are fast to make, easy as can be, totally modify-able with whatever is in your pantry as well as super rich and delicious!
Now technically, these are quadruple chocolate cookies, but that just sounds weird to me :) They contain dark chocolate, milk chocolate and white chocolate as well as cocoa powder. You could sub any of those for nuts, toasted coconut, peanut butter chips or anything else you wan to throw in. I chose to sprinkle on some sea salt right before the perfect sweet vs. salty combination. So- go make these. You will be eating them in about 30 mins :)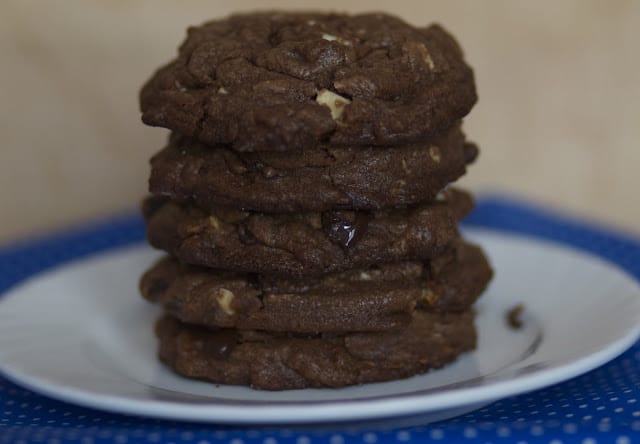 Triple Chocolate Cookies with Sea Salt
Ingredients
¼ cup butter, softened
½ cup brown sugar
¼ cup granulated sugar
¼ cup oil
1 egg
1 teaspoon vanilla extract
1 cup all-purpose flour
¼ cup unsweetened cocoa powder (not Dutch processed)
¼ teaspoon salt
⅓ cup coarsely chopped dark chocolate (2 ounces)
⅓ cup coarsely chopped milk chocolate (2 ounces)
⅓ cup coarsely chopped white chocolate (2 ounces)
Sea Salt for sprinkling
Instructions
Preheat the oven to 350 degrees F.
In a large bowl, mash together the butter and sugars with a fork until well combined. Add the oil and egg and beat until creamy. Mix in the vanilla.
In a medium bowl, whisk together the flours, cocoa powder, and salt. Add the dry ingredients to the wet ingredients and mix well. Stir in the chopped chocolates and mix well. Using a tablespoon, scoop the batter onto an un-greased cookie sheet. Sprinkle sea salt on each ball of dough. Bake for 12 minutes. Transfer cookies to a rack to cool.
Adapted from The Food Network.