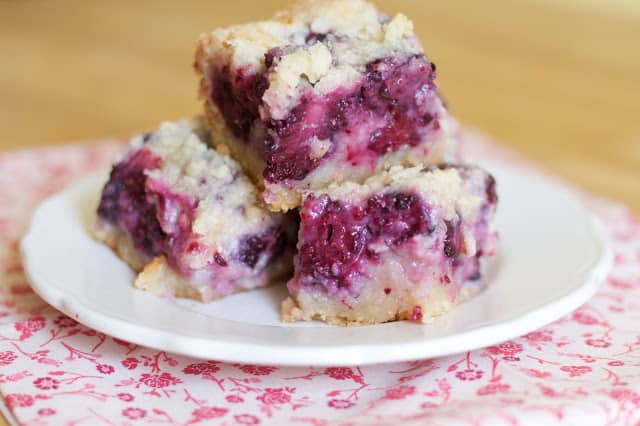 As I've mentioned in previous posts, my hot UN-airconditioned kitchen and wedding-planning mania has made baking less enjoyable than it used to be. It seems like my stress-reliever was becoming a stress-creator which is not the point at all! So, I decided not to force it, and to only bake when it still makes me happy and calm. Lucky for me and you, I didn't have to wait long for a morning like this to come my way. NYC was blessed with a little cold front a few days ago, and my kitchen was actually pleasant! It's amazing how that little shift made me inspired and excited again.
Anyway, I've been wanting to make these bars for ages, and since they are quick, easy and perfectly in season, I thought it was just the thing. Blackberries don't get as much love in my kitchen as they probably should, so I'm glad I stuck with them instead of switching for another fruit. (Which you totally can do by the way. ) The buttery crust and tart filling are really reminiscent of a summer pie, without most of the work.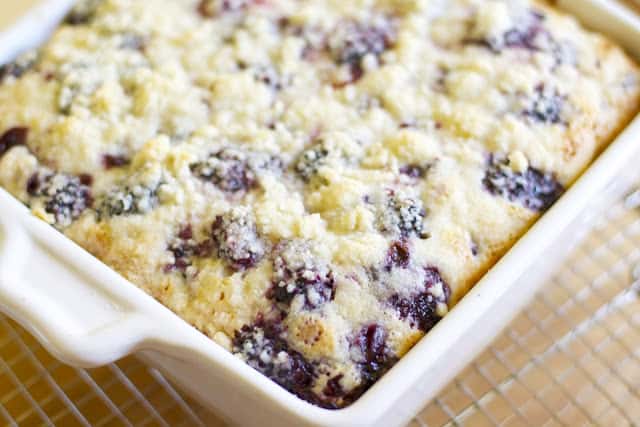 A simple crust serves as both the crunchy bottom of the bars as well as the crumbly topping. Fresh berries and a custard-like mixture are layered on top of the crust, with the remaining crumb on top. Warm out of the oven this would be delicious right away with a scoop of ice cream, but I chose to chill mine and cut them into gooey bars. I didn't expect the color of the berries to be such a bright fuchsia color. They really make this such a colorful and delicious summer treat!
Ingredients
Crust and Topping:
1 1/2 cups all-purpose flour
3/4 cups sugar
1/8 tsp salt
1 1/2 sticks unsalted butter, chilled
Filling:
2 large eggs
1 cups sugar
1/2 cup sour cream
3/8 cup flour, 6 tablespoons
1/2 teaspoon vanilla extract
pinch salt
3 cups fresh blackberries
Instructions
To make the crust and topping, preheat the oven to 350 degrees. Grease an 8x8 inch baking pan.
Combine the flour, sugar, and salt in the bowl of a food processor. Pulse a few times to mix. Cut the butter into 1/2-inch cubes, and add to the flour mixture. Process until the butter is evenly distributed but the mixture is still crumbly, 30-60 seconds. (or you can use a pastry blender or two knives to do this!)
Reserve 3/4 cup of the mixture to use as the topping. Press the remaining mixture into the bottom of the pan, and bake 12-15 minutes. Cool for at least 10 minutes.
To make the filling, whisk the eggs in a large bowl, then add the sugar, sour cream, flour, vanilla and salt. Gently fold in the berries and spoon the mixture over the crust. Sprinkle the remaining crumb mixture evenly over the filling, and bake 45 to 55 minutes or until the crust is golden.
Cool at least 1 hour before cutting into bars, or scoop out of the pan to serve cobbler-style.
Notes
I cut this recipe in half and used an 8x8 pan, as a result the bars were extra thick and gooey. Feel free to double it and make in a 9x13 pan.
Nutrition Information:
Yield:

12
Serving Size:

1 grams
Amount Per Serving:
Unsaturated Fat:

0g