For being a very girly girl, I actually really love football. Folks from Wisconsin take their Green Bay Packers seriously and I am no exception. After our Super Bowl victory this year, I have been counting down the days until I could wear my jersey and cheer loudly at my television.
The moment I saw this brilliant idea for football cupcakes I knew it was only a matter of time before I would invite all my friends over so I could make them. (I can't be left alone in the apartment with treats these days.) I have seen a variety of football-themed cupcakes floating around but these seemed the easiest and cutest to me!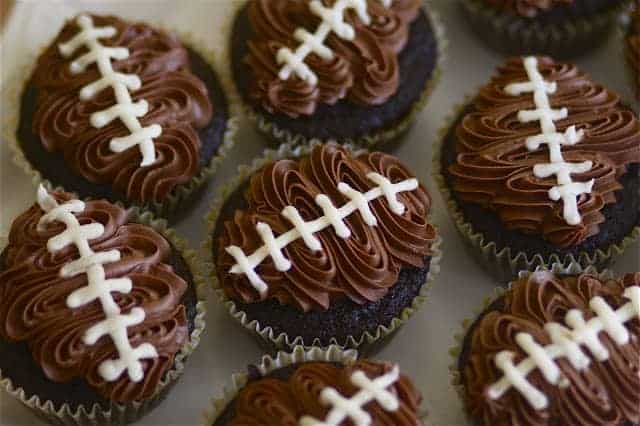 I made them using my favorite "One-bowl chocolate Cupcakes" and used a Basic Chocolate Buttercream with the "laces" done with some Vanilla Buttercream. Normally I am much more of a Vanilla than Chocolate gal- but these were so good! I love this cupcake recipe as it always turns out so light and airy- also it only uses one bowl which is always good for non-dishwasher-possesing people like myself. Not only were these cupcakes so festive and cute, but they tasted awesome. Go Packers!!! :)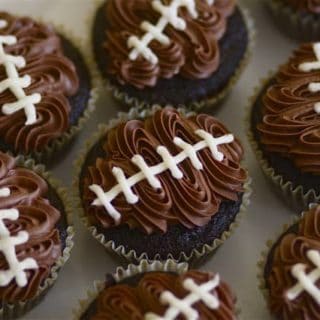 Double Chocolate "Football" Cupcakes
Ingredients
3/4 cup unsweetened cocoa powder
1 1/2 cups all-purpose flour
1 1/2 cups sugar
1 1/2 teaspoons baking soda
3/4 teaspoon baking powder
3/4 teaspoon salt
2 large eggs
3/4 cup warm water
3/4 cup buttermilk
3 tablespoons vegetable oil
1 teaspoon pure vanilla extract
8 oz. unsweetened chocolate, chopped
6 cups confectioners' sugar
16 Tbs. (2 sticks) unsalted butter
6 Tbs. milk, plus more, if needed
2 tsp. vanilla extract
1/4 tsp. salt
Instructions
Preheat oven to 350 degrees. Line standard muffin tins with paper liners; set aside.

Sift together cocoa powder, flour, sugar, baking soda, baking powder, and salt into a large bowl.

Add eggs, warm water, buttermilk, oil, and vanilla, and mix until smooth, about 3 minutes. Scrape down the sides and bottom of bowl to assure batter is well mixed.

Divide batter evenly among muffin cups, filling each 2/3 full.

Bake until tops spring back when touched, about 20 minutes, rotating pan once if needed.

Transfer to a wire rack; let cool completely.

For the Frosting:

Have all the ingredients at room temperature.

Put the chocolate in the top pan of a double boiler set over but not touching simmering water in the bottom pan. Stir until the chocolate is melted and smooth. Let cool to room temperature.

In a large bowl combine the confectioners' sugar, butter, the 6 Tbs. milk, the vanilla and salt and beat with an electric mixer on low speed until combined, about 1 minute. Stop the mixer and scrape down the sides of the bowl. Increase the speed to medium and beat for 2 minutes, then reduce the speed to low.

Reserve about a 1/2 cup of the frosting at this point to make the laces

Add the chocolate gradually and beat until combined, then increase the speed to medium and beat for 1 minute more.

If the frosting is dry, add more milk, 1 tsp. at a time, until it is creamy but still holds peaks.

To Decorate:

Using a small star tip in a pastry bag, zig-zag the chocolate frosting in a diamond shape on the cooled cupcakes. Then put the reserved vanilla frosting into a bag with a small round tip and pipe on the laces.