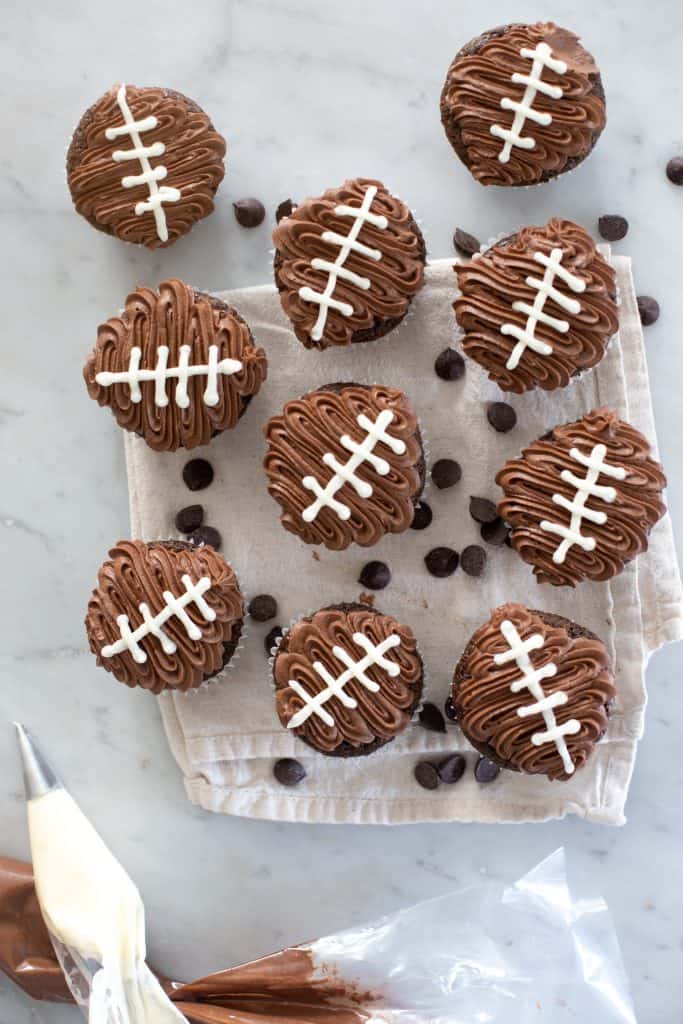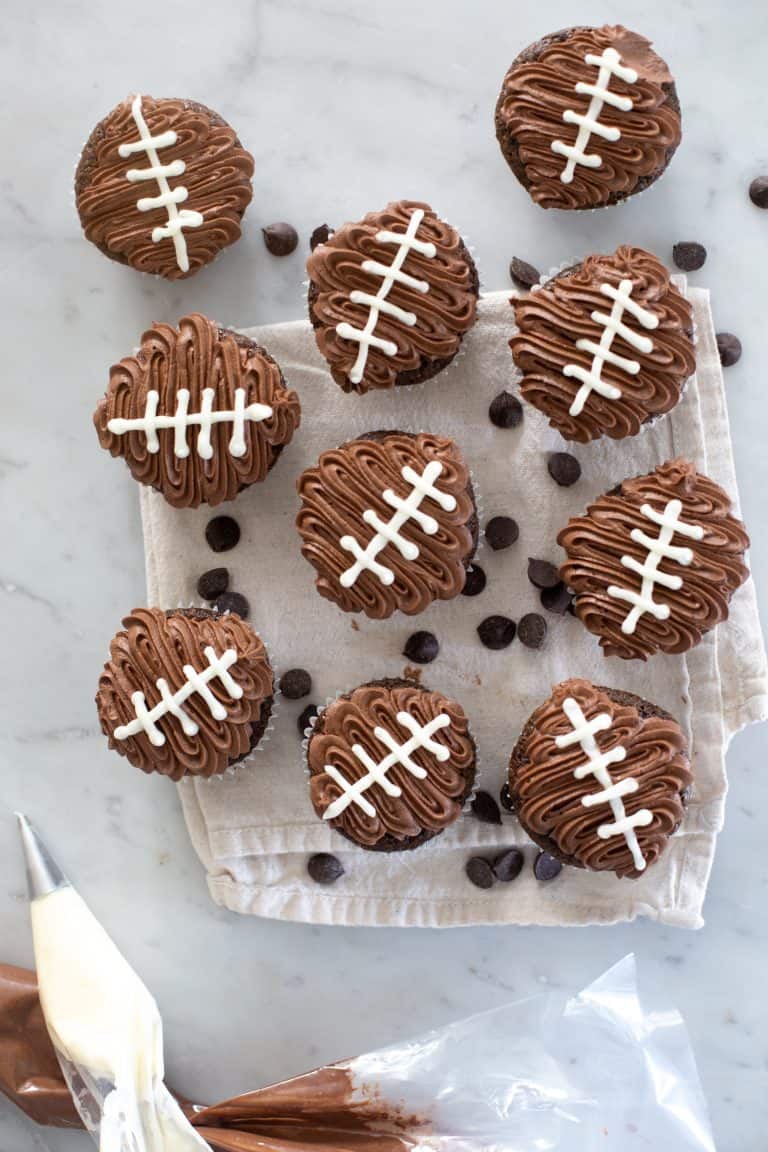 Football season is here and even though I love watching my team (Go Packers Go!) my favorite part of any gathering is definitely the food. Whether it's a Super Bowl Party or just a football party, these adorable football cupcakes are a fun and festive way to celebrate a big game.
The cute part about these game day cupcakes is the chocolate buttercream frosting in the shape of a football with laces made of white frosting. They are so easy to decorate and my favorite one-bowl chocolate cupcakes pair perfectly. Football fans or not, these are a wonderful addition to your game day spread.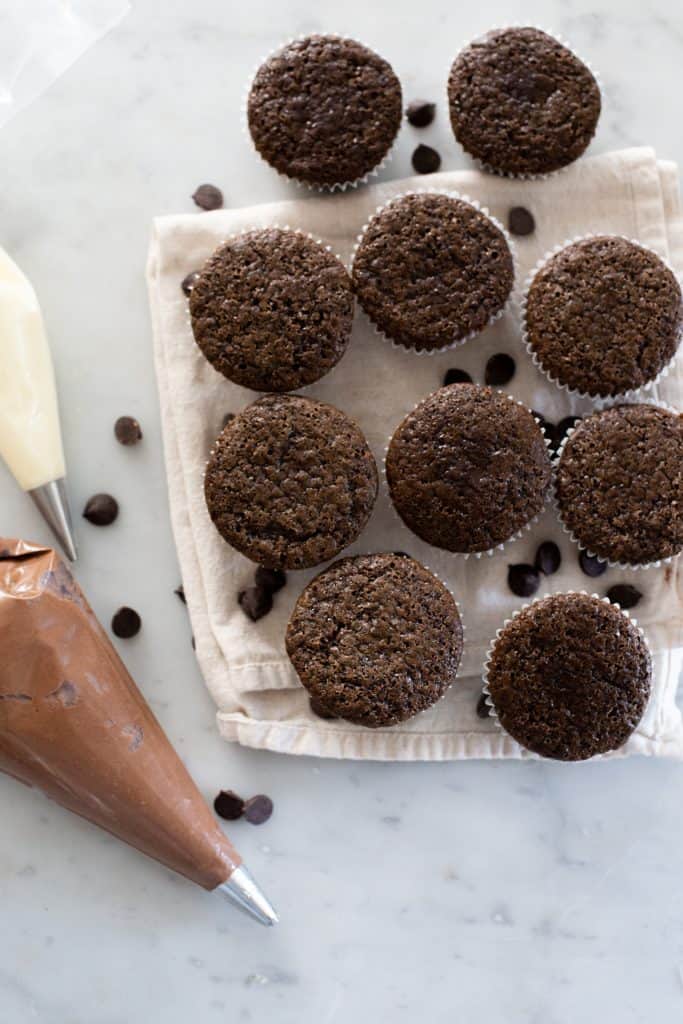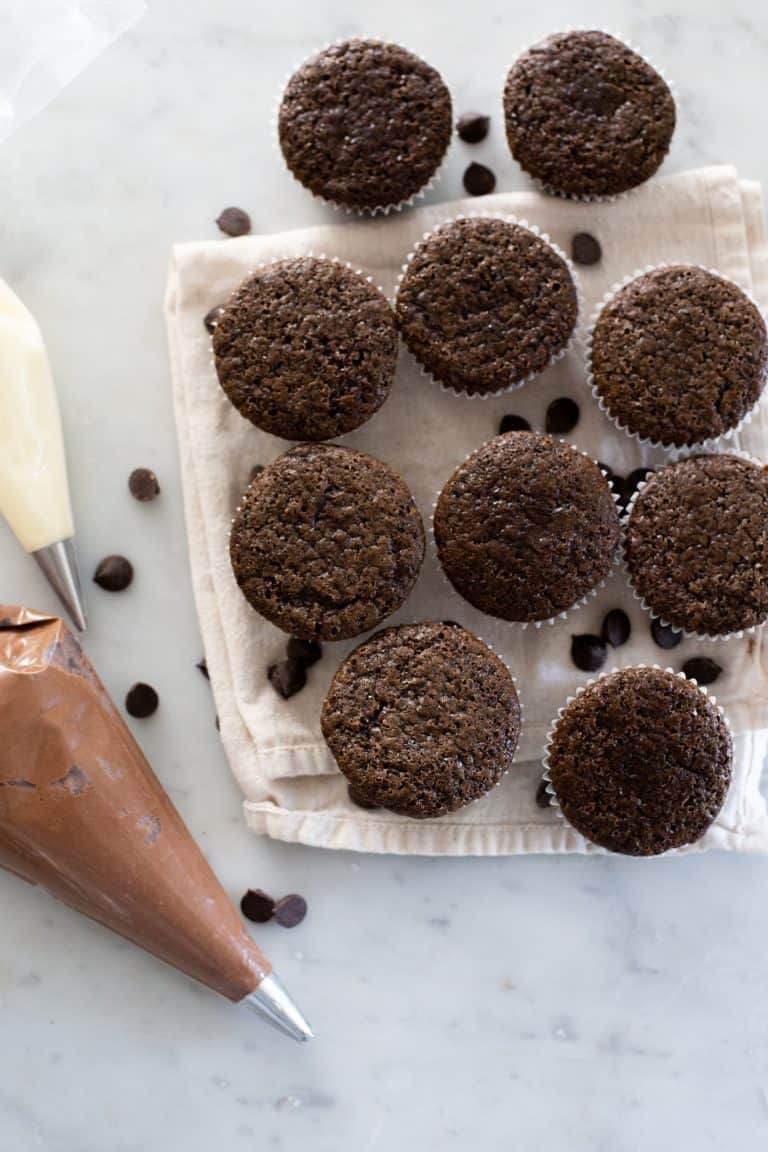 Ingredients needed for Chocolate Football Cupcakes:
Cocoa Powder
All Purpose Flour
Sugar
Baking Powder
Baking Soda
Eggs
Buttermilk
Vegetable Oil
Vanilla Extract
Unsalted Butter
Chocolate Chips
Powdered Sugar
Milk

Supplies needed for Football Cupcakes
Large Bowl
Cupcake liners
Piping Bag (2)
Wire Rack
Electric Mixer
Muffin Tins

The Process:
For the chocolate cupcakes, combine all the dry ingredients into a bowl and make a well in the middle. Add the wet ingredients and whisk until smooth. Divide into a lined muffin tin, heat oven, and bake.
When the cupcakes have come to room temperature, fill a piping bag with chocolate buttercream and using a small star tip pipe a football shape on top of each cupcake. Fill pastry bag with vanilla buttercream and pipe laces on top of the chocolate frosting footballs.
Want to make these extra festive? Use your favorite team colors for cupcake liners, or use a green cupcake liner for the field!
FAQ
Can I use a cake mix for these cupcakes?
Honestly, use any cupcake you like! With the football frosting they will be festive, I just love this easy chocolate cupcake recipe.
Is there a sub for buttermilk in the cupcakes?
You can use yogurt or sour cream
Do I have to use homemade buttercream?
I say yes, but if you don't I'll never know!
Can I fill these cupcakes with anything?
Sure! You could go super chocolate-y and fill with chocolate ganache, do jam, whipped cream, or caramel sauce!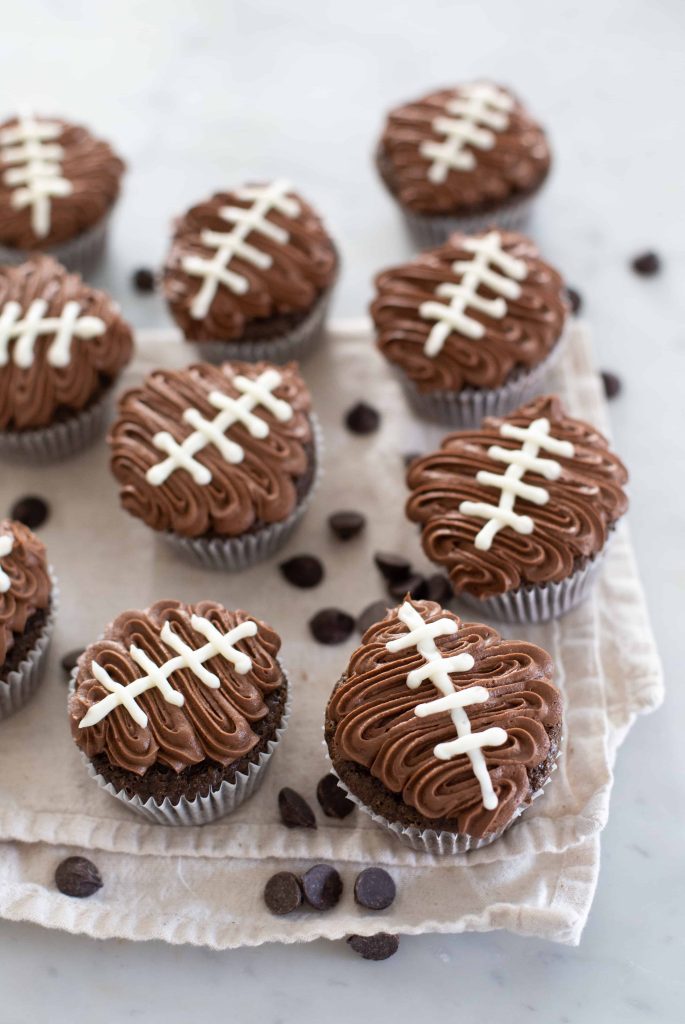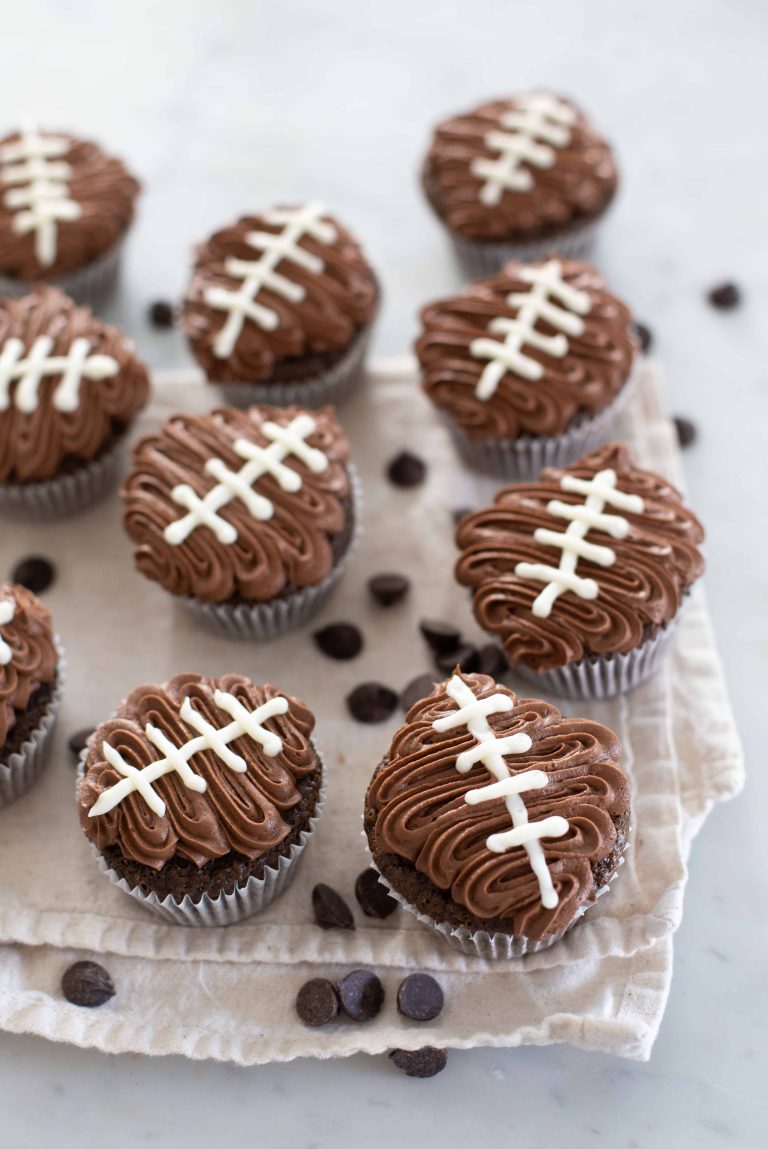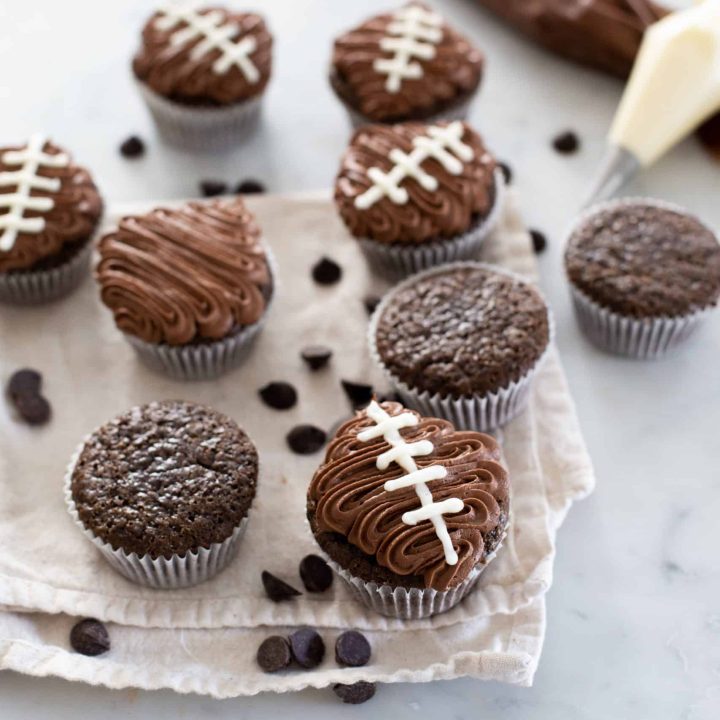 Football Cupcakes
Additional Time:
15 minutes
Ingredients
3/4 cup unsweetened cocoa powder
1 1/2 cups all-purpose flour
1 1/2 cups sugar
1 1/2 teaspoons baking soda
3/4 teaspoon baking powder
3/4 teaspoon salt
2 large eggs
3/4 cup warm water
3/4 cup buttermilk
3 tablespoons vegetable oil
1 teaspoon pure vanilla extract
For the Frosting:
8 oz. (2 cups) chocolate chips
3-4 cups confectioners' sugar
16 Tbs. (2 sticks) unsalted butter
6 Tbs. milk, plus more, if needed
2 tsp. vanilla extract
1/4 tsp. salt
Instructions
Preheat oven to 350 degrees. Line standard muffin tins with paper liners; set aside.

Whisk together cocoa powder, flour, sugar, baking soda, baking powder, and salt into a large bowl.

Add eggs, warm water, buttermilk, oil, and vanilla, and mix until smooth. Scrape down the sides and bottom of bowl to assure batter is well mixed.

Divide batter evenly among muffin cups, filling each 2/3 full.

Bake until tops spring back when touched, about 18-20 minutes, rotating pan once if needed.

Transfer to a wire rack; let cool completely.

For the Frosting:

Melt the chocolate chips by microwaving for 30 seconds at a time and stirring in between. Don't heat for more than 30 seconds at a time or the chocolate will scorch

In a large bowl combine the powdered' sugar, butter, the 6 Tbs. milk, the vanilla and salt and beat with an electric mixer on low speed until combined, about 1 minute. Stop the mixer and scrape down the sides of the bowl. Increase the speed to medium and beat for 2 minutes, then reduce the speed to low.

Reserve about a 1/2 cup of the vanilla frosting at this point to make the laces

Add the chocolate gradually and beat until combined, then increase the speed to medium and beat for 1 minute more.

If the frosting is dry, add more milk, 1 tsp. at a time, until it is creamy but still holds peaks.

To Decorate:

Using a small star tip in a pastry bag, zig-zag the chocolate frosting in a diamond shape on the cooled cupcakes. Then put the reserved vanilla frosting into a bag with a small round tip and pipe on the laces.
This post contains affiliate links