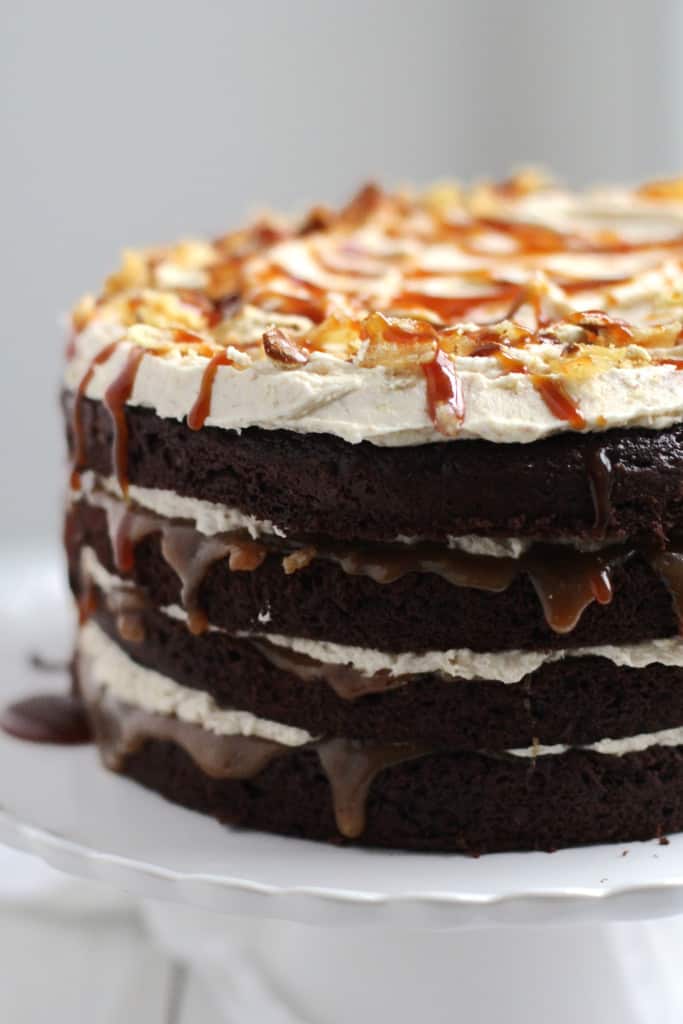 Have you ever had a dream about a cake? I actually have dreamed about several desserts in the last few years and this beauty was one of them. I woke up super excited to make a cake that involved ground up potato chips and pretzels in the frosting! Yup- this chocolate cake is topped with thick caramel sauce, and a sweet & salty frosting concoction that has the most amazing flavor. Sweet,salty, almost savory with some delicious crunchy bits. This cake was everything I imagined it would be and more.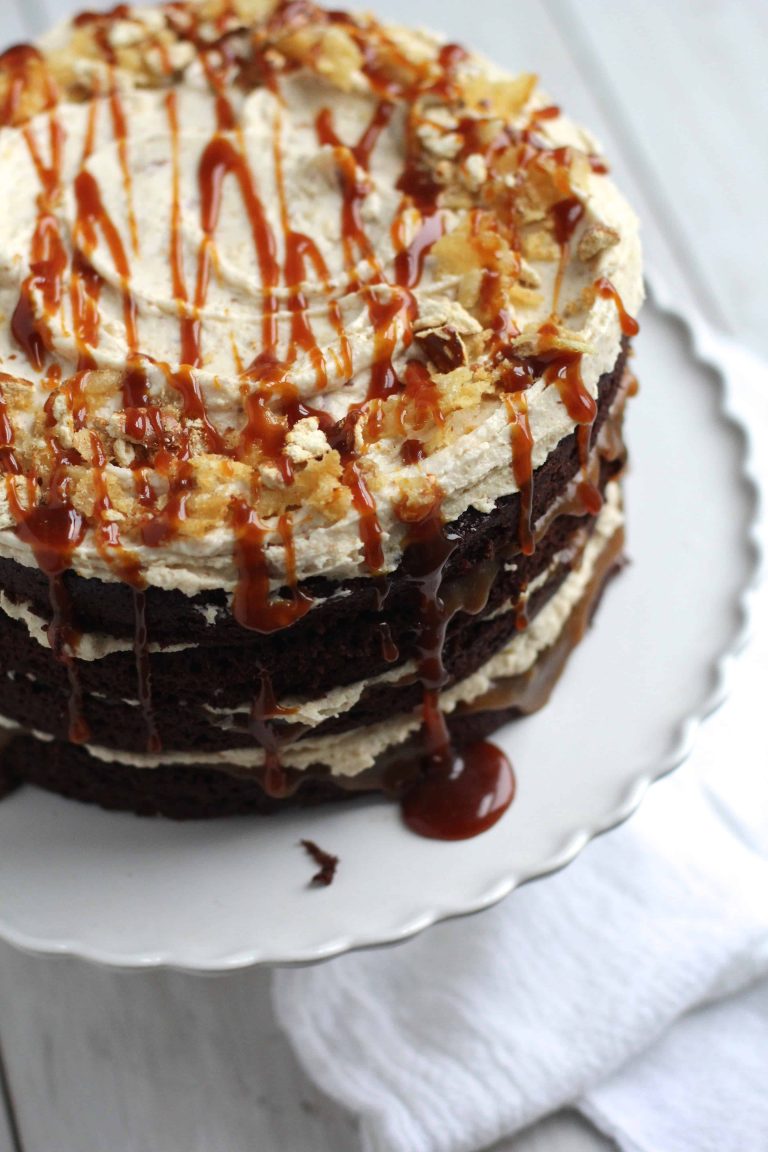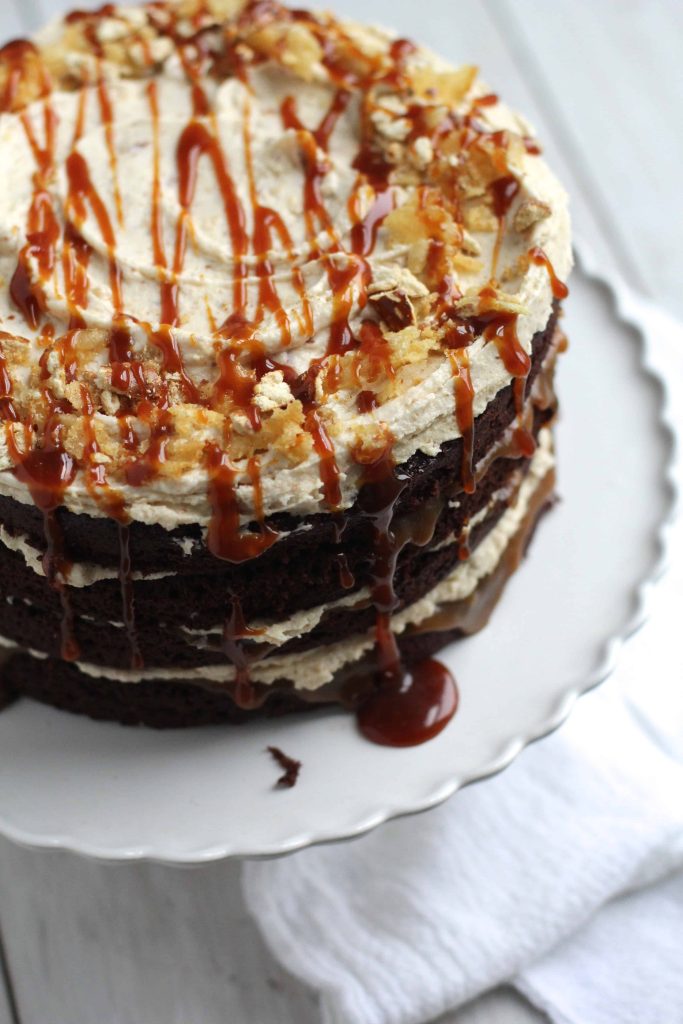 When I was baking it on Sunday, I had such high hopes that I would be able to recreate it for the Superbowl in a couple weeks, but sadly the Packers were so heartbreakingly defeated. Then I realized I'm actually going to be on vacation for the Superbowl anyway- so I'll enjoy a frosty drink on the beach instead…but for those of you celebrating Superbowl Sunday with a spread of amazing food & drink, this cake would be perfect don't you think? I also can imagine an amazing cupcake with salted caramel filling and this fabulous frosting. Anything sweet & salty is a winner in my book and this cake is just the best!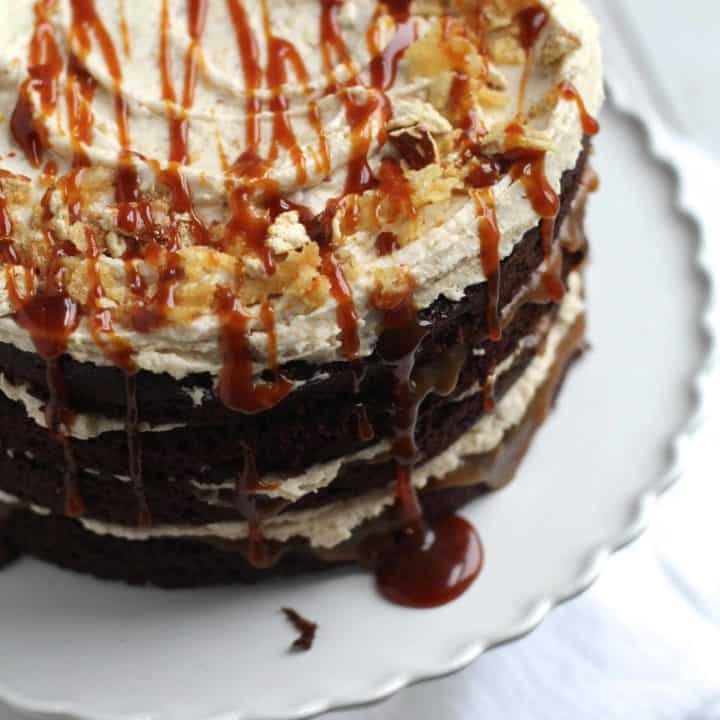 Sweet & Salty Layer Cake
Yield: 1 8 inch layer cake
Ingredients
For the Cake:
1 cup plus 2 tablespoons cocoa powder (I used dark)
2 and 1/4 cups all-purpose flour
2 and 1/4 cups sugar
2 and 1/4 teaspoons baking soda
1 teaspoon baking powder
1 teaspoon salt
3 large eggs
1 cup plus 2 tablespoons warm water
1 cup plus 2 tablespoons buttermilk
4 1/2 tablespoons vegetable oil
1 1/2 teaspoons pure vanilla extract
1 batch Caramel Sauce*
For the Frosting:
1 1/4 cups butter, room temperature. (2 1/2 sticks)
3 1/2 cups powdered sugar
2/3 cup crushed potato chips
2/3 cup crushed pretzels
splash of milk
More chips and pretzels for garnish
Instructions
Preheat the oven to 350 F. Butter two 8 inch round cake pans, sprinkle with flour and line with parchment rounds. Set aside.

In a large bowl combine all the dry ingredients (flour, sugar, cocoa powder, baking powder, soda and salt.) Whisk together until well combined.

Add all the rest of the ingredients- (eggs, buttermilk, warm water, oil and vanilla,) and whisk until smooth, clump-free and glossy. (Don't over-mix)

Divide the batter evenly among the pans, and bake for 30-40 minutes, (depending on your oven,) or until a cake tester inserted into the center comes out clean. Cool completely before frosting.
For the Frosting
Cream butter and powdered sugar until smooth, creamy and well combined. Gradually add the crushed chips/pretzels. Add a splash of milk if frosting feels too thick/stiff. Beat on high until smooth.
To assemble cake:
Use a serrated knife to level and torte the cake. Slice each layer evenly into two additional layers.

Place one layer on a turntable or cake stand. Spread 1/4 of the caramel sauce over the first cake layer. Top with 1/4 of the frosting.

Add another cake layer and repeat, spreading the caramel sauce and then frosting.

When you get to the top layer, spread on the remaining frosting and drizzle with caramel sauce. Garnish with crushed chips and pretzels.
Notes
* You want the caramel to be thick and spreadable, so let it firm up after making. Either make your caramel in advance or pop it in the freezer until it is firm and spreadable. You can then warm the remaining sauce before drizzling it over the top of the cake.

Chocolate Cake Recipe adapted from: Martha Stewart