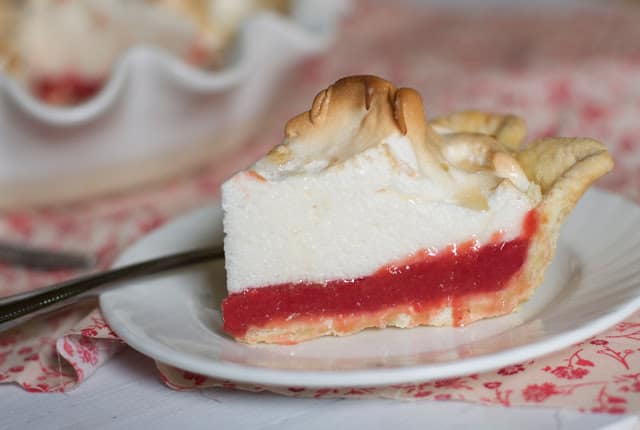 Even though cranberries are only around for a couple months a year, I feel like they sometimes fall under the radar when it comes to holiday desserts. The tart berries are versatile and delicious, but when it comes to your Thanksgiving spread, they are likely only included for cranberry sauce. Though I'm a huge fan of the turkey/stuffing/cranberry combo, I thought this year cranberry deserved a spot on my dessert spread.
As a huge lover of light, tart and fruity desserts, this is the perfect twist on my favorite lemon meringue. Cranberry curd is made very similarly to the traditional lemon, and it is perfectly sweet with a little pucker. The fluffy meringue is piled high and toasted until it's golden.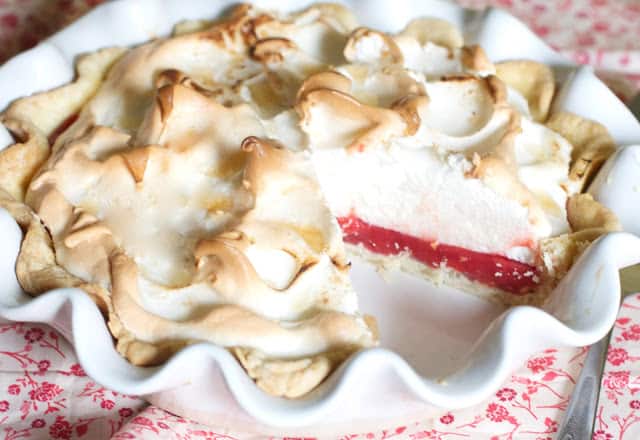 Ingredients
1 single layer pie crust, 1/2 recipe
1 12 oz bag of fresh cranberries
1 cup orange or lemon juice
3/4 cup granulated sugar, plus more if using lemon juice- taste for sweetness before adding eggs
1 large egg
3 large eggs, separated
1/4 tsp cream of tartar
pinch of salt
1/3 cup sugar
Instructions
Preheat oven to 350 F. Roll out pie crust to 1/4 inch thick and fit into pie dish, crimping the edges if desired.
Fill un-baked shell with foil and either dried un-cooked beans or pie weights. Bake crust for 15 minutes, remove foil, and then bake for 5 minutes more or until just turning golden.
Let crust cool while preparing filling.
Meanwhile, combine cranberries and orange/lemon juice in a medium saucepan.
Bring to a boil over high heat and cook, stirring occasionally, until all the cranberries are beginning to break down, 5 to 6 minutes.
Pour through a fine-mesh sieve into a medium bowl, pressing on the solids to extract all the juice. (You really need to work it to get all of the juice out.)
Whisk 3/4 cup sugar into the juice until combined- taste and add more if it's too tart.
Whisk in whole egg and 3 egg yolks. Return the cranberry mixture to the saucepan and cook over medium heat, stirring constantly and vigorously, until it thickens and just starts to bubble as you are stirring, 4 to 5 minutes.
Remove from heat and cover to keep warm.
To prepare topping:
Beat the 3 egg whites in a large bowl with an electric mixer on medium speed until frothy.
Add cream of tartar and pinch of salt and beat at high speed until soft peaks form.
Very slowly add 1/3 cup sugar, beating constantly, until the mixture holds stiff, shiny peaks. Beat in vanilla.
Pour hot filling into crust, spoon the meringue over the filling, then gently spread to the edges of the crust.
Make peaks in the meringue with the back of a spoon or a small off-set spatula.
Bake until the top is lightly browned, about 15 minutes. Cool the pie on a wire rack until it's room temperature, and then chill until ready to serve.
Notes
This cranberry curd is made with orange juice, but I think it would be delicious with half orange/half lemon or even all lemon juice, (which is how I'm going to try it on Thanksgiving.) Taste the cranberry mixture before adding the eggs to see if it needs any additional sugar. The key to meringue that doesn't slide off or pull back from the crust is to pour the hot filling into the crust immediately followed by the meringue.
Nutrition Information:
Serving Size:

1 grams
Amount Per Serving:
Unsaturated Fat:

0g
Recipe adapted slightly from: Eating Well