"Milk Bar Mondays" Apple Pie Layer Cake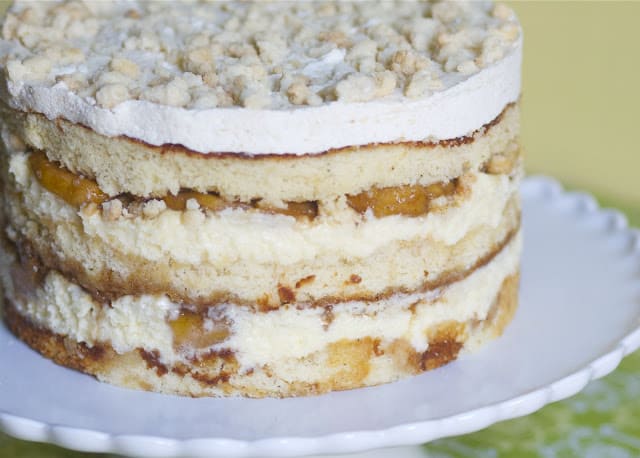 Ok have you gone out and bought the Momofuku Milk Bar cook book yet? Because the more recipes I make from it, the more I'm convinced that Christina Tosi is a pastry genius. The 3 things I've attempted are some of the best treats I've ever tasted. And yes- her process is a complex one, but I promise you it's worth every bit of effort. Each part of the recipe that you prepare layers on the flavors so that the final result is something really spectacular.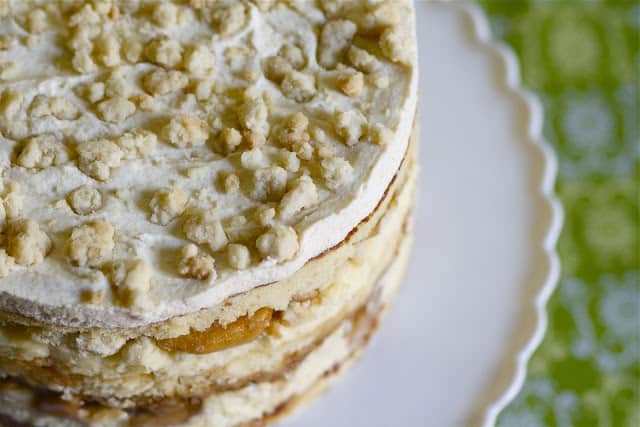 This cake is no exception. It starts with a soft and velvety brown butter cake- then you dunk a pastry brush into a cinnamon-y apple cider soak and cover the cake with it. On top of that goes a layer of liquid cheesecake, (a creamy spreadable cheesecake concoction also used in these.) Then comes a layer of pie crumb bits and apple pie filling. The whole process is repeated again, topped with another layer of cake and pie crumb frosting. (Which may be one of the most delicious things I've ever had. It's not too sweet and really tastes like pie crust.)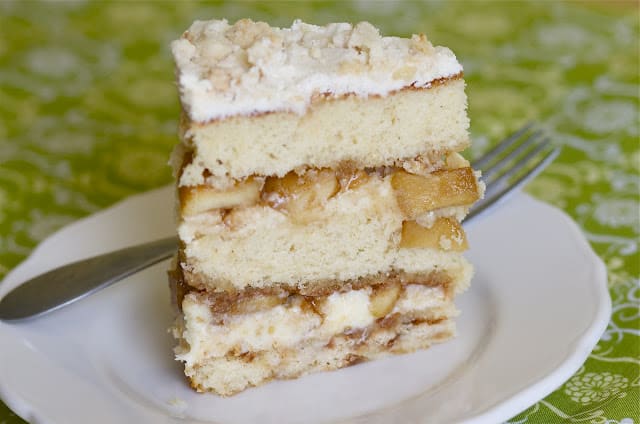 All the layering of this cake happens while using some new-to-me tools that I'm very excited about. The first is a cake ring- which looks just like it sounds- a metal ring used for shaping cakes. Inside the ring you place acetate strips- which are really just rolls of thick clear plastic that pastry chefs use. It allows you to keep the nice shape of your cake and then just peel it off once it's set. It's all a little hard to explain, but I really enjoyed using them and I honestly can't wait to try to other cake recipes from her book. They are time consuming, but so worth it. Wouldn't this cake be such an impressive holiday dessert? Either way I'll take a slice any time of year…
Ms. Nicole from Sweet Peony chose the recipe this week so head over there to see the whole thing.
And also visit my other MBM friends whose cakes are absolutely gorgeous! It's so cool to me to see how everyone's turned out- my layers look a bit smashed together in comparison :)
Cassie from Bake Your Day
Erin from Big Fat Baker
Krissy from Krissy's Creations
Jacqueline from Dusty Baker