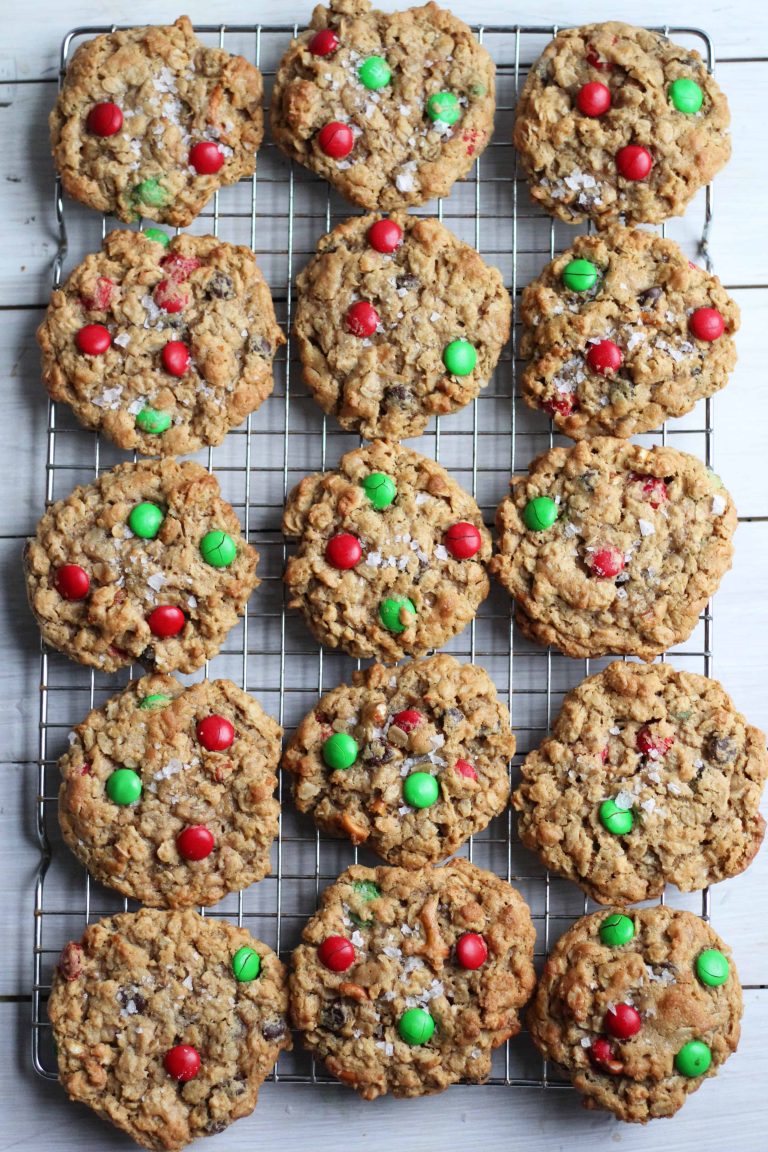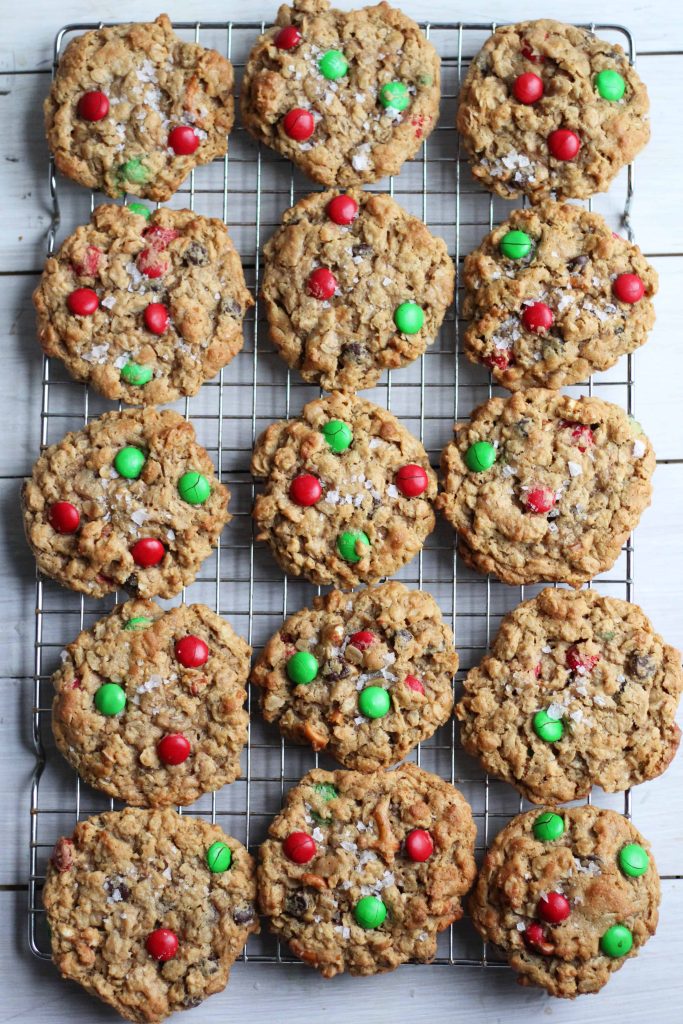 Happy Friday! Am I the only one completely blindsided by the fact that Christmas is a week away? I think I have become way too reliant on Amazon Prime, knowing I can order everything last minute if I need to- but I should probably get cracking don't you think?? I may be behind on the gift buying, but I sure am doing well on the cookie making front! I have another easy, festive and delicious recipe here for you and I hope you love it!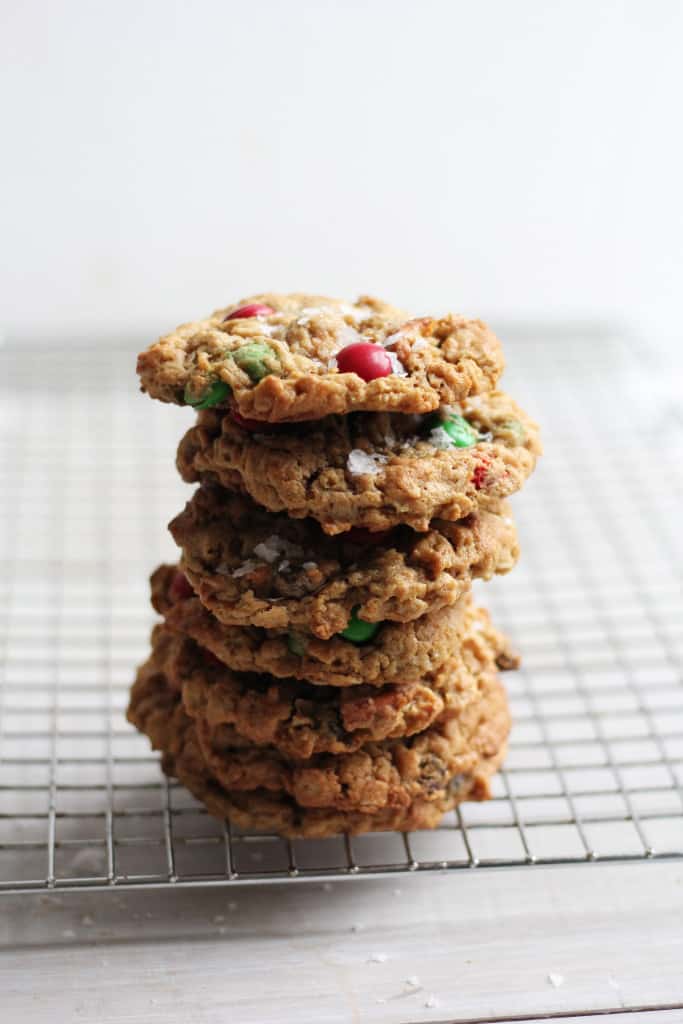 Truth be told, this isn't a new recipe on this site, I shared it a few years ago, but it's SO incredibly good and easy that I thought it needed a little holiday revamp with some new picture to bring it back to life. These monster cookies are made with creamy peanut butter, lots of oatmeal, and all sorts of delicious mix-ins tossed in. For these festive beauties I mixed pretzel chunks and toffee bits along with the original chocolate chips and M&Ms (I have to say that finding the right M&Ms in holiday appropriate colors really does make any old cookie seem to fun and festive!)
The original recipe just contained chocolate chips and M&Ms, but the mix in options for these cookies are endless. I'm already envisioning them with butterscotch chips, toasted coconut etc. Also- they don't contain any flour which was weird to me at first, but the chewy oatmeal-y texture was pretty darn perfect. I can't wait to make these thick and chewy cookies again and again!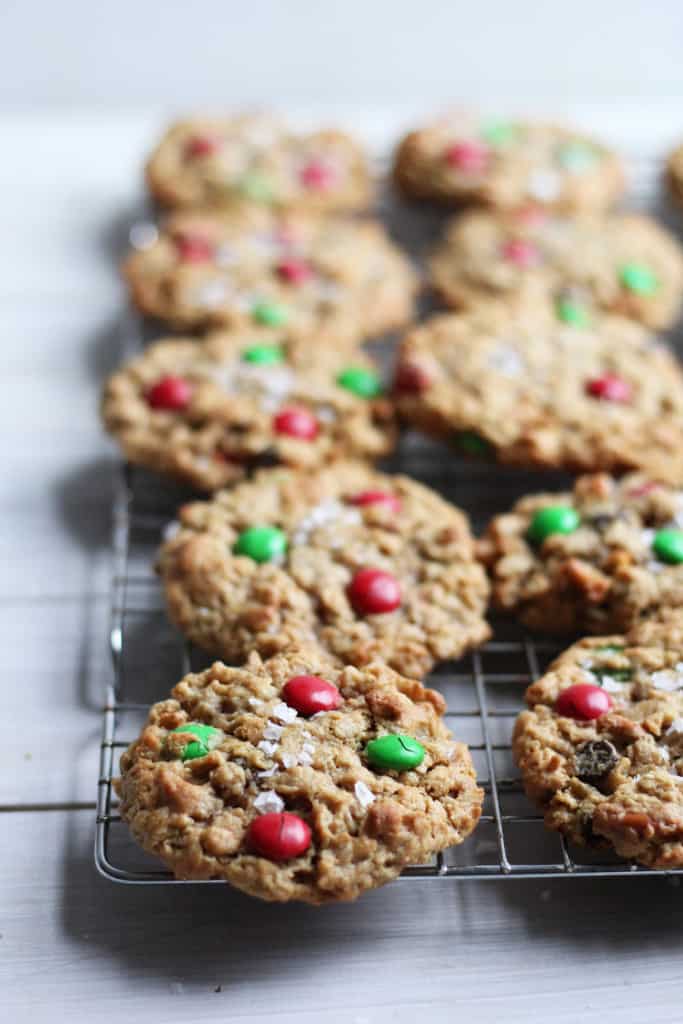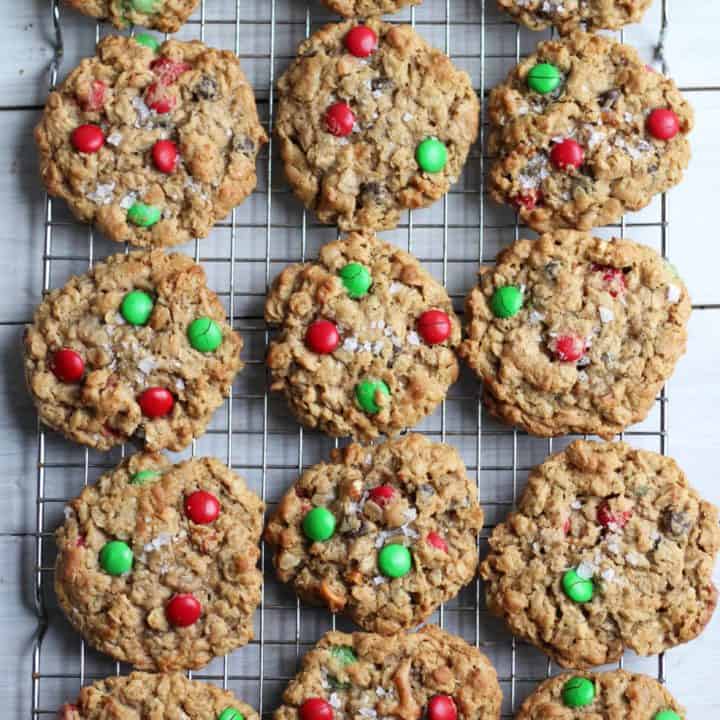 Monster Cookies
Ingredients
1 stick butter (softened)
1 1/4 c. brown sugar
1 c. sugar
2 cups of creamy peanut butter
3 eggs
1/2 tsp. vanilla
2 tsp. baking soda
1/2 tsp. salt
4 1/2 c. quick oatmeal
1/2 c. M&Ms
1/2 c. chocolate chips
Additional mix-ins like crushed pretzels, toffee bits, or coconut
Instructions
Cream together the butter, sugars and peanut butter with an electric mixer until fluffy and creamy.
Add the eggs and vanilla mix until just combined. Add the baking soda and mix.
Fold in the oats and then the chocolate chips and M&Ms.
Using medium/large cookie scoop or spoon, place rounded balls of dough onto a parchment-lined cookie sheet and press down slightly. Bake for 11-12 minutes at 375 degrees. Makes 24-30 large cookies.