Muffin Tin Chicken Pot Pies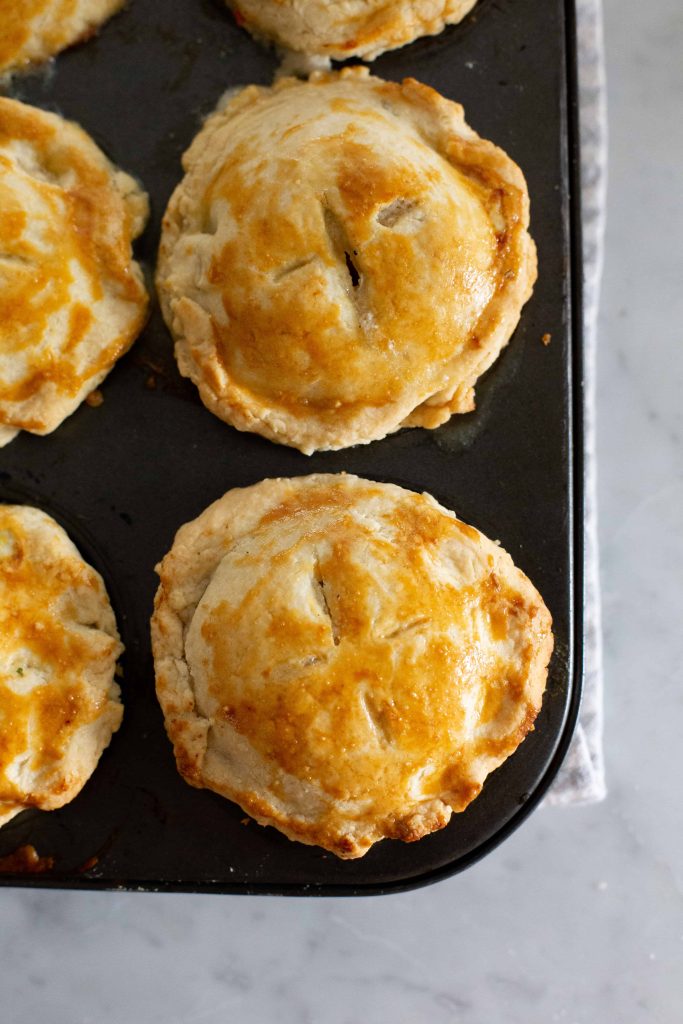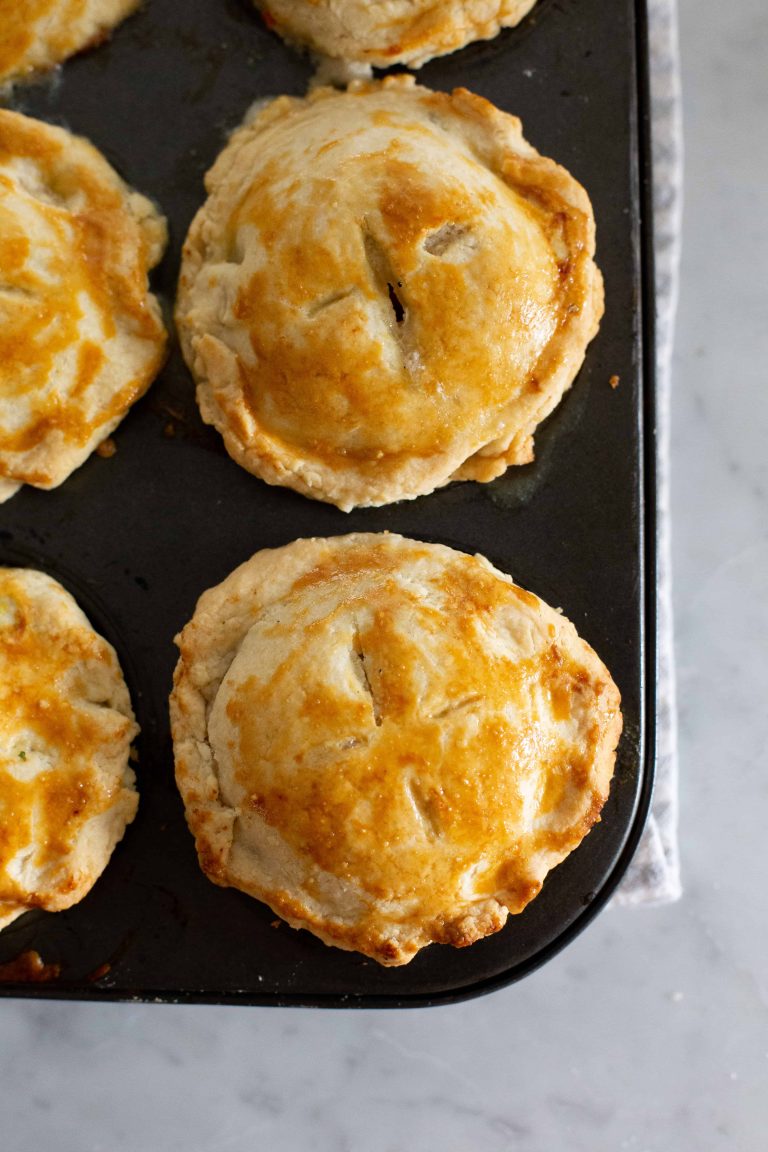 Chicken Pot Pie is classic comfort food that my whole family loves when the weather gets chilly. While I sometimes made a large full size portion, (I love this Skillet Pot Pie with Cheddar Biscuits– all made in a large skillet,) but sometimes individual is a nice option. We can save what we don't eat for quick and easy leftovers, and my kids love anything personal and mini!
This version involves a homemade flaky crust, a creamy filling full of veggies and tender chicken, and the perfect golden top that is just so satisfying to cut into. Just as delicious as classic chicken pot pie but scaled down for size!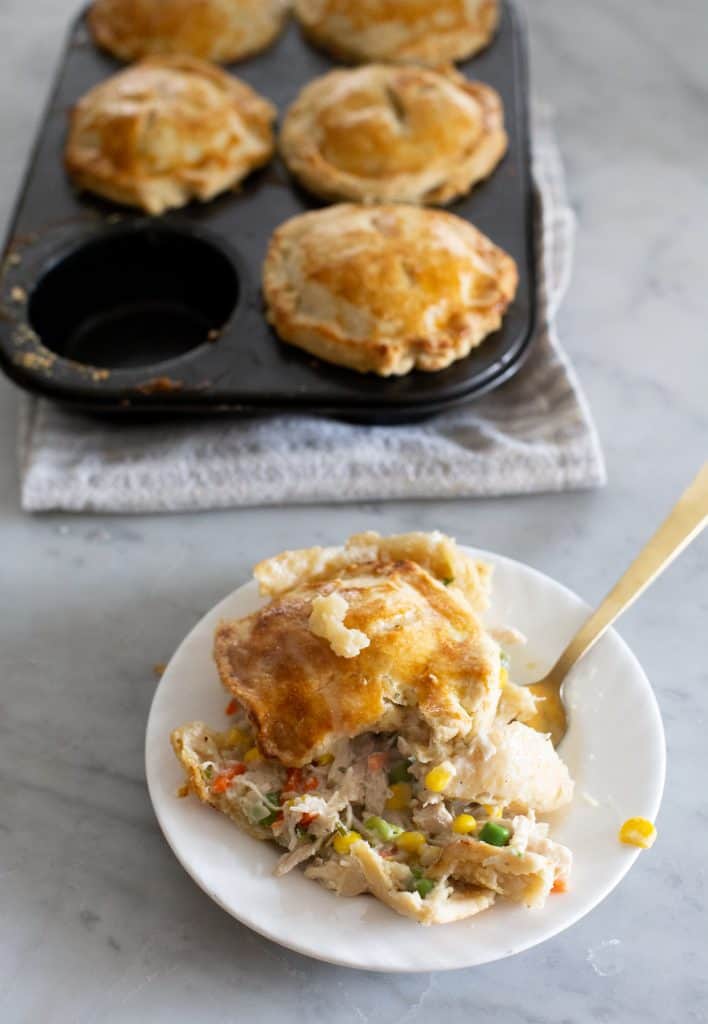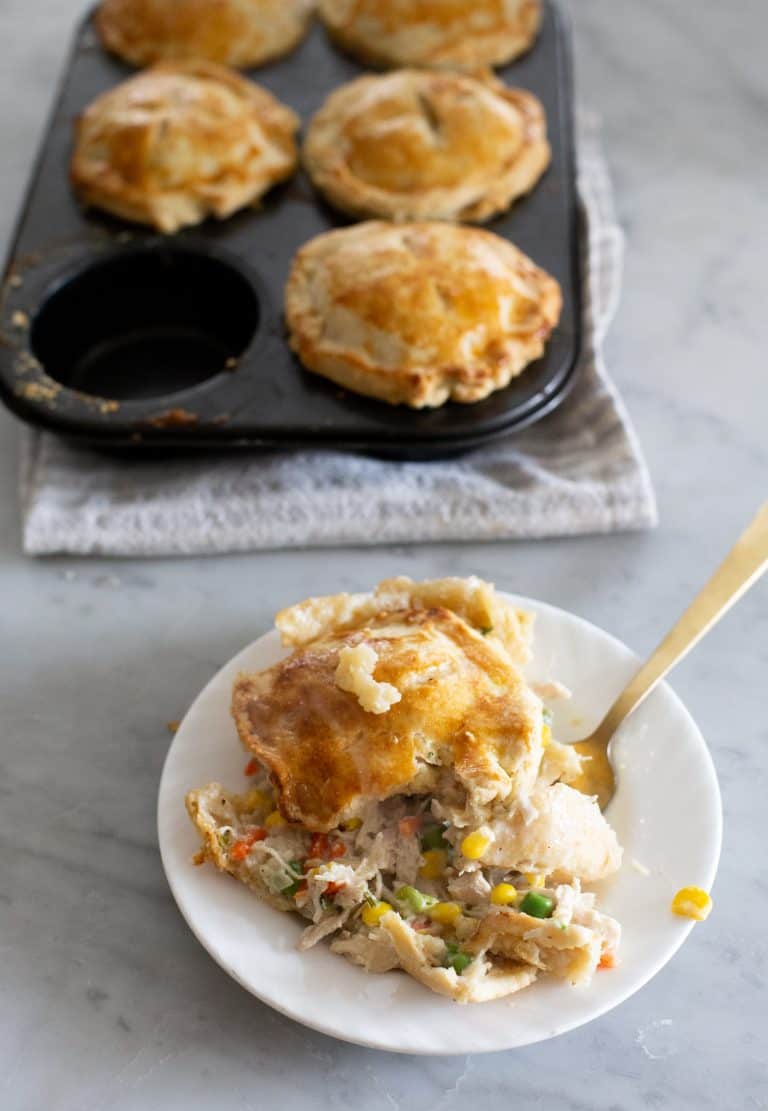 Ingredient List for Mini Chicken Pot Pie Recipe:
Shredded Chicken
Mixed Vegetables (I like corn, carrots, potatoes, peas and green beans.)
Butter
Flour
Milk
Chicken broth
Pie Crust
Fresh Herbs
Salt & Pepper
Egg for egg wash

Supplies needed for Muffin Tin Chicken Pot Pies:
Jumbo Muffin Pan
4 inch round cookie cutters or a biscuit cutter
large pot or dutch oven
Food Processor (for pie crust, optional)
Cooking Spray
The Process
Make your homemade pie crust in your food processor or a large bowl, flatten into a disc and chill in the fridge while you prepare your filling. Then you make a creamy sauce and add your veggies and chicken- pot pie filling is as easy as that!
Roll out the crust on a lightly floured surface to about 1/2 inch thick (thicker than you'd normally roll it,) and use a 4 inch cutter to cut out 8 circles. Then roll them flatter with a rolling pin- you want about a 7 inch circle to have enough dough to fill the jumbo muffin cups. You could also use a 7 inch bowl or dish to trace the crust if you prefer, but this method worked well for me.
Place a bottom crust in each muffin tin, fill with cooled topping, Lay top crusts on, and then trim and crimp as desired. Brush with egg yolk and bake for 30 minutes or until golden brown.

Can I use a Rotisserie Chicken?
YES! This is my favorite way to make this recipe in a time crunch. It's great way to use up leftover chicken too. Just add the shredded chicken into the veggie/cream sauce after it's done.
If I don't want to make homemade crust what can I use?
I think store bought pie dough or puff pastry sheets would both work well here. Some people seem to have used biscuit dough crescent roll dough with great success too, but I haven't tried that method.
Can I make this recipe with frozen vegetables?
Definitely. Add frozen veggies to your cream sauce before adding your chicken. I like a medley with carrots, corn, peas and green beans.
Can I freeze these homemade mini chicken pot pies?
Yes! When they have fulled cooled, wrap individual pot pies in plastic wrap and then store them in an airtight container or ziplock bag for up to a month. To reheat, thaw fully on the counter and then warm in a 350F oven or toaster oven.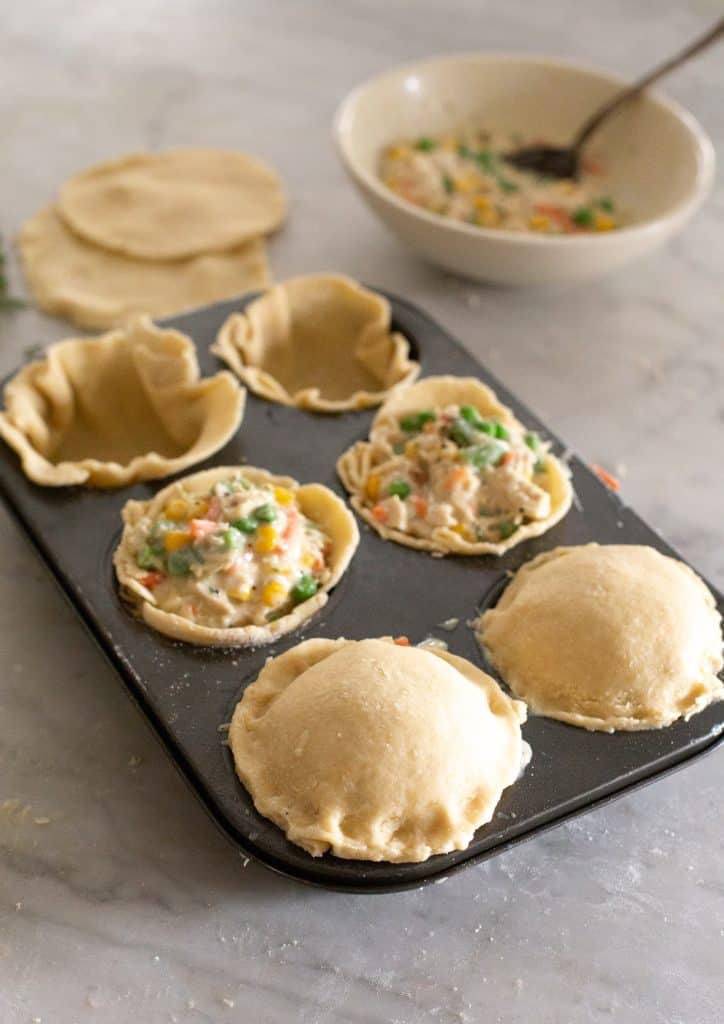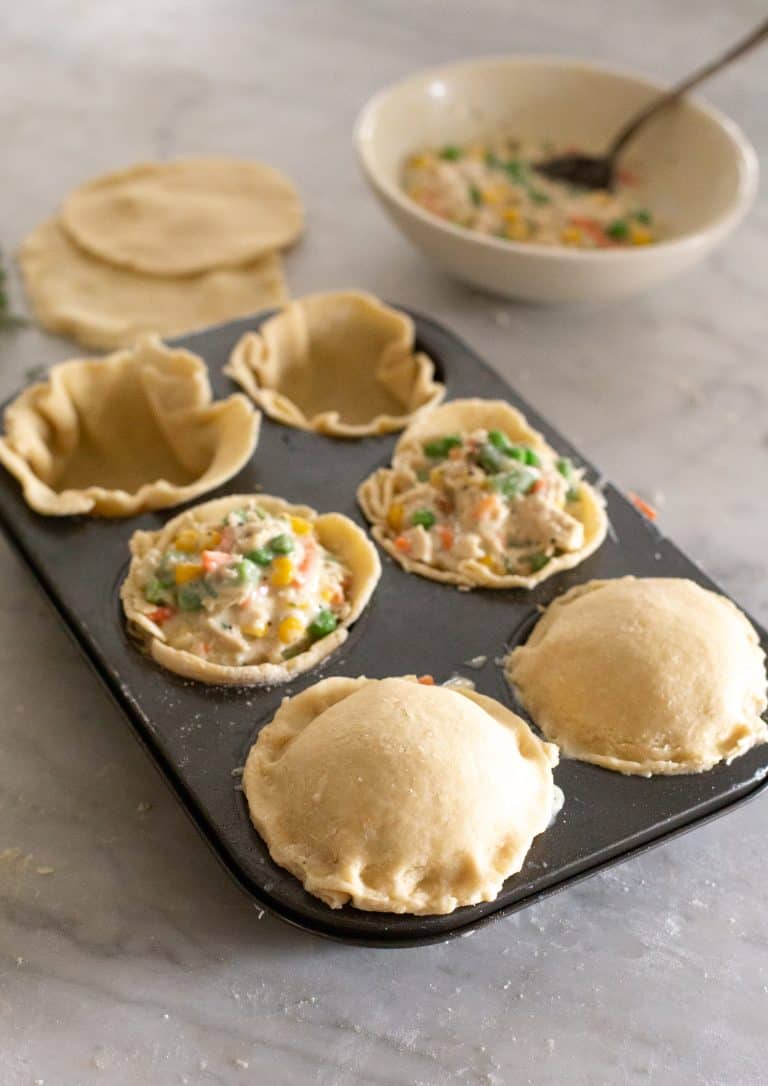 What herbs and seasonings can I add to my filling?
Sautéed shallot and garlic
Fresh Thyme, Rosemary or Parsley
Bay Leaf
Parmesan or Cheddar Cheese
Dried herbs
Onion powder
Garlic Salt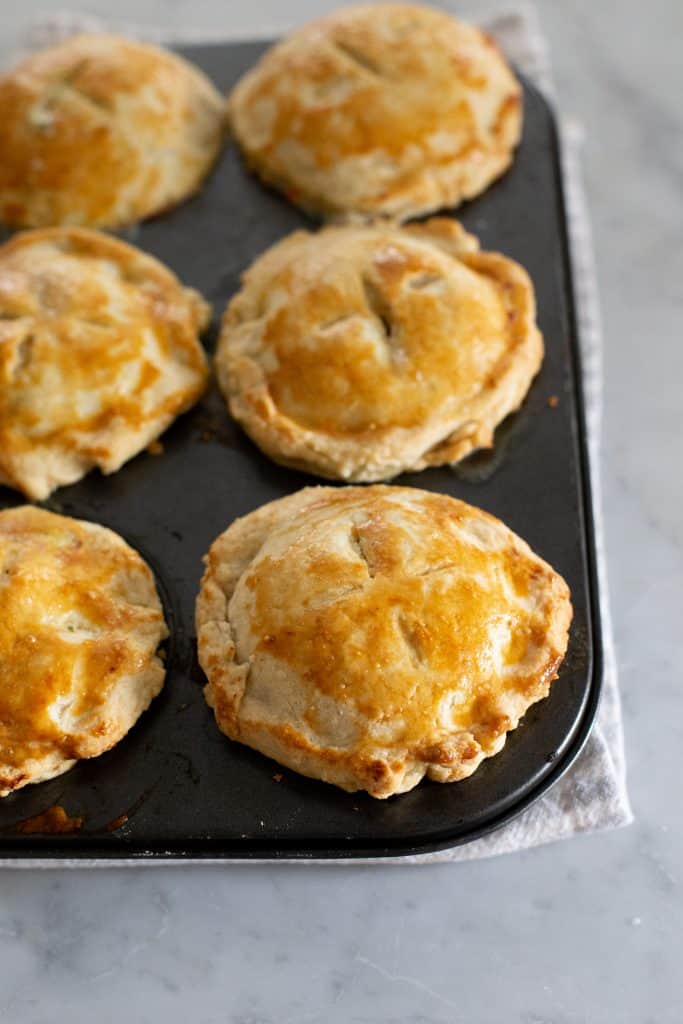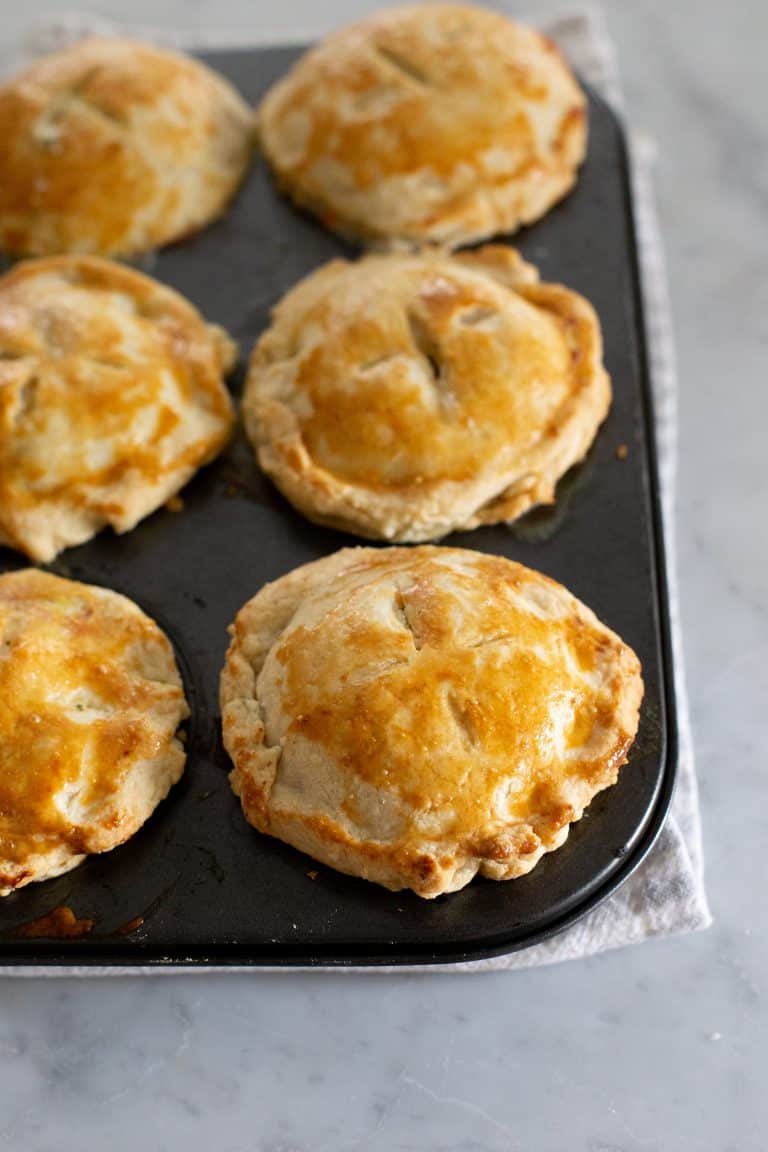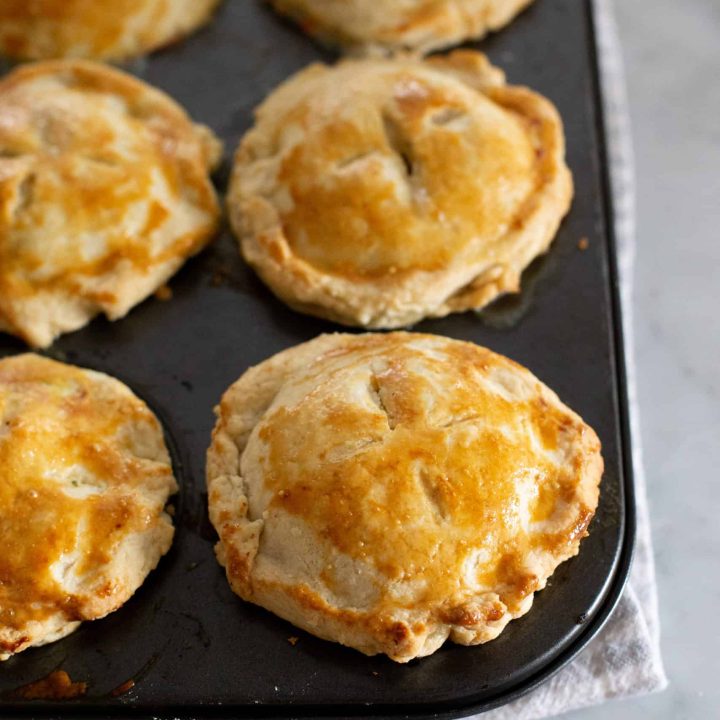 Muffin Tin Chicken Pot Pies
Additional Time:
30 minutes
Total Time:
1 hour
30 minutes
Ingredients
1 batch of pie crust
1 pound skinless, boneless chicken breast halves - cubed
¾ cup chopped carrots
¾ cup chopped potato
¾ cup fresh green beans cut into 1 or 2 inch pieces.
⅓ cup butter
⅓ cup chopped onion
⅓ cup all-purpose flour
½ teaspoon salt
¼ teaspoon black pepper
Other spices to taste (garlic, celery seed etc.)
2 cups of chicken broth
1 to 1½ cups milk
Instructions
Preheat oven to 425 degrees F (220 degrees C.)
In a saucepan, combine chicken, carrots, potatoes, and beans . Add enough chicken broth cover and boil for 15 minutes. Remove from heat, drain (while saving the chicken broth,) and set aside.
In the saucepan over medium heat, cook onions in butter until soft and translucent. Stir in flour, salt, pepper, and spices . Slowly stir in 1¾ cup chicken broth and 1 cup milk. Simmer over medium-low heat until thick. Remove from heat and set aside.
Combine the Chicken mixture and the sauce. If it doesn't seem saucy enough, slowly add broth and milk one tablespoon and a time until mixture has a nice gravy. (Sorry to be vague here but you really just need to eye ball it. Especially if you are decide to add other veggies.)
To Assemble:
Each 3rd of dough will need to yield 4 dough rounds. (If you need to gather the scraps and re-roll a couple times that's fine.) Roll each dough circle out until it is big enough to be pressed into the muffin tin with a half inch over hang.
After all the dough is in, add the filling into each tin. Be generous with the filling, you want it to dome on the top
Take the remaining 6 dough circles and one by one lay on top of the filling. Press the top and bottom dough layers together and trim excess.
Using the back of a knife or your finger, pinch the edges of each pie to seal.
Brush the top of each pie with an egg wash, milk or cream. (optional)
Cut a few slits into each pie to release steam when baking.
Bake at 425 for 30 minutes, or until pies are crisp on top and golden brown.