No-Bake Cheesecake with Quick Blueberry Sauce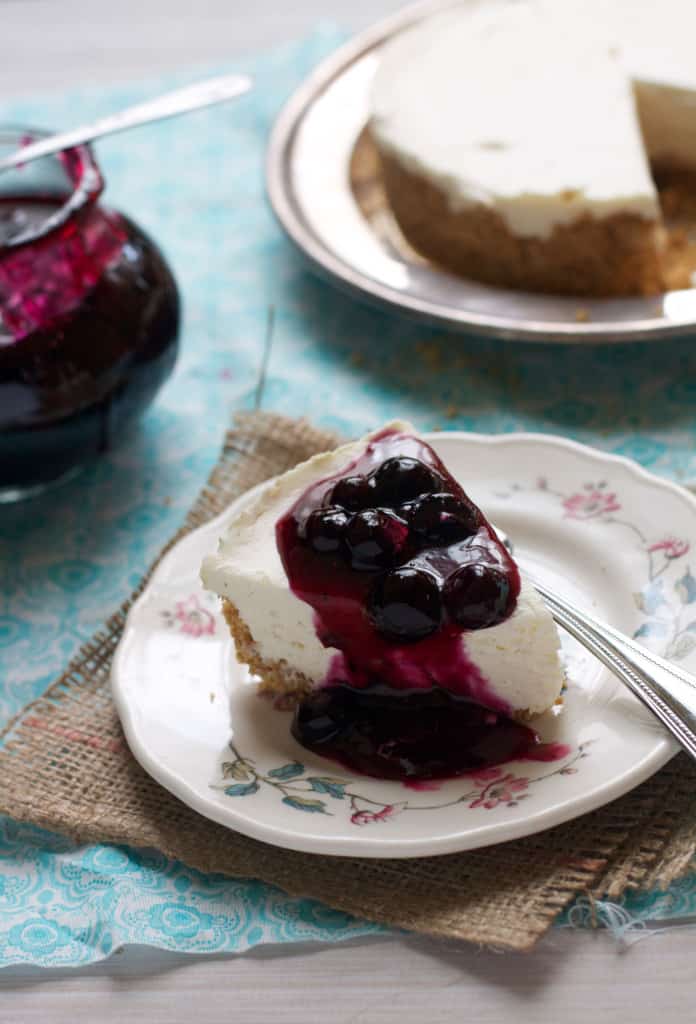 We've started a bit of a heat wave where I live, and though it doesn't stop me from still turning my oven on frequently, I love any chance I have to make decadent desserts without it.
A light and fluffy cheesecake with fruit sauce is one of my favorite desserts, but can sometimes seem too heavy for warm summer days right? I love a dense and rich classic NY version, but was hoping to make something a little more creamy and airy.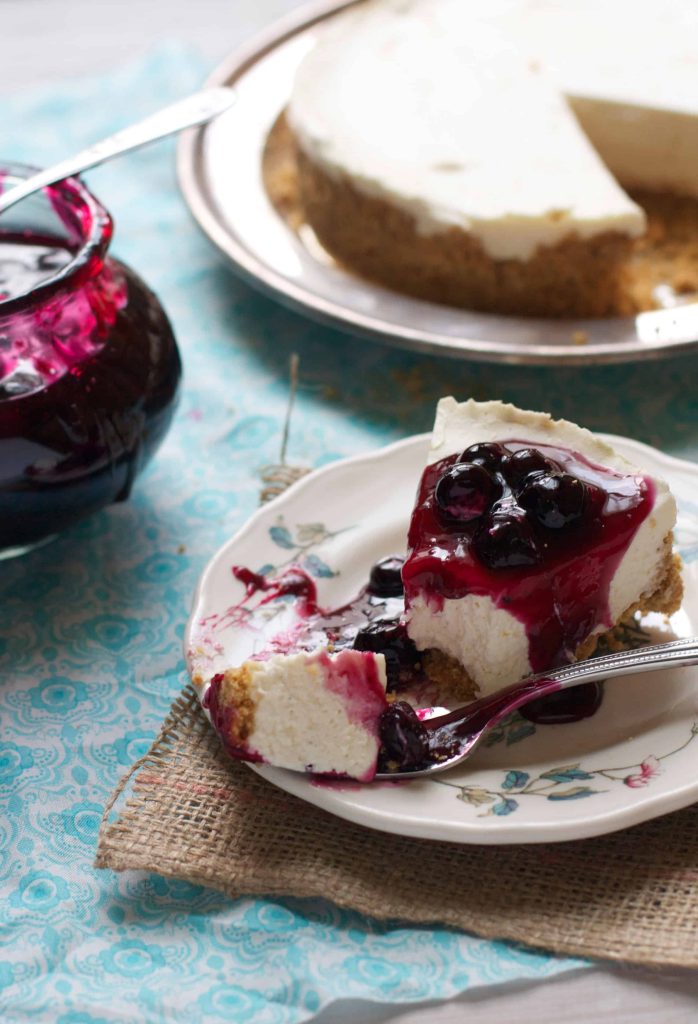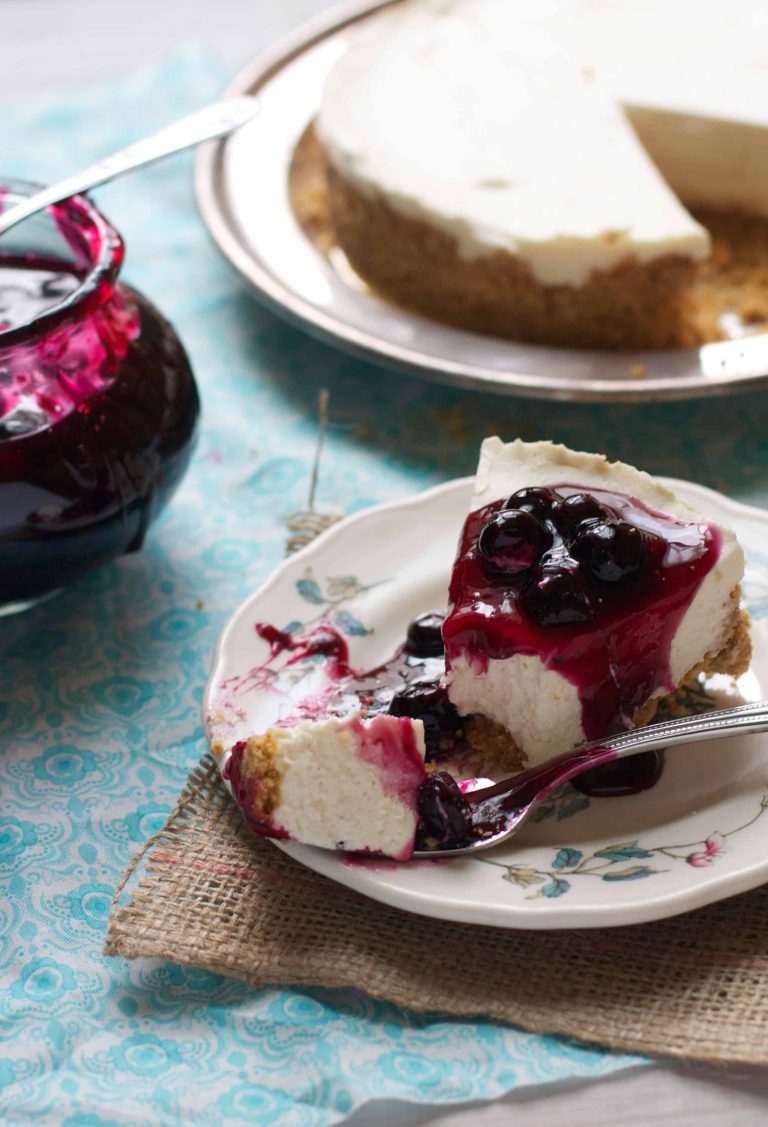 I love this recipe not only because of the texture (which is creamy and fluffy as can be,) but not having to turn my oven on actually makes it do-able most summer days! It's a great base recipe for what I know what be a variety of flavors, mix ins, and varieties. (Individual servings in a jar anyone?)
Served alone the flavor would have been lovely with subtle hints of vanilla and lemon, but I topped it with an easy as pie blueberry sauce for an added touch. (Simple fresh strawberries or other fruit sauces would also be delicious.)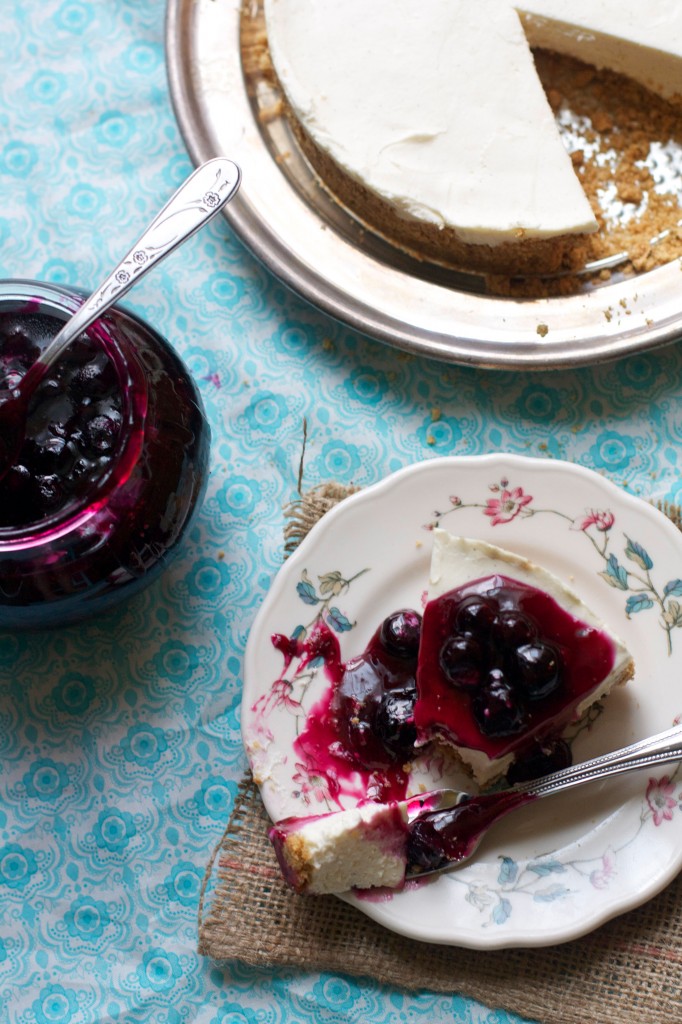 I've found another new kitchen staple in this sauce, as it came together in 5 minutes but was so fresh tasting and delicious. I'm thinking it would be dreamy over some freshly churned ice cream, pound cake, or pancakes too! Since the best blueberries haven't quite reached our markets here in NYC, I used the frozen organic ones I had in the freezer- but either will do! :)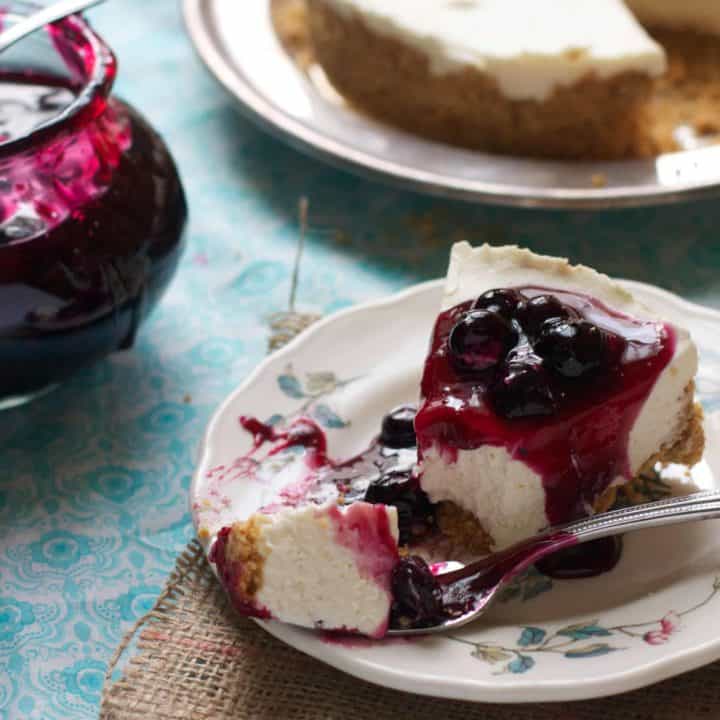 No-bake Cheesecake with Quick Blueberry Sauce
Yield:
1 6-7 inch cheesecake.
Ingredients
Crust:
1 1/2 cups graham cracker crumbs
3 tablespoons melted butter
2 tablespoons brown sugar
Filling
12 oz cream cheese, softened.
1/3 cup white sugar
juice of 1/2 a lemon
1 teaspoon vanilla extract
3/4 cup heavy whipping cream
Sauce
2 cups fresh or frozen blueberries
1/2 cup water
juice of 1 lemon
1/2 cup plus 2 tablespoons white sugar
3 tablespoons corn starch dissolved in 1/4 cup water.
1 tablespoons lemon zest
Instructions
For the Cheesecake:

Combine graham cracker crumbs, brown sugar and melted butter together in a medium sized bowl and mix. Press into the bottom and sides of a 6 or 7 inch spring form pan. Chill until ready to use.

In the bowl of a stand mixer fitted with a paddle attachment, mix together the cream cheese, sugar, vanilla and lemon juice until smooth and creamy.

In a separate bowl, beat the whipping cream until stiff peaks form. Gently fold the whipped cream into the cream cheese mixture.

Transfer the filling into the prepared crust, using an off-set spatula to gently smooth the top.

Cover with plastic wrap and chill for several hours or overnight.

For the sauce:

In a small saucepan combine the blueberries, sugar, lemon juice, and water. Cook over medium-high heat, stirring gently until boiling.

Add the cornstarch/water mixture and without breaking the berries- carefully stir it in. Cook for 2-3 minutes over low heat, stirring until sauce is thick. Fold in lemon zest.

Sauce will last in an airtight container in the fridge for up to 2 weeks.
Notes
Recipe loosely adapted from: All Recipes