Salted Caramel Cookie Dough Truffles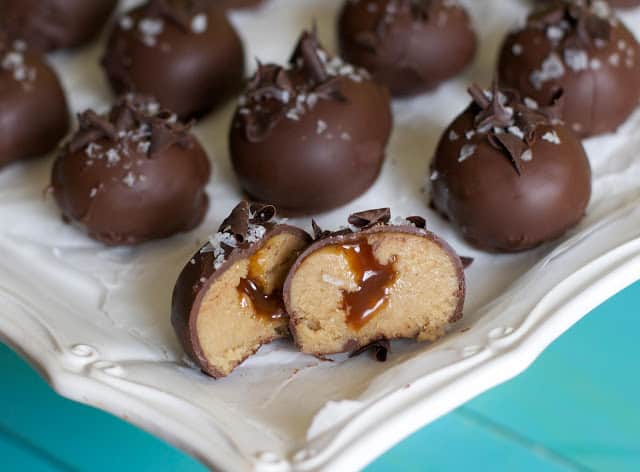 If you know my sweets-style at all by now, you know I have a flair for the sweet/salty combo. In fact, it is probably my all-time favorite blend of flavors and I do whatever I can to add that pinch of sea salt whenever a dessert warrants it (which is almost always.) So, when asked to create a recipe using the raw egg-free cookie dough featured in "The Cookie Dough Lover's Cookbook," you can guess where my mind went first. Yes, that's right, I knew right away that my creation had to include some salted caramel.
If the little pocket of caramel that I carefully "injected" into each truffle isn't enough salt for you, I also used peanut butter cookie dough and finished the truffles off with some sea salt. The result? A truly decadent sweet and salty bite from beginning to end. And the best part- these are no bake, and they are much easier to assemble than they seem. (People always seem very impressed by homemade truffles, which is great for me because I find they pretty simple!)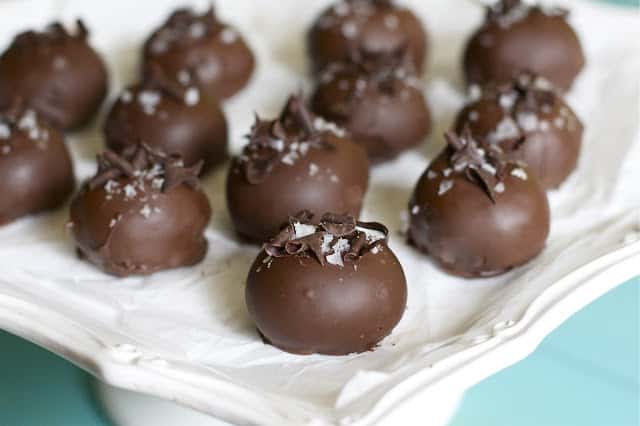 This recipe is part of a fun promotion for Lindsay Landis's new cookbook completely devoted to cookie dough! Yes, the talented blogger behind Love & Olive Oil has created, (and photographed beautifully,) dozens of recipes all using her safe-to-eat cookie dough creation. A few bloggers were asked by Quark Books to create something utilizing the cookie dough as part of the "Cookie Dough-lympics," (Cute right?) I was excited to participate because A- I love Lindsay's blog B- I have never tried making raw cookie dough!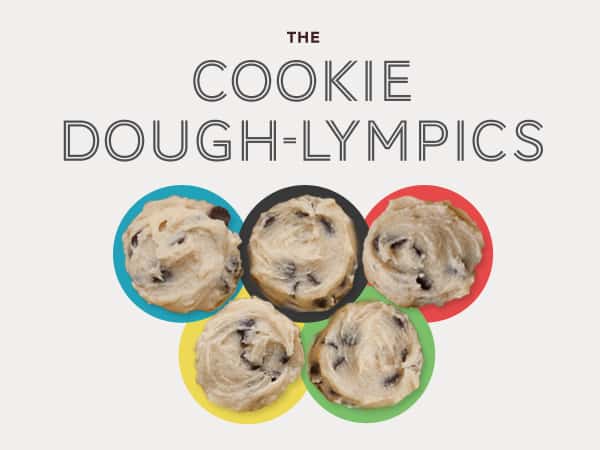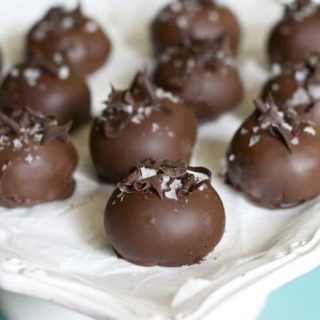 Salted Caramel Cookie Dough Truffles
Ingredients
For the Cookie Dough:
1/4 cup 1/2 stick unsalted butter, room temperature
1/4 cup creamy peanut butter
1/4 cup sugar
1/2 cup light brown sugar, packed
2-3 tablespoons milk or cream
1/2 teaspoon vanilla extract
1 1/4 cups all-purpose flour
1/4 teaspoon salt
8 oz semi sweet chocolate chips*
1/2 cup salted caramel, homemade or store bought
sea salt and chocolate curls for garnish
Instructions
First make the dough:
In a large bowl beat the butter, peanut butter, and sugars with an electric mixer on medium speed until light and fluffy, 2-3 minutes. Mix in 2 tablespoons milk and vanilla. Sift in flour and salt and mix on low speed (or by hand) until incorporated. (My dough was a little too dry so I added another tablespoon of milk, you may not need it though.)
Cover and chill dough for 30 minute or until firm enough to handle.
Meanwhile, fit a pastry bag with an injector tip** and fill bag with the salted caramel.
When chilled, form dough into 1 inch balls and arrange them on a baking sheet lined with parchment paper.
Carefully push the angled part of the injector tip into each dough-ball and fill it with caramel. You will see the dough swell up a bit as it you fill it.
As you're removing the pastry bag, turn it to an angle so the caramel doesn't spill out too much. Repeat with all the truffles.
Pop tray of caramel-filled truffles into the freezer for at least an hour so the caramel firms up. (If you need to smooth/clean up the tops from caramel drips, now is the time.)
Place the chocolate chips in a heatproof bowl and melt according to instructions on the bag. (One minute on high followed by a stir and 15 second additional intervals works best for me.)
Using a spoon or fork, dip truffles into the melted chocolate one and a time, coating evenly. Tap the spoon on the edge of the bowl to shake of excess chocolate. Place truffles back on the baking sheets and sprinkle with sea salt and chocolate curls before the shell hardens.
In an airtight container, the truffles will last in the fridge for up to a week.
Notes
*You can also use candy melts if you have them, I prefer the chocolate chips, but the candy melts lend a harder/smoother finish. **An injector tip is a long pastry tip that allows you to easily fill baked goods and pastries. I got mine in this decorating set, but I'm sure most baking stores sell them. Any other tip with a small, round tip would also probably do the trick!
Nutrition Information:
Serving Size:

1 grams
Amount Per Serving:
Unsaturated Fat:

0g
Recipe adapted from: The Cookie Dough Lover's Cookbook by Lindsay Landis