Sweet Cherry-Brown Butter Bars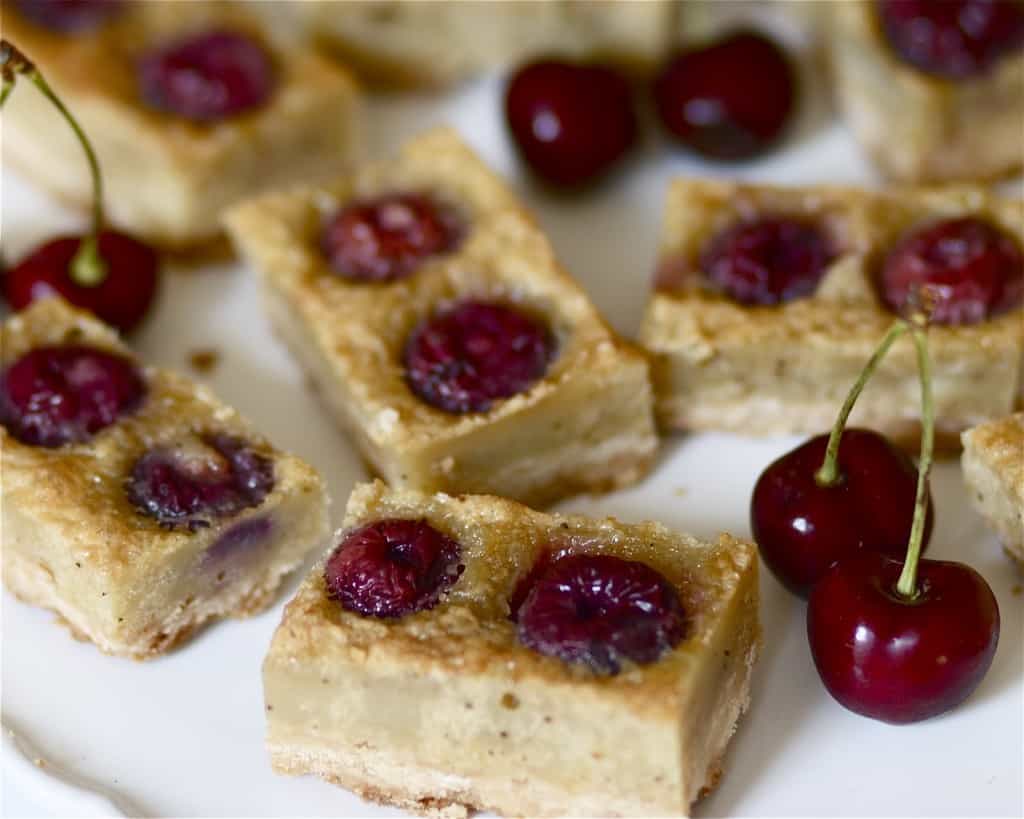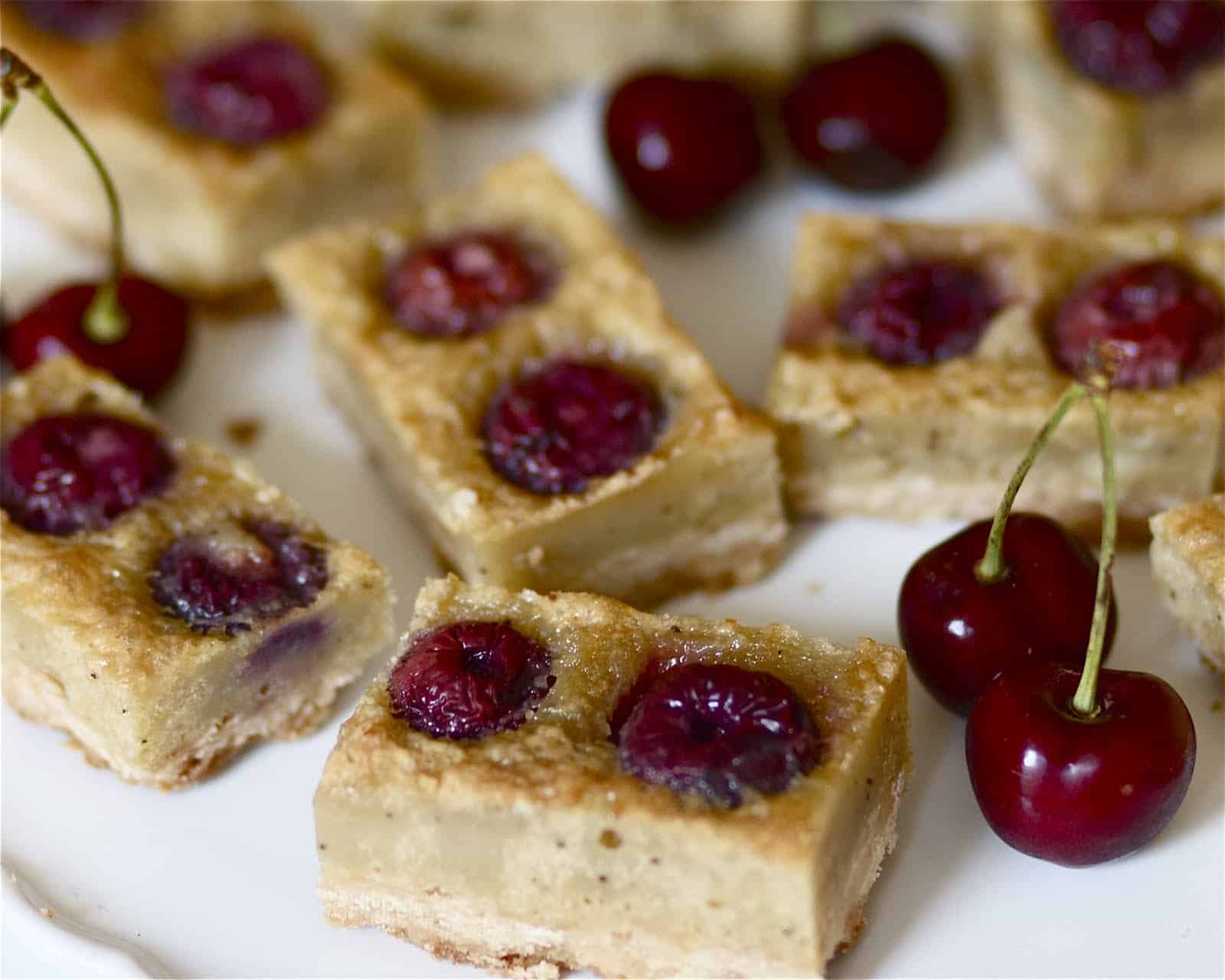 In case you haven't noticed, I've been posting a lot of recipes with fruit lately. I just can't help it. Nothing makes me quite as excited as all the fresh and local fruit options from the greenmarket. This time of year is all about the produce and it seems like that's all I want to eat. (Well that and the produce baked with lots of butter and sugar.)
I bought 3 pounds of cherries over the weekend and was determined to find recipes that would use at least 2 lbs. of them. After much searching and perusing all the blogs out there, I saw this recipe and knew I had to make it. I am obsessed with anything brown butter, and the combo of the rich nutty flavor and sweet and tangy cherries seemed perfect.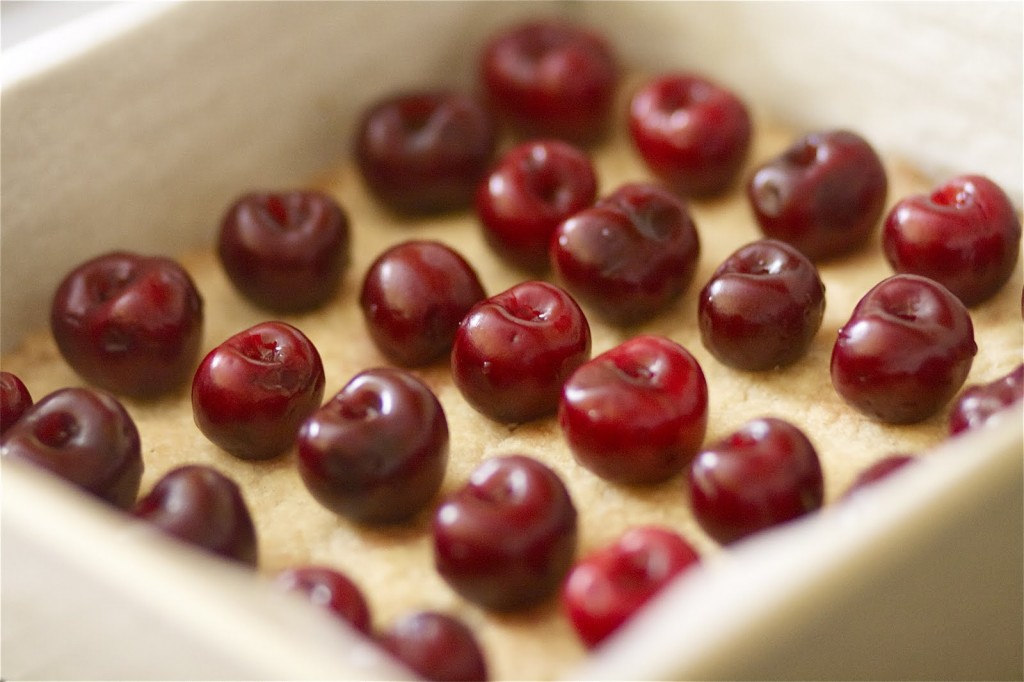 These bars turned out so well and I can't wait to make them again with new flavor combos. I want to try them with raspberries or peaches! I followed Deb from Smitten Kitchen's recipe to a T which isn't something I normally do. Often I try to make it my own by switching a few things up, but this just looked so good that I couldn't change a thing. The original recipe was actually for a tart in a fluted pan, but this one uses parchment paper lining to easily lift the bars right out. These are gooey and sweet and delicious. Buy a million cherries and make them!!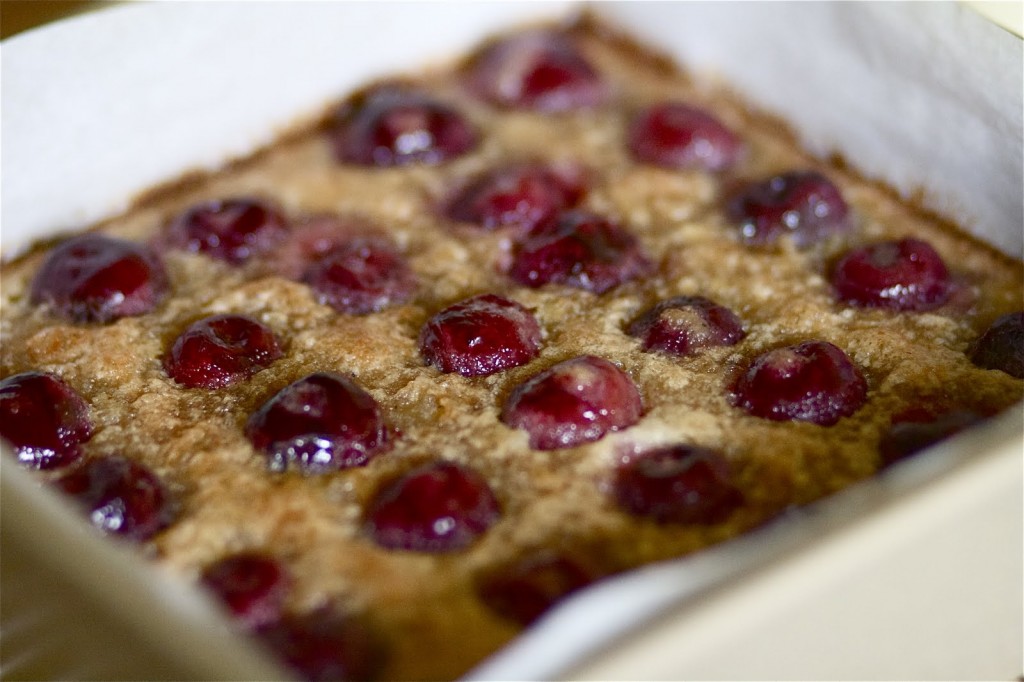 Sweet Cherry-Brown Butter Bars
Ingredients
Crust:
7 tablespoons unsalted butter, melted
1/3 cup sugar
1/4 teaspoon vanilla extract
1 cup plus 1 tablespoon all purpose flour
Pinch of salt
Filling:
1/2 cup sugar
2 large eggs
Pinch of salt
1/4 cup all purpose flour
1 teaspoon vanilla extract
1/2 cup 1 stick unsalted butter, diced
12 oz pitted cherries or other berries
Instructions
Make crust:
Preheat over to 375°F.
Line an 8x8 baking dish with 2 pieces of parchment paper, with the bottom one hanging over the edges slightly, place the second one perpendicular to the first. (This will allow easy lifting of the bars when it's cooled.)
Melt butter in a large saucepan. Add sugar and vanilla and whisk together. Add flour and salt and stir until incorporated. Transfer dough to your prepared pan, and use your fingertips to press the dough evenly across the bottom of the pan.
Bake the crust until golden, about 18 minutes (it will puff slightly while baking). Transfer crust to rack and cool in pan. Maintain oven temperature.
Make the filling: Cook butter in heavy small saucepan (a lighter-colored one will make it easier to see the color changing, which happens quickly) over medium heat until deep nutty brown (do not burn), stirring often and watching carefully, about six minutes. Immediately pour browned butter into glass measuring cup to cool slightly.
Whisk sugar, eggs, and salt in medium bowl to blend. Add flour and vanilla and whisk until smooth. Gradually whisk browned butter into sugar-egg mixture; whisk until well blended.
Arrange pitted cherries, or the berries of your choice, in bottom of cooled crust.
Carefully pour browned butter mixture evenly over the fruit. Bake bars until filling is puffed and golden and tester inserted into center comes out clean, about 30-40 minutes (the large range allows for different ovens. Mine only needed about 33 minutes, but the original recipe states 40. Watch carefully!)
Use the parchment paper overhang to carefully remove cooled bars from pan and place them on a cutting board and cut them into squares with a very sharp knife.
Notes
Do ahead: Can be made at least a day ahead, and stored at room temperature. Any longer, keep them cool in the fridge.
Nutrition Information:
Serving Size:

1 grams
Amount Per Serving:
Unsaturated Fat:

0g
Source: Smitten Kitchen