3 Bean Turkey Chili with Skillet Cornbread
Yesterday marked one of my favorite and also least favorite days of the year- the start of football season. Now don't get me wrong- I really and truly love football and I won't miss a single Packers game if I can help it, but the joy of rooting on my favorite team means saying goodbye to my husband until early February. (Which is incidentally around the time our baby is due- just watch me go into labor on Superbowl Sunday!)
Though Andy likes to make a whole day of football-watching, I choose to stick to my one game and spend the rest of the the day in the kitchen. I love having friends over to watch, especially because it gives me a great excuse to whip up a humungous pot of chili with fixings that we can enjoy all day. Usually I have the pot on before the 1:00 games start, and we're feasting on it well into the evening and often times all week.
This seems like a good balance for me. I get a taste of my favorite sport, while also feeding our friends and family and often getting to chat with some of the group in the kitchen while they fix their plate. It seems like some of the wives and girlfriends don't mind missing out on a bit of the football frenzy to chat with me in the kitchen- I often feel like it's the hub of the whole afternoon. I always have dishes of cheese and sour cream, sometimes avocado when I can find a ripe one, scallions, hot sauce and of course a big bowl of crispy tortilla chips. I like eating my bowl right in the kitchen while also getting everyone fed, with the amazing soundtrack of Andy cheering in the background, (or screaming at the TV in an angry way.) This is often my favorite part of Sunday- serving of plates of comfort food, being all hostess-y and letting the brisk fall air blow in.
This chili is one of my favorite things to cook because you basically throw everything to the pot and let it simmer away. It's totally adaptable, and no matter what ingredients we have or don't have- it always turns out so good. I like that I can do the prep before our guests arrive and then just serve and enjoy! What makes it even better is a slice of crispy skillet corn bread on the side. Andy's mom gave me the recipe months ago and I've been dying for a chance to use it. Andy likes to dump his chili right on top of the corn bread and mix it all together. I can't often get him into the kitchen to hang with me, but I don't mind bringing him a bowl of chili the way he likes it while he gets to enjoy football day. I actually had a line on our wedding vows about this so I'm trying to stick to it!! ;) Football season is here! This Sunday we'll be eating this chili while I get to watch the Packers (my team) beat the 49ers!! (Andy's team.) If my team happens to lose you can look for me crying in the kitchen over a bowl of this ;)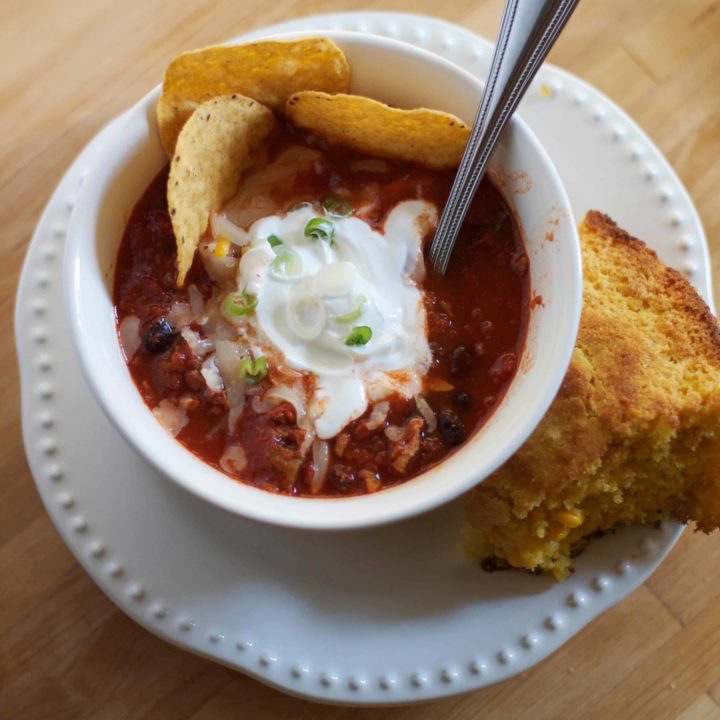 Skillet Cornbread
Ingredients
4 tablespoons + 2 tablespoons unsalted butter, softened and separated
4 large eggs
1 Tblsp canola oil
1 ½ cup buttermilk
4 oz Monterey Jack Cheese, grated
2 cups corn kernels, frozen – completely thawed
1 cup all-purpose flour
1 ½ cups corn meal
1 tablespoon baking powder
1 teaspoon baking soda
2 tsp salt
1/3 cup sugar, depending on how sweet you like it
Instructions
Cream 4 tablespoons butter in an electric mixer until smooth, Beat in eggs one at a time. Add buttermilk, oil, cheese & corn.
Combine dry ingredients into a medium sized bowl, and stir them into the wet ingredients 1/3 at a time – mix thoroughly, but do not over mix.
Heat 10 inch cast iron skillet on top of stove and melt the remaining 2 tablespoons butter in it. Roll pan to cover bottom and sides. Add cornbread mixture to hot pan and place immediately into oven. Bake at 350F 25-30 minutes or until toothpick inserted into center comes out clean.
Nutrition Information:
Yield:

10
Serving Size:

1 grams
Amount Per Serving:
Unsaturated Fat:

0g
This post is part of BlogHer's Kitchen Entertaining series, made possible by KitchenAid.