We're to that point of the year where bags of freshly picked apples seem to be everywhere I look and I just can't get enough. Apples are one of my absolute favorite things to bake with and I have lots of delicious recipes up my sleeve the next few weeks starting with these unbelievable scones. Does apple and cheddar seem like a weird combo to you? I have to admit that at first I was a little unsure about this sweet and savory pairing, but man is it amazing! Since these scones don't have any spices like cinnamon or nutmeg to highlight the apple you really get huge bursts of fresh apple flavor with the most subtle savory saltiness from the cheese. It's a match made in heaven.
Has the weather turned crisp in your neck of the woods? Here in New York we have had the most glorious weekend of fall-like weather and I just adore it. These scones just scream fall and I plan to make them again for a autumnal-themed brunch once I get to my new place. They are the perfect amount of sweet and savory and warm out of the oven, I can't think of anything better to cozy up on the couch with, cup of tea in hand with a good book. (Though lately I don't read much besides books on birth..can you blame me?) Fall is here guys-you heard it here first!!!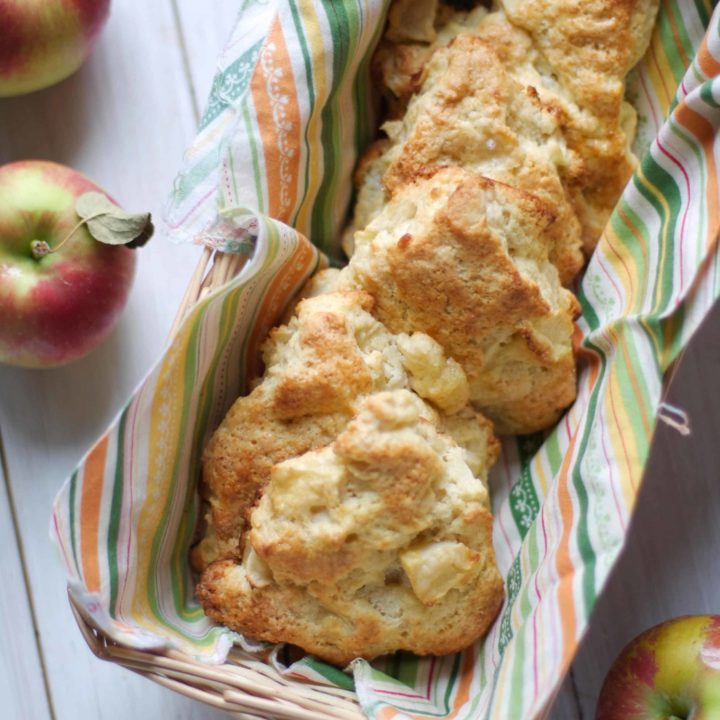 Apple Cheddar Scones
Ingredients
2 firm tart apples, I used Johnny Macs peeled, cored and cut into chunks.
1 1/2 cups 6.75 ounces all-purpose flour
1/4 cup sugar plus 1 tablespoon for sprinkling
1/2 tablespoon baking powder
1/2 teaspoon salt
6 tablespoons unsalted butter, chilled and cut into 1/2-inch cubes
1/2 cup sharp cheddar, shredded (I used white, yellow cheddar would be fine too but may change the color of the scones)
1/4 cup heavy cream
2 large eggs
Instructions
Position a rack at the center of oven and preheat oven to 375 °F. Line baking sheet with parchment paper or a silpat.
Placed apple chunks in a single layer on the baking sheet and bake them until they are a bit golden and soft to the touch. Let them cool completely. (I tossed mine into a bowl and then stuck it in the freezer while I got everything else ready.) Leave the oven on.
Sift or whisk flour, 1/4 cup sugar, baking powder and salt together. Set aside.
Place butter in the bowl of an electric mixer with a paddle attachment*, along with cooled apple chunks, grated cheese, cream and one of the eggs. Start the mixer on low speed and gradually add the dry ingredients. Mix only until the dough comes together- Do not overmix.
Turn the dough onto a well-floured counter top and use floured hands to form the dough into a 6 inch circle (about 1 1/4 inches thick) Cut circle into 6 wedges. Transfer them to the baking sheet lined with a fresh sheet of parchment paper. Leave at least 2 inches between each scone.
Beat remaining egg in a bowl with a pinch of salt. Brush the scones with egg wash and sprinkle them with remaining sugar. Bake until firm and golden brown, about 30 minutes. Cool on a wire rack- eat warm!
Notes
*If you don't have a stand mixer, a hand mixer would totally work too. These scones are wonderful the day they are made- we had a couple leftover scones the next morning for breakfast and they were great too but best fresh. Recipe barely adapted from: Smitten Kitchen via The Perfect Finish
Nutrition Information:
Yield:

6
Serving Size:

1 grams
Amount Per Serving:
Unsaturated Fat:

0g