Apple Cider Donuts (two ways!)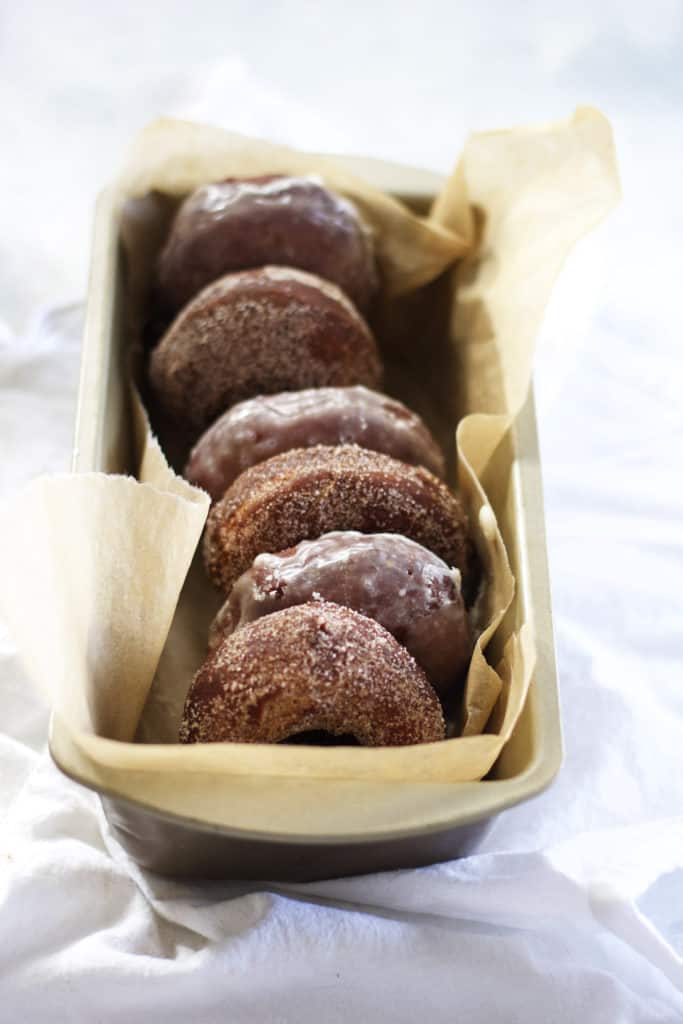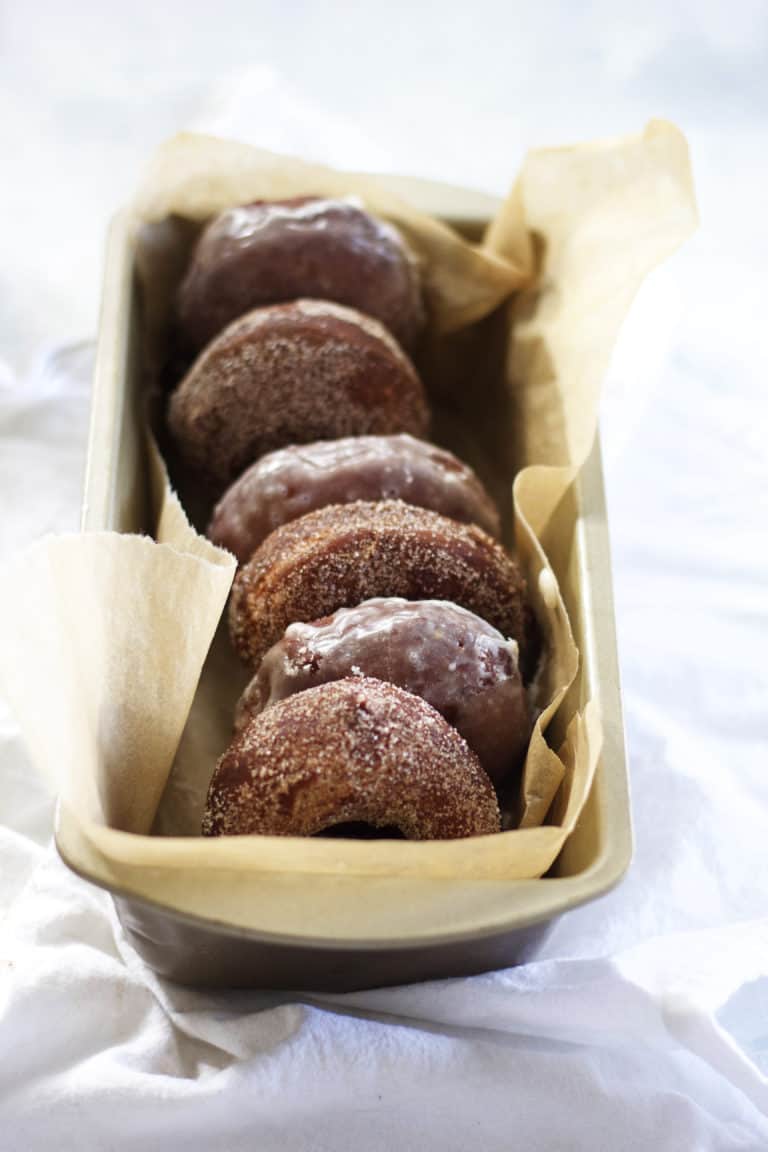 Last weekend was my street's semi-annual block party, so of course I offered to host breakfast in our front yard with 50 freshly made Apple Cider Donuts. Baking delicious things for people is on my list of top 5 favorite things to do, so I jumped at the chance! I've made donuts a few times this year, and these Key Lime Donuts were to die for, but in the fall, it's all about a warm, sugary Apple Cider Donut. They're my favorite part about apple picking and all fall outings, and I couldn't wait to try my own homemade version.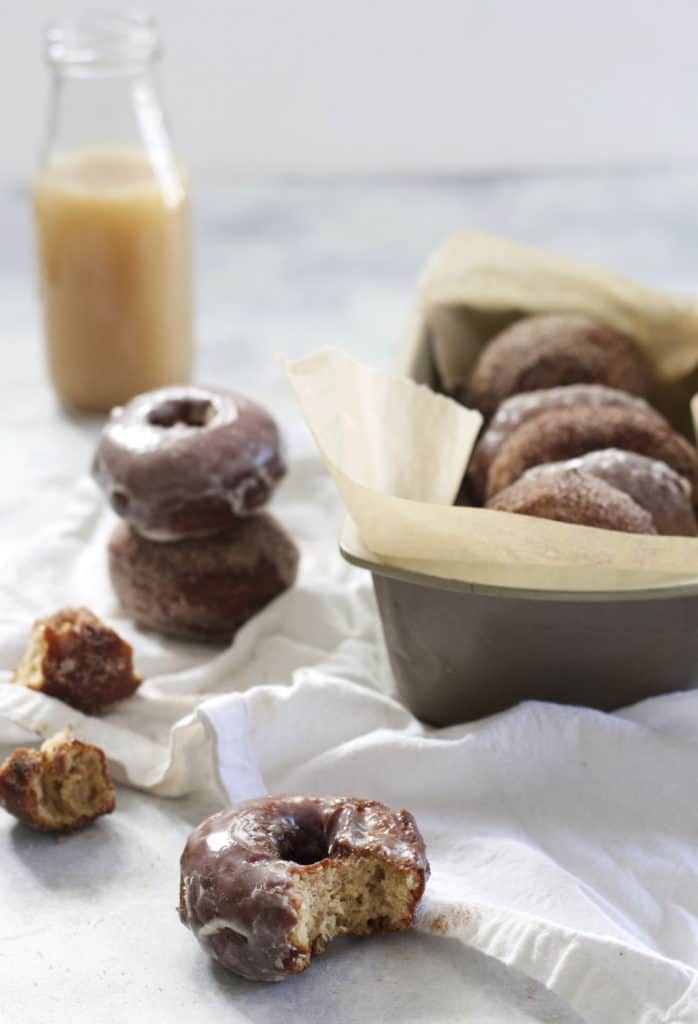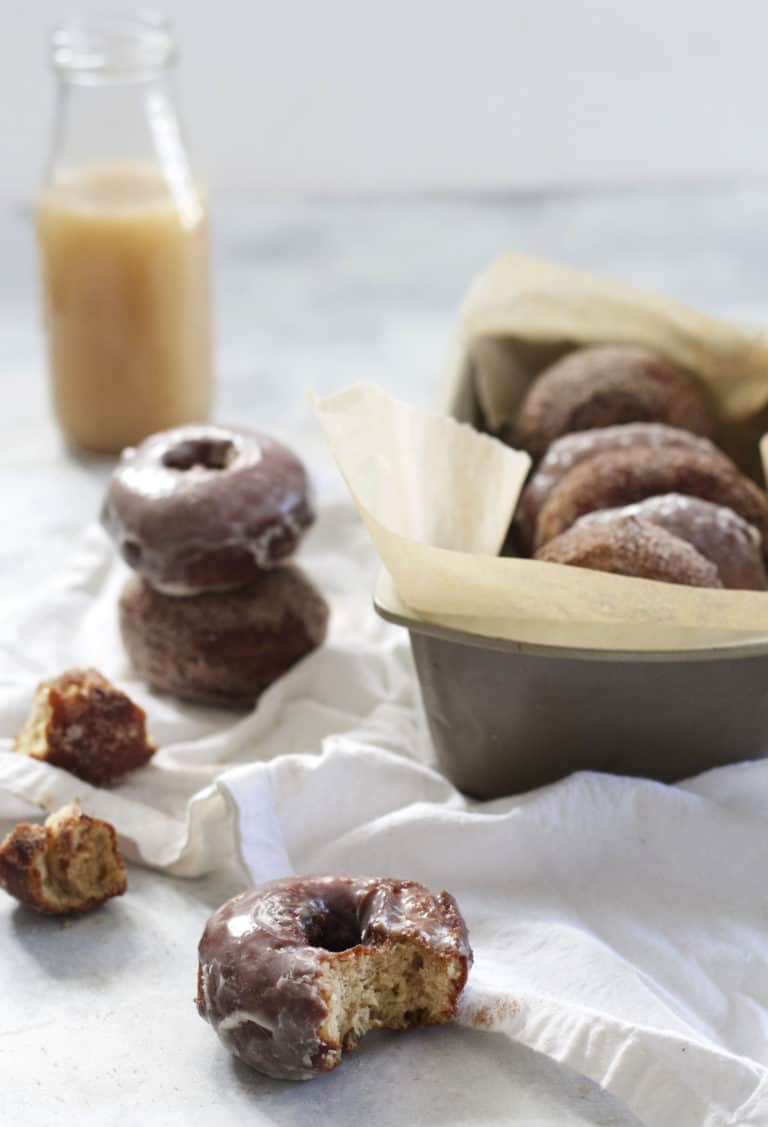 Knowing I couldn't try making these for the first time on block party day, I made these a few weeks ago as a test run. It was hugely helpful, and I learned a few key things:
Boiling the cider down to a reduction can be done anytime in advance and will save time since it needs to be cold.
You MUST chill the dough for a couple hours if not overnight so it's easy to handle, and in fact I suggest making the dough, letting it chill, and then rolling/cutting the donuts out the night before you want to enjoy these to save time. That way you just fry these babies up in the morning and you're good to go.
Unless you have a deep fryer, make sure you have your candy/deep fry thermometer ready so you keep your oil at the right temp. 365F was my goal, but a range of 350F-375F worked well.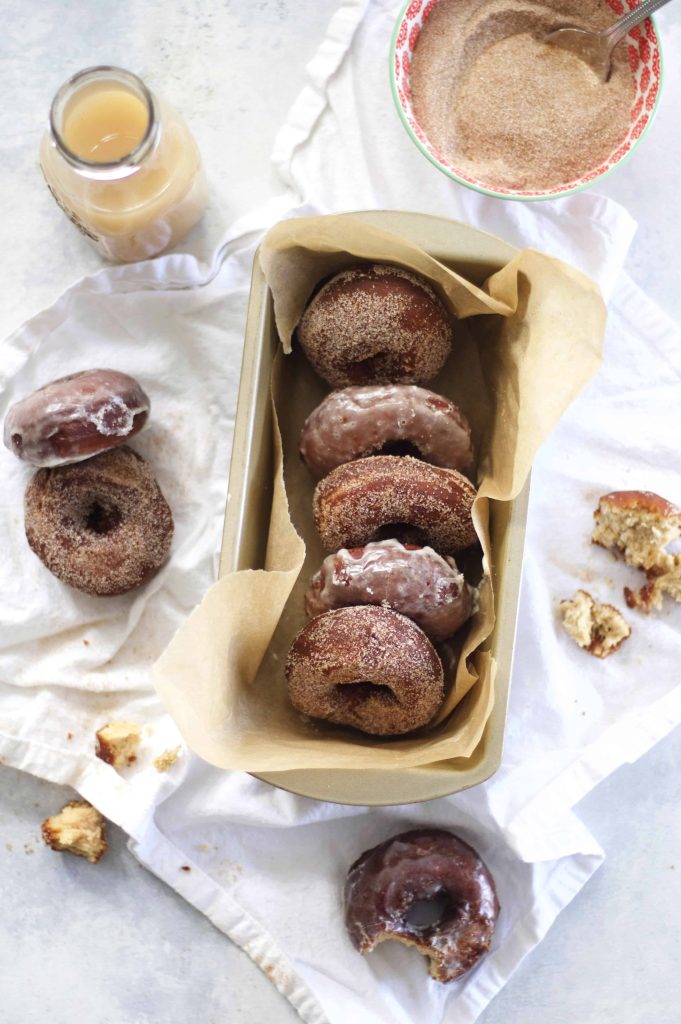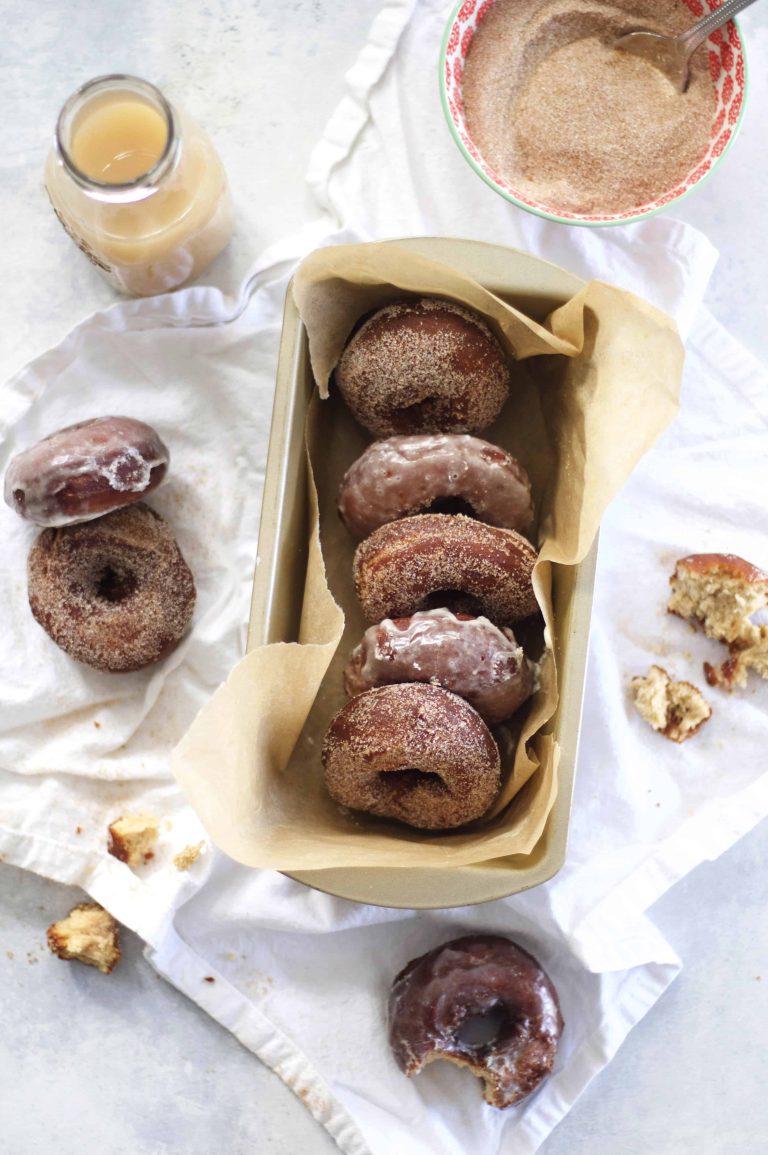 I love the traditional cinnamon sugar topping that Apple Cider Donuts are usually topped with, but I am a total sucker for that crisp glaze on a warm donut, so made half with a maple glaze that was to die for. There were none left at the end of the morning but I'm pretty sure both types were hugely popular. I can't wait for block party donuts to become an annual tradition! If you haven't made your own donuts before, I put it off for way too long and found the whole thing to be slightly time consuming but pretty darn easy. I can't wait to make more!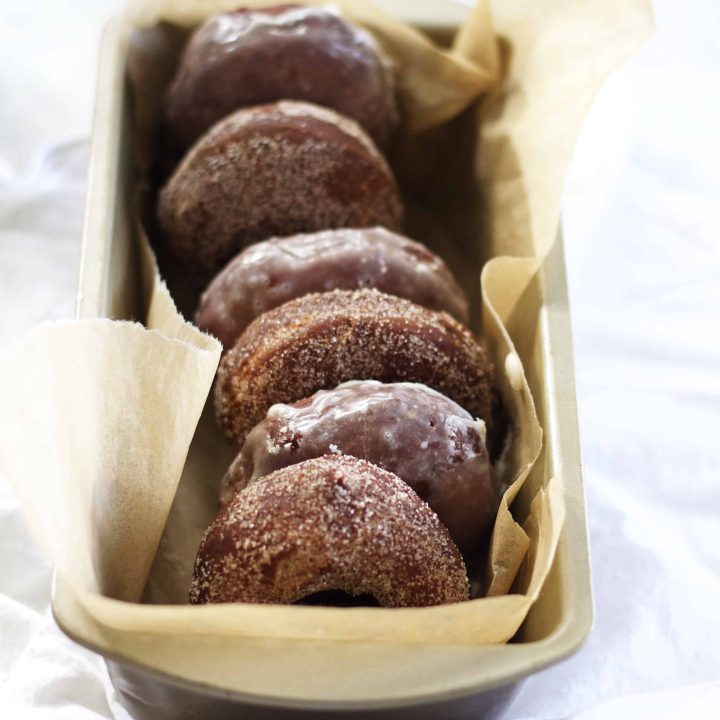 Apple Cider Donuts (two ways!)
Yield:
12-16 donuts and donut holes
Ingredients
2 cups apple cider
3 1/2 cups all-purpose flour
2/3 cup packed brown sugar
2 teaspoons baking powder
3/4 teaspoon salt
1/2 teaspoon baking soda
1/4 teaspoon each ground cardamom, nutmeg, cinnamon and cloves
2 large eggs
6 tablespoons butter, melted and cooled slightly
Canola or other flavorless oil for frying*
For the maple glaze:
1 cup powdered sugar
1 tablespoon maple syrup
1-2 tablespoons milk
For the cinnamon sugar:
1/2 cup white sugar
1/2 tablespoon cinnamon
Instructions
First, reduce the cider. Cook it in a small saucepan and bring to a boil. Continue to boil over high head until reduced by half, (about 10 minutes,) pout into a jar or glass measuring cup and cool in the fridge. (Can be room temp but shouldn't be warm.)
Mix together flours, brown sugar, baking powder, salt, baking soda and spices. In another bowl, whisk eggs, melted butter and cooled cider; stir into dry ingredients just until moistened. Don't overmix. (The dough will be sticky and airy). Chill for at least an hour or more until dough is cool enough to handle.
On a floured surface, roll out half the dough to 1/2 inch thick. (Use flour liberally as needed if dough feels sticky.) Use a 3 inch biscuit cutter with a one inch round cutter for the center or a 3-inch donut cutter. (I used a large decorating tip to cut out the donut holes.)
In a large pot with a candy/deep fry thermometer attached, heat oil to 350F-375. You will want to keep an eye on the temperature and adjust your burner as needed to keep it in that range. Fry donuts, a few at a time, until golden brown, about 90 seconds per side. (I tested a donut first to see how long I needed to fry so it was fully cooked inside- 3 minutes was my happy place.)
After all the donuts are done- fry the holes, a few at time, until golden brown and cooked through, about 1 minute on each side. Drain on paper towels; cool slightly.
Dip into glaze or cinnamon sugar when donuts are cool enough to handle but still warm. These donuts are best enjoyed fresh.
For the glaze:
Stir together ingredients with a fork until smooth and your desired consistency. I like a pretty thin glaze for donuts.
For the cinnamon sugar:
Stir together until well combined.
Notes
*I like frying in canola oil, but any flavorless oil with a high smoke point will work!

Recipe adapted slightly from Taste of Home