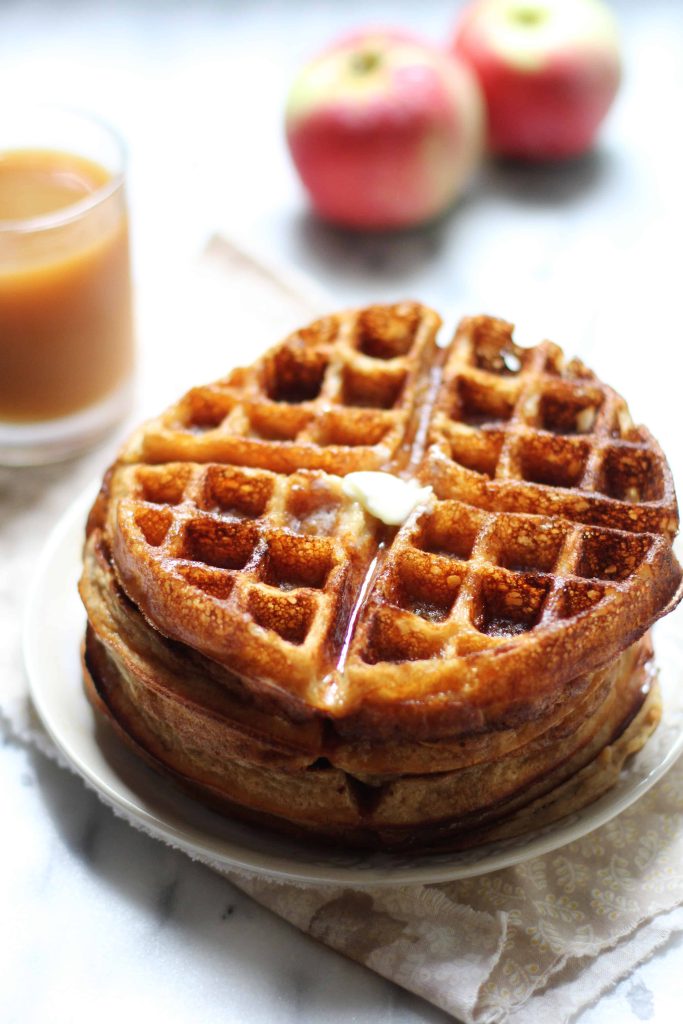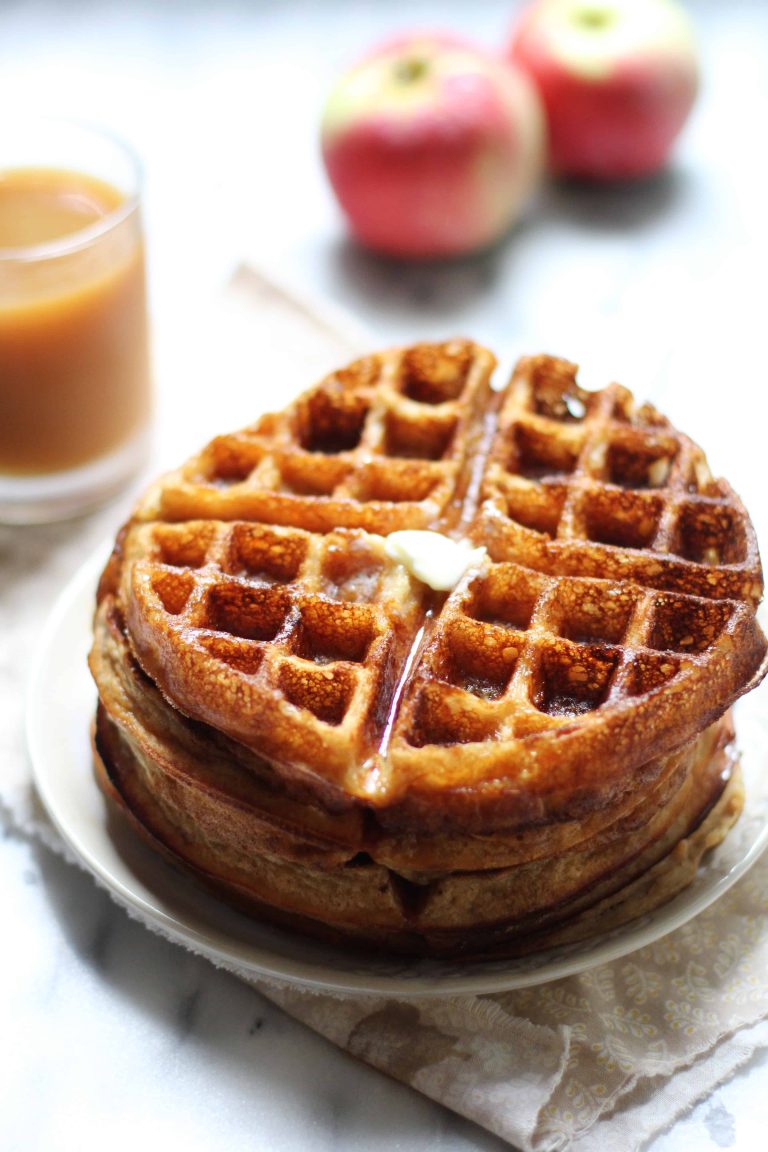 Two recipes in one week- you'd think I have a food blog or something! The seasons are changing, I'm feeling good, and I'm finally getting my inspiration back. Turning my oven on is becoming less scary by the day (it was actually under 85 today,) but until that day actually comes, I'll be trying out other kitchen appliances- namely my new and beautiful waffle iron. It's been on my to-buy list for ages and I am so glad I finally did! Pancakes are a favorite around here, but waffles just feel extra special you know? And I kinda love not having to worry about evenly heating the griddle and all that flipping.
These waffles are just perfect. Super crisp on the edges, super fluffy and airy on the inside and full of apple cinnamon flavor. I always assumed that pancake and waffle recipes are interchangeable, but they really aren't. To get those crispy edges you need to add extra fat and sugar to your batter, which is something I had no idea of. It makes sense though right? Am I the only one who thought I could just pour my favorite pancake batter into my iron and call it a day? I'm glad I learned and I can't wait to get even better at making waffles- next up yeasted Belgian Waffles- the best right?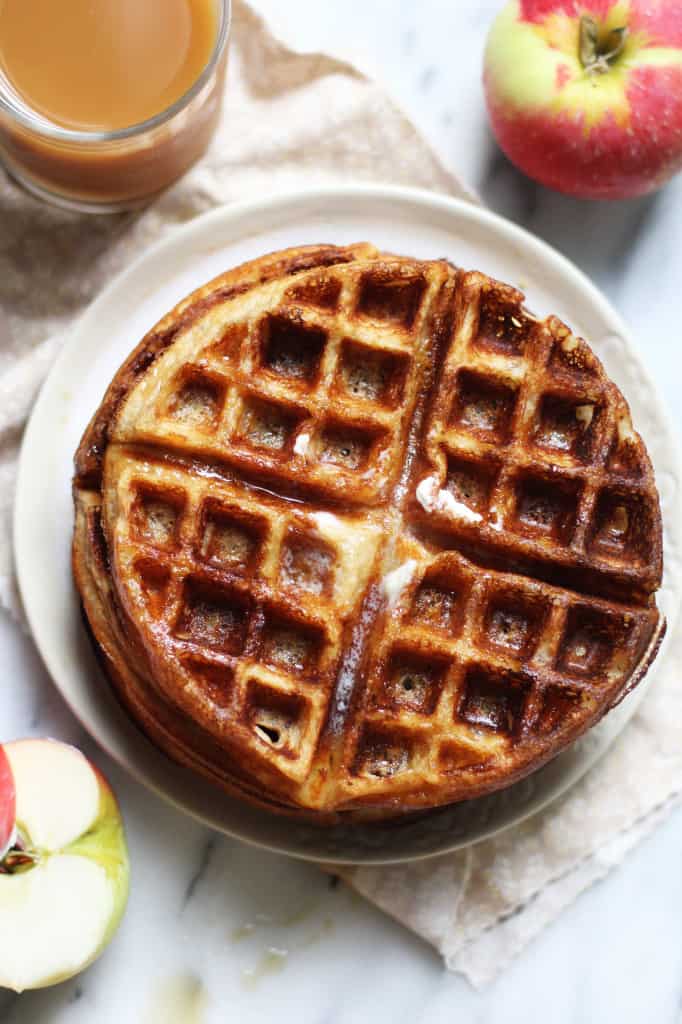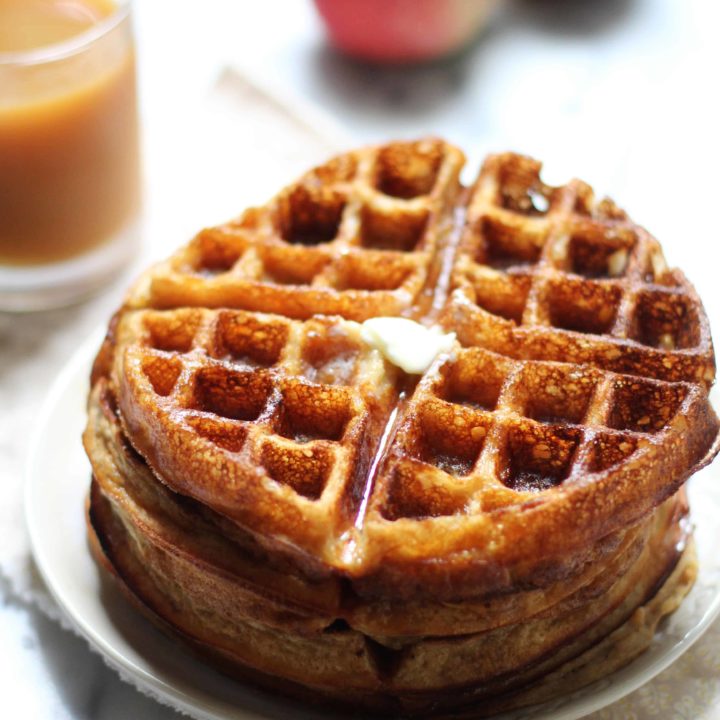 Apple Cider Waffles
Ingredients
1 1/2 cups flour, all purpose, whole wheat pastry*, or a combo are all fine
4 teaspoons baking powder
1/2 teaspoon salt
1 teaspoon cinnamon
2 teaspoons brown sugar
1 cup buttermilk
1 cup plus 1 tablespoon apple cider
6 tablespoons melted butter
1 egg, beaten
Instructions
In a large bowl, whisk together the dry ingredients. Make a well in the center and add the wet ingredients, whisking until smooth. Batter will be thick and airy, whisk a few times until smooth and lump free.
Grease/spray your waffle iron if needed, and heat until ready to use. Ladle about a cup of batter into the iron and cook the waffle for 4- 5 minutes, depending on your iron or until crisp on the edges.
Waffles are their best texture served right away, you can keep them warm in the oven in a single layer on a cookie sheet if needed.
Serve with butter (if desired,) and maple syrup.
Notes
*If you use whole wheat flour, your matter may need a little extra liquid. I'd be prepared to add a splash more buttermilk if needed.
Nutrition Information:
Yield:

4
Serving Size:

1 grams
Amount Per Serving:
Unsaturated Fat:

0g