Apple Cinnamon Sheet Cake with Cream Cheese Frosting
I don't care that it's 80s and humid out- I'm ready for fall. I am dreaming of it nearly every day! I crave football season, and crunchy leaves, and pumpkin patches and apple cider. I couldn't be more excited for boots and sweaters and that crisp feeling in the air. I'm over you summer! Sorry!!
Andy loves summer and I feel bad wishing for fall because before we know it dreary winter will be upon us and I'll be at the other end of this vicious cycle. To be honest though- winter means holidays and then the New Year and then BABY so I'm pretty excited for all of it. What I'm not excited for is that sweaty, sticky, humid feeling I get every time I walk outside…so there's that!
To anticipate the season that I so love, I decided to bring out the apples. I just couldn't wait! (I am going to wait a couple weeks on the pumpkin but I can't promise that.) I wanted to make a simple, easy cake that was no fuss and easy to transport. I had a vision of juicy cinnamon apple chunks, a moist and tender cake, with a creamy frosting on top. This recipe is easy to throw together, even easier to frost thanks to the whole sheet thing, and oh so good. I made it for my book club and every single of the the ladies had seconds. (including me!!)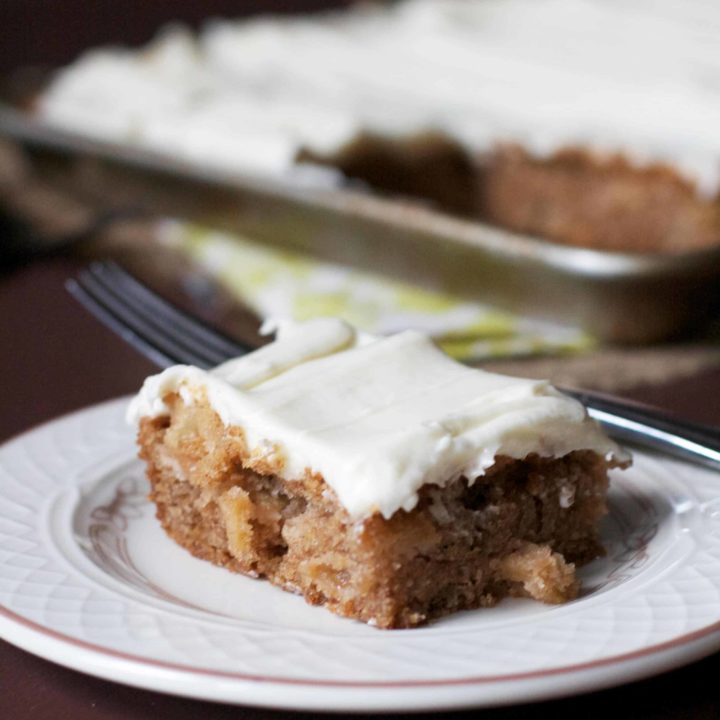 Apple Cinnamon Sheet Cake with Cream Cheese Frosting
Ingredients
2-3 tart apples, like Granny Smith peeled and cut into small pieces (about 3 cups)
1 tablespoon of butter
3 cups all-purpose flour, 12.75 oz.
3 teaspoons ground cinnamon, divided
1 teaspoon baking soda
1 teaspoon salt
1 1/3 cups vegetable oil, I used coconut oil but any kind will do.
1/2 cup plus 1 tablespoon white sugar
1 cup light brown sugar
3 large eggs
1 teaspoon pure vanilla extract
For Cream Cheese Frosting:
8 oz cream cheese, softened
1 stick of unsalted butter, softened
3-4 cups powdered sugar
1 teaspoon vanilla extract
Instructions
Preheat over to 350F. Prep a quarter sheet pan* by spraying with cooking spray and dusting with flour. Set aside.
In a large skillet, melt the butter and add the apples, 1 teaspoon of cinnamon, and 1 tablespoon of white sugar. Cook for 3-5 minutes, until the apples are well coated and slightly soft.
In a medium sized bowl, whisk together the flour, remaining cinnamon, baking soda and salt. Set aside.
In a large mixing bowl, use an electric mixer to beat together the oil, sugars and eggs. Beat for 3 minutes or until the mixture is fluffy and light. Stir in the vanilla extract.
Gradually add the dry ingredients while mixing on low speed until just combined. Fold in the apples.
Transfer batter to the prepared pan and bake for 20-25 minutes, or until cake is golden and a toothpick inserted into the center of the cake comes out clean.
Cool completely before frosting.
For Frosting
Cream together the cream cheese and butter until smooth. Add the powdered sugar, one cup at a time until creamy. Add the vanilla extract.
Frost cake right in the pan and refrigerate until ready to serve. (Bring cake to room temp again before serving.)
Notes
* If you don't have a quarter sheet pan you can use a normal 9x13 lasagna-type baking dish! Cake recipe adapted from: Martha Stewart
Nutrition Information:
Yield:

20
Serving Size:

1 grams
Amount Per Serving:
Unsaturated Fat:

0g