Apple Pie Pop-tarts with a Cinnamon Glaze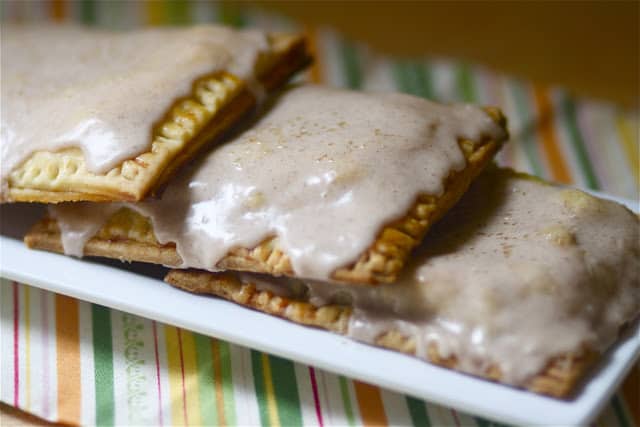 I have been pretty excited about this one for awhile. Ever since I started blogging and saw my first home-made pop tart I knew I had to give it a try. The question was, what do I fill them with? See- I never got to eat pop-tarts as a kid. My Mama (thankfully,) made us eat healthy things all the time and I only got to these an an adult. When I did, I was partial to the Brown Sugar flavor, but it just didn't do it for me. I always found them a little too processed and "fake" tasting. So the thought of making my own flaky pastry and filling it with something made from scratch made me oh so excited.
Since September is apple bonanza month, I thought it would be a perfect chance to hit up the Union Square Greenmarket and bake something with those beautiful shiny apples. Combined with some sugar and spice, and topped with a cinnamon glaze, these were too good to be true. This pastry is flaky and perfect, and the glaze put me over the edge. I love for this concept, and I can't wait to come up with more creative filling ideas!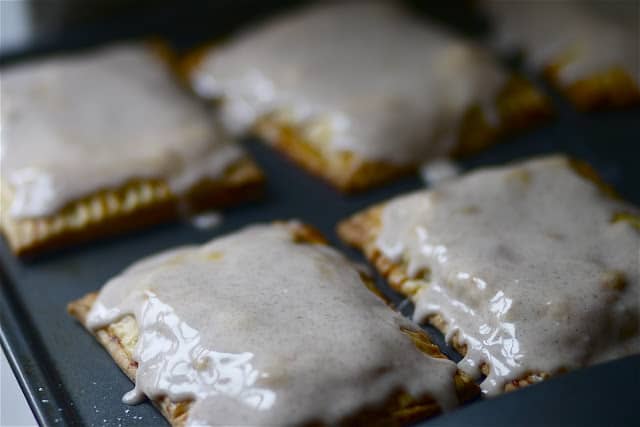 Putting these together involves cutting the pastry into even rectangles, (they don't have to be perfect,) filling them with cinnamon-sugar apples, and then placing the other half of the dough on top. After the edges are crimped and the tops are brushed with egg wash, they are baked to golden perfection and cooled. Finally a spoonful of glaze gets spooned over the top and there you go. A delicious and slightly decadent breakfast without all the chemicals. Love.
PS- Yup I'm still in Maine. One week of rehearsals down, one to go before we add costumes and set and an audience! I can't believe how fast these productions come together! This weekend I made Apple Cinnamon muffins for my cast, which they loved of course. We're planning on going to a farm for Apple Picking on our next day off- so maybe some more apple creations will ensue. Pics to come. :)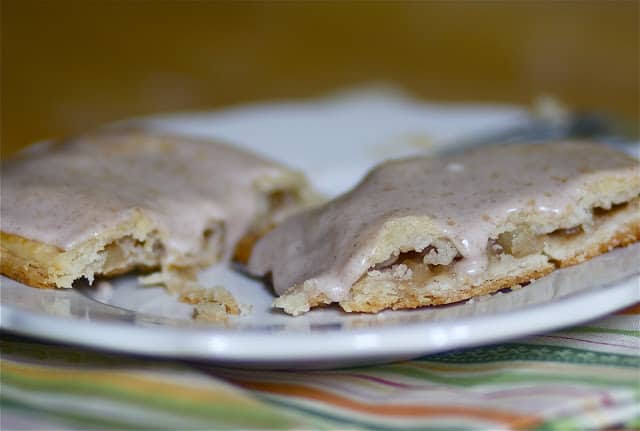 Apple Pie Pop-tarts with a Cinnamon Glaze
Ingredients
For the Pastry:
2 cups all-purpose flour
1 tablespoon granulated sugar
1 teaspoon salt
1 cup 2 sticks or 8 ounces unsalted butter, cold, cut into cubes
1 large egg
2 tablespoons milk
1 large egg, for brushing the dough
For the Filling:
3-4 tart apples, Granny Smiths etc peeled and chopped
1/4 cup butter, melted
1/2 cup brown sugar, packed
1/2 Tablespoon ground cinnamon
Cinnamon Glaze:
1 cup powdered sugar
1 1/2 tbsp milk, or so depending on desired thickness
1/2 tsp cinnamon
Instructions
In a medium bowl, whisk together flour, sugar and salt. Add the cold butter and break it up in the flour mixture using your fingers, a pastry cutter or a food processor. Work in the butter until only pea sized lumps remain in your mixture. The mixture should also hold together when squeezed into a ball. (Yes there is a lot of butter.)
In a small bowl, beat the egg with the milk. Add the mixture all at once to the dry ingredients and stir to make sure that moisture is introduced to all of the flour mixture. Lightly dust a clean counter with flour and knead the dough on the floured counter for a few turns until it really starts to come together. Divide the dough in two, wrap in plastic wrap and refrigerate for about 30 minutes. *Forming the dough into a kind-of rectangular shape will make rolling it out much easier!
While the dough is chilling, prepare the filling:
In a small bowl combine melted butter, brown sugar, and cinnamon. Stir together to combine. Add the apples and toss in mixture until well-coated. Set aside.
On a well floured work surface, press dough into a 3×5-inch rectangle, roll the dough out to about 1/8-inch thickness. The dough should be slightly larger than 9×12-inches. Trim dough with a pizza cutter, creating a rectangle that is 9-inches tall and 12-inches long. Using the pizza cutter, cut each side into thirds, creating 9 squares. Place dough squares in the fridge while you roll out the second piece of dough in the same way.
Set out 9 squares onto a cookie sheet. Spoon about two tablespoons of filling into the center of each dough square. Brush the edges with water to help seat it. Top with a piece of dough and use a floured fork to crimp the sides closed. Use the tines of the fork to create vent holes in each tart. Brush all tarts with egg wash.
Position a rack in the upper third of the oven and preheat to 350 degrees F. Let tarts rest in the fridge for 30 minutes while the oven preheats.
Remove tarts from the fridge and place in the oven to bake for 25 to 30 minutes, or until golden brown on top.
While the tarts bake, whisk together ingredients for the glaze and set aside.
Let baked tarts rest on a cooling rack to cool completely before glazing. Best served within 2 days.
Nutrition Information:
Serving Size:

1 grams
Amount Per Serving:
Unsaturated Fat:

0g
Source: Adapted from Joy The Baker