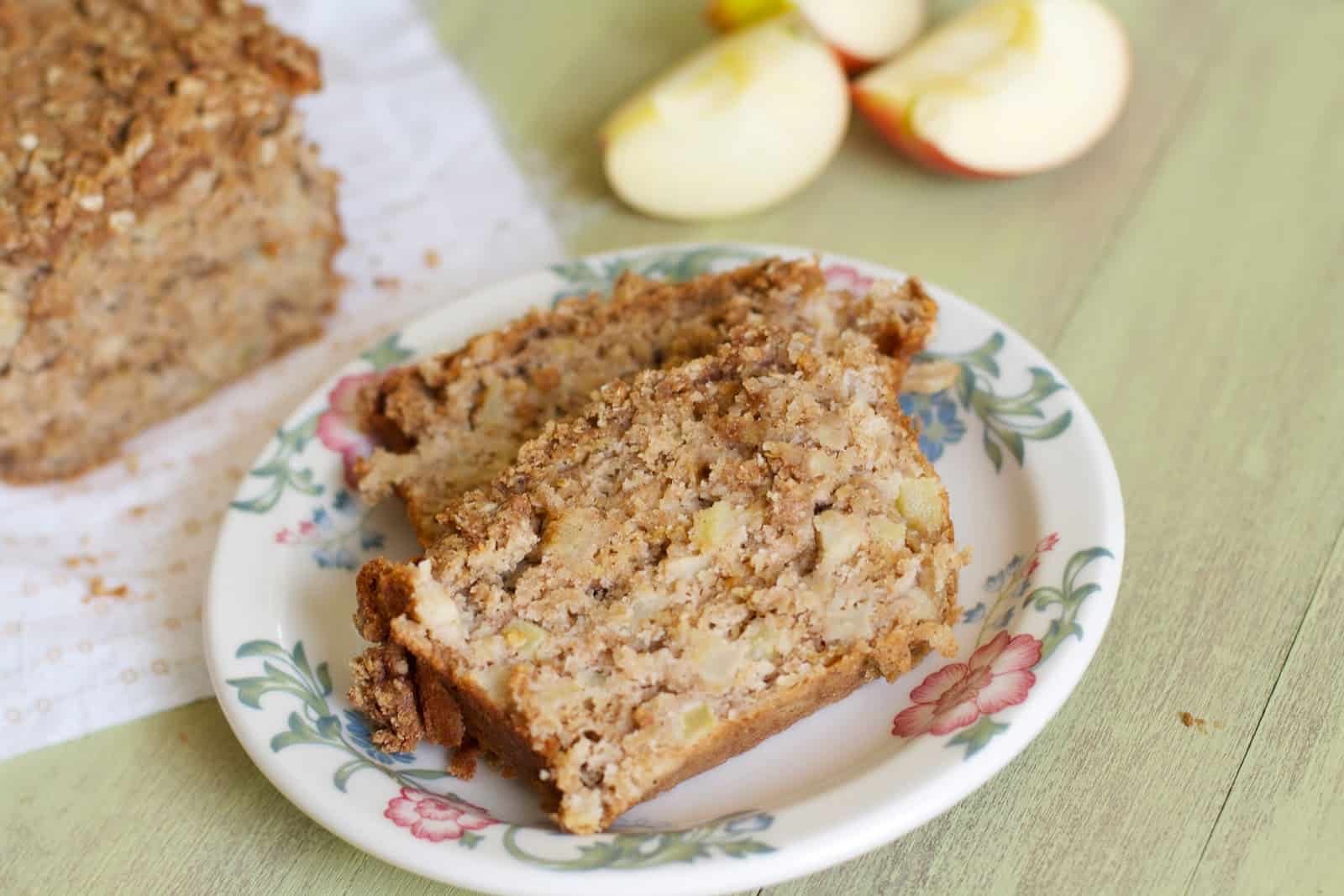 I have mentioned before that I really struggle with regular- breakfast eating. I am so rarely even a little hungry when I first wake up, so its hard for me to go through the motions of fixing something. Most days I have some coffee and then nothing until lunch. (Horrible I know.) It doesn't help that my husband's career revolves around fitness and nutrition, which basically means I am married to the breakfast police.
I promised him last week that I would bake something I like so that I'd eat in the mornings. This bread is the perfect thing! Not only is is easy to make and delicious, but the slices can be frozen individually so I can just pop them into the toaster oven when I'm really lazy. (which is every morning.) I used half whole wheat flour and 4 whole apples, so I feel like I'm eating something relatively healthy too!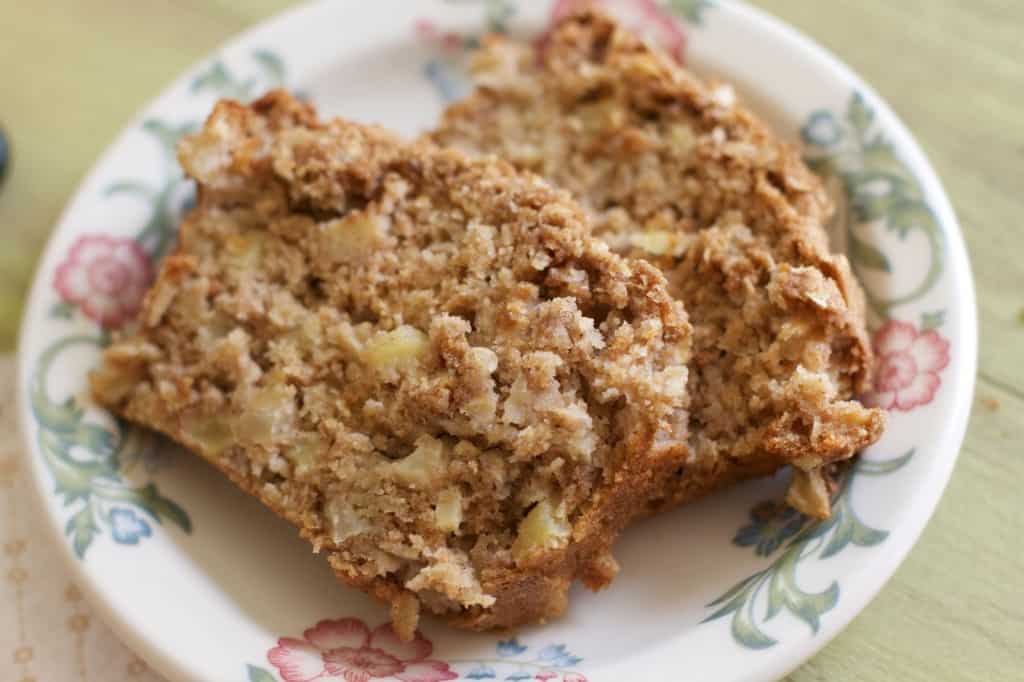 This bread is absolutely loaded with juicy apples which makes it soft and melt in your mouth good. (And very opposite of dry ….. I just can't say the m-word.) The crumb topping adds just a bit of decadence and is the perfect texture to offset the bread. I'm a breakfast convert! (At least until this loaf runs out…)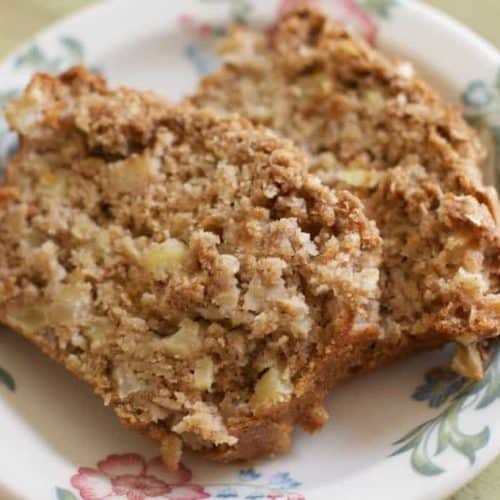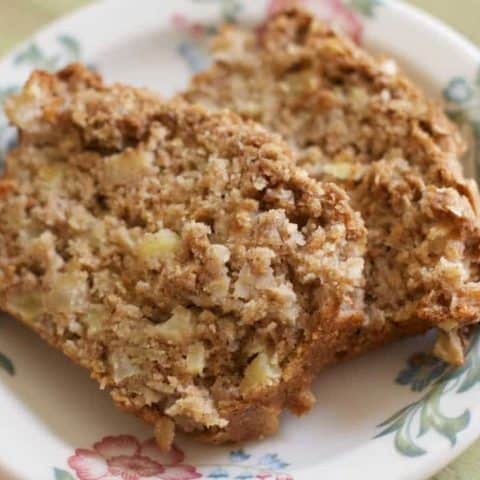 Apple Spice Crumb Bread
Ingredients
1/2 cup vegetable oil
1/2 cup brown sugar
1/4 cup granulated sugar
2 eggs
2 cup all-purpose flour, whole wheat can be used too.
1 teaspoon baking soda
1/2 teaspoon salt
1 tsp. vanilla extract
1 teaspoon ground cinnamon
1/4 tsp ground nutmeg
1/4 tsp ground ginger
1/8 tsp cloves
1/2 cup buttermilk
4 medium sized apples - peeled and cored. 2 of them chopped and 2 grated.
crumb topping
1/8 cup flour
1/8 cup oatmeal
1/4 cup brown sugar
1/4 tsp cinnamon
2 tablespoons butter- cut into small bits
Instructions
Preheat oven to 350 degrees F (175 degrees C). Lightly grease a 9x5 inch loaf pan.
Make crumb topping by mixing all ingredients but the butter, and then cutting the butter in with a knife until the mixture resembles coarse sand. Set aside.
In a bowl, whisk together the oil and sugars until smooth and creamy. Beat in the eggs and vanilla.
In a separate bowl, sift together the flour, baking soda, salt, and spices. Mix into the sugar mixture. Stir in the buttermilk until moistened. Fold in the apples. Transfer to the prepared loaf pan. Sprinkle with crumb topping.
Bake 60 mins in the preheated oven, with a cookie sheet on a lower rack to catch any over-flow. Bake until a toothpick inserted in the center comes out clean. Cool in the pan for 15 minutes before removing to a wire rack to cool completely.
Notes
It always takes me a good 15 minutes longer to get a loaf of quick bread baked all the way through. If after 60 minutes it still seems gooey, check it in 5 minute increments.
Nutrition Information:
Serving Size:

1 grams
Amount Per Serving:
Unsaturated Fat:

0g
Recipe loosely adapted from
All Recipes