Bacon Chocolate Chip Cookies with Maple Glaze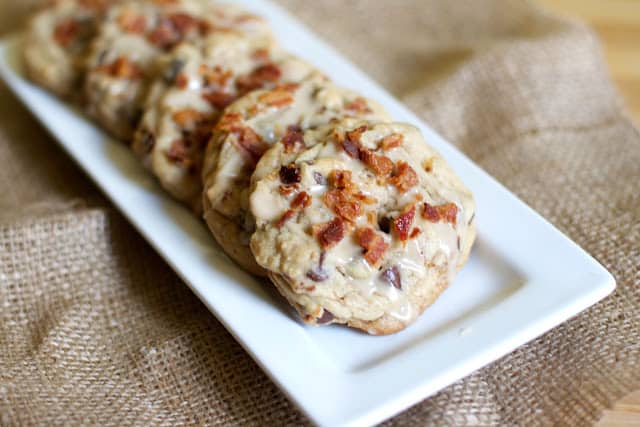 If you have come this far, chances are you may be as intrigued by this combo as I am. I mean bacon in baked goods is hardly a new concept, but I'd just never gotten around to trying it. (That's not to say that I haven't dragged a strip of bacon through some extra maple syrup and loved the salty-smoky-sweet combo.) So, when I saw a version of these cookies on my friend Kristin's blog awhile back, I knew they'd be my first try at this unique combination.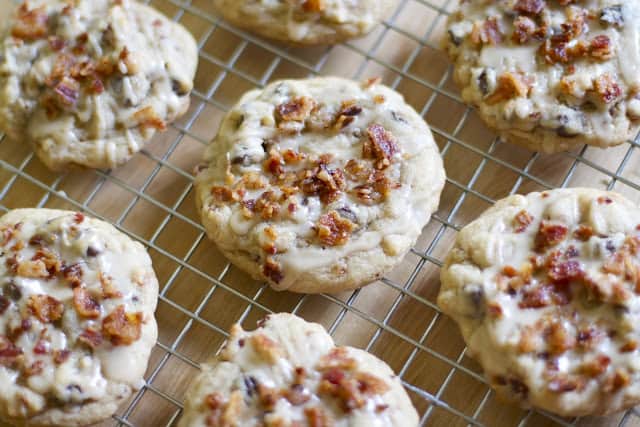 To make these, I started with my favorite chocolate chip cookie recipe. I folded in some crispy bacon bits into the batter, baked them as usual. Once cool, I drizzled a maple syrup glaze over the tops and sprinkled on some more crispy bacon. These really were everything I had imagined. The soft, chewy texture of the chocolate chip cookies was just as great, but this time every bite was studded with just a bit of bacon perfection.
Now, my attitude of bacon is usually this- I love it, but I try not to have it too often. I'm not one to deprive myself of things, but bacon is one of those things I always feel a bit guilty eating more than every so often. Anyway-these cookies are just the thing for those moments when you want to really push yourself over the edge. Yes they're rich, yes they're decadent, but until you've tried the chewy chocolate chip/crispy bacon/maple combo, you really won't know what you're missing. I think these would be such a fun and unique addition to any BBQ/Cookout menu don't you?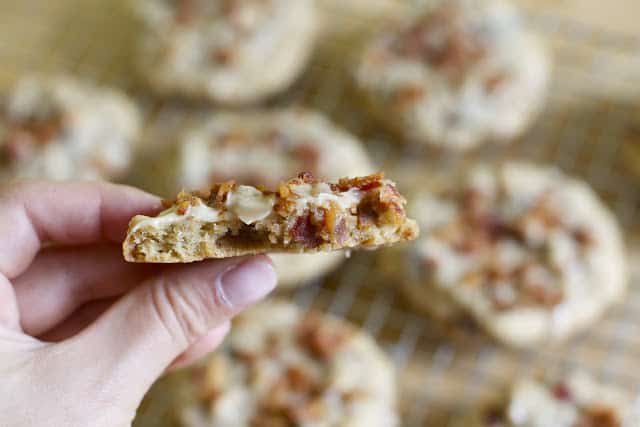 Bacon Chocolate Chip Cookies with Maple Glaze
Ingredients
2 cups plus 2 tbsp. all-purpose flour
½ tsp. baking soda
½ tsp. salt
12 tbsp. unsalted butter room temperature
1 cup brown sugar, packed
½ cup granulated sugar
1 large egg plus 1 egg yolk
2 tsp. vanilla extract
1 ½ cups semi-sweet chocolate chips
1 lb package of bacon strips- cooked until very crispy and cut into small bits.
3/4 cup powdered sugar
pure maple syrup
Instructions
Adjust oven racks to upper and lower-middle positions. Preheat oven 325°. Line two cookie sheets with parchment paper.
Whisk dry ingredients together in a medium bowl; set aside. With electric mixer, mix butter and sugars until thoroughly combined. Beat in egg, yolk, and vanilla until combined. Add dry ingredients and beat at low-speed just until combined. Stir in chocolate chips and 1 cup of the bacon bits.
Roll a scant half-cup of dough into a ball. Holding dough ball in fingertips of both hands, pull apart into two equal halves. Rotate halves 90 degrees and, with jagged surfaces facing up, place formed dough onto cookie sheet, leaving ample room between each ball.
Bake, reversing position of cookie sheets halfway through baking, until cookies are light golden brown and outer edges start to harden yet centers are still soft and puffy (approximately 11-14 minutes). Do not overbake.
Cool cookies on sheets until able to lift without breaking. Transfer to a wire rack to cool.
To make glaze:
In a small bowl, add 1 tablespoon of maple syrup to the powdered sugar and stir. Add more maple syrup as needed until the glaze is a good, thick drizzling consistency.
Drizzle glaze on cookies and sprinkle with remaining bacon bits.
Nutrition Information:
Serving Size:

1 grams
Amount Per Serving:
Unsaturated Fat:

0g
Chocolate Chip Cookie recipe adapted from Baking Illustrated
Cookie Inspiration from The Dinky Kitchen