Bacon Egg & Cheese Breakfast Braid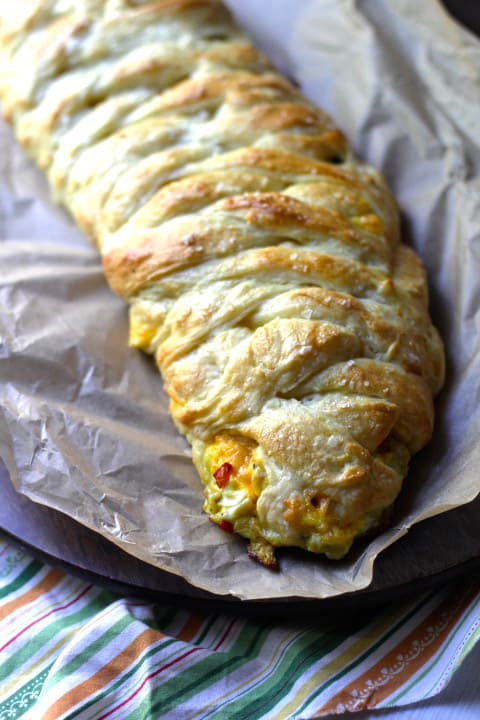 Life with a baby means meals are often thrown together without much thought. Breakfast especially gets the shaft around here- I'm lucky if I get to scarf down a yogurt with my morning coffee. Anything I can do to do any advance prep makes my whole day start on a good note. Freezer to toaster oven is especially convenient which is one of many reasons I adore this recipe.
If I were hosting a brunch party I would love this to be front and center. It is everything good: crispy, crusty bread full of salty bacon, fluffy scrambled eggs, grated cheddar cheese and in my case some sautéed peppers. It is of course customizable and would be wonderful with any other meats, cheeses, veggies or herbs that you have around.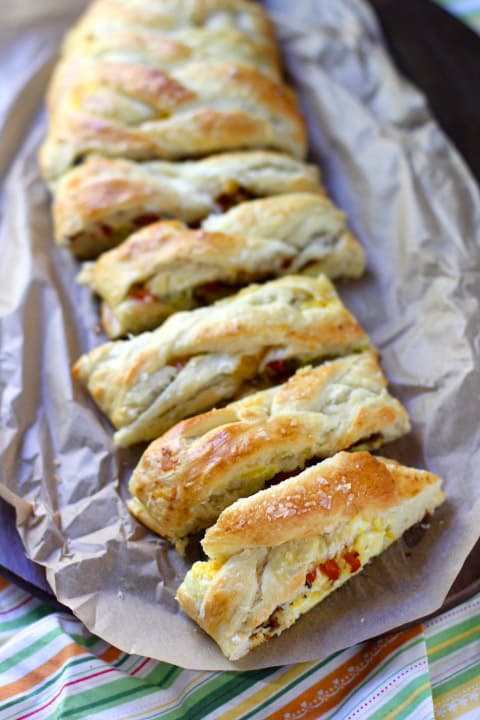 The dough of this delicious braid is in my opinion one of the best parts, made even lighter and fluffier due to the addition of baking powder to the dry ingredients. I didn't expect it to make much of a difference but I definitely noticed one. The finished product was light and crispy perfection.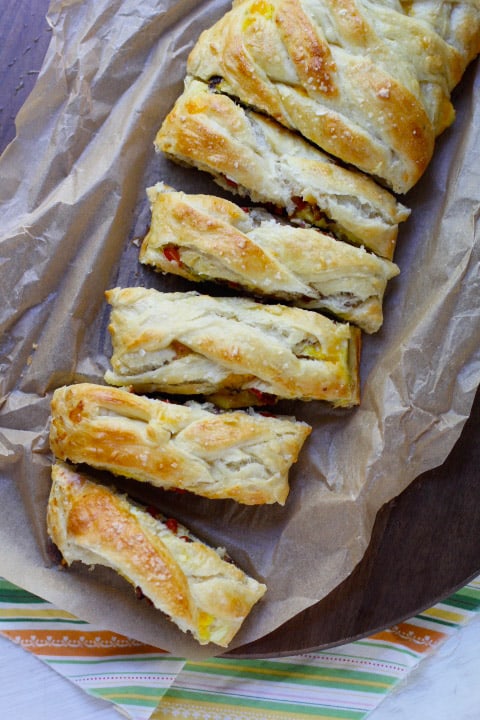 Since I haven't been hosting brunch parties too often these days I saved most of this to reheat in individual portions. A few seconds in the microwave followed by toasting in the oven led to the most perfect crisp edges and melty cheese inside. Little makes me more relieved than the realization that I have some of this deliciousness to reheat instead of having to deal with breakfast. A bit of work on Sunday morning is so worth if for breakfast all week don't you agree?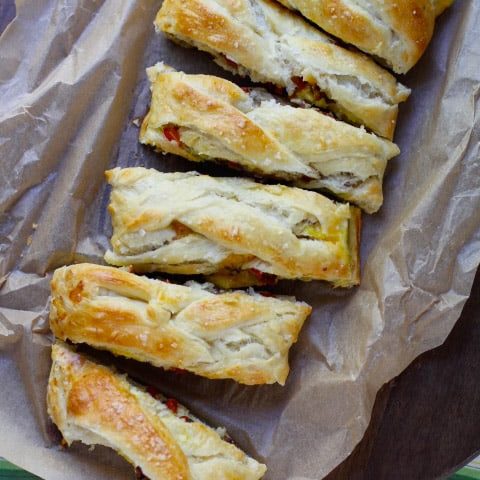 Bacon Egg & Cheese Breakfast Braid
Ingredients
For the Dough:
1 .25 ounce package active dry yeast
2 1/2 cups bread flour
2 tablespoons olive oil
1 cup warm water
1 teaspoon salt
1 teaspoon baking powder
2 teaspoons white sugar
For the Filling
8 eggs, scrambled
1/2 cup of grated cheddar cheese
1 small red pepper, diced
8 slices of bacon, cooked and broken into bits
Topping:
1 egg for brushing
sea salt for sprinkling
Instructions
For the dough:
In a large bowl combine the yeast, 2 cups of bread flour, baking powder and salt. Stir together and then add the oil and water. Use a spatula to stir until a shaggy dough has formed.
Turn the dough onto a lightly floured surface and knead until a stiff dough has formed. Add the addition 1/2 cup flour if dough is sticky.
Transfer dough to a lightly oiled bowl and cover with a clean dish cloth. Place somewhere warm and let proof for 30 minutes or until puffy and doubled in size.
To assemble:
When the dough as proofed, turn it out onto a well floured surface, form dough into an oval shape and roll out to about 12x15 inches. Place the rolled out dough onto a piece of parchment paper before assembling.
Spread the scrambled eggs into a strip in the middle of the dough followed by the bacon, peppers and grated cheese.
Using a pizza cutter or pastry roller- cut inch-thick strips onto either side of the filling.
To "braid" the bread- overlap one strip over the other- stretching each piece to seal the the beneath it.
Once the loaf is braided- brush with beaten egg and sprinkle with sea salt.
Transfer the parchment onto a cookie sheet or pizza stone, and bake for 20-25 minutes at 375F, or until crust is golden brown and crisp. Cut into slices and serve warm.
Notes
*I chose to saute the peppers for a few minutes in some olive oil- I think they would be good either way. Mushrooms would also be delicious!
Nutrition Information:
Yield:

8
Serving Size:

1 grams
Amount Per Serving:
Unsaturated Fat:

0g
This post was developed for Clabber Girl Baking Powder but the thoughts and opinions are always 100% my own!