Spicy Bacon Egg and Cheese Strata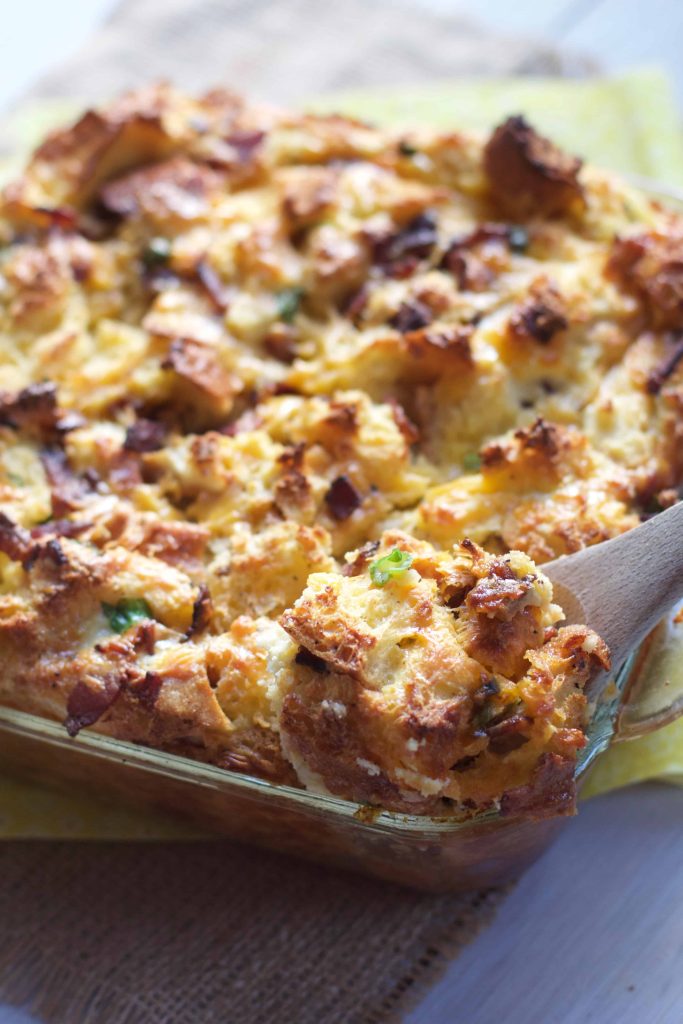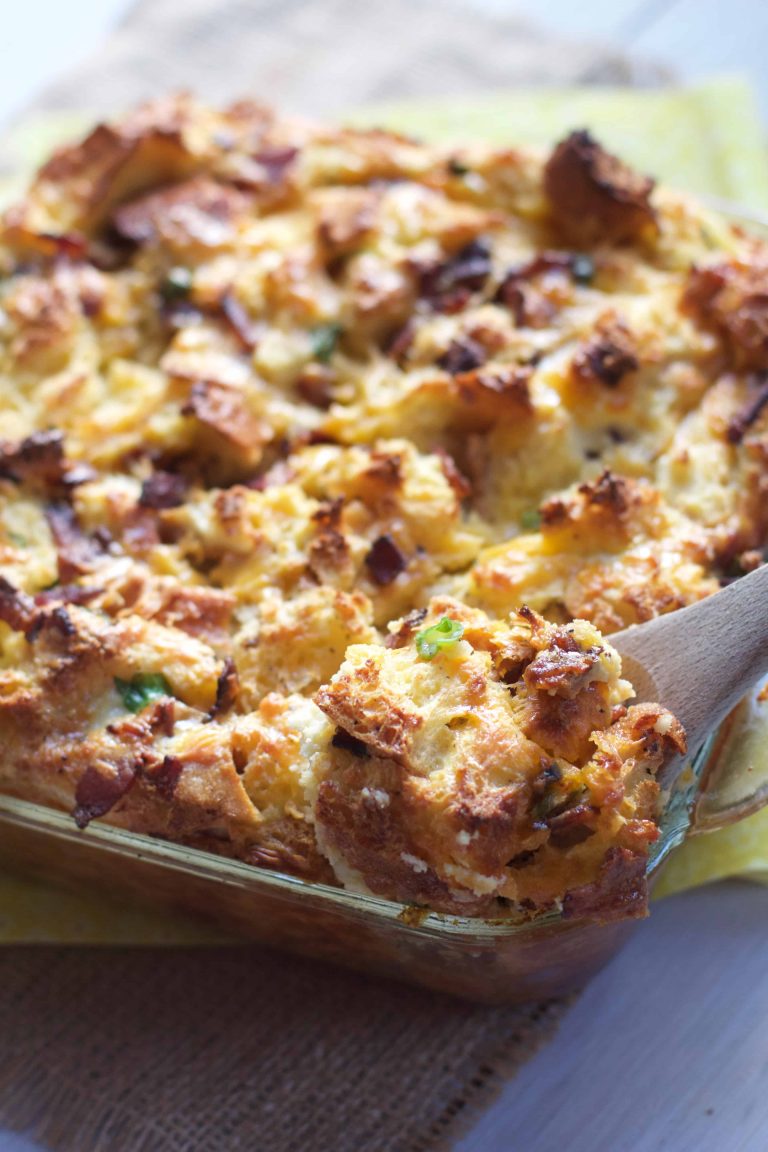 When it comes to entertaining for Easter (or any holiday really,) the key to smooth day-of prep is making as many dishes that can be prepped in advance as possible. For Hugo's 1st Birthday Brunch, where my menu consisted mostly of Savory Egg-Bakes like this one and Cinnamon Rolls, I prepped all of those the day before, left them in the fridge overnight and just baked right before party time. I plan to make this delicious brunchy dish when I'm in Wisconsin for Easter because it's easy, extremely difficult to mess up, and can be done up to 24 hours before you plan to serve it. Perfect right?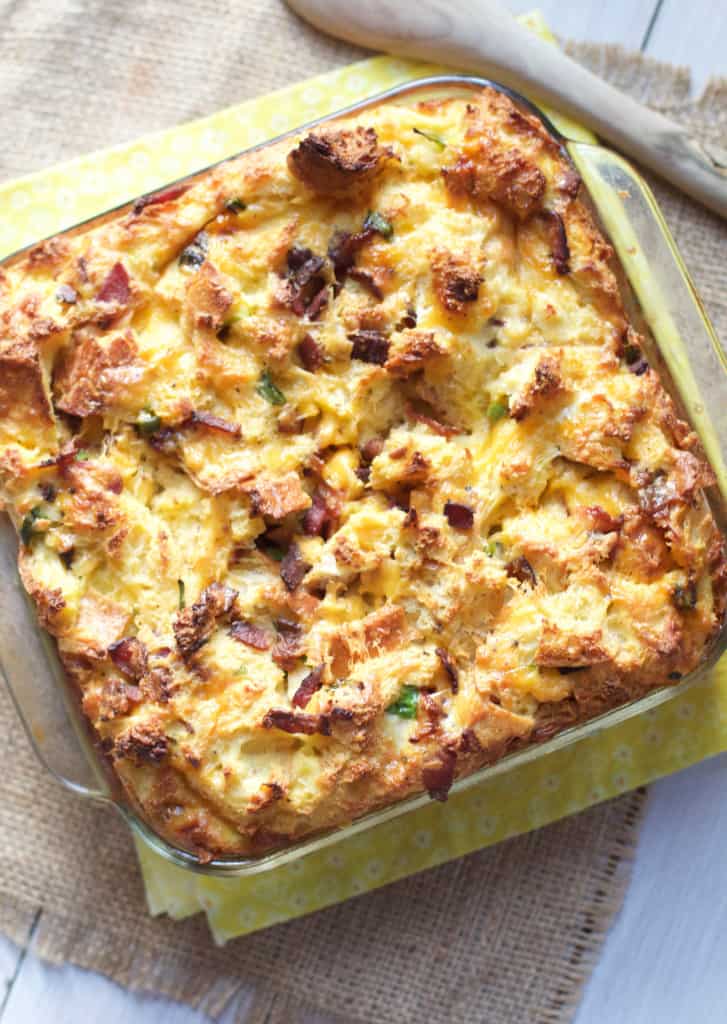 In case you didn't know- a Strata is basically a savory bread pudding. Cubes of bread are soaked in eggs, milk, and whatever mix-ins you like. I made 3 different varieties for Hugo's party, and once you get the hang of it, you can really add a "little bit of this little bit of that" as long as the consistency is right. I made sure to keep track of exactly what went into this one for those of you that like to follow precise recipes, but feel free to fiddle with it to make it your own. Vegetarian? nix the bacon and sub caramelized onions or roasted red peppers. Any type of cheese will do, and as long as you add enough egg and milk to keep the bread cubes coated and moistened- you will have a spectacular crispy, cheesy egg dish ready to go when your company arrives. (Or just you and your family for a weekend breakfast!)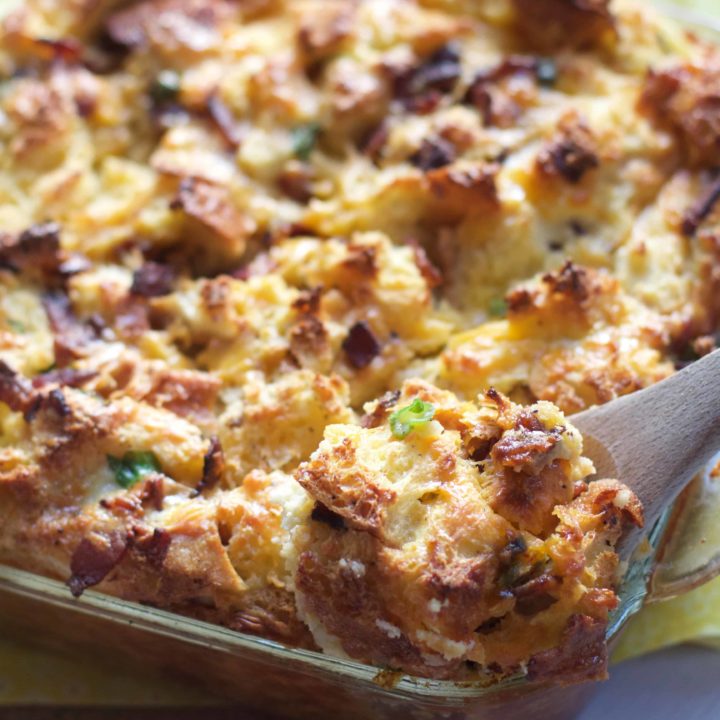 Spicy Bacon Egg & Cheese Strata
Ingredients
1 loaf of crusty bread, cut into cubes. (I used french bread!)
12 oz of bacon, cooked and crumbled
1 jalapeno pepper, chopped*
9 eggs
3 1/2 cups of milk
6 oz of cheese, grated (I used cheddar)
Instructions
In a large bowl, whisk together 8 eggs, 3 cups of milk and some salt & pepper.
In an 8x8 pan, layer half of the bread cubes into the bottom, scatter half of the bacon, half the jalapeño and half the cheese over the bread and use your hands to make sure it's evenly distributed.
Pour half of the egg/milk mixture over the bread and allow it to soak in, using a spoon to create nooks and crannies if needed, and pressing down with the back of the spoon.
Top with the rest of the bread, bacon and peppers. Add the remaining egg, repeating the previous step, allowing it to soak into all of the bread and pressing it down if needed to make sure it's all coated. Top with remaining cheese.
Cover with plastic wrap and refrigerate for up to 24 hours but at least 8. (I think about 12 hours is a happy medium but have tried less ore more time.)
If after the dish has chilled in the fridge the top seems a bit dry, whisk together the remaining egg and 1/2 cup milk, add a little salt and pepper and pour it over the top of the dish.
Bake at 375F for about an hour, or until the top is super puffy and crisp.
Notes
*I removed the seeds of the pepper and my final dish was mildly spicy. Leave them in if you want a spicier dish!
Nutrition Information:
Yield:

8
Serving Size:

1 grams
Amount Per Serving:
Unsaturated Fat:

0g