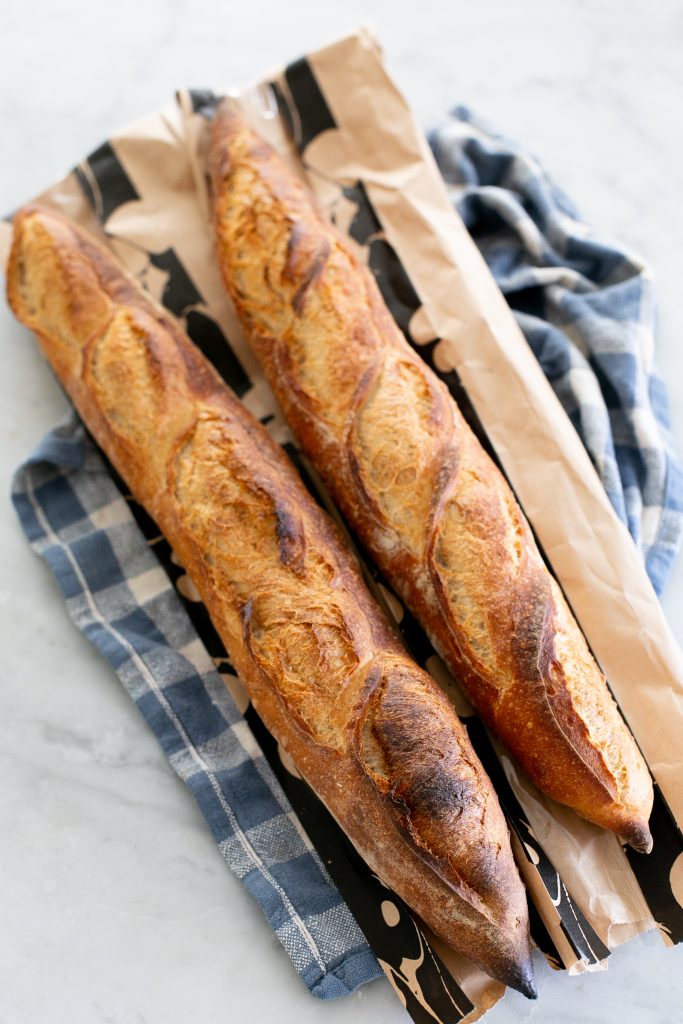 Hey friends! Let's talk about something perfect for summer picnics and outings– baguette sandwiches! I love a crispy, crusty French baguette loaded with creamy cheeses, sauces, and fresh veggies. They pack up well, get better as they sit, and are easy to prepare. My kids love when I pack fun sandwiches for the pool or park, and here are a few of my favorites:
Alright, let's start with the bread- no sandwich is complete without the perfect baguette! Grab a crusty French baguette from your local bakery or grocery store – look for a crusty baguette that has a satisfying crunch on the outside and softness on the inside. But even a day-old baguette works- just pop it into the oven to toast a bit and it can work.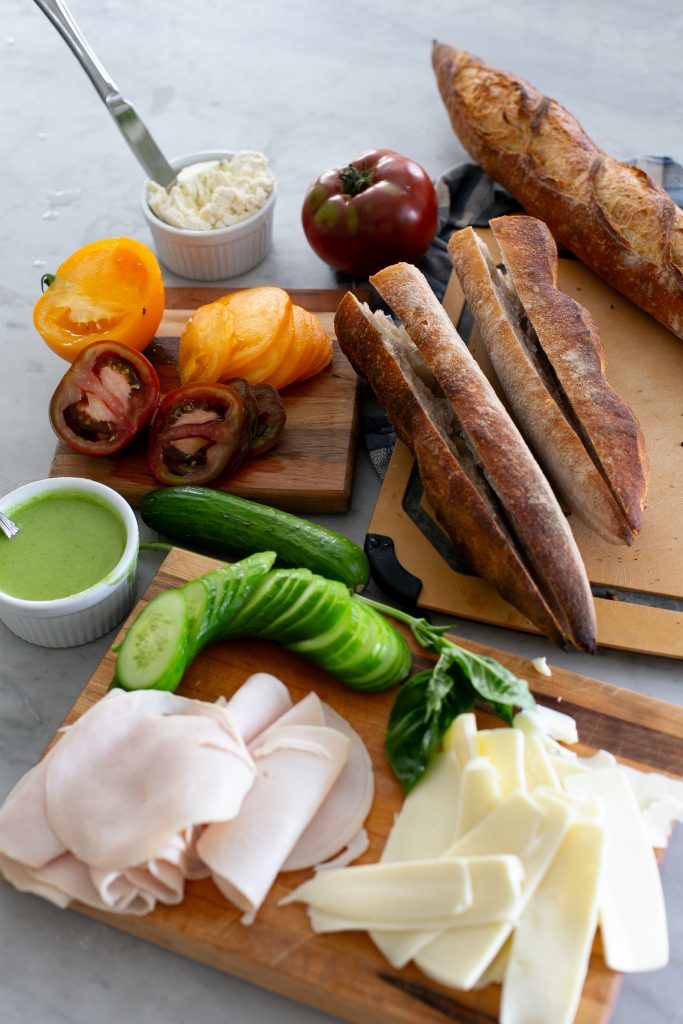 There are lots of different combos to create delicious baguette sandwiches, but I'm going to outline my two favorites and then give lots of other ideas as well! A Classic french baguette sandwich often is made up of ham & butter, so simple right? We're going for simplicity here!
1st combo: Toasted Caprese Baguette Sandwich
I absolutely love this sandwich in the summer because it has all the fresh ingredients I crave this time of year. Pesto with fresh basil, garden ripe tomatoes, and mozzarella or burrata cheese. It's a great vegetarian sandwich option and one my my all time favorites.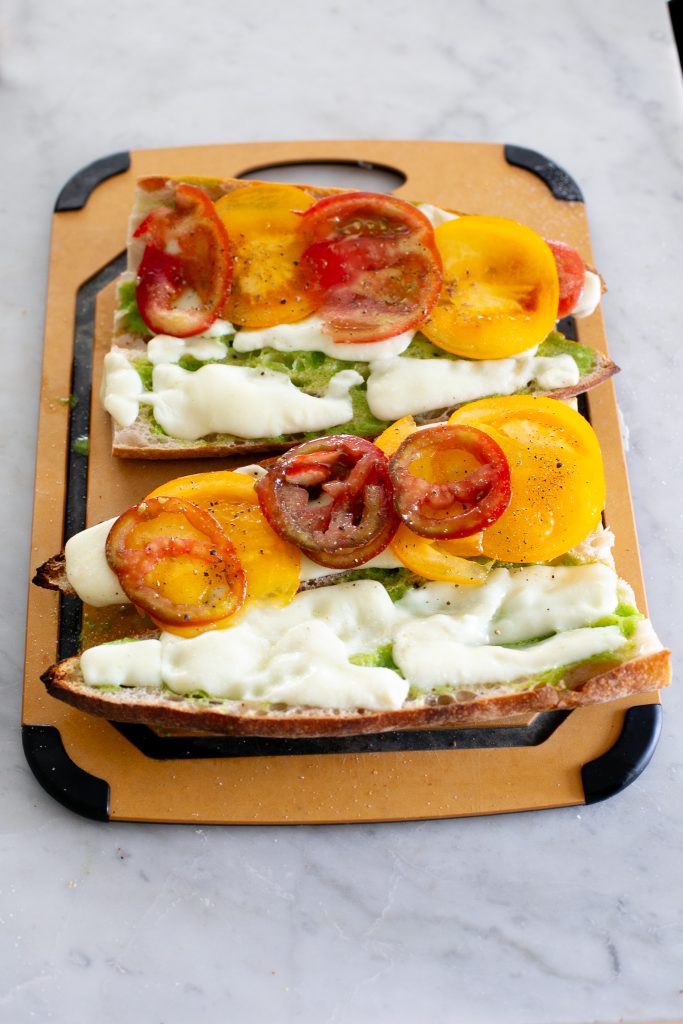 Ingredients for Caprese Baguette Sandwich:
Fresh tomatoes
Mozzarella Cheese
Basil
Garlic
Pine nuts
Mayo
I make a quick pesto mayo in a blender with basil, pine nuts, mayo, a crushed clove of garlic, salt and pepper. I generously spread it on the top and bottom half of the baguette. Then I layer mozzarella cheese on both sides and toast or broil until melted. Add the fresh tomatoes, some salt & pepper, fold sandwich and cut into pieces! It will last all day.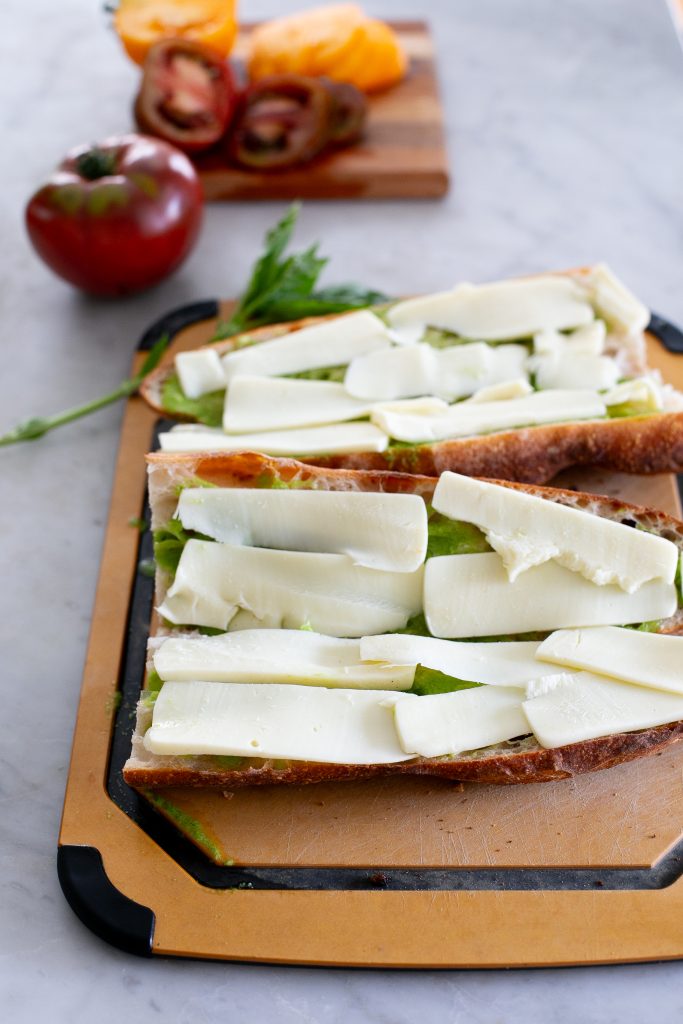 Additions: sliced red onion or any sort of deli meat you like would be great additions to this sandwich.
Boursin, Turkey & fresh veggies:
An herbed cream cheese like Boursin can easily turn a boring sandwich into something memorable. I like to spread it on a toasted baguette and then layer with turkey, fresh cucumber, and fresh tomato. Simple and so good!

Other baguette sandwich ideas:
Goat Cheese and Roasted Veggies
Roast bell peppers, spring onions, and zucchini in olive oil. Slice the baguette horizontally, spread herbed butter or cream cheese on the bottom half. Add goat cheese, roasted veggies, and peppery arugula. Top with the other half of the baguette.
Classic:
Slice the baguette open and spread Dijon mustard on the bottom half and mayo on the top half of the baguette. Layer your favorites meats and cheese: ham, chicken breast, and provolone cheese, cheddar, or gruyere cheese. Add lettuce, tomato slices if desired and drizzle olive oil and red wine vinegar. Top with the other half of the baguette.
Wrapping it Up
Now you have the keys to making mouthwatering baguette sandwiches. Feel fee to experiment with your favorite ingredients and enjoy these tasty treats on the go. Wrap them in parchment paper or plastic wrap for easy transport. Bon appétit!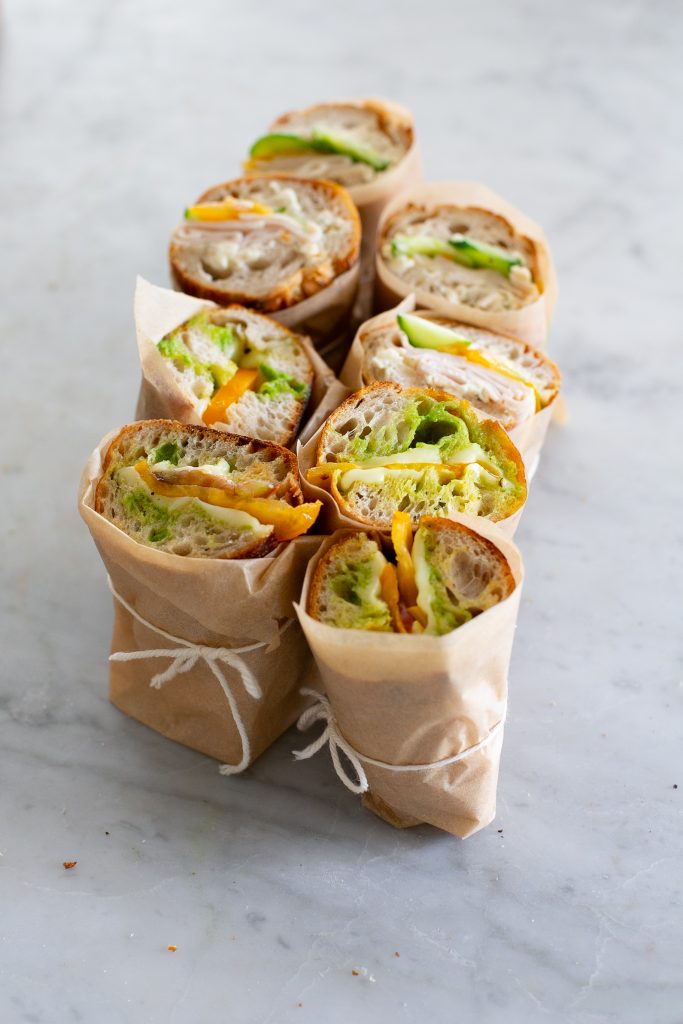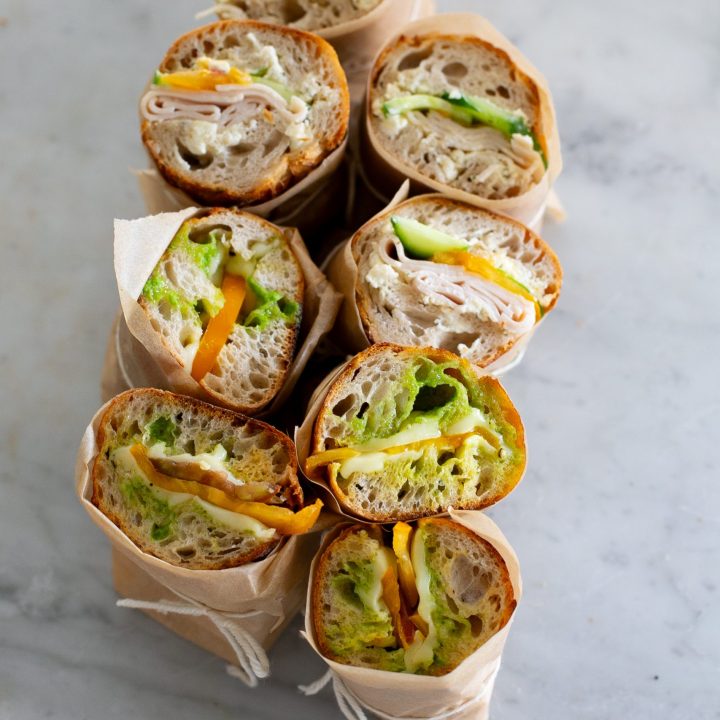 Baguette Sandwich Recipe
The perfect formula for a summery baguette sandwich!
Ingredients
1 18 inch baguette (bigger or smaller is fine, you'll just have more or less sandwiches)
1 large fresh garden tomato (or a couple smaller ones)
Mozzarella cheese- fresh or not, burrata also works
3 tablespoons mayo
3 tablespoons pesto
Instructions
In a small bowl mix together the mayo and pesto and set aside.
Slice the baguette length-wise and slather both sides with the pesto mayo. Layer the mozzarella on one side and toast or broil until cheese is melty.
Thinly slice the tomatoes and layer over the melted cheese. Sprinkle with salt & pepper.
Fold sandwich up and cut into as many pieces as desired.
Wrap sandwiches in paper or plastic and it will be good for several hours.
Notes
This "recipe" is a loose guide to making one of my favorite sandwich combos. You can adapt it however you'd like though, adding turkey or proscuitto to this combo as well!