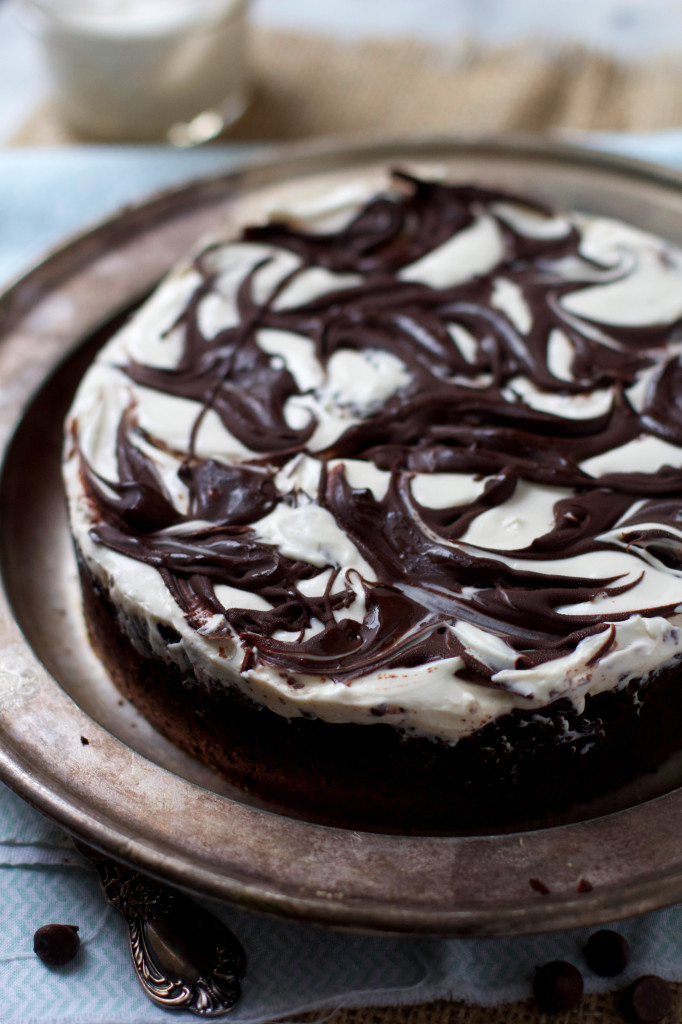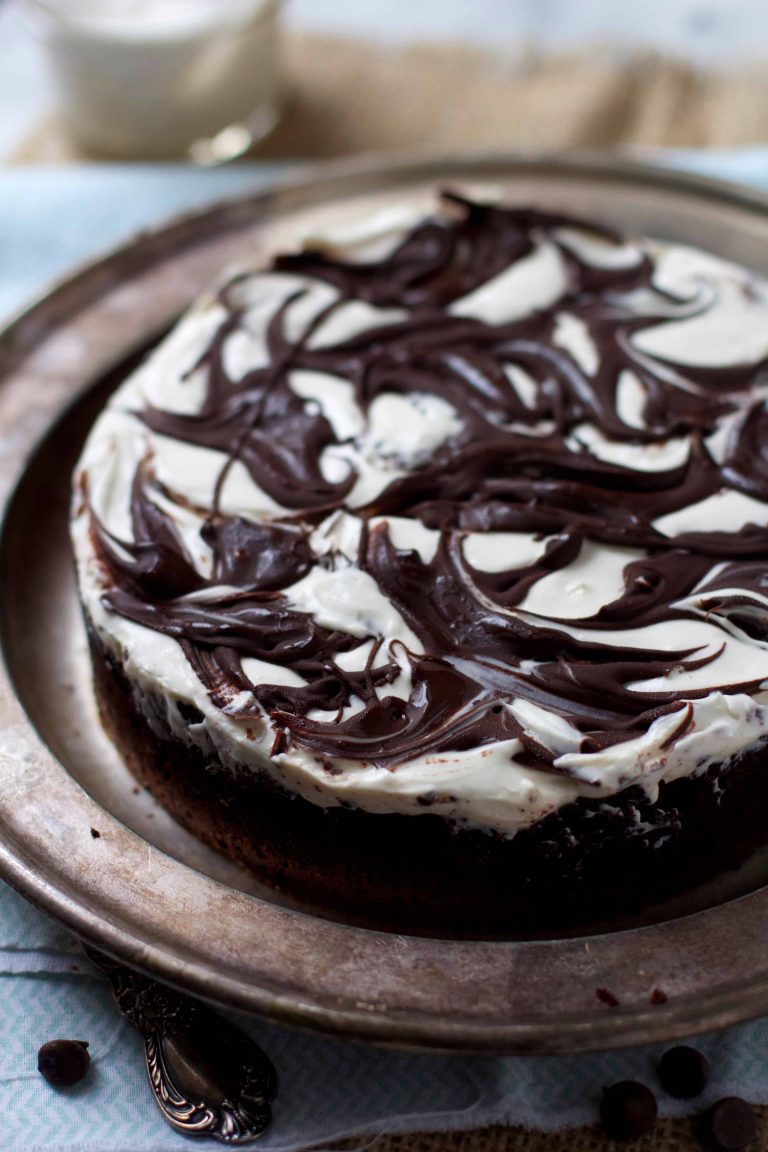 Do you celebrate St. Patrick's Day? And if you do, are you of the drinking green beer type or the Corned Beef & Cabbage while wearing green and watching Riverdance type? Well, I have to say I have always tried to stay away from the crazy St. Patrick's day drinking crowd that seem to fill up most bars in NYC, but sure do love a chance to eat Corned Beef and drink Bailey's and Guinness (and something green of course!)
I try to bake a fun dessert using some of these festive ingredients every year and this time around the winning confection is this ultra-creamy cheesecake. If you love Irish Cream you will adore this recipe. Since cheesecake is the quintessential New York dessert, giving it a festive twist seemed liked just the thing. This seemed like a perfect way to represent NYC while also paying homage to my Irish roots! For this recipe I used BAILEYS® Coffee Creamer which is rich, thick, and full of Irish Cream flavor. I served this to my sign language class Mamas in the middle of the day so I think the alcohol-free version was appreciated. (Well…. it was a bunch of Mom's of toddlers on a Friday so who knows! ;) )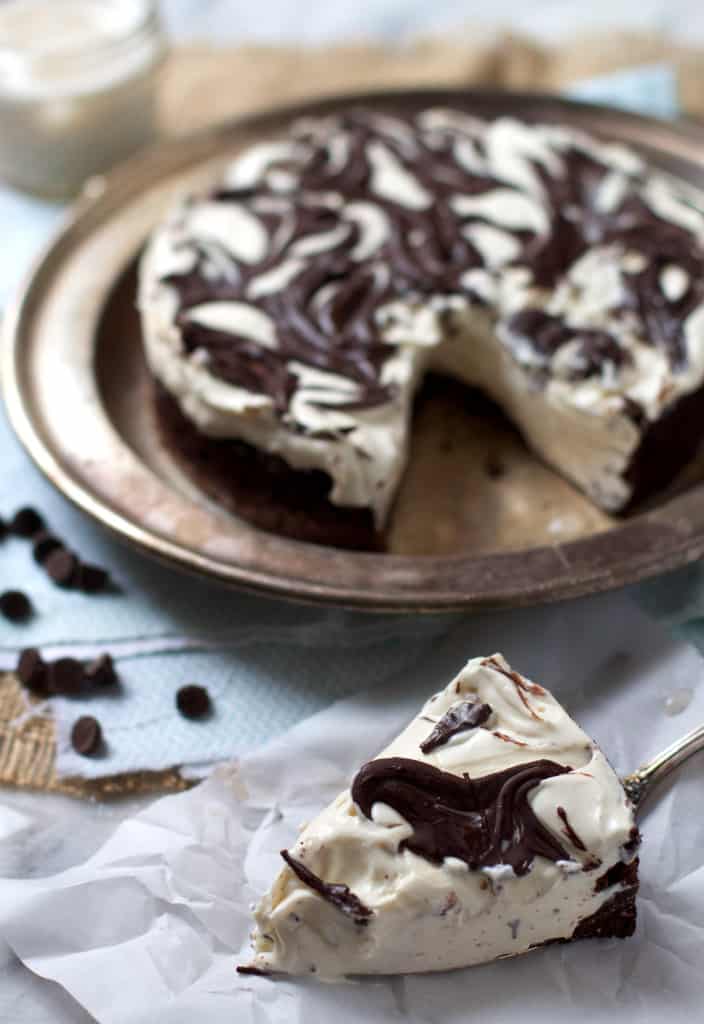 I started out with a from-scratch chocolate cookie crust (which is so much better than the Oreo kind and definitely what I'll be making from now on.) The pre-baked crust is filled with the creamy filling and topped with chocolate chips for some added crunch. (I melted mine and swirled it on top of the filling, but some chips just sprinkled on would work equally well. I really just wanted some added texture to offset the super creamy filling.
I really really loved this dessert. The texture is out of this world and the flavor in the BAILEYS® Coffee Creamer is on point. It goes perfectly with the dark chocolate in the crust and topping, making this an easy no-bake dessert that couldn't be more festive for the coming holiday!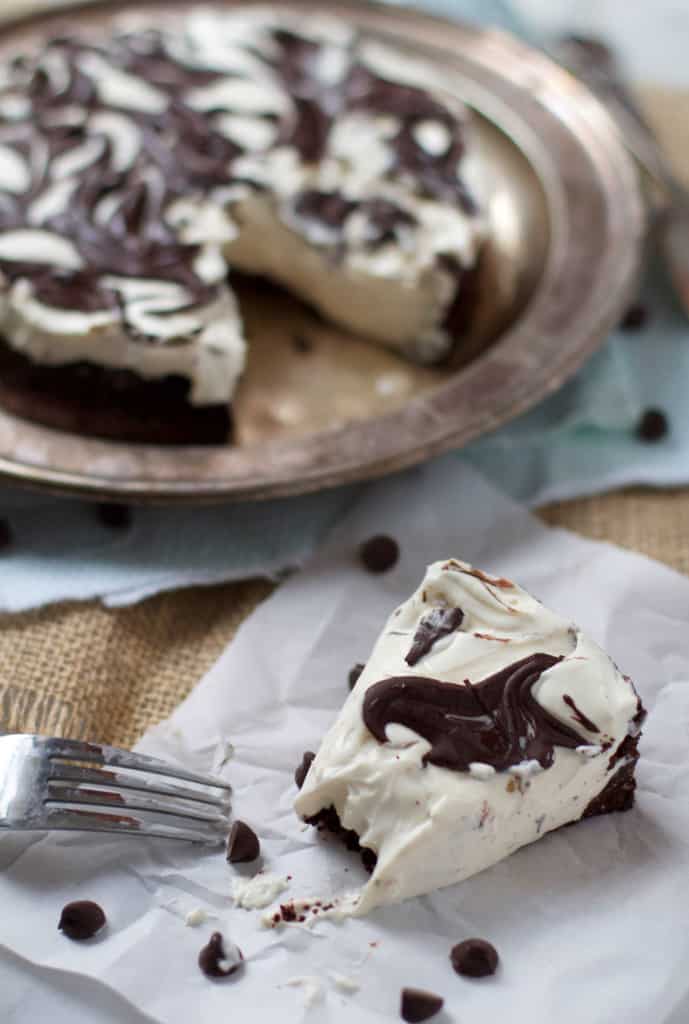 BAILEYS Mousse Cheesecake
Yield:
1 7-inch cheesecake
Ingredients
For the Crust:
½ cup white sugar
⅓ cup all-purpose flour
⅜ cup unsweetened cocoa powder
1 pinch salt
¼ cup butter, melted
For the Topping:
2 8-ounce packages cream cheese, room temperature
½-3/4 cup Bailey's
1 teaspoon vanilla extract
⅓ cup chocolate chips, or melted chocolate or shaved chocolate for topping.
Instructions
Preheat oven to 375F.
In a medium-sized bowl, stir together the sugar, flour, cocoa powder, and salt. Add the melted butter and stir until moistened. Press the crust mixture into a 7-inch springform pan* and bake for 10 minutes.
While the crust cools, whip the cream cheese on high until smooth. Add ½ cup of the Bailey's and the vanilla extract. Taste the mixture, and add the remaining ¼ cup of creamer if desired, 1 tablespoon at a time until desired sweetness is reached.**
Transfer filling into cooled crust and smooth with an offset spatula. Sprinkle with chocolate chips, or drizzle with melted chocolate or chocolate shavings.
Cover with plastic wrap and chill for several hours, until the filling has set. (You can speed this up in the freezer.)
Notes
You can use a 9 inch springform pan, but I would make 1½ x the recipe

*The more liquid you add to the filling the looser it will be. I added the full ¾ cup and it was perfectly creamy and dreamy, but if you prefer a bit more solid texture add a little less.
This recipe was developed for BAILEYS Coffee Creamer, but the opinions stated are always 100% my own! Also- make sure you check out BAILEYS® Coffee Creamers' Search for America's Favorite St. Patrick's Day and vote for your favorite St. Patrick's Day Celebration (which is NYC of course RIGHT!?) You could win a trip to the city that wins!