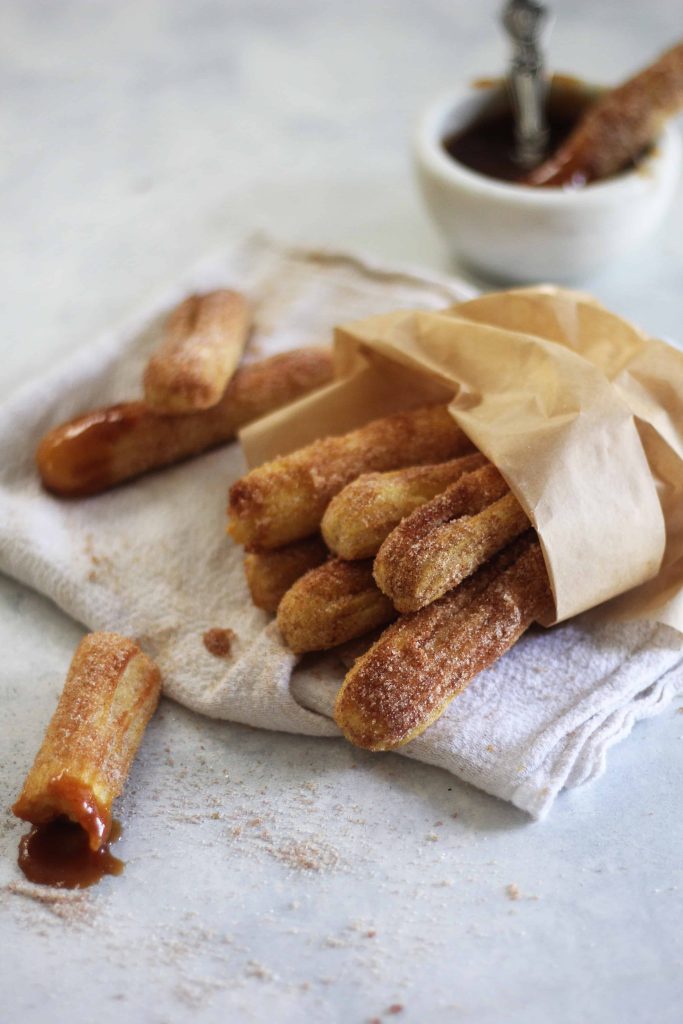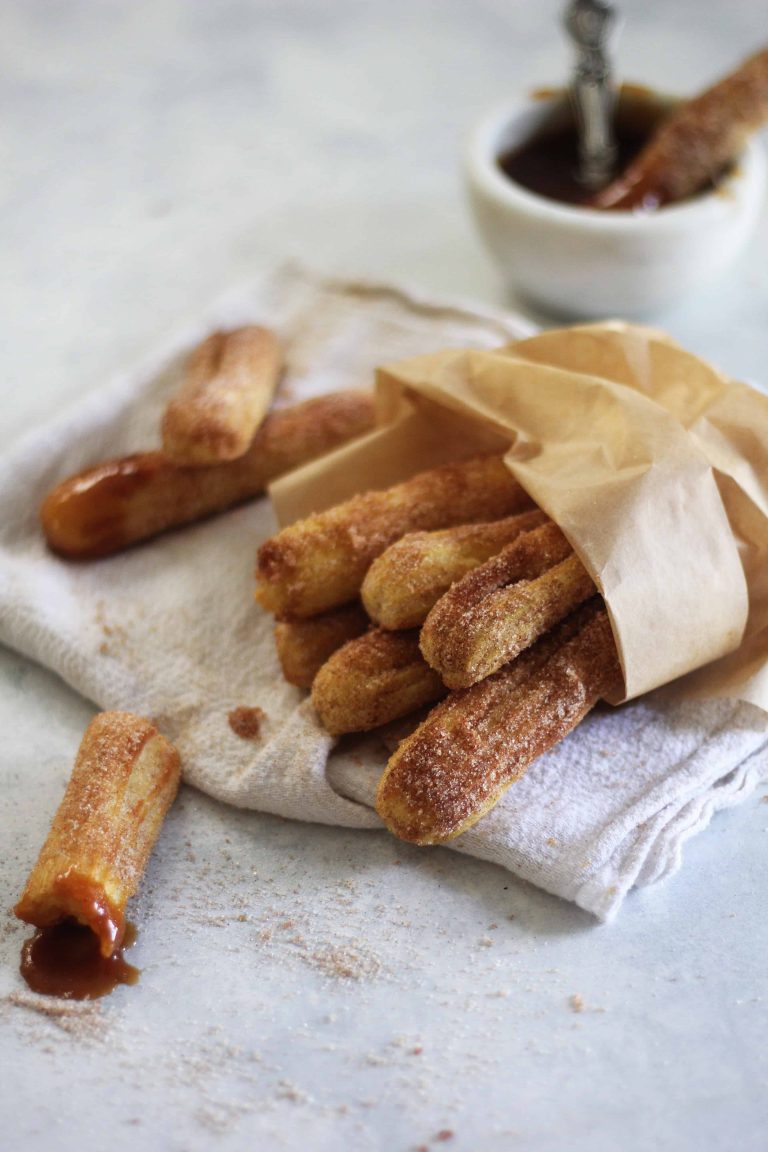 This recipe was first posted in the early blog days 5 years ago. It was instantly very popular but also seemed to give some readers problems. I tested it a few times initially, but have now jotted down some notes to make these easy as can be and pretty fail-proof. I was happy to find that the recipe is still solid and really so good.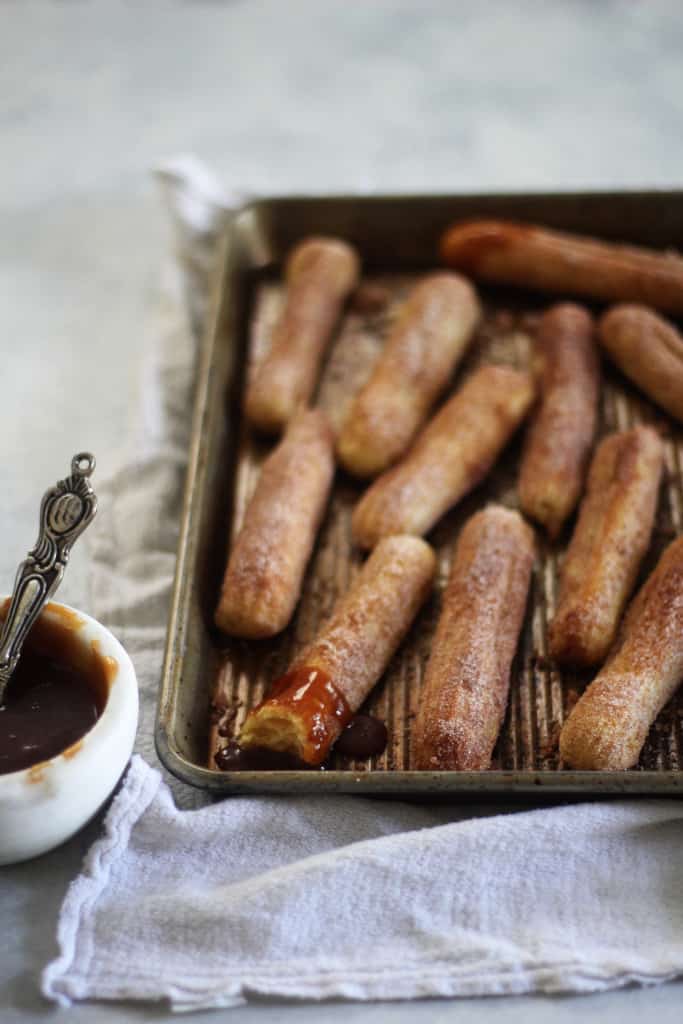 Now I know that churros aren't Mexican but actually originate from Spain, but in school they used to sell churros in the lunch room on Cinco de Mayo and well- it always seems like an appropriate treat to follow tacos and margaritas. Really though- I don't need a special reason to enjoy these, I will gladly eat them all year round.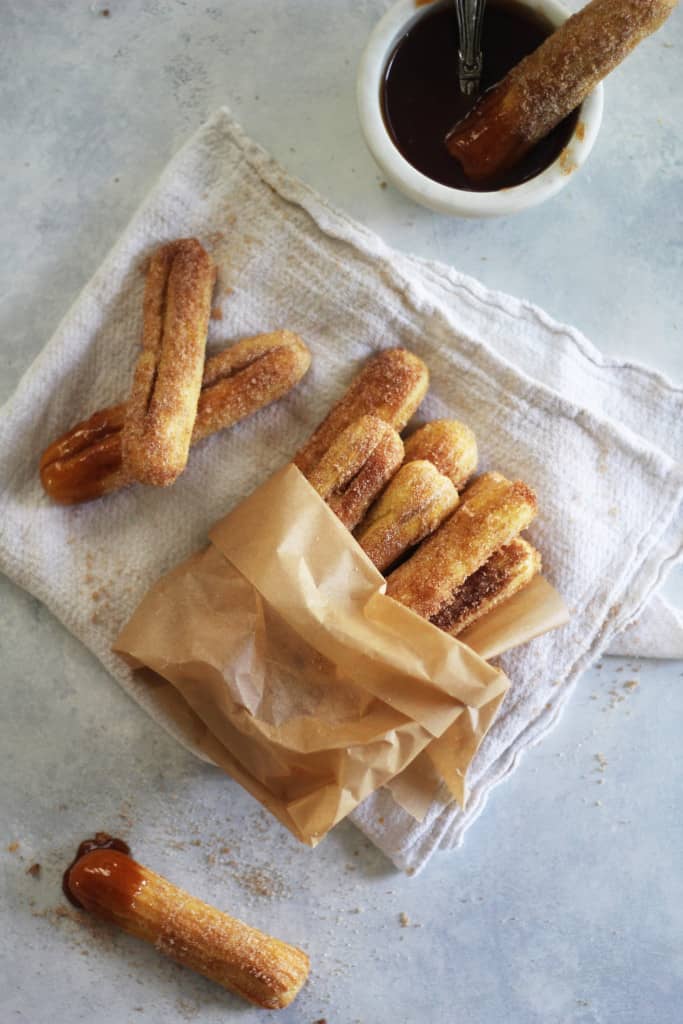 The dough used for these is a traditional "choux" dough which is what is normally used for cream puffs and eclairs. It comes together easily and is then piped on a cookie sheet. The churros bake up crispy and golden, and then get brushed with butter and rolled in cinnamon sugar. (still better than being deep fried right?) You could also lightly spray them with coconut oil spray, the goal is to allow the cinnamon sugar to stick.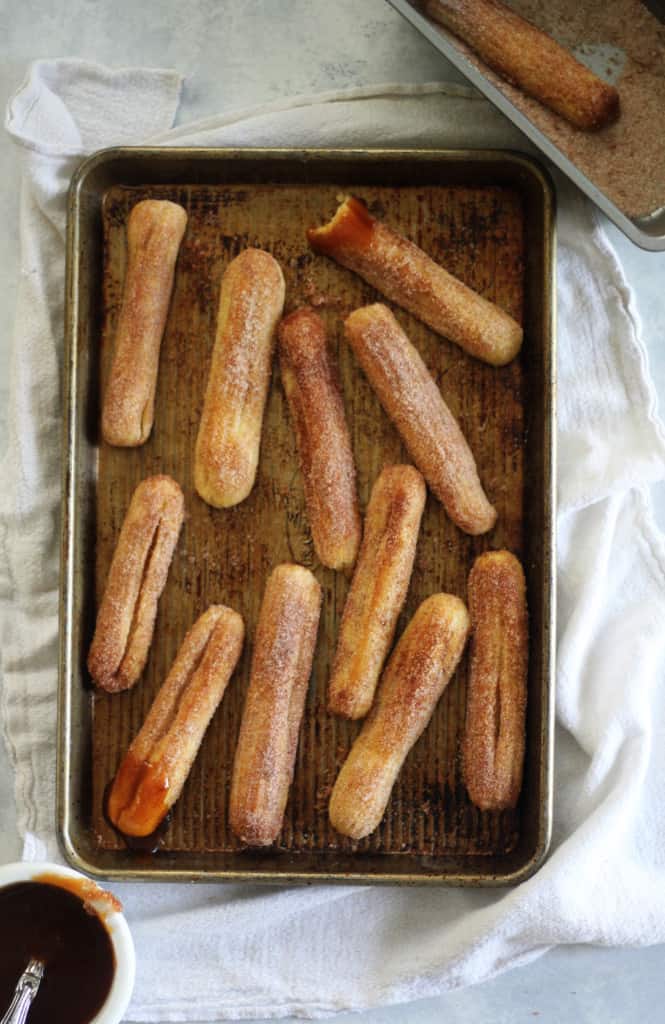 Anyway- bake up these easy and delicious treats, and dip them in some chocolate sauce or dulce de leche if you want to get extra festive. (I used salted caramel sauce because I had it on hand. I've given some tips and tricks in the recipe for guaranteed success- I hope you make and love them!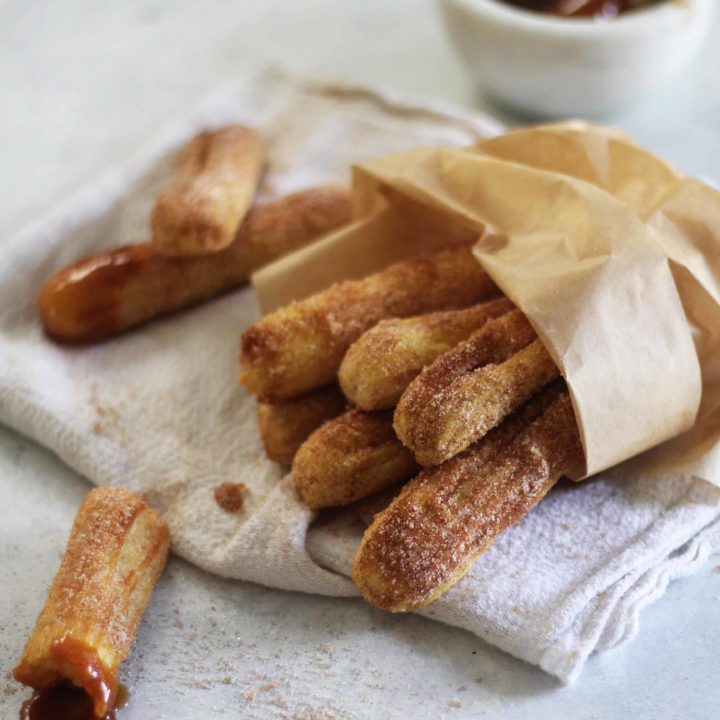 Baked Churros
Ingredients
1/2 cup unsalted butter
1/2 teaspoon salt
1 cup water
1 cup all purpose flour
3 eggs*
1 teaspoon vanilla
1/2 cup cinnamon sugar
3 tablespoons melted butter (or cooking spray)
chocolate, dulce de leche or caramel sauce for dipping (optional)
Instructions
Preheat oven to 350 degrees.
In a medium saucepan combine the butter, salt and water. Bring to a boil over medium high heat.
Remove from heat add the flour and stir to combine. Mixture will thicken and start to resemble the texture of mashed potatoes.
Leave dough in the saucepan, but beat it on low with a hand mixer, adding one egg at a time, mixing well before adding another. After adding each egg, the mixture will become wet and glossy, but after mixing on high for a few seconds it will thicken again.
When all the eggs are are combined add the vanilla. The dough will be thick and starchy, (still with a similar texture to mashed potatoes.)
Spoon the dough into a pastry bag fitted with a large star tip. Lightly spray a cookie sheet and pipe 6-inch rows of the dough with at least 1 inch between each churro.
Bake in the oven for 20-25 minutes or until golden brown and crispy.
Brush warm churros with melted butter or spray lightly, and then place in a shallow baking dish and sprinkle with cinnamon sugar. (Shake it around to make sure they are well-coated.)
These baked churros are best enjoyed warm!
Notes
*There is room for error in terms of the egg volume. Since all eggs are different size, you want to use no more than 2/3 cup of egg total. For me- 3 large eggs yielded this amount perfectly, but I think if you use larger eggs you could end up with watery dough. To be safe measure your eggs and make sure you're not using more than 2/3 cup.

Recipe adapted from Isabel's Cantina Cookbook