Baked Fontina Pasta with Brussel Sprouts and Sage Breadcrumbs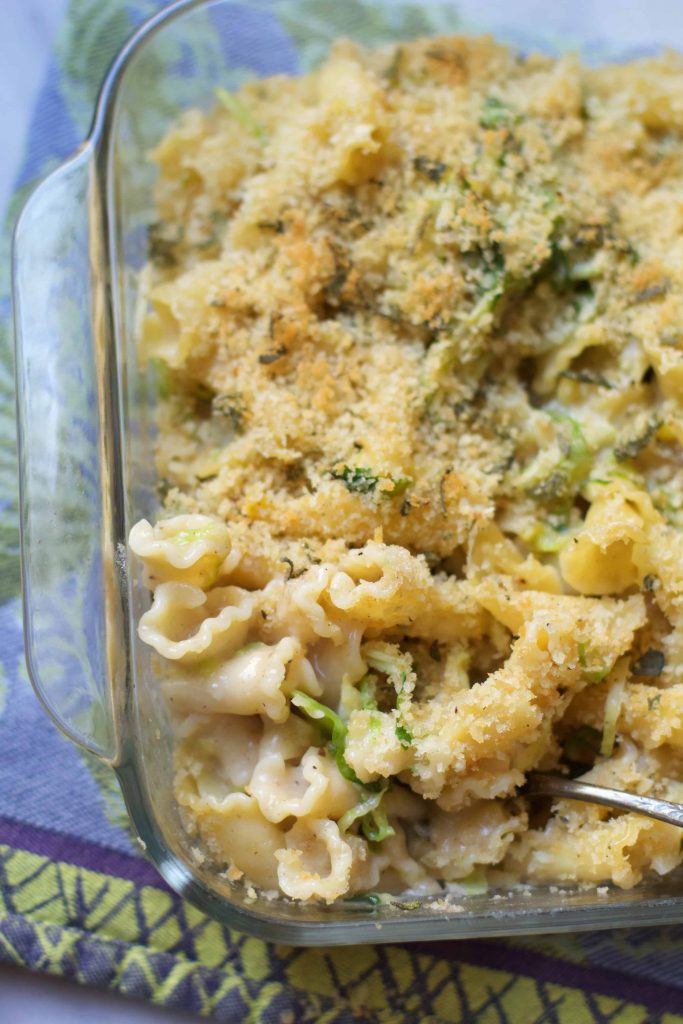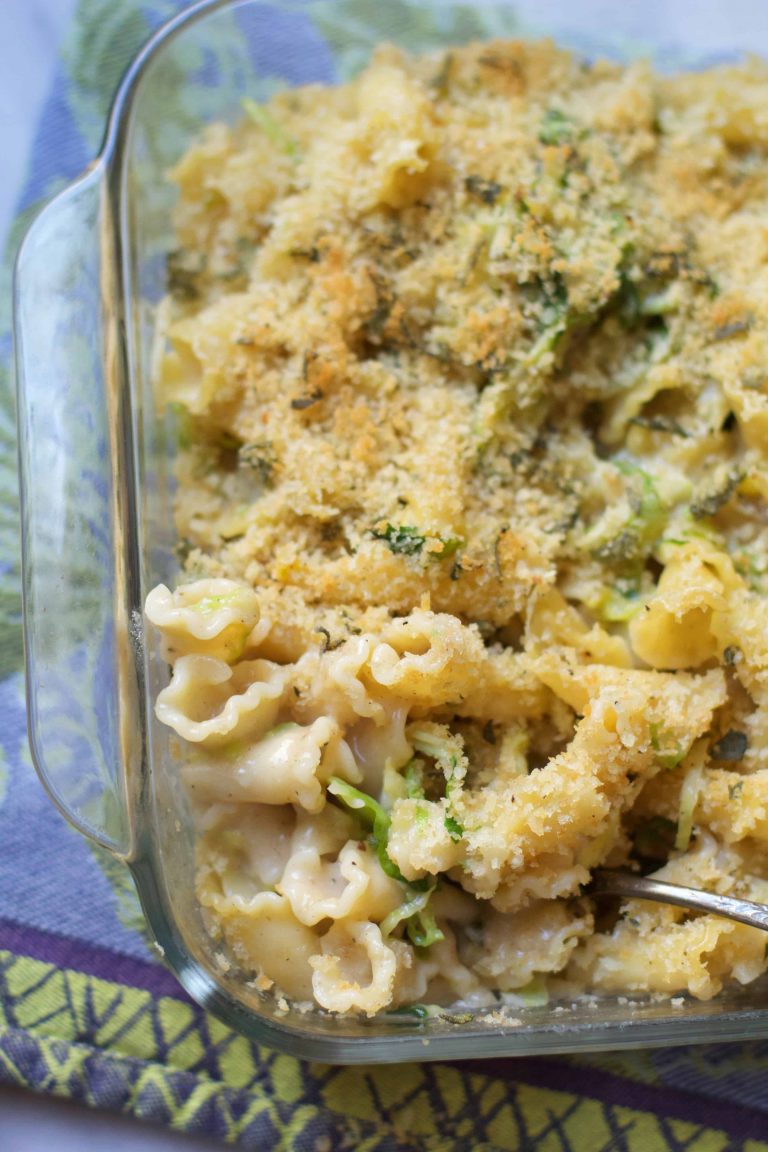 Shortly before Hugo was born Andy & I discovered Blue Apron. I was in full-on nesting mode, getting everything ready for his arrival, and was baking nonstop to keep the blog alive during my maternity leave. I wanted to have home cooked meals on the regular, but pregnancy brain was hitting me with full force and I just didn't have the time or effort to menu plan or get everything organized. A friend sent me a free trial of Blue Apron and we've been hooked ever since. I've been a loyal customer for well over a year and I have to say it's just the best.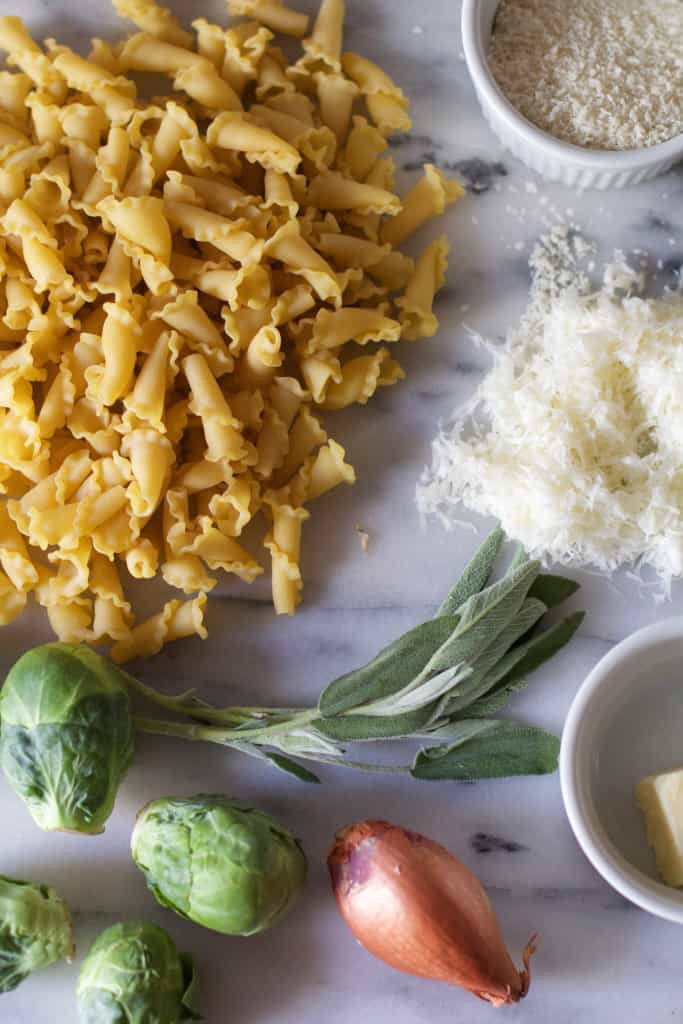 In case you're not familiar, Blue Apron is a service that delivers full recipes with all the fresh ingredients needed for you to cook. Everything is portioned just perfectly so no wasting or buying random ingredients to only throw away. You do all the chopping and prep so you really are cooking your own meal from scratch, but it takes out the guess work of menu planning and the struggle to be creative with what's for dinner. We have tried tons of different meals with lots of new ingredients and cooking techniques. I think it has made me a better cook for sure, challenging me to try new things. In a city like NYC where takeout is much too convenient, I really appreciate the option of cooking our own food without too much work involved. Also the ingredients come in a chilled box so it can actually sit outside your door for several hours without spoiling if you can't get it right away, (which has been a huge help to me!)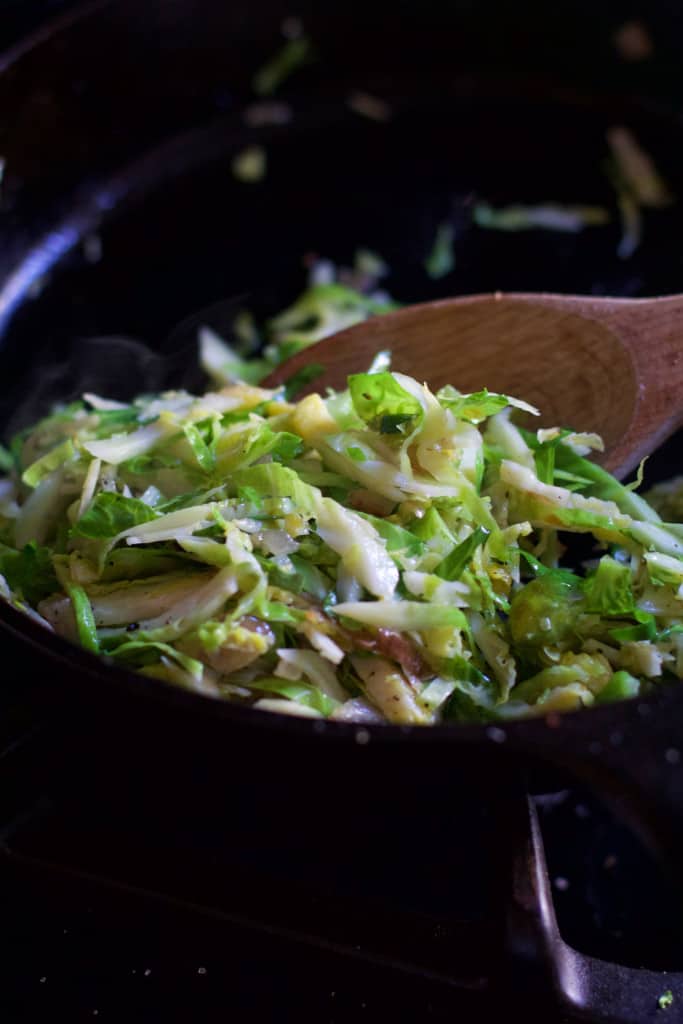 Since I'm already such fan, I'm so excited to be working with Blue Apron today, sharing one of the our recent meals from them with you. I always love pasta dishes we get in our box. They are often the fastest to throw together, and since I rarely cook pasta on my own, it always feels like a special treat. This creamy baked pasta was no exception.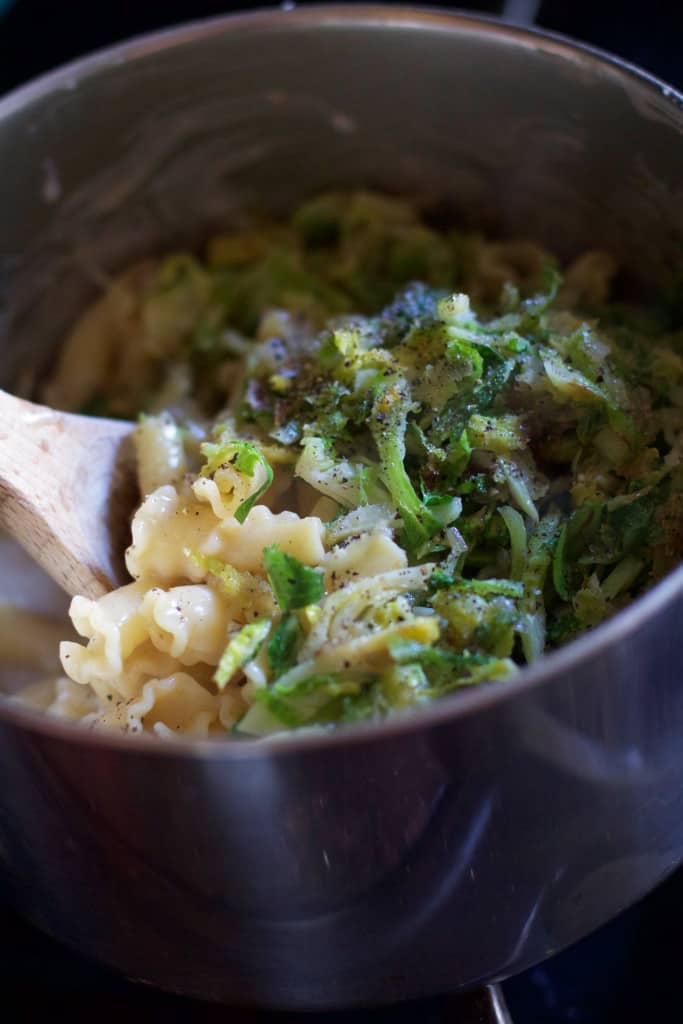 Brussel Sprouts are thinly sliced and sautéed with shallots, mixed in with the cheese and pasta to make a creamy sauce, and topped with the delicious sage breadcrumbs. This meal came together in no time, was so satisfying, and everyone in my household loved it. (Hugo especially- he downed a full portion!)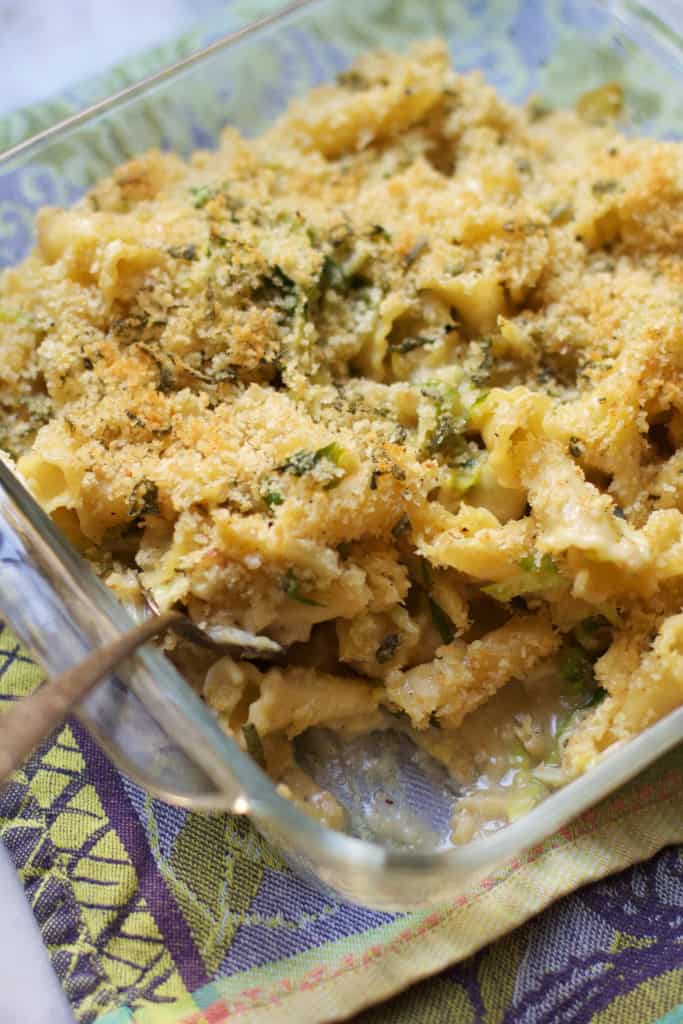 I've remade several Blue Apron recipes before, sometimes tweaking them a bit based on what I have on hand. I think this one would be amazing well into Spring/Summer with other veggies that are in season. As brussels become harder to find I think I'll make it again with shaved asparagus or spring peas!
As a special treat for anyone that hasn't tried it already, Blue Apron has a special deal for you: The first 50 of my readers will get two meals off their first Blue Apron order free! Just click here!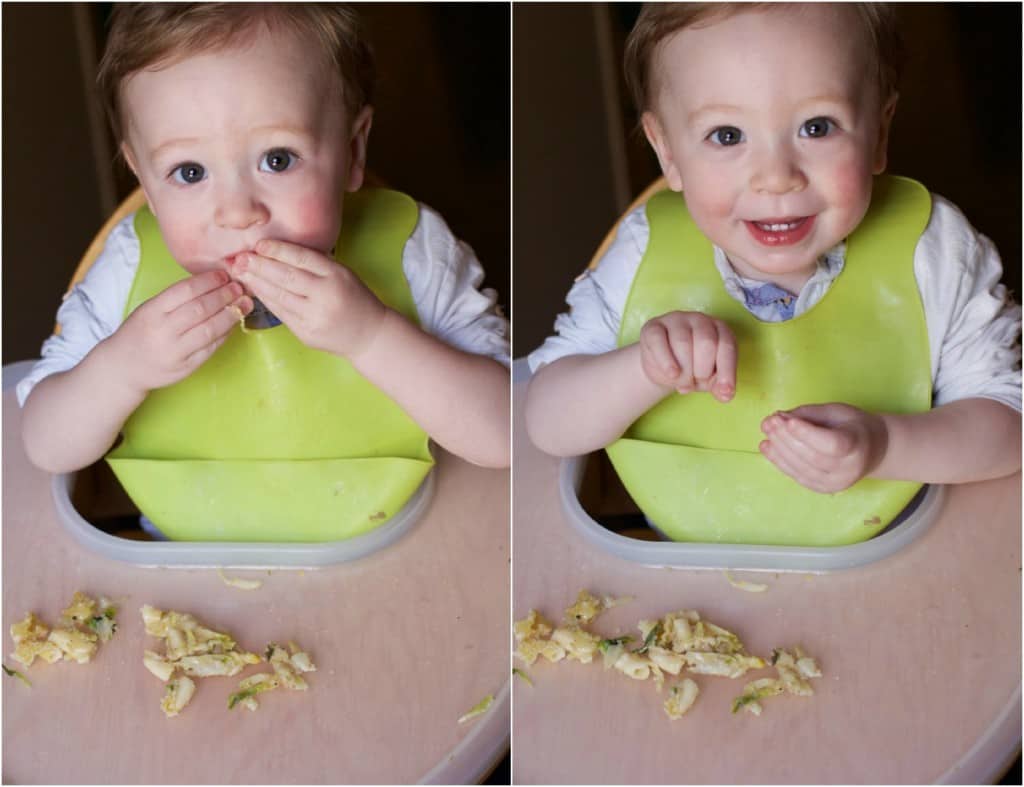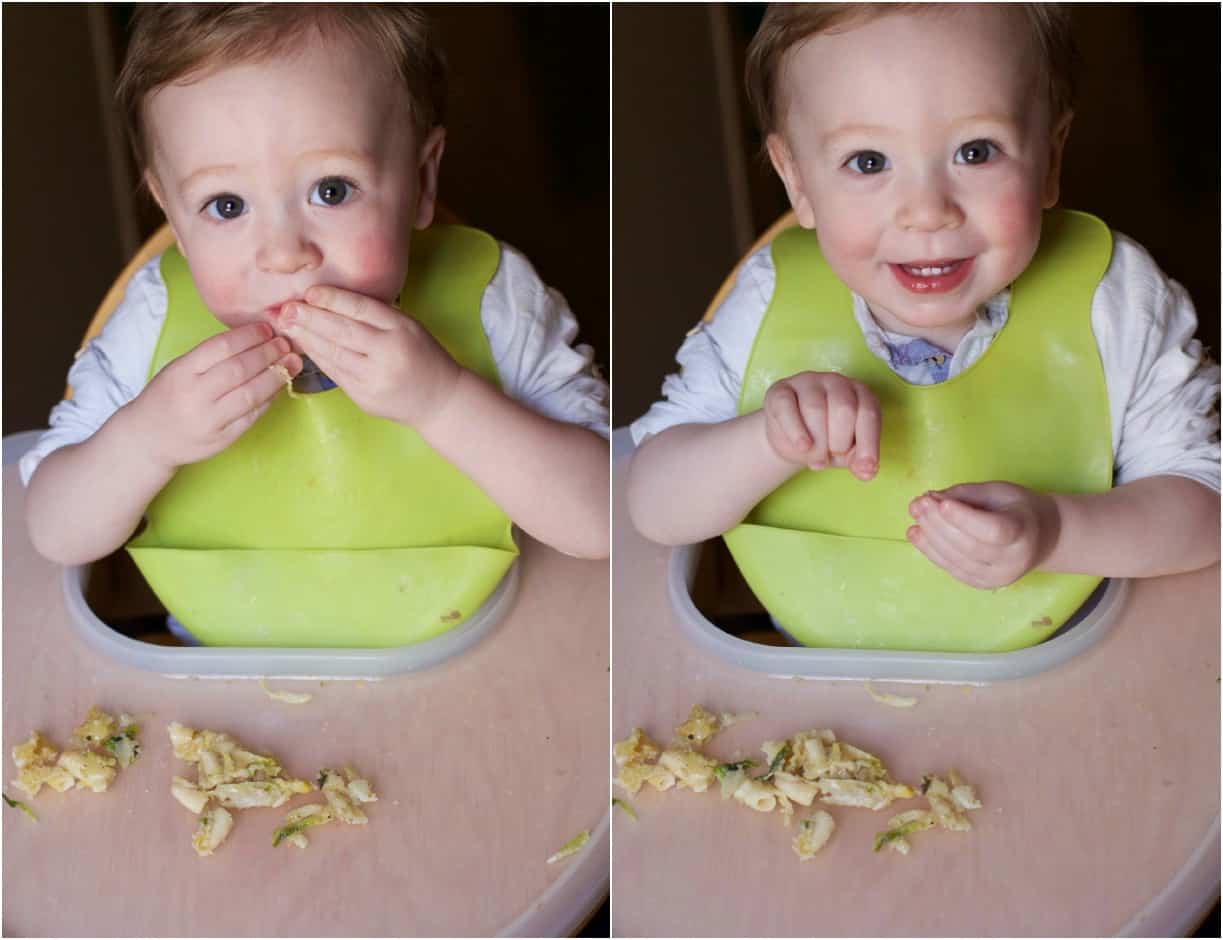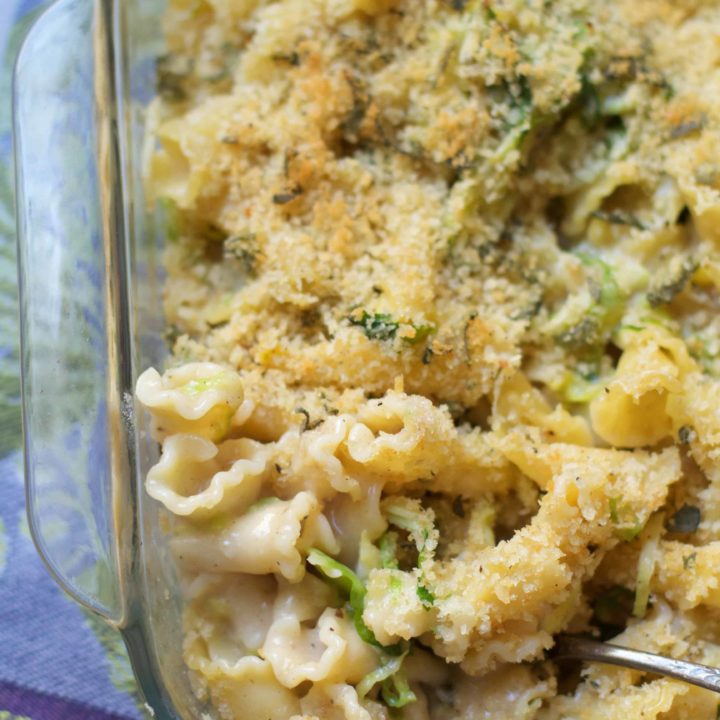 Baked Fontina Pasta with Brussel Sprouts and Sage Breadcrumbs
Ingredients
8 Ounces Campanelle Pasta, something like shells, penne or rotini would also work great
2 Ounces Fontina Cheese
6 Ounces Brussels Sprouts
1 Bunch Sage
3 Tablespoons All-Purpose Flour
2 Tablespoons Butter
2 Tablespoons Heavy Cream
1 Shallot
½ Cup Panko Breadcrumbs
Instructions
Preheat the oven to 450°F. Wash and dry the fresh produce. Heat a large pot of salted water to boiling on high.
Grate the cheese. Cut off and discard the stem ends of the Brussels sprouts. Cut the Brussels sprouts in half lengthwise; thinly slice the halves. Pick the sage leaves off the stems; discard the stems and finely chop the leaves. Peel and thinly slice the shallot.
Add the pasta to the pot of boiling water. Cook 9 to 11 minutes, or until just shy of al dente (still slightly firm to the bite). Reserving 2 cups of the pasta cooking water, drain the cooked pasta thoroughly and set aside in a warm place.
While the pasta cooks, in a medium pan (nonstick, if you have one), heat 2 teaspoons of olive oil on medium until hot. Add the sage and breadcrumbs; season with salt and pepper. Cook, stirring frequently, 3 to 4 minutes, or until fragrant and browned. Transfer to a bowl and set aside. Wipe out the pan.
In the same pan used to make the sage breadcrumbs, heat 2 teaspoons of olive oil on medium-high until hot. Add the shallot. Cook, stirring occasionally, 1 to 2 minutes, or until softened. Add the Brussels sprouts; season with salt and pepper. Cook, stirring occasionally, 2 to 4 minutes, or until softened and bright green. Remove from heat.
In the same pot used to cook the pasta, melt the butter on medium-high. Once melted, add the flour; cook, whisking frequently, 30 seconds to 1 minute, or until toasted and fragrant. Slowly whisk in the heavy cream and reserved pasta cooking water; cook, whisking frequently, 2 to 4 minutes, or until thickened. Add the Fontina cheese; stir until melted and combined. Season with salt and pepper to taste. Remove from heat.
Add the cooked pasta and cooked Brussels sprouts to the pot of Fontina béchamel sauce. Stir until thoroughly combined; season with salt and pepper to taste. Transfer the mixture to a baking dish. Place the baking dish on a sheet pan. Bake in the oven 5 to 7 minutes, or until bubbly. Remove from the oven. Top the baked pasta with the sage breadcrumbs. Let stand for at least 2 minutes before serving. Enjoy!
Nutrition Information:
Serving Size:

1 grams
Amount Per Serving:
Unsaturated Fat:

0g
This post is sponsored by Blue Apron, but my thoughts and opinions are always 100% my own.