Banana Caramel Brownies Take 2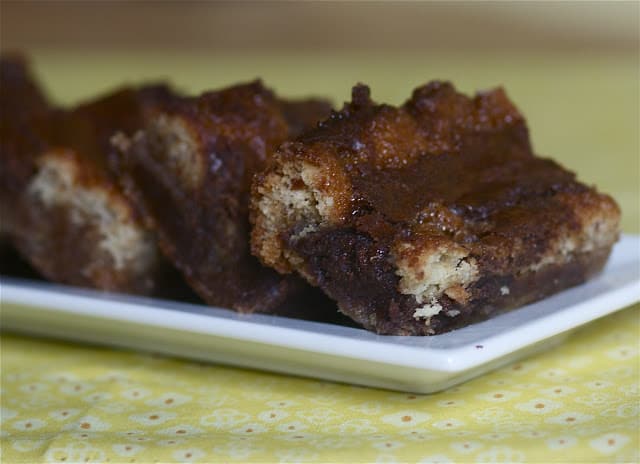 I went to college in a super small town called Stevens Point, WI. On any given day the most exciting things to do included trips to Perkins Family Restaurant, hikes through the campus nature reserve, and during the warmer months, visits to a place called Belts. I was a brand new freshman when I was first introduced to it and it was my absolute favorite place to go to all four years. What was Belts you may ask? Well I'll tell ya- it was probably the best little Ice Cream stand I've ever been to. Freshly churned soft-serve meets made-from scratch baked good mix-ins. It was sweet tooth heaven. Especially when I discovered my favorite thing ever. It was called the "Banana Foster Brownie Concrete" and it consisted of Vanilla soft serve, swirled with caramel sauce. chunks of fresh banana and gooey brownie bits. So freakin' good.
Ever since then, I've been obsessed with mixing those three things. I made a version of this brownie a long time ago, and though it was great, I felt like it could still be better. I knew I needed a thicker caramel sauce and a fudgier brownie. Topped with a scoop of Vanilla Ice Cream it may or may not fill the void I've been missing since college. (I had every intention of making sundaes out of these brownies but my sisters and friends ate them too quickly.)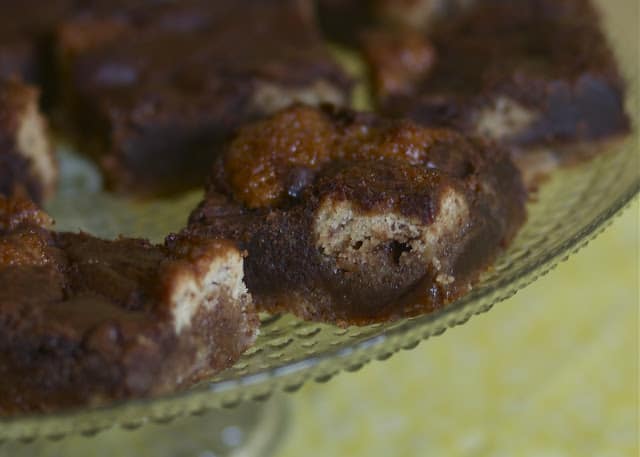 It's interesting how these brownies come together. Both times I layered the pan like so: Banana Cake Batter, Caramel layer, Brownie Batter. Both times the caramel soaked into the cake and made it taste better. In this case- the banana layer bubbled up and around the other layers, making it all swirled and pretty. The caramel made the brownie part almost fudge like. I always think I'll get three distinct layers, but I think that's still a work in progress. Needless to say- they were by far the best brownies I've made. Every piece was different as the three layers were swirled throughout and you never really knew what you were going to get in each bite. As my friend Sam said while eating his third, "You know Audra, I'm super happy for you, but anyone can get engaged….I think this brownie is the real reason to congratulate you." :) Yeah they're real good.
PS- I'm going to try on a wedding dress today. Because you know what? I never have before. And now I can. I can also read Wedding magazines without feeling weird that I wasn't wearing a ring. (but I totally used to read them anyway!)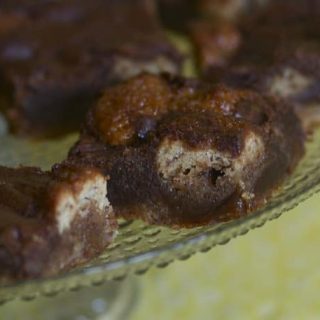 Banana Caramel Brownies Take 2
Ingredients
Banana Layer:
1/4 cup butter, softened
3/4 cup white sugar
1 egg
1/2 cup sour cream
1/2 teaspoon vanilla extract
1 cup all-purpose flour
1/2 teaspoon baking soda
1/8 teaspoon salt
1/2 cup mashed ripe bananas
Brownie Layer:
1/2 cup 1 stick unsalted butter
5 oz oz dark chocolate, finely chopped
1 cup packed light brown sugar
1/2 cup all-purpose flour
1/8 teaspoon salt
2 large eggs
1 teaspoon vanilla extract
Caramel Layer:
1 1/2 cups sugar
1/4 cup light corn syrup
1 cup heavy cream
5 tablespoons unsalted butter
1 teaspoon fine fleur de sel, plus extra for sprinkling
1/2 teaspoon pure vanilla extract
Instructions
Preheat oven to 350. Grease a 9 x 13 inch baking pan and set aside.
Banana Layer: In a large bowl, cream together the butter and sugar until smooth. Beat in the eggs, one at a time, then stir in the sour cream and vanilla. Combine the flour, baking soda and salt; stir into the batter. Finally, mix in the mashed banana. Spread evenly into the prepared pan.
Start the Brownie Layer: Add the 1 stick of butter to a medium saucepan and set over medium heat. Melt the butter, and continue to heat until the butter sizzles. At that point, add the chocolate to the pan and gently shake the pan to submerge in the butter. Turn off the heat and set aside.
Begin Caramel:
In a deep saucepan, combine 1/4 cup water, the sugar and corn syrup and bring them to a boil over medium-high heat. Boil until the mixture is a warm golden brown. Don't stir -- just swirl the pan. (Can take a few minutes for the sugar to caramelize- keep an eye on it and continue to the next step.)
In a small saucepan simmer the heavy cream and butter and sea salt until the butter is melted. Set aside. To finish the caramel: when sugar mixture is a warm golden brown, turn off the heat and carefully add the cream mixture. Stir in the vanilla with a wooden spoon and cook over medium-low heat for about 10 minutes, until the mixture reaches 248 degrees F (firm ball) on a candy thermometer.
During those 10 minutes finish the brownies: In a large bowl, using an electric mixer, mix the brown sugar, flour and salt just until evenly combined. Add one of the eggs to the bowl and beat just until incorporated then scrape down the sides of the bowl and add the remaining egg, again beating just until incorporated. (Don't overmix!) Mix in the vanilla. Whisk the butter and chocolate mixture until smooth then add to the mixing bowl. Stir to incorporate with a rubber spatula.
Once the caramel is done, pour it carefully over the banana batter in the 9x13 pan. Follow with the brownie batter- which will need to be poured over the other layers as evenly as possible, and then spread over the caramel as best as you can. Don't worry too much as it will all swirl together as you bake it.
Bake for 35-40 minutes. or until a toothpick comes out with a few moist crumbs. Cool completely before cutting.
Notes
These individual recipes only called for 25/30 minutes in the oven. For some reason though, mine needed a bit more. (Maybe because of the caramel.) I would start low and add more time if needed. If you don't want to make homemade caramel, just use store bought ones melted on the stovetop with 1/3 cup heavy cream.
Nutrition Information:
Serving Size:

1 grams
Amount Per Serving:
Unsaturated Fat:

0g
Brownies: Same I used
here.