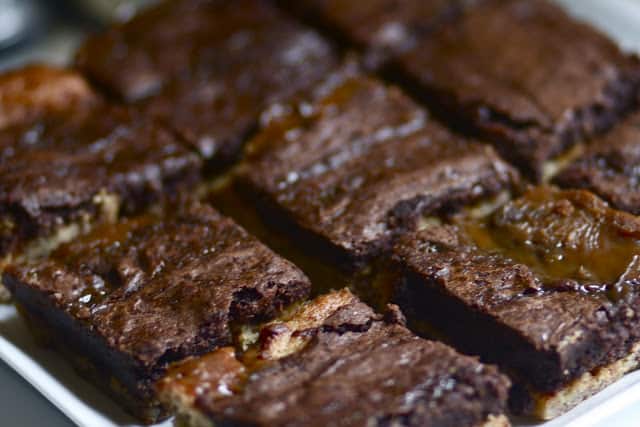 Guys- these brownies changed my life. (Ok I'm being a little dramatic, but they tasted so good!) I am so proud of myself for putting this together all on my own when I couldn't find the recipe I envisioned. After eating them- I feel like I need to make them again ASAP. They are like a chocolate fudge covered banana dipped in salted caramel. The finished product was gooey and sweet with a little hint of salt. I brought these to the cast of a short play I am doing this weekend- and they were gone within minutes. This one is a keeper!
First I made a layer of banana cake. Then I poured in salted caramel sauce and topped that off with a layer of brownie batter. Now the only unexpected thing in all this is what happened to the caramel. I had imagined that it would thicken and there would be a nice chewy layer in the middle. Instead, it spilled out to the edges, onto the brownie layer and into the banana layer. But I can't even say this is a mistake because it turned out great! The caramel flavor is there in every bite! Next time I don't think I'd change a thing…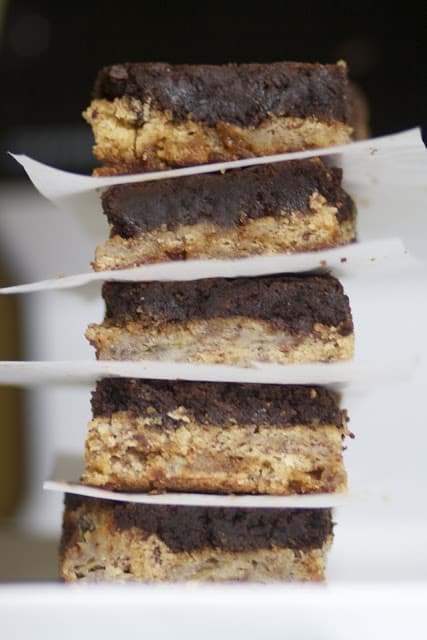 Banana Caramel Brownies
Ingredients
¼ cup butter, softened
¾ cup white sugar
1 egg
½ cup sour cream
½ teaspoon vanilla extract
1 cup all-purpose flour
½ teaspoon baking soda
⅛ teaspoon salt
½ cup mashed ripe bananas
Brownie Layer:
¾ cups all-purpose flour
½ teaspoon salt
1 tablespoons dark unsweetened cocoa powder
5.5 ounces dark chocolate (60 to 72% cacao), coarsely chopped
½ cup unsalted butter, cut into 1-inch pieces
½ teaspoon instant espresso powder
¾ cups granulated sugar
¼ cup firmly packed light brown sugar
2 large eggs, at room temperature
1 teaspoon pure vanilla extract
Caramel:
6 Tbsp. butter
¾ cup sugar
½ cup heavy cream
½ tsp. vanilla extract
1 tsp. kosher salt
Instructions
Preheat oven to 350. Grease a 9 x 13 inch baking pan and set aside.
Caramel : Melt butter in a heavy sauce pan over medium high heat, add sugar and stir frequently until sugar is a golden brown. As soon as the sugar starts to smoke, remove it from the heat and with caution whisk in ½ cup of cream. It will bubble up like lava. Whisk in vanilla and salt. Let cool while you make the other layers. (I sped this up in the freezer.)
Banana Layer: In a large bowl, cream together the butter and sugar until smooth. Beat in the egg, then stir in the sour cream and vanilla. Combine the flour, baking soda and salt; stir into the batter. Finally, mix in the mashed banana. Spread evenly into the prepared pan.
Brownie Layer: In a medium bowl, whisk the flour, salt, and cocoa powder together.
Put the chocolate, butter, and instant espresso powder in a large bowl and set it over a saucepan of simmering water, stirring occasionally, until the chocolate and butter are completely melted and smooth.
Turn off the heat, but keep the bowl over the water and add the sugars. Whisk until completely combined, then remove the bowl from the pan.
Add 1 egg to the chocolate mixture and whisk until combined. Add the remaining egg and whisk until combined. Add the vanilla and stir until combined. Do not overbeat the batter at this stage or your brownies will be cakey.
Sprinkle the flour mixture over the chocolate mixture. Using a spatula (not a whisk), fold the flour mixture into the chocolate until just a bit of the flour mixture is visible.
Pour the caramel over the banana layer, trying to avoid the edges if possible.
Spoon or pour the brownie batter evenly across the caramel layer. Using a spatula, gently spread it over the caramel to make an even layer over the top.
Bake for 35-40 minutes or until a toothpick comes out with a few moist crumbs. Let cool completely before cutting.
Notes
Baking Note: These individual recipes only called for 25/30 minutes in the oven. For some reason though, mine needed a bit more. (Maybe because of the caramel.) I would start low and add more time if needed.

Soruces: Banana Cake: AllRecipes
Caramel: David Lebovitz
Brownie: Baked: New Frontiers in Baking