Banana Chocolate Chip Layer Cake with Peanut Butter Frosting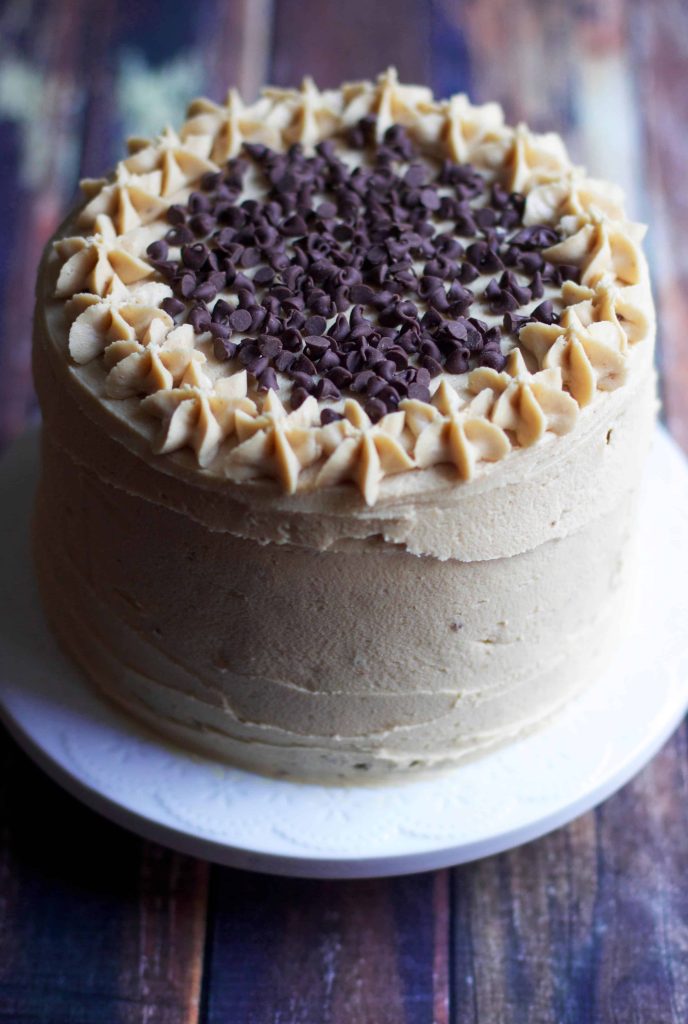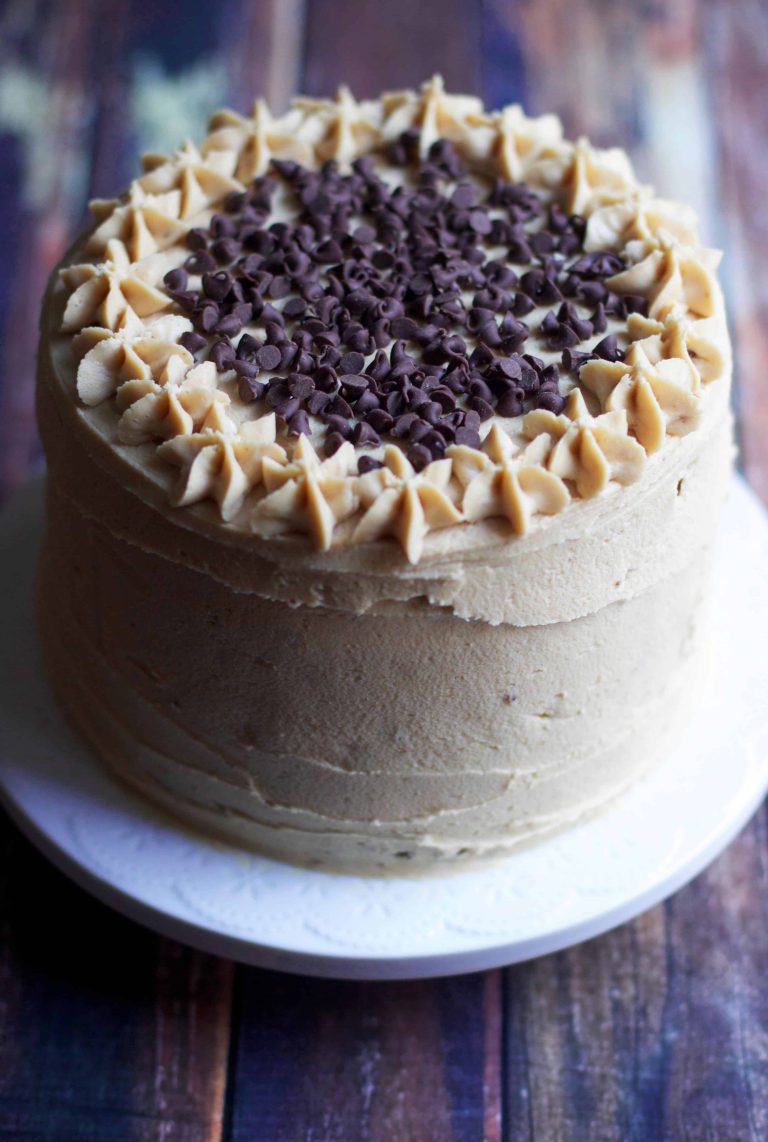 You guys are in it for the pictures and recipe right? I mean I'm sure some people read what I write, but I don't blame you for skimming my actual post and just checking out the goods- I'm guilty of it sometimes too. I guess what I'm trying to say is that I'm exhausted from a little nugget who got up at 4 AM today and I'm a bit brain dead- for that reason I'm going to keep this brief. :)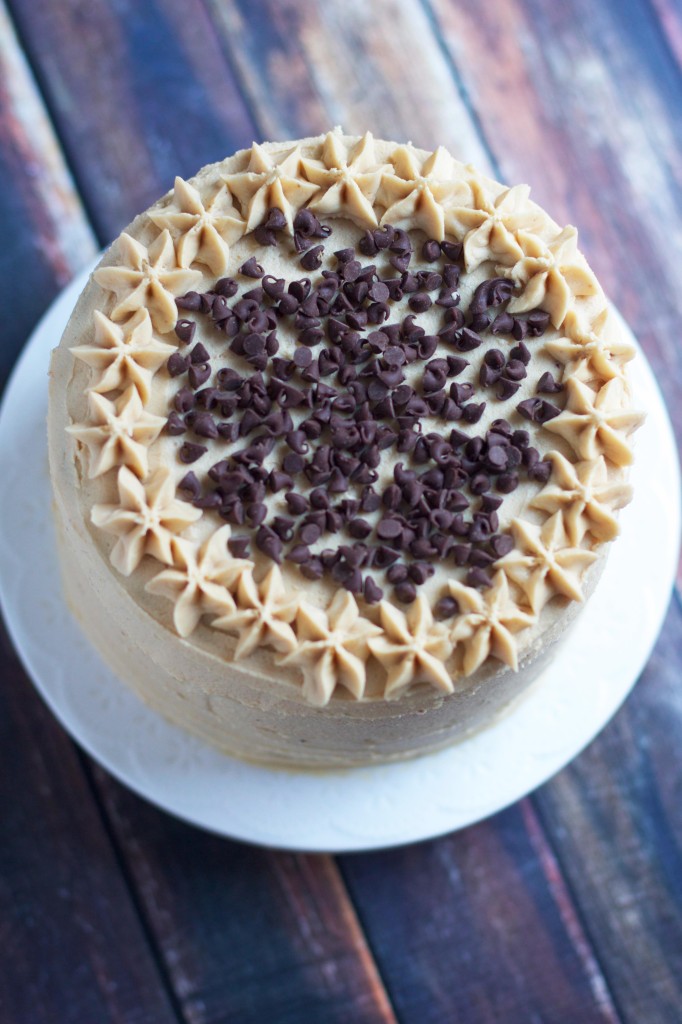 Getting better at layer cakes and cake decorating has been a major goal for this year. I already conquered a Rose Cake, and next on my list was a cake with even layers, that was smooth and symmetrical. I'm not going to win any cake decorating awards any time soon, but I was pretty darn proud of this baby!
Every year on my birthday I get asked if I'm making my own birthday cake and I usually don't. Last year I was too preoccupied with our Europe trip and in the years before I typically had a party or event planned and a cake at home didn't seem worth it.
This year though I'm laying low- I mean what else do you with a 5 week old baby? My Mom is coming later tonight which will be great and Andy took off work so we can wander the city as a family of three. I'm pretty darn excited for that!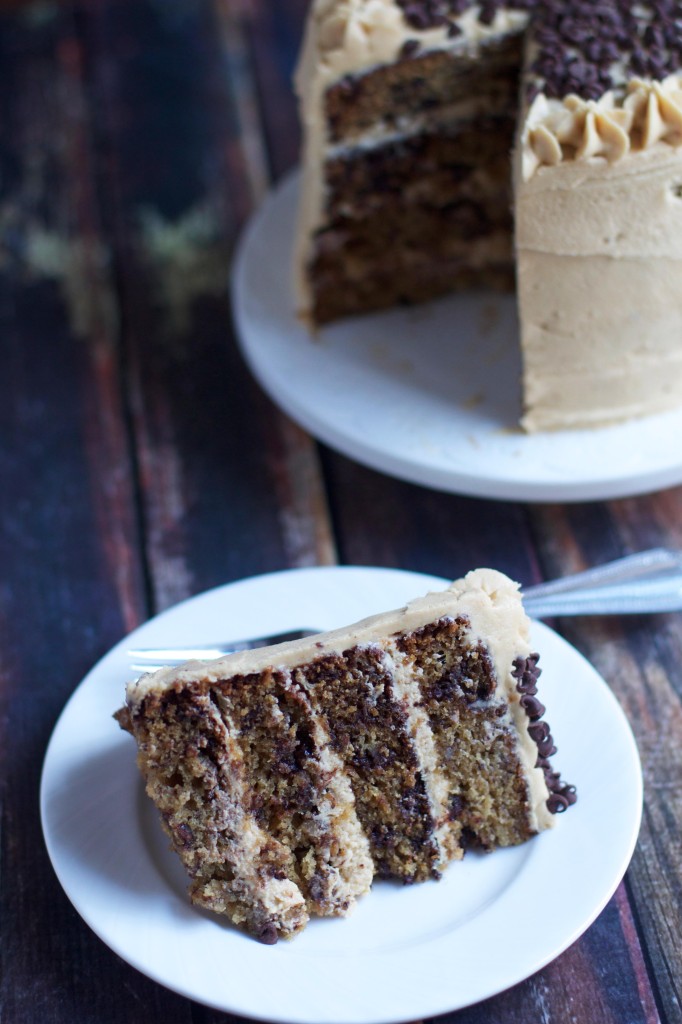 I decided to make my birthday cake with one of my favorite flavor combos of all time, banana, peanut butter and chocolate. This banana cake is moist and delicious, full of mini chocolate chips and layered with creamy peanut butter frosting. I cut into it a day early for these pics, but definitely attempted to stuff the slice back in and frost around it- (what we do for food blogging!) I had enough batter for a few cupcakes as well so got to taste a little sample and man oh man is it good. Maybe just maybe I am getting kinda good at layer cakes!!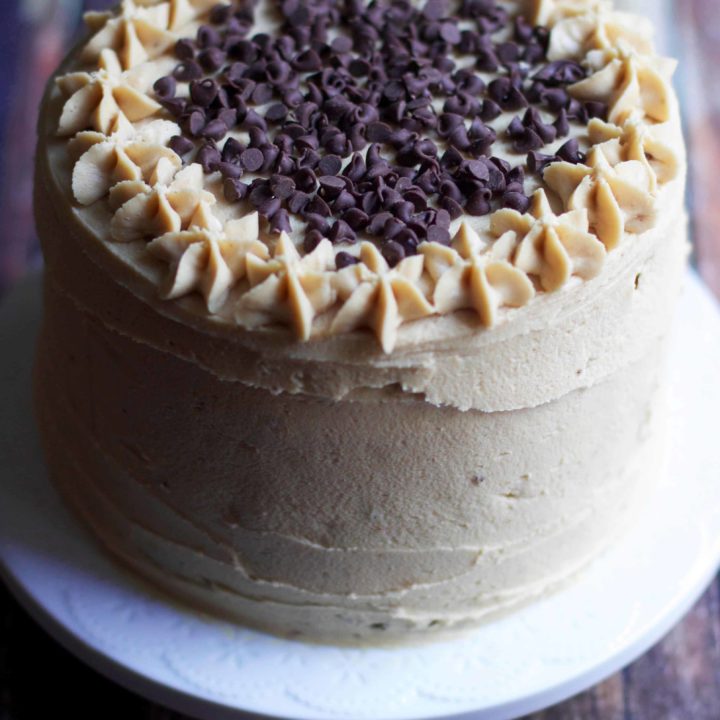 Banana Chocolate Chip Layer Cake with Peanut Butter Frosting
Yield:
1 - 8 inch layer cake
Ingredients
For the cake:
2 1/2 cups all-purpose flour
1 tablespoon baking soda
1 pinch salt
1/2 cup unsalted butter
1 cup white sugar
3/4 cup light brown sugar
2 eggs, room temperature
4 medium-sized ripe bananas, mashed
1 teaspoon vanilla extract
2/3 cup buttermilk, room temperature
2/3 cup mini chocolate chips plus more for garnish
For the frosting:
2 sticks of butter softened, 1 cup
1 cup of creamy peanut butter
3 1/2 cups powdered sugar
1 teaspoon vanilla extract
1-3 tablespoons milk
Instructions
For the cake:
Preheat oven to 350 degrees F. Grease and flour 2 - 8 inch round pans*
In a small bowl, whisk together flour, baking soda and salt; set aside.
In a large bowl, use an electric mixer to cream butter, white sugar and brown sugar until light and fluffy. Beat in eggs, one at a time. Mix in the bananas and vanilla.
Add flour mixture alternately with the buttermilk to the batter- starting and ending with flour. Mix until just combined. (Don't overmix.) Stir in chocolate chips. Pour batter into the prepared pans.
Bake in the preheated oven for 30-35 minutes or until a toothpick inserted into the center comes out clean. Remove from oven, and place on a damp tea towel to cool.
For the frosting:
Cream together the butter and peanut butter until smooth. Add the powdered sugar a half cup at a time and then the vanilla. Gradually add the milk, beating after each splash until frosting is smooth and creamy.
To assemble:
For a 4 layer cake, level each layer with a long serrated knife. Fill and frost the cake as desired, always placing the cut sides down for easier spreading!
Notes
*Though the recipe states the cake yields an 8 inch layer cake I actually used 2- 6 inch pans (and sliced each one length wise) and had enough extra batter for 4 cupcakes :) Cake recipe adapted from: All Recipes
Nutrition Information:
Yield:

1
Serving Size:

1 grams
Amount Per Serving:
Unsaturated Fat:

0g