Banana Cream Cheese Muffins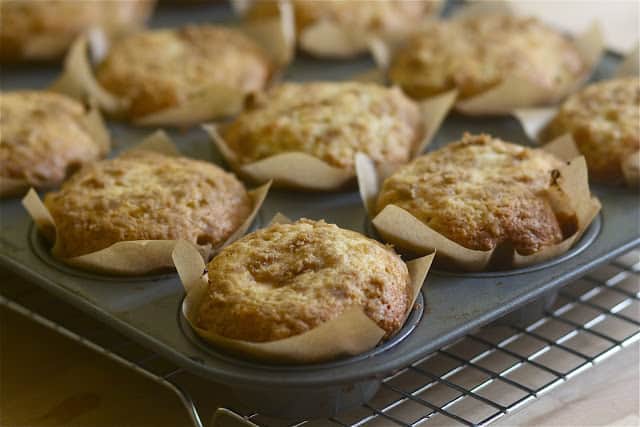 Those of you who have ever planned a wedding most likely understand this- but I'm at the point of being pretty darn overwhelmed. The big day is 5 months away (plenty of time right?) and yet I feel a bit of a constant panic about all that there is left to do. My living room has a new cluttery craft corner filled with the makings of table runners and other DIY projects. I still haven't made even a little decision in what my desserts will be, (cake? cupcakes? dessert bar? ahhh!) and don't get me started on music…Andy and I can't seem to come with a first dance to save our lives. Now I know I have 5 months….but sometimes it all feels like it's on my shoulders. Don't get me wrong- I really love all the planning, I just need to take a breather.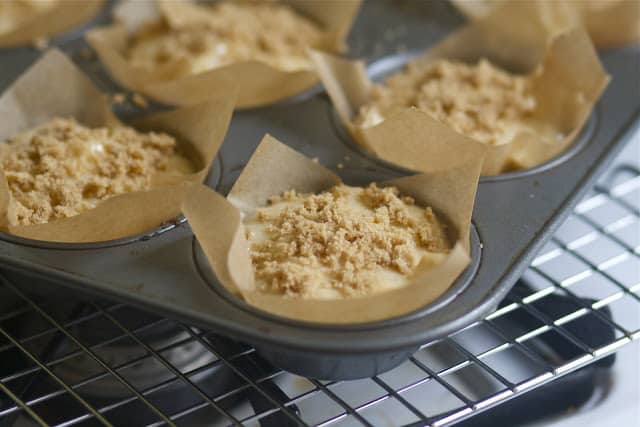 For me, the best place to blow off steam when I'm stressed is in the kitchen….I know working out helps too, I'm trying to start doing this soon :) I put on my favorite tunes, take a deep breath, and make something out of nothing. (Not really nothing I guess, but you know- flour, sugar, butter, eggs.) Lately the kitchen has become my happy place, where I don't have to worry about how I'm going to get to Bali for my honeymoon while avoiding a 20 hour layover in Taiwan.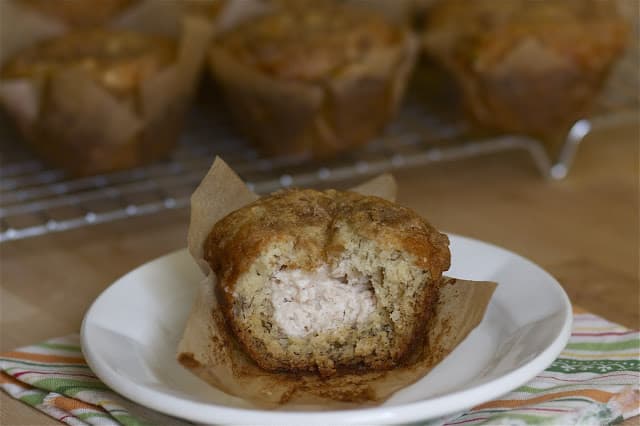 These muffins were my recent stress release. As I smashed bananas and whipped cream cheese filling, I was able to take my mind off of wedding nonsense for an hour and end up with one of the best muffins I've ever had. This banana muffin recipe on it's own is really great, full of flavor, perfect texture, and a crispy crumb topping as well. But since I wanted to milk my beloved kitchen time out as much as I could, I jazzed it up a bit by filling each muffin with a secret dollop of cinnamon cream cheese filling. These two flavors seem to be a match made in heaven, and these sweet and delicious muffins were exactly the escape I needed.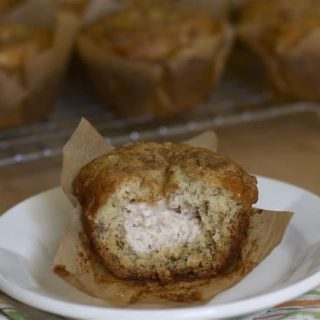 Banana Cream Cheese Muffins
Ingredients
4 oz cream cheese
1/2 cup powdered sugar
1/4 tsp ground cinnamon
1 1/2 cups all-purpose flour
1 teaspoon baking soda
1 teaspoon baking powder
1/2 teaspoon salt
3 bananas, mashed
3/4 cup white sugar
1 egg, lightly beaten
1/3 cup vegetable oil
1/2 tsp vanilla
1/3 cup packed brown sugar
2 tablespoons all-purpose flour
1/8 teaspoon ground cinnamon
1 tablespoon butter
Instructions
For Filling:
Cream together the cream cheese, powdered sugar and cinnamon until smooth. Spoon onto a piece of plastic wrap and roll it into a log by closing the plastic and shaping. Wrap the "log" with foil and freeze for two hours. (If you are as impatient as I am, take it out after an hour- it will just be a little harder to handle.)
For Muffins:
Preheat oven to 375 degrees F
Lightly grease 12 muffin cups, or line with muffin papers. (Or do what I did, cut squares of parchment and press into muffin wells. They won't stay put until you fill them with batter though.)
In a large bowl, mix together 1 1/2 cups flour, baking soda, baking powder and salt.
In another bowl, beat together bananas, sugar, egg and oil, and vanilla. Stir the banana mixture into the flour mixture just until moistened.
Spoon a dollop of batter into each muffin well- just enough to cover the bottom. Cut the cream cheese log into 12 even pieces and nestle one into each well of batter. Top with remaining batter until it reaches the top.
In a small bowl, mix together brown sugar, 2 tablespoons flour and cinnamon. Cut in 1 tablespoon of butter until mixture is crumbly. Sprinkle topping over muffins.
Bake in preheated oven for 18 to 20 minutes, until a toothpick inserted into center of a muffin comes out clean.
Nutrition Information:
Yield:

12
Serving Size:

1 grams
Amount Per Serving:
Unsaturated Fat:

0g
Muffin Recipe adapted from
AllRecipes