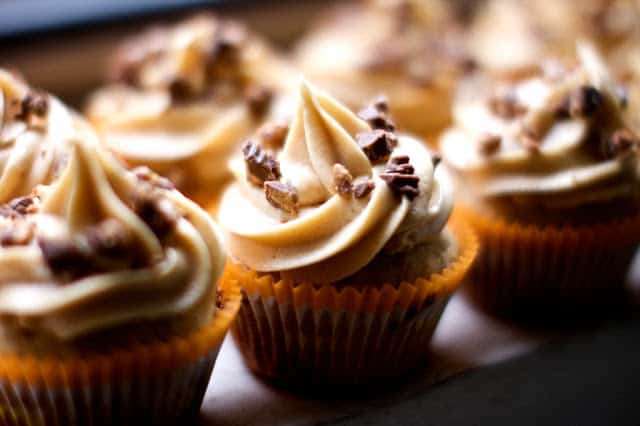 I am really excited to share the recipe with you. I have been dreaming it in my head for a few days and today I was finally able to make them. I must say- they are the most delicious thing I have ever baked. I LOVE peanut butter and banana (seriously who doesn't), but this confectionery image didn't seem complete to me until I decided to add some Reese's. This cupcake is rich but I tried to make the cake more banana-y than sugar-y to offset the sweet peanut butter frosting!
I was inspired by a variation of this recipe found at Annie's Eats with Butterfinger. I thought about using that one, but I decided to make my favorite Banana cupcakes found here, with my basic cream cheese frosting recipe with some added peanut butter and cream!*Note: The original recipe called for 1 1/2 cups sugar. I, however, decided to only use a cup as I was not only using REALLY ripe bananas but adding candy and such a sweet frosting. I liked the level of sweetness- but you may want to add the full amount if you aren't using the candy.
Banana Cupcakes with Peanut Butter Frosting and Reese's
Ingredients
½ cup butter
1 cup sugar
2 eggs
1 teaspoon vanilla extract
1 cup mashed ripe bananas
¼ cup buttermilk
2 cups all-purpose flour
1 teaspoon baking powder
¾ teaspoon baking soda
½ teaspoon salt
18 Mini Reese's Peanut Butter Cups- chopped coarsely
1 (8 ounce) package cream cheese, softened
½ cup creamy peanut butter (would also be good with crunchy peanut butter)
1 teaspoon vanilla
3 -3½ cups powdered sugar
2 tablespoons milk or 2 tablespoons cream
Instructions
Pre-heat oven to 350. In a large mixing bowl, cream butter and sugar. Add the eggs, vanilla, bananas and buttermilk.
Combine the flour, baking powder, baking soda and salt; add to banana mixture.
Fill 18 paper-lined muffin cups about ⅓ of the way full. Add about a tablespoon of chopped Reese's to each one and then fill with more batter until it's about two-thirds full.
Bake at 350 degrees F for 15-20 minutes or until a toothpick comes out clean. Remove to wire racks to cool completely.
For frosting:
Cream together cream cheese and peanut butter. Add vanilla and then powdered sugar one cup at a time alternating with cream.
Beat until it's a spreading consistency.
Spread or pipe on cooked cupcakes and garnish with the rest of the chopped Reese's.
Enjoy!!