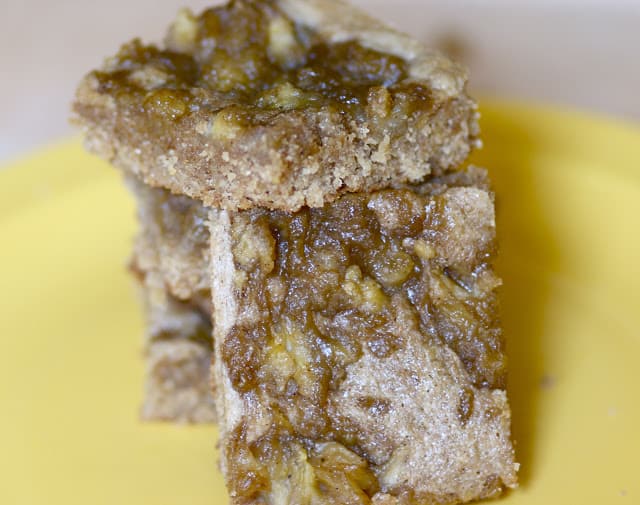 I remember the exact day that I discovered bananas foster. It was a few days before I graduated from high school and my family invited my theatre teacher/director over for dinner. I am not sure why, but this was the dessert that my Mom chose to make that night. I helped her sauté the bananas and remember tasting a small spoonful of the sauce and that being the end of it.
What is not to like about bananas foster? Bananas sauteed with brown sugar, rum, butter and cinnamon served over vanilla ice cream. It is truly amazing. It is very popular in the south which I was happy to discover when I was on tour all through the country a few years ago.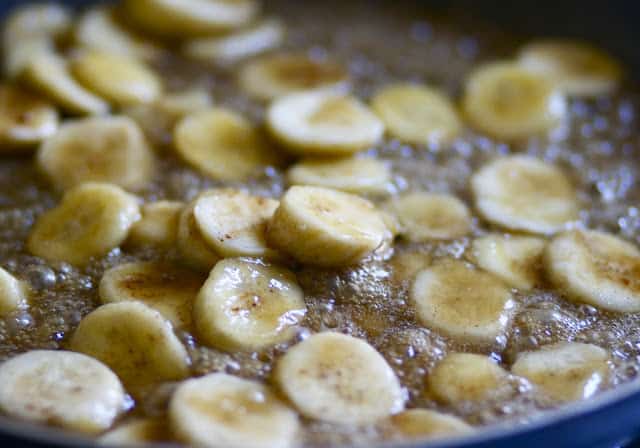 I have been thinking about a few different desserts where I could feature these amazing flavors. Bananas Foster Ice Cream…Cupcakes? Bread pudding? All sound amazing (and will probably make their way to my blog eventually,) but these easy Blondies won the other day!
I was thrilled at how much the taste of Bananas Foster really stood out. With every bite you get some of that caramel-banana-sugary goodness that makes the original so good. These are also very easy with a short prep and baking time. The only thing I would have liked more of was rum flavor as most of it baked away. Next time I may try a rum glaze to drizzle on top to add that extra kick. Enjoy!
Ingredients
1 cup All purpose flour
1 cup Whole Wheat Pastry Flour
1 1/2 cup brown sugar, tightly packed
1 cup butter, melted
2 eggs
1 teaspoon vanilla
1 teaspoon baking powder
1/4 teaspoon baking soda
pinch of salt
Bananas Foster:
2/3 ripe bananas, sliced (about 1 1/2 cup)
1 tsp. cinnamon
1/2 cup brown sugar, tightly packed
1/4 cup butter
1 shot of dark spiced rum, I bought one of those mini bottles from the liquor store and used the whole thing.
Instructions
Preheat oven to 350.
For the blondies: In a large bowl combine melted butter, sugar, eggs and vanilla. Whisk together until combined.
In a small bowl combine dry ingredients and whisk together.
Add the dry ingredients to the wet mixture in two parts, mixing well after each addition.
Spread batter into a well-greasted 9x13 inch pan and set aside.
For the bananas foster: In a skillet on medium heat, melt 1/4 cup butter. Add the sugar and stir to combine. Add the sliced bananas and sprinkle with cinnamon. Stir the bananas into the butter mixture until coated. Add rum and let mixture simmer for 2 minutes.
Remove from heat and let mixture thicken and cool slightly (2/3 minutes.)
Using a wooden spoon or fork mash bananas until the mixture is relatively smooth with only a few chunks.
With a spoon, drop banana mixture evenly over the blondie batter. Using a knife, swirl bananas foster mixture into the batter. Bake for 20-25 minutes until edges are golden.
Cool on a wire rack before serving.
Nutrition Information:
Serving Size:

1 grams
Amount Per Serving:
Unsaturated Fat:

0g