Bananas Foster Ice Cream is a creamy, dreamy summer treat that tastes just like the famous dessert- full of buttery bananas, cinnamon and rum!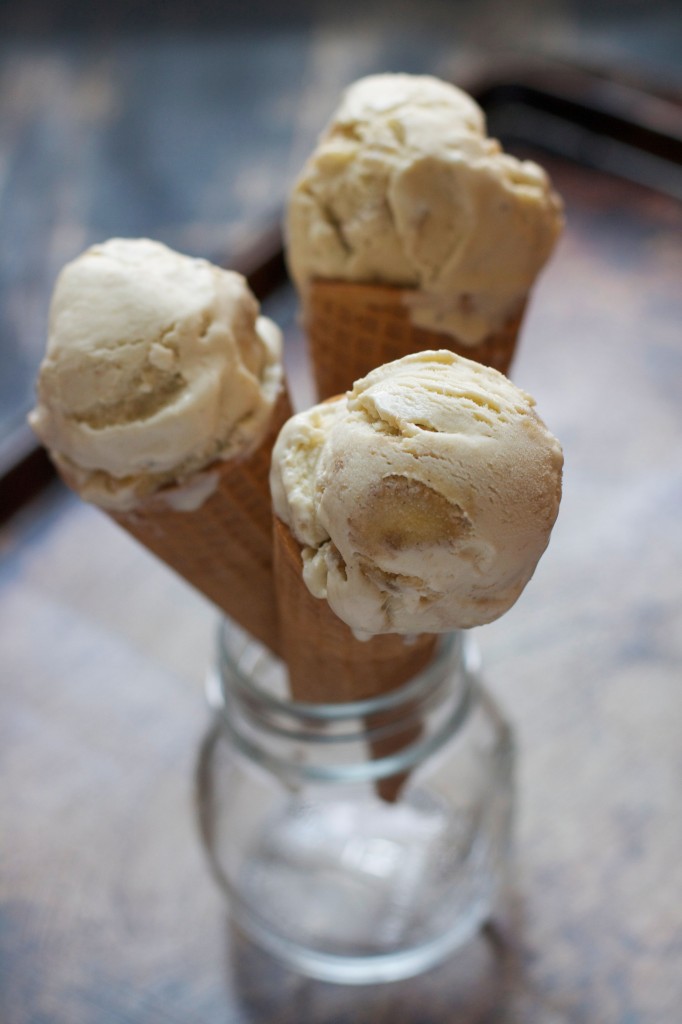 For as long as I can remember Bananas Foster has been one of my all time favorite desserts. I first tried it in high school as a sauce poured over vanilla ice cream. I fell in love and have been finding ways to recreate those wonderful flavors ever since. In the early days of my blog I made Bananas Foster Blondies, and last year these Bananas Foster Pancakes became my new favorite breakfast!
Still, the delicious sauce made from butter, brown sugar, bananas and rum is my favorite served over vanilla ice cream. It was only a matter of time before I'd try to merge the sauce/base concept into one- creating a delicious, creamy ice cream that is full of my favorite flavors.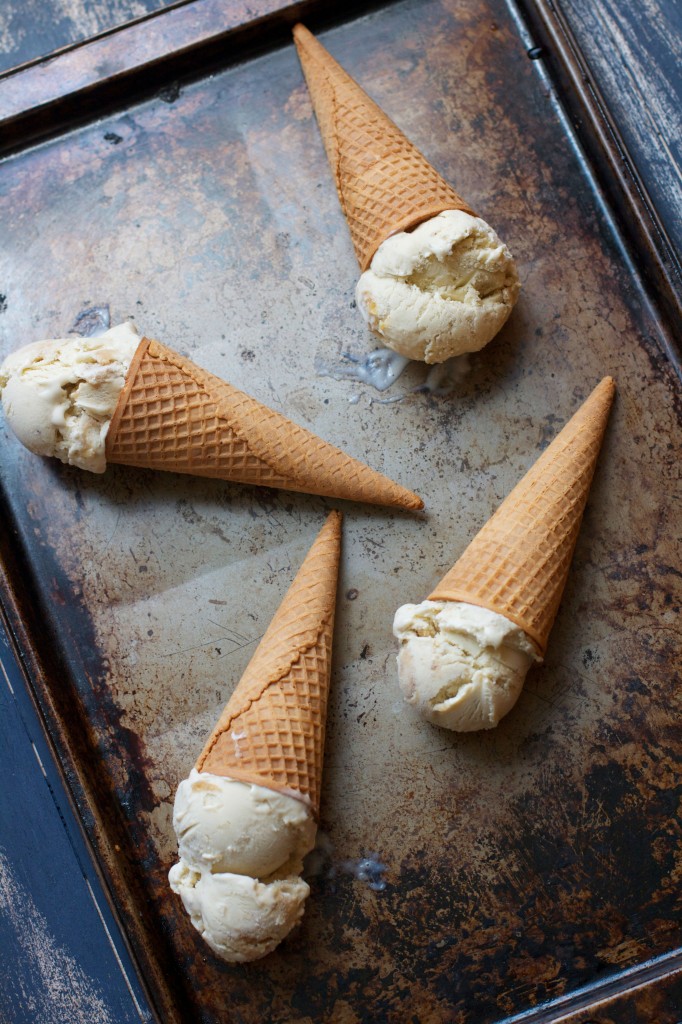 The best discovery I made while working on this recipe was a fabulous custard base, which is creamier than any I've made, and has become my new favorite spring board for future ice cream flavors. Half of the bananas foster was blended into that to create a strong base ice cream, with the rest swirled in, giving each bite a full blast of foster-y goodness.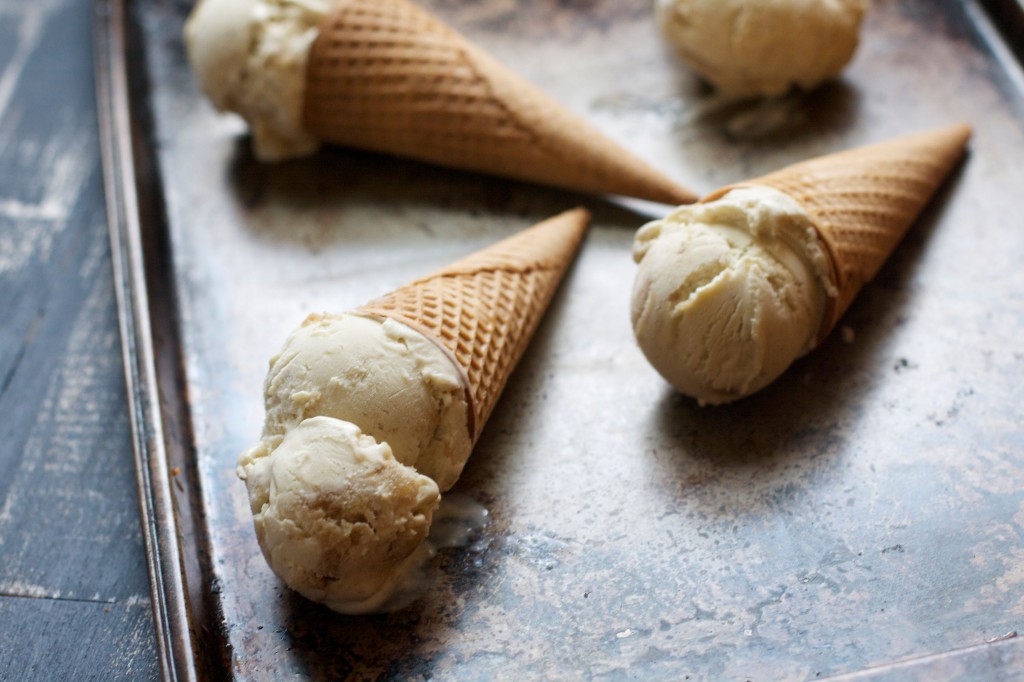 Traditional Bananas Foster uses dark rum to create the perfect flavor, and you can get away with using a little of that in this recipe and still allowing your ice cream to freeze. Since you won't find much booze in my kitchen these days, I used rum extract. (Though I would have felt OK using the small amount of rum since it gets cooked down a bit with the bananas.) Either option or a mix of both would work just fine.
Ingredients
For the Custard:
1 cup heavy cream
3 cups half-and-half cream
8 egg yolks
1/2 cup white sugar
1/8 teaspoon salt
For the Bananas Foster
1/4 cup butter, half stick
1/4 cup packed brown sugar
3 ripe bananas, sliced
2 teaspoons cinnamon
1 1/2 tablespoons dark rum, OR 1 1/2 teaspoons rum extract
Instructions
In a heavy saucepan over medium heat, combine the cream and half and half heating until just simmering, stirring frequently. Turn the heat down to low.
Whisk together the egg yolks, sugar, and salt in a large bowl until thoroughly combined.
Slowly and carefully pour about 1/2 cup of the cream mixture into the egg yolk mixture with one hand, while whisking constantly with the other. Pour the egg mixture back into the saucepan with the remaining hot cream, and whisk constantly over medium-low heat until the mixture thickens and will coat the back of a spoon, 5 to 8 minutes. Do not let mixture boil.
Pour the custard base into a bowl and allow to cool while you prepare the bananas.
In a large skillet, over medium-high heat, melt the butter. Add the brown sugar and whisk together until the sugar as dissolved into the butter.
Add the bananas, stirring to coat them in the butter/sugar mixture. Reduce heat to medium and cook for about 5 minutes, until bananas are tender. Add the rum and cinnamon and stir well, simmering for an additional 2 minutes.
Add half of the banana mixture to the custard base, using an immersion blender right in the bowl to pureé until smooth. (You can also carefully pour the custard and bananas into a regular blender and pureé that way.)
Cover the custard mixture and chill in the fridge for 6-8 hours or overnight.
Use a wooden spoon to slightly break the remaining banana pieces up, and store them in the fridge until after you churn your ice cream.
When the custard is chilled- churn it according to your ice cream maker's instructions and layer it with the remaining banana mixture in your container. Freeze for a few hours to firm it up.
Nutrition Information:
Yield:

1
Serving Size:

1 grams
Amount Per Serving:
Unsaturated Fat:

0g

This recipe is the first part of a full week of Frozen Treat yummyness! The lovely Brandy and Katie have organized a group of bloggers to give you a week of Ice Cream, Sorbet, Popsicles, Slushies, Milkshakes and more! We also have a week of giveaways!! Today's is sponsored by Zoku and OXO. Check out the widget below for details and to enter!!
Also- make sure to check out the frozen deliciousness created by the rest of the participants! We'll be back with another round on Wednesday!!
Mango Raspberry Pops from Katie's Cucina
Mango Margarita Boozesicles from Nutmeg Nanny
Blood Orange Chocolate Popsicles from Rachel Cook's
Cookies & Ice Cream Pie from Chocolate & Carrots
Pineapple Mint Popsicles from Sweet Remedy
3-Minute Easy Cherry Chocolate Sorbet from An Edible Mosaic
Chocolate Blueberry Crumble Pop from Cooking with Books
Easy Frozen Cherry Pie from Cook the Story
1 Ingredient Cherry Ice Cream from Foodie with Family
White Chocolate Buttermint Ice Cream from Eats Well With Others
Strawberry Cheesecake Popsicles from Damn Delicious