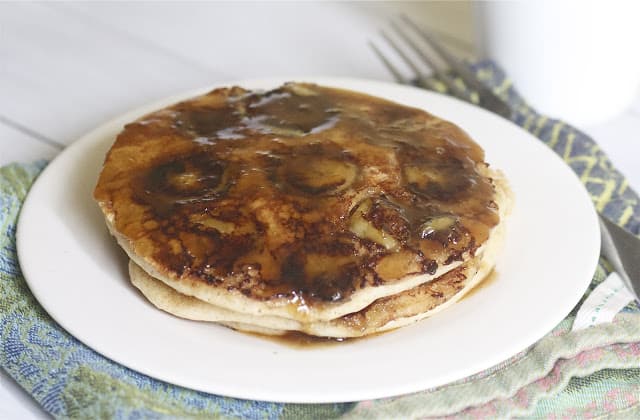 During my impromptu Vegas trip last week, I was lucky to get to have one amazing meal at The Paris before heading home. It's been years since I've been, but I remember drooling over the delicious French menu. We feasted on Moules Frites (Mussels and Fries,) Friseé Salad, and for dessert, Bananas Foster Crepes. Andy and his Mom had never tried bananas foster and they adored it. (How can you not really?) As we were scraping the plate, the waitress mentioned that they also have bananas foster Pancakes at breakfast time…and just like that these babies were born.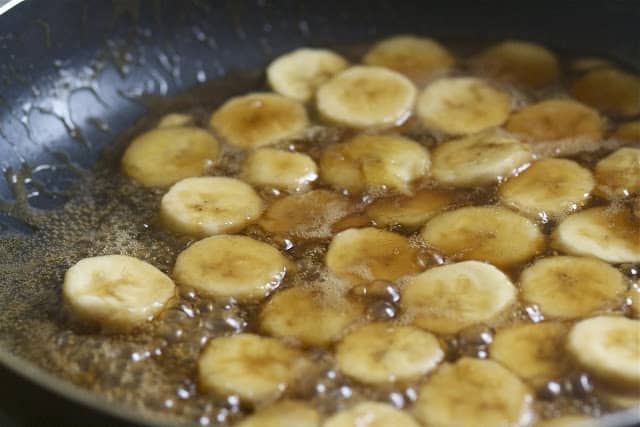 When I started researching this dish to see what was out there, I saw lots of versions that simply served the bananas over the ready made pancakes. That sounded great, but I wanted the flavors to actually be in the pancakes, so I started thinking. I've made fruity pancakes where I nestled the fruit pieces into the batter after I poured it, so I thought that would work well! (That way, I could also save the remaining syrup to drizzle over the pancakes.)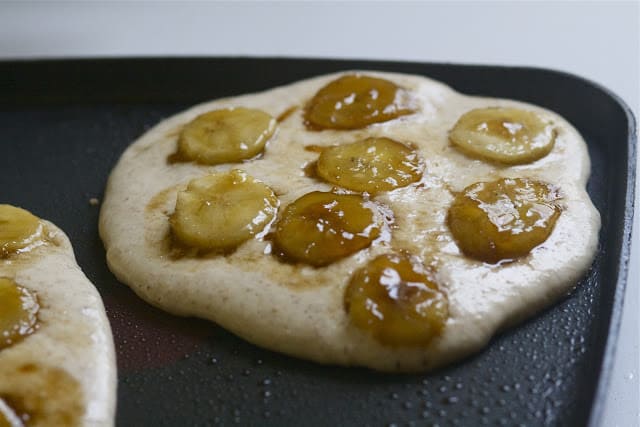 This method worked really well and the finished product really tasted just like the dessert I love so much. I didn't actually have any rum in the house- (and it was breakfast after all,) so I used some rum and vanilla extracts instead. If you have these for a boozy brunch though, I'd definitely make them with a shot of dark rum. Boozy bananas foster is really pretty amazing!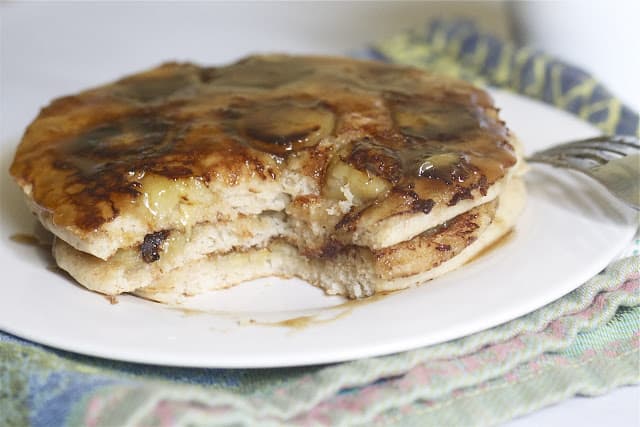 Ingredients
1 cup all-purpose flour, or 1/2 cup whole wheat pastry flour and 1/2 white
2 teaspoons baking powder
1/2 teaspoon salt
1 cup buttermilk
1 Tablespoon canola oil
1 large egg, lightly beaten
For the Bananas Foster:
1/4 cup butter
1/2 cup dark brown sugar
1 tsp. rum extract, or a shot of dark rum
1 tsp vanilla extract
2 bananas, under ripe is best sliced
Instructions
For the pancakes, whisk together the dry ingredients and then add the wet ingredients whisking until well-combined. Set aside as you make the bananas foster.
In a glass measuring cup or other microwave safe dish, melt the butter in the microwave. Add the brown sugar and stir together with a fork until well combined and thick. Add the extracts and stir.
Pour the butter mixture into a medium-large saucepan and warm over medium heat until bubbly. Add the bananas and stir to coat them in the butter-sugar mixture. Heat until warm- 1-2 minutes.
To assemble:
(Only make 1 or 2 pancakes at a time as they will spread when you add the bananas.) After you pour the batter into the skillet, arrange 6-8 banana slices on top of the batter from the middle out. (This will help keep the shape round.) When bubbles form and pop in the batter, carefully flip each pancake, cooking until the bananas are caramelized.
Serve with remaining bananas foster syrup, whipped cream, or maple syrup.
Notes
Note: Usually, bananas foster is made solely in a sauce pan- starting with the melting butter and adding the other ingredeints. BUT- for some strange reason, I had many failures with this. Maybe my stove top was too hot, but my brown sugar never seemed to mix well with the butter. I found it really easy to combine everything first and then warm in up in the pan. (But either method is fine.)
Nutrition Information:
Yield:

6
Serving Size:

1 grams
Amount Per Serving:
Unsaturated Fat:

0g