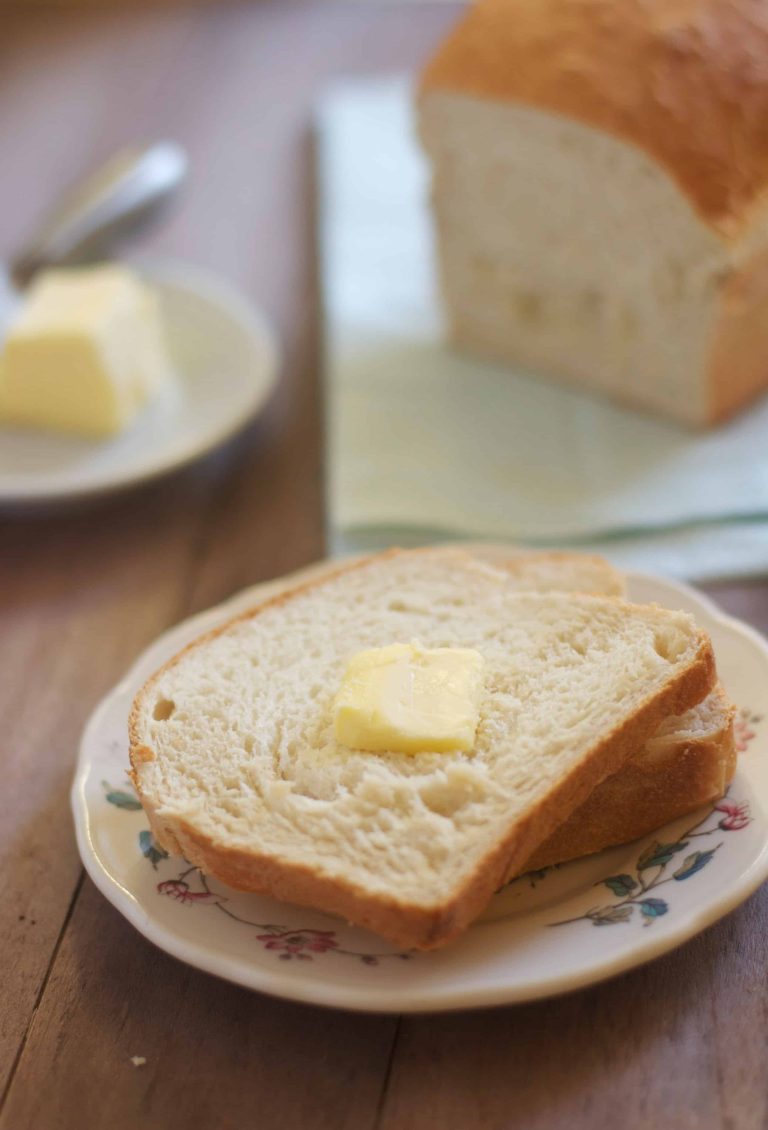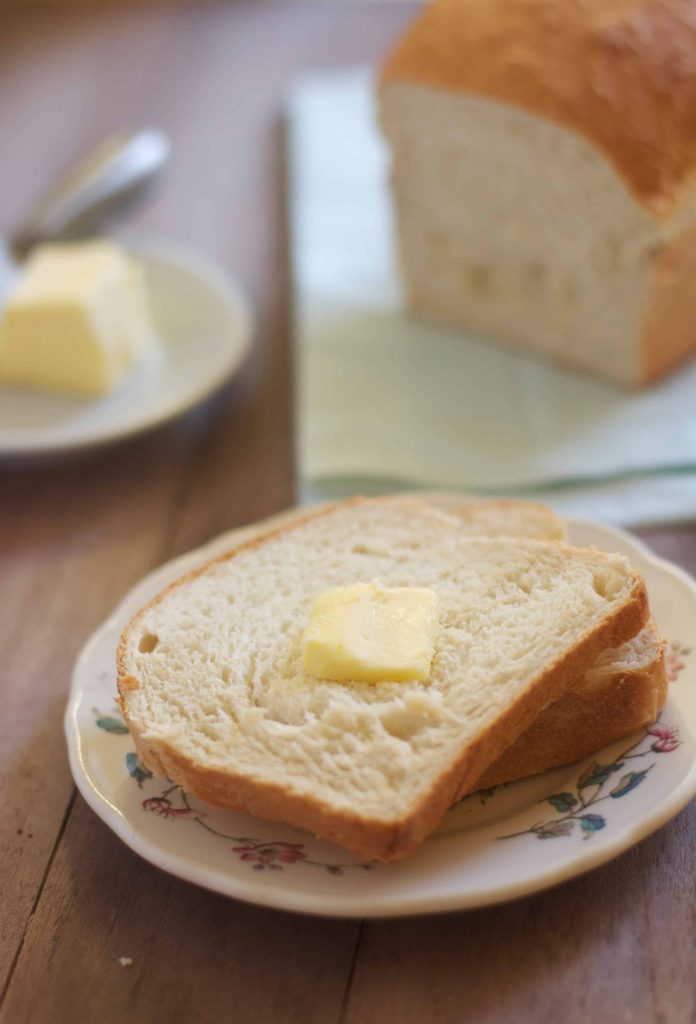 Did you ever go to summer camp as a kid? I didn't- but always dreamed of it. I always figured getting to spend all day with new friends doing fun activities would be the most fun ever. Well, last week I got to go to my adult version of "camp" which was really the Blog & Bake ® at King Arthur Flour in Norwich, VT. It was three days of all day baking glory- learning the ins and outs of their flour as well as how to make all sorts of wonderful recipes with it. I met some wonderful bloggers and learned so very much. Adult baking camp for the win!!
This basic white bread recipe is one of the first we made. It is so soft and is just to die for with a slab of creamy butter. (You should have seen the whole group demolish a loaf with some Vermont butter. Amazing.)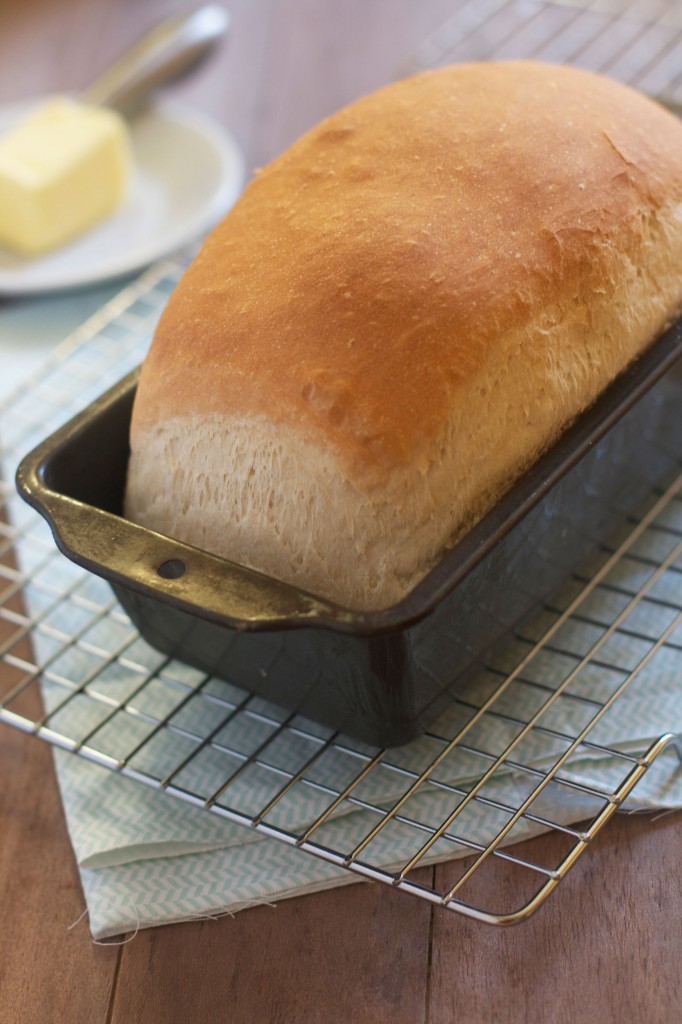 I found it easy to recreate at home, even though they have those fancy "magic" ovens that seem to bake everything to perfection. I think the loaf pans we used in class were slightly different as well as my loaf came out shaped smaller and higher. Can I always bake in a state of the art kitchen with baking experts roaming around to ask if I need help? Oh and if all my dirty dishes can magically vanish as I'm done with them that would be amazing too. (They did there!!)
I made the most delicious french toast using this bread over the weekend, and I think it would be fabulous for grilled cheese too. Anything is better with homemade bread though- right?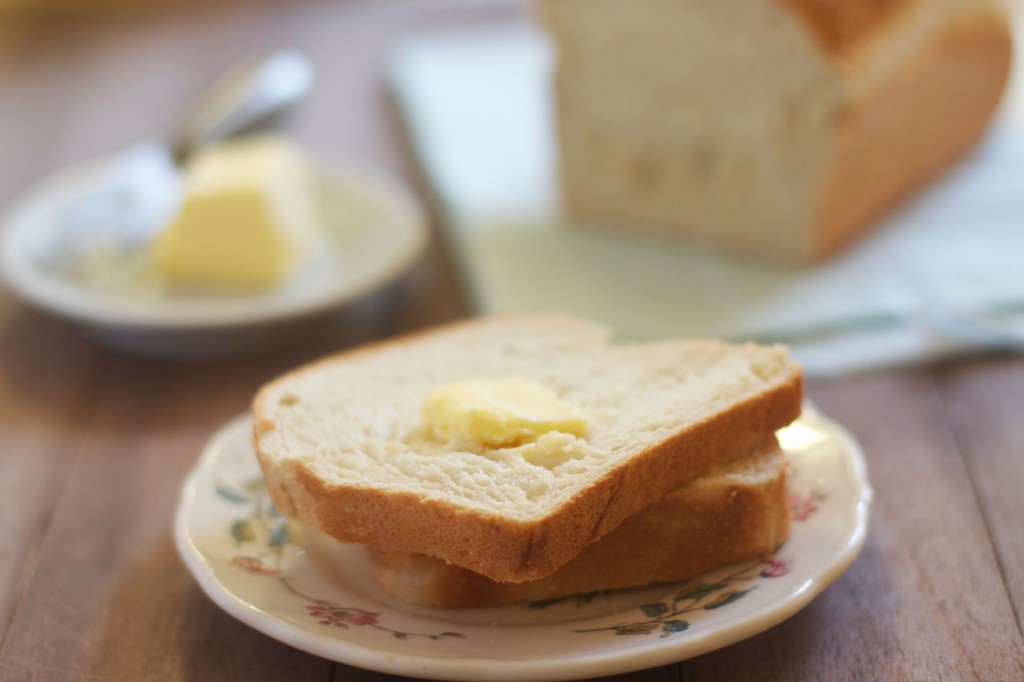 More to come on my Blog & Bake experience this week- but one important note: How do you measure your flour? Do you scoop and level (like I used to) or do you have another method? Until this week I didn't know it mattered much- but obviously it really does. My scoop and level cup of flour weighs 5 oz, while a cup should weigh approximately 4-4.25 oz. Big difference huh? Either weigh your flour (like I'm going to,) or try a new method for measuring. 1- fluff the flour before measuring to get some air in there. 2- use a scoop or cup measurer to gently sprinkle the flour into the measuring cup- don't shake it or try to settle it. 3- use the back of your scoop to quickly level the top and there you go. This will be my new method for flour measuring for all recipes on the blog!!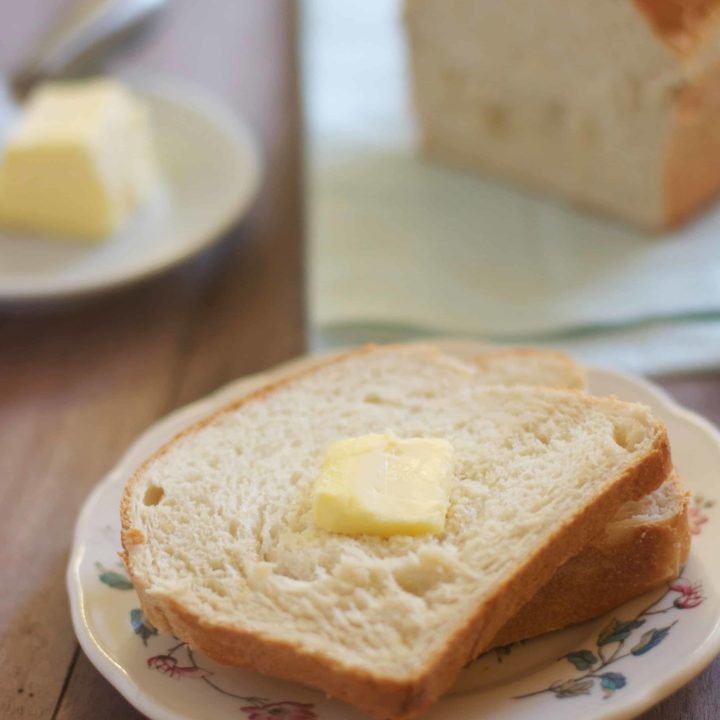 Basic White Bread
Ingredients
2 1/2 to 3 cups 10-12 ounces King Arthur Unbleached All-Purpose Flour
2 tablespoons milk powder*
2 teaspoons sugar
1 1/2 teaspoons yeast
1 teaspoon salt
1 tablespoon unsalted butter, room temperature
1 cup 8 ounces warm water
Instructions
Measure 1 1/2 cups of the flour into a medium bowl (or the bowl of a stand mixer) and add the milk powder, sugar, yeast and salt. Cut the butter into small pieces and stir into the dry ingredients.
Pour the warm water into the mixture and mix by hand to blend well.
Stir in the remaining four gradually until the dough forms a shaggy mess
Either turn the dough out onto a lightly floured surface, or engage the dough hook to knead it. To knead by hand; fold the far edge of the dough back over itself toward yu. Press into the ough with the heels of your hands and push away. After each push, rotate the dough 90?. Repat this process in a rocking motion for about 8-10 minutes. If the dough sticks- sprinkle a little bit of flour. The dough should become soft and elastic.
Return the dough to the mixing bowl, (or in the mixer, remove the dough hook and shape dough into a ball.) Cover with plastic wrap and allow to proof at room temp for 1 hour or until doubled in size.
After the dough has risen, turn it onto a clean work surface and punch it down slightly. Form the loaf into the desired shape and transfer to loaf pan.
Cover the loaf with plastic wrap and allow to rise until nearly doubled, about 30 minutes.
Bake at 375? for 25- 40 minutes, or until the crust is a golden brown an the loaf sounds hollow when tapped.
Notes
*No milk powder? That's OK- just skip it and use warm milk instead of the warm water.
Nutrition Information:
Yield:

1
Serving Size:

1 grams
Amount Per Serving:
Unsaturated Fat:

0g