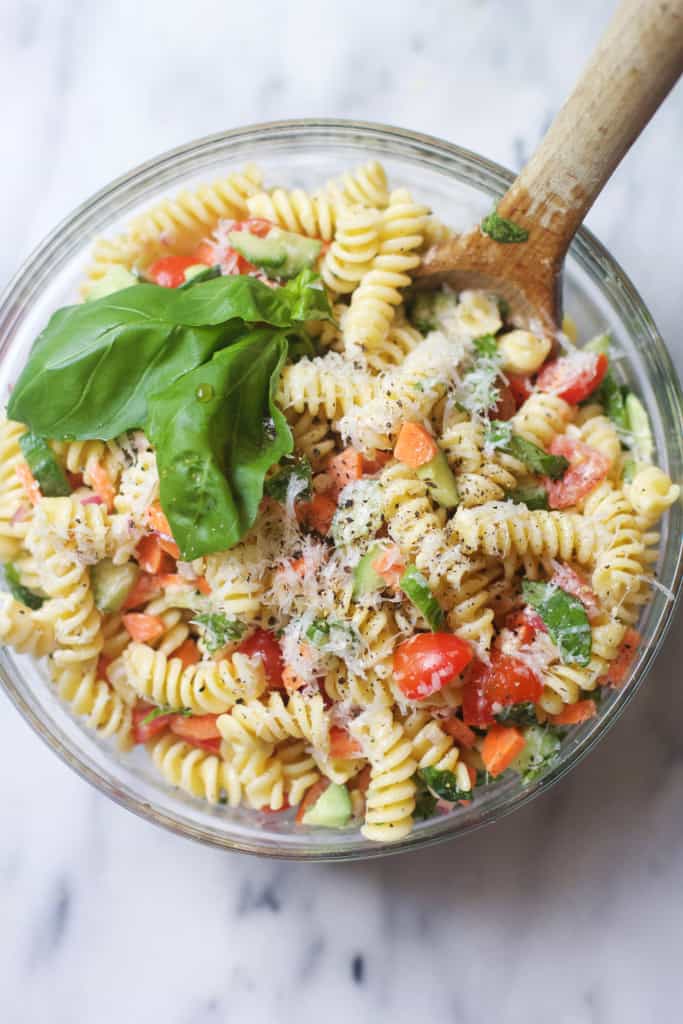 As much as the purpose of this blog is to bring the tried and tested recipes of my kitchen to yours, sometimes, I desperately just need a place to keep track of stuff you know? So often I just throw recipes like this together, not really paying attention to how much of what is going in, and when it's good and I mean really good, I regret not keeping better track of my process. So here it is- my personal favorite pasta salad, for my benefit and yours- I hope you love it too!
I'm not one to go for super heavy pasta salads with tons of dressing, chunks of cheese, meat, and huge pieces of veggies. Surely there are plenty of people who love that style of dish, but it's just not for me. Nor do I care for the super oily kind with soggy, cooked veggies that tend to wilt and mush as it sits. No thanks. I like my pasta salad to be light, with, crunchy, bite-sized veggies and tons of flavor. I first made this recipe a few years ago with a little girl I used to babysit for. Her Mom thought it would be a fun activity for us to cook together, and I remember she left all the ingredients out on the counter for us to chop and throw together. I've been hooked since that day, and it turns out this kid friendly dish is my all time favorite.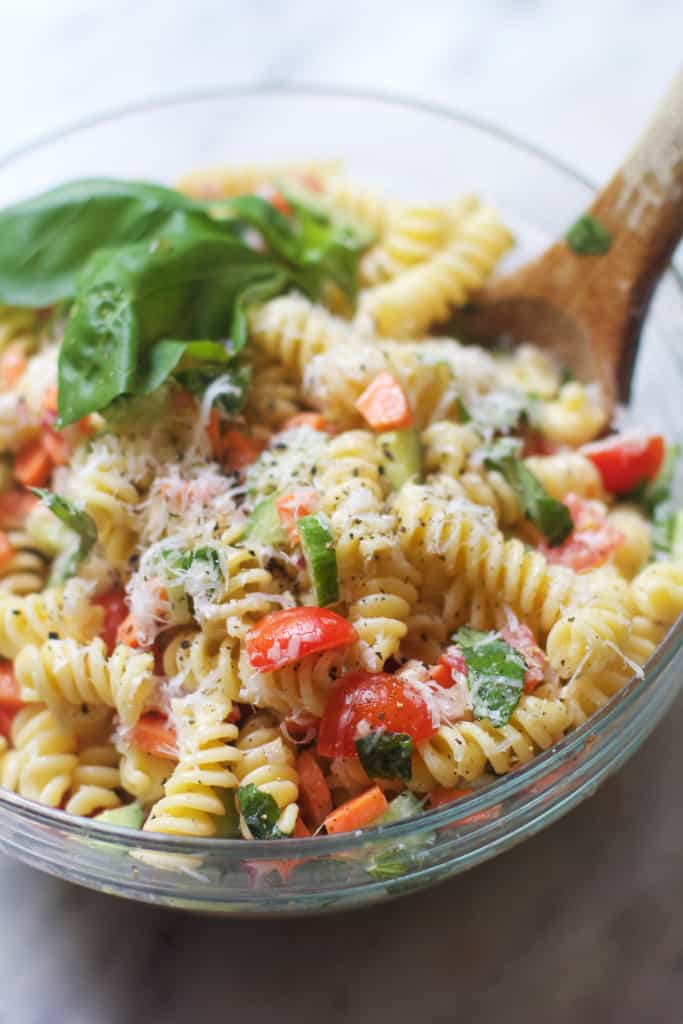 To me the basil is what really makes it- adding a perfect herby freshness. I kept the veggies simple, crispy cucumbers, grape tomatoes, and crunchy carrot bits. (The carrots really add the most amazing texture!) The dressing is mostly just olive oil and red wine vinegar, with the smallest amount of mayo just because for some reason it just isn't the same without it. (Though I'd definitely skip it if this would be sitting outside for a long period of time.) And….well that's pretty much it. I told you it was simple. It's my favorite pasta salad- I can't get enough, and thank goodness Hugo loves it too, this is going to be a family favorite!
Ingredients
1 lb. cooked pasta, I used rotini but really anything will do
1 cup of grape tomatoes
2 large carrots
3 persian cucumbers, the small crispy kind,
1 small red onion, diced small
large bunch of basil, chopped.
1 heaping tablespoon of mayonnaise
red wine vinegar, extra virgin olive oil, salt & pepper to taste
grated parmesan for topping, I'd say a handful
Instructions
Place the cooked, cooled pasta into a large bowl. Drizzle with olive oil, set aside.
Cut the grape tomatoes into quarters, slice the carrots in half the long way and then thinly slice into bite-sized pieces. Cut each cucumber into quarters vertically and then slice into small pieces. Toss the veggies, basil and diced red onion into the bowl with the pasta.
Stir in the mayonnaise, drizzle generously with red wine vinegar and more olive oil, sprinkle with salt and pepper. Taste to see if any more of any of those are needed. Sometimes I need more vinegar than others, depending on the type of pasta I use.
Chill the pasta salad for about an hour before serving to let the flavors marry. Enjoy!
Notes
You can of course make this your own with different/additional veggies, these are the ones I like the best in this!
Nutrition Information:
Serving Size:

1 grams
Amount Per Serving:
Unsaturated Fat:

0g