BBQ Chicken Burger with Beer Braised Onions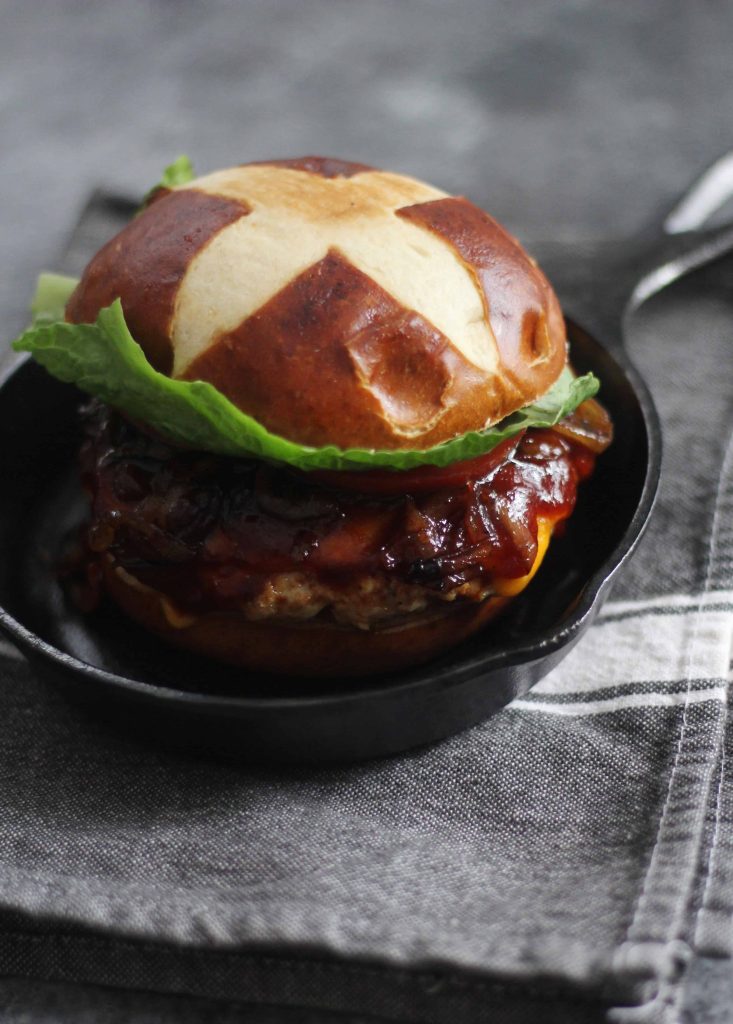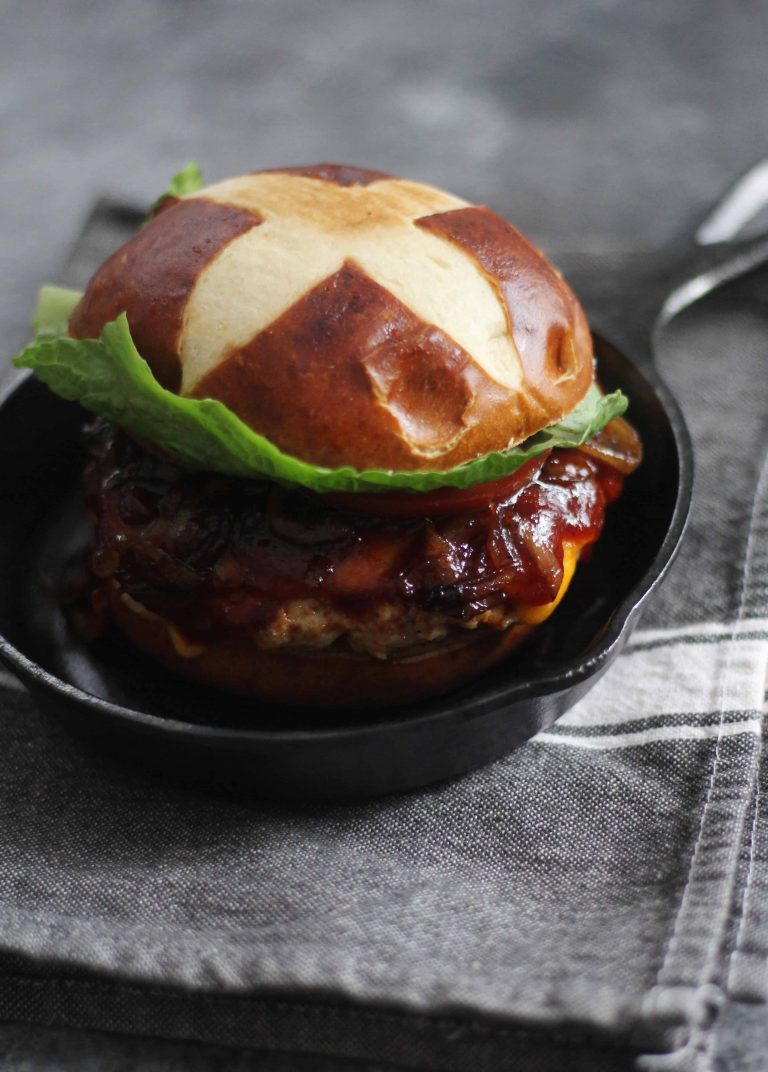 Grilling season is here!!! Not only is it finally warm and balmy in Chicago, but we actually have a lovely outdoor space this year- a new deck and landscaped yard, making all my summer dining dreams come true. I've been missing New York a lot lately, mostly my friends and the part of my identity being a New Yorker gave me. I have to say those feelings fade away when I take a good look at our space and how grateful I am for my kids and I to get to live in it. The luxury of walking out the kitchen door onto a deck with a grill isn't lost on me.
For our first foray into summer grilled eats, I whipped up these juicy, flavorful chicken burgers. Trust me when I say these are nothing short of amazing. No dry, dense burgers here, they are truly melt in your mouth good, both crispy and tender at the same time.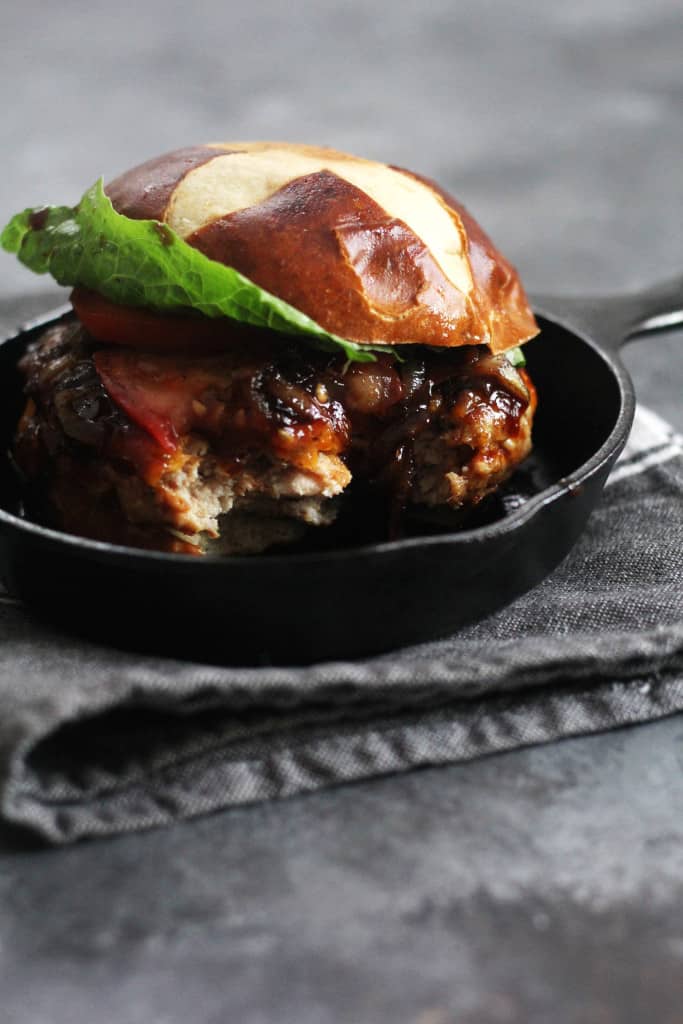 The burger itself is seasoned simply, leaving it open to any toppings and sauces you choose. For these I braised some onions in beer and brown sugar, cooking them slowly, letting them soak up that delicious ale flavor and becoming caramelized in the process. The onions, in addition to bbq sauce and sharp cheddar cheese were the perfect flavor combo. A toasted pretzel bun was just the thing to send this burger over the top. I've already made these 3 times in the last two weeks and I can see them being made even more all summer!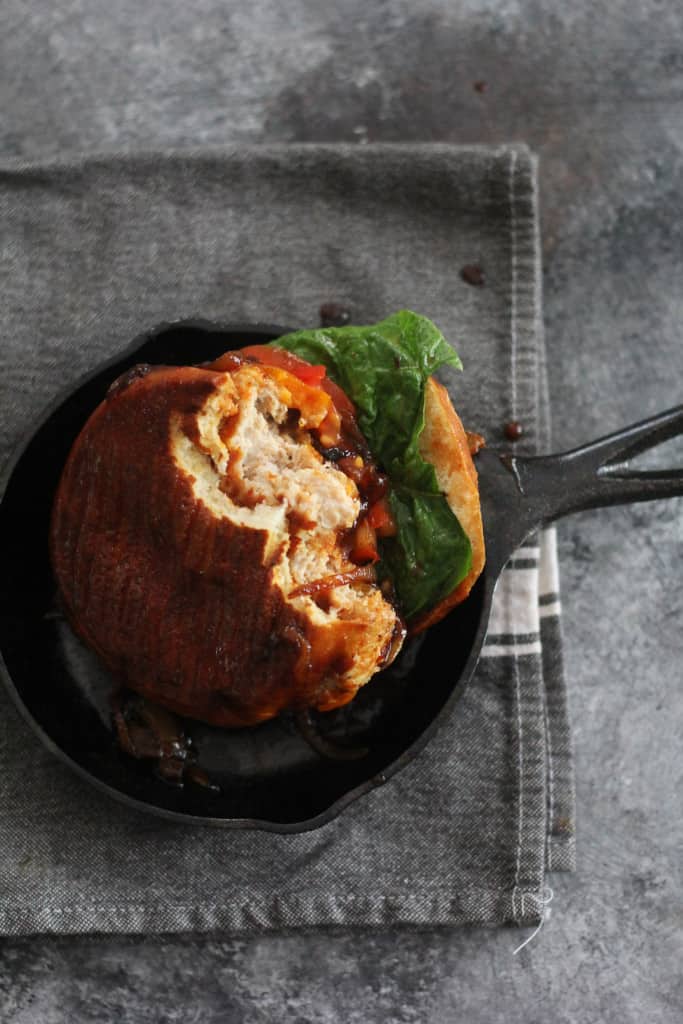 If you are excited about burger season and want more inspiration- you are in luck because May is BURGER MONTH! Kita from Girl Carnivore organized a month of bloggers creating and sharing burgers galore. Check out the other fabulous burgers here and enter the ultimate burger-making giveaway!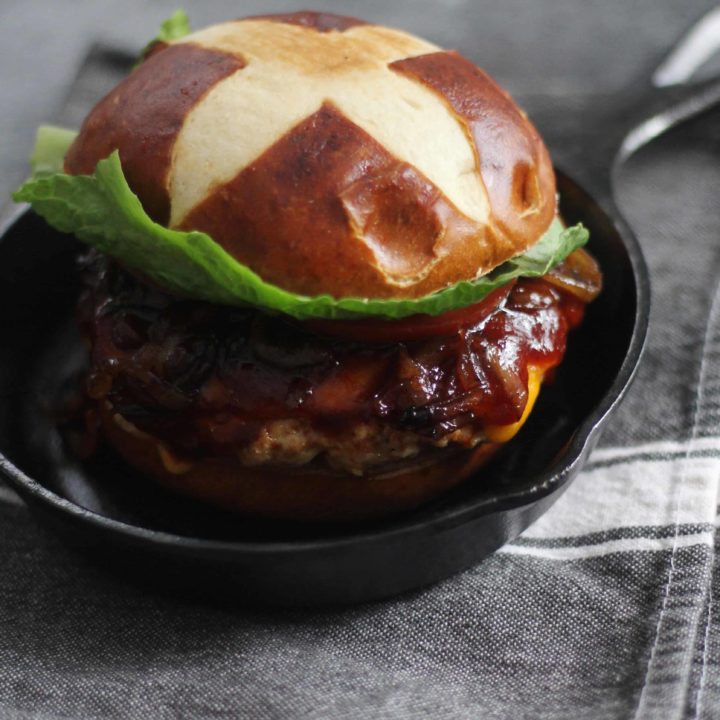 BBQ Chicken Burger with Beer Braised Onions
Ingredients
For the burgers:
1 lb ground chicken (I used half breast, half thighs)
1/3 cup breadcrumbs
1/4 whole milk
1 tsp Worcestershire sauce
1/4-1/2 tsp Old Bay seasoning*
1/4 tsp salt
1/4 tsp pepper
For the onions:
2 tablespoons of butter
1 large onion thinly sliced
1 bottle of beer*
1 tablespoon brown sugar
bbq sauce
sliced cheddar cheese
romaine lettuce
pretzel buns
Instructions
In a large bowl combine the ground chicken, breadcrumbs, milk and spices. Mix with your hands until well-combined and then form into patties.
Line a plate with parchment paper and layer the burgers on top, putting parchment in between each burger so they don't stick.
Chill until ready to cook.
For the onions:
Melt the butter in a large skillet or saucepan.
Add the onions and cook until soft.
Add a cup of the beer and the brown sugar. Stir together and let cook down for about 10 minutes or until the beer has evaporated.
Add another cup of beer and reduce the heat, stirring occasionally until brown and soft. Add salt to taste.
To cook the burgers:
Grill or pan fry about 5 minutes per side or until cooked through.
After flipping place cheese slices on top to melt.
Serve on pretzel buns with bbq sauce, braised onions, romaine lettuce or any other desired toppings.